6 Liberty Place, Entire 8th Floor – Entire Floor Office Rental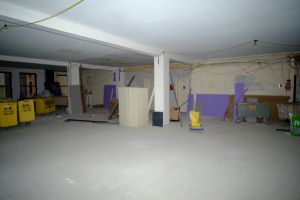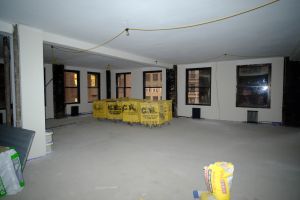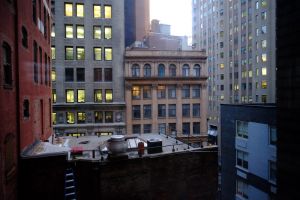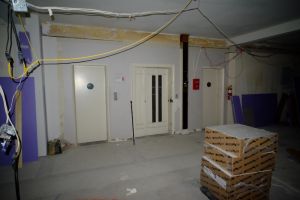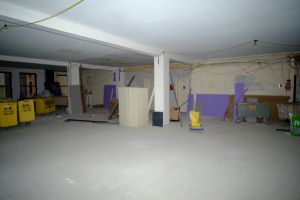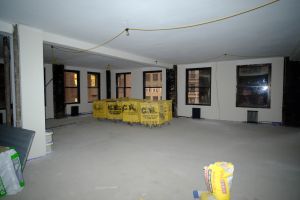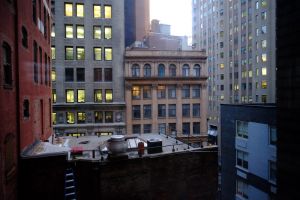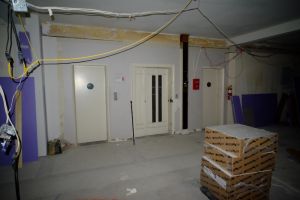 Ad Agency
Commercial Loft
Non profit
Office Space
$13,413/month
4,350 SF
Description
Prestigious full-floor office rental located in the heart of Manhattan's Financial District. Currently a white box, the landlord will build-out for a quality tenant. This corner space has open ceilings and oversized windows. Ownership is seeking a 5-10 year lease term. Electricity is billed directly from Con Edison. The lobby is attended 24/7. 6 Liberty Place is conveniently located near the 4, 5, J, M, Z, R, A, C, 4, 5 subway lines and a short walk from the PATH Train entrance.
Listing Details
Listing 399
| | | | |
| --- | --- | --- | --- |
| Size | 4,350 | Rent/SF | $37.00 |
| Monthly Rent | $13,413 | Lease type | Direct |
| Available | 01/10/2023 | Lease term | 3-10 years |
| Suite/Floor | Entire 8th | Address | 6 Liberty Place |
Features
| | |
| --- | --- |
| 24/7 Attended Lobby | Class B Building |
| Directly Off Elevator | Freight Elevator |
| On Site Management | Open Ceiling |
| Tenant Controlled HVAC | Water Column in Space |
| White Box | Work Available |
Listing Location & Nearby Public Transportation
Nearby Transportation
Subway
Wall Street (23456J) - 4 minutes WalkFulton Street (236ACGJMZ) - 4 minutes WalkRector Street (1NR) - 6 minutes WalkWTC Cortlandt - 7 minutes WalkPark Place (23) - 8 minutes WalkWorld Trade Center (E) - 5 minutes WalkChambers Street (123ACEJMZ) - 8 minutes WalkCortlandt Street (1NR) - 3 minutes WalkBroad Street (JMZ) - 4 minutes WalkCity Hall (NR) - 7 minutes Walk
Bus
Trinity Place/Thames Street - 5 minutes WalkTrinity Place/Rector Street - 5 minutes WalkTrinity Place/Exchange Alley - 6 minutes WalkChurch Street/Cortland Street - 4 minutes WalkChurch Street/Liberty Street - 3 minutes WalkBroadway/Vesey Street - 4 minutes WalkBroadway/Park Place - 7 minutes WalkBroadway/Barclay Street - 6 minutes WalkBroadway/Murray Street - 8 minutes WalkWater Street & Wall Street - 8 minutes Walk
Important information
This listing is presented for illustrative purposes only, it may no longer be available, and is provided merely as an exemplary representation of the types of spaces in a given neighborhood for a given price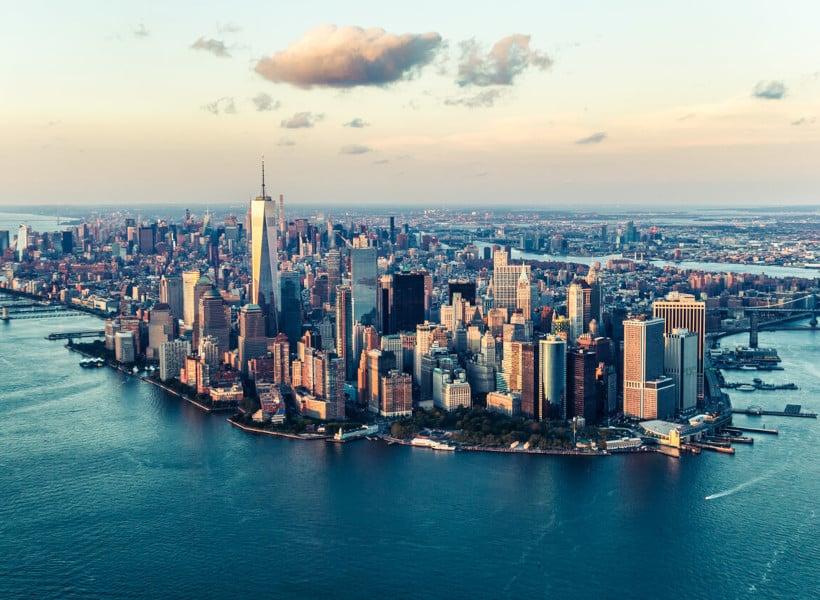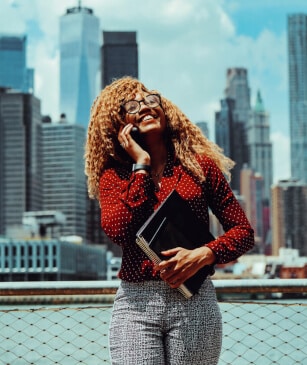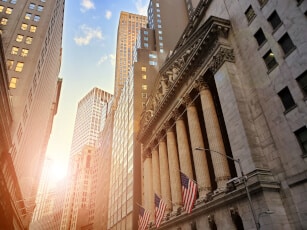 Downtown Manhattan
Downtown Manhattan has a vibrant and attractive office market. With roughly 90 million square feet of office space, you could find Downtown office space in a modern Class A skyscraper, budget B and C building, or a building with loft-like office space. There are also medical-friendly buildings such as 65 Broadway. Furthermore, many companies with staff living in Brooklyn and New Jersey lease Downtown office space since the commute is relatively easy. The area is also the fastest-growing residential community in New York City. Downtown Manhattan is the southernmost subdivision of Manhattan. With submarkets like the stylish Tribeca, Financial District (FiDi), the Insurance District, World Trade Center, and City Hall, it may also be the most iconic. Many trophy-level office towers like One World Trade Center, 7 World Trade Center, and 14 Wall Street (The Former Bankers Trust Building) dot the neighborhood. Most importantly, they cost less to lease than comparable Midtown properties. For instance, if you pay $77/SF at 1 WTC, you'd pay $105/at Hudson Yards. Dollar for dollar, you'll find better value than in Midtown. If you spend $54/SF at 61 Broadway, you might pay $85/SF at the Chrysler Building or $69/SF at One Grand Central Place. There are many other bargain Class A buildings throughout Lower Manhattan. There are also many beautiful and reasonably priced options for small to midsize companies in the 2,500 to 10,000 SF range. Compared to the rest of New York City, Downtown Manhattan office space has a reasonable $59.61 average asking rent and 20.1% overall availability (as of Q2 2022). Other submarkets like City Hall have an asking rent of roughly $53.50/SF as of Q2 2022. 20 years ago, it was almost a requirement for finance companies to have Downtown office space. After all, this Manhattan subdivision is home to Wall Street. Finance remains a big part of the neighborhood identity. International financial institutions have headquarters or office space here. Properties like 140 Broadway, 120 Broadway, and 14 Wall Street count many of these companies as tenants and have attractive office availability. Many small businesses and startups in Fintech, marketing, and advertising also rent Downtown Manhattan office space. While finding startup office space can sometimes feel like looking for a needle in a haystack, Downtown has a wide selection of quality 1,500-5,000 SF spaces. The best Downtown office space for rent depends on the size and scope of your business. High-class, modern Class A buildings like One World Trade Center, One Seaport Plaza, and 7 World Trade Center offer sustainability, modern amenities, and some of the best New York City office space. Many global financial institutions also have office space in some of Downtown Manhattan's most iconic Class A buildings. However, there are many other budget Class B and C, and even A buildings Downtown is tailor-made for tenants seeking 2,000-5,000 SF of office space with divided floors and smaller spaces. You don't have to look for the cream of the crop like One World Trade Center or the pricier Tribeca. There are plenty of loft-style offices with exposed ceilings, concrete floors, and oversized windows. Affordable office space exists throughout Fidi, the Insurance District, or City Hall. ​​80 Broad Street and ​​14 Wall Street have affordable Class A office space. ​​11 Broadway, 15 Maiden Lane, and 160 Broadway are all top-notch Class B properties with affordable options. Consider a conversation with an office space rental agency to help determine your best options. With 20.10% overall availability, there are many options for office space in Downtown Manhattan compared to broader Manhattan. Building class and availability will vary by Downtown submarket, but as of Q2 2022, you could find availability as high as 25.20% in FiDi or as low as 13.10% around City Hall. What's most striking, though, is how certain Downtown submarkets have seen asking rents surge while others have seen asking rents plummet year-over-year. While FiDi and the City Hall district largely remained flat, asking rents in Tribeca have increased 24.46% year-over-year from $64.40/SF to $80.15/ SF. On the other hand, asking rents in the Insurance District have tanked by approximately ⅓ from $82.52 to $55.12. That's why you must pay attention to the availability of Downtown Manhattan office space at all times. It's an incredibly dynamic neighborhood that evolves in real-time. FiDi, after all, is the fastest-growing residential area of Manhattan. The Class A office market in Downtown Manhattan reflects how wide-ranging asking rents can be in this submarket. On the one hand, high-end inventory is available, and Tribeca commands a premium. On the other hand, you can get quality Class A space in many of Downtown's other submarkets for below $60/SF. There are many other affordable Class B and C building options throughout Downtown, with various amenities, pricing structures, and customization potential. Remember, the pricing isn't determined by whether it is a new build-out or 2nd generation. It is determined much more so by the desirability of the location and building-wide renovation, such as new mechanical systems, roofs, corridors, restrooms, elevators, and other amenities. If the build-out is brand new, it may cost somewhat more. But the savings are not enormous if it's a second-generation build-out. It remains a priority for commercial landlords to add modern amenities to office buildings. Companies want to entice their workers to return to the office and need the amenities to do so. Office buildings need the amenities to create an "experience" for team members and differentiate a property from the competition. Amenities include but are not limited to roof decks, outdoor space, bike storage, conference centers and meeting rooms outside of demised space, gyms, meditation centers, and private dining areas. Downtown has many top-tier, Class A buildings with the best amenities. But the crown jewel is unequivocally One World Trade Center. The tallest building in the Western Hemisphere, and the seventh-tallest in the world, opened on November 3, 2014, to great fanfare. It has a three-story observation deck on floors 100–102, offering tenants and visitors access to the highest vantage point in New York City. There is also a food court on the 101st floor and event space on the 102nd floor. One of the building's most enticing amenities for workers is the 64th floor, Well& By Durst. It is a 25,000SF amenity space exclusively for tenants of One World Trade and their guests. Well& By Durst is designed to energize, inspire, and connect tenants in a healthy and productive environment. It is a world-class business and social hub fostering workplace creativity, collaboration, and community. It offers flexible conference, meeting, and event rooms, common areas, a café, and state-of-the-art technology and services. The building is also one of the most environmentally sustainable skyscrapers in the world. It has a LEED Gold Certification. Much of its building's structure and the interior consists of recycled materials. Windows comprise ultra-clear glass, helping lights automatically dim. Wind and hydroelectricity primarily power the building, and steam essentially powers the heat limiting the use of oil and natural gas utilities on-site. One Seaport Plaza is another amenity-rich building in Downtown Manhattan. The Insurance District complex on ​​199 Water Street provides sweeping views of New York Harbor, the Brooklyn Bridge, and the Downtown skyline. It's sustainable, received the 2012 & 2017 LEED EB: OM Certified Certification with the U.S. Green Building Council, and earned the EPA's Energy Star certification. Moreover, it has a 24/7 attended lobby, modernized destination dispatch elevators, a tenant Dedicated Bicycle Room with locker rooms & showers, and a full-service garage in-building with direct lobby access. There's also dining and direct access to the South Street Seaport. Don't overlook 7 World Trade Center either. This building was the first World Trade Center property to be reborn in 2006 and remains amenity-rich today. Floor-to-ceiling windows, soaring ceiling heights, access to green spaces, including Silverstein Family Park at the building's entrance, panoramic views of Manhattan, sustainability, and efficiency scratch the surface. The 10th floor has The Studio at 7 WTC, which includes exclusive access to breakout areas, conference rooms, a lounge, and more. Different Downtown Manhattan submarkets offer considerably different asking prices and pricing trends. For instance, Tribeca sits just behind Hudson Yards as the most expensive neighborhood in all of Manhattan, and rents are still rising. On the other hand, blocks away in the Insurance District, asking rents have dipped by nearly a third year-over-year, with mouth-watering bargain deals appearing daily. If you're considering Downtown office space for rent, Downtown's average Class A asking price per square foot sat at $60.54 in Q2 2022. Prices vary from neighborhood to neighborhood. In Tribeca, the average Class A asking rent was an astronomical $163.14 in Q2 2022. On the other hand, City Hall's average Class A rent sat at $54.25, with Insurance District and Financial District not far behind at $56.53 and $57.98, respectively. Beyond these average asking rents, there are many quality budget Class A buildings with reasonable costs. For example, 80 Broadway has rents in the low $50s. 14 Wall Street has rents in the high $40s for lower floor, 2nd generation spaces. There's a chance you might not even require a Class A space. Do not overlook Downtown office space in Class B and Class C buildings. You may be stunned at the attractive deals you can find. First, many Class B properties have similar amenities to older Class A properties yet at predictably cheaper asking rents. What's fascinating is that in Tribeca, the average Class B asking rent of $71.55 in Q2 2022 sat higher than the average Class A asking rent of every other Downtown Manhattan submarket. The demand for industrial/warehouse style loft space drives these high prices in Tribeca. For example, the former printing and manufacturing building on Hudson and Varick Street offers a unique space that commands a premium. On average, Downtown's Class B asking rent in Q2 2022 sat at $55.64 per square foot, with the Insurance District having the cheapest asking rent at $47.37/SF. The World Trade Center was the second most affordable at $49.41/SF. So unless you have your heart set on Tribeca, you might consider other Downtown submarkets with quality office space and availability. Several other quality Class B properties have asking rents well below the average. 15 Maiden Lane may run you $38/SF. Asking rents may run to the mid $40s/SF at 11 Broadway, 32 Broadway, 42 Broadway, and 160 Broadway. 225 Broadway may land you a deal at the high $40s/SF. The Insurance District, and its deeply discounted rents relative to last year, has very pleasing Class B buildings like 111 John Street, where asking rents are in the low $40s/SF. There are quality loft spaces and Class C Downtown Manhattan office rentals. There are also various customization options, as landlords will build out the space the way you need it with your selected materials and finishes. Relative to central Manhattan transit hubs like Penn Station, Port Authority, and Grand Central, Downtown Manhattan may sit further south. However, it has a central location relative to the broader New York City metro area. Downtown Manhattan's convenient location close to Brooklyn and New Jersey is invaluable for companies with many staff living in these locations. Downtown Manhattan is accessible to New York City Subway lines like the 1, 2, 3, 4, 5, 6, A, C, E, R, W, J, Z, N, R, and Q. Its largest hub, Fulton Center, is the result of a $1.4 billion reconstruction project meant to revitalize and facilitate transport to the area. The World Trade Center Transportation Hub and PATH station also opened in 2016. Another reason Downtown Manhattan is attractive from a transit standpoint is its ferry services. There's the Staten Island Ferry at the Whitehall Terminal, NYC Ferry at Pier 11/Wall Street, and as of 2020, the Battery Park City Ferry Terminal. There are also several regional buses and accessibility to several main highways and bridges. The 78 and 278 lead into Downtown Manhattan, as does the Brooklyn Bridge, Manhattan Bridge, and Williamsburg Bridge.
Learn more about Downtown Manhattan
Schedule a Tour
Please select a convenient date for your tour, and one of our colleagues will contact you soon!