233 Broadway, Woolworth Building office space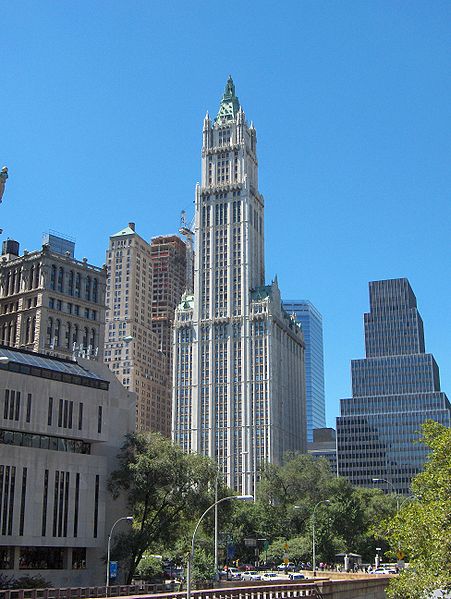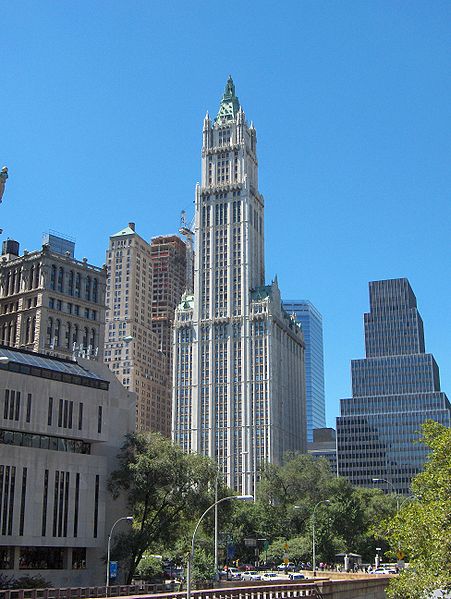 | | | | |
| --- | --- | --- | --- |
| Address | 233 Broadway | Class | A |
| Cross Streets | Park Place and Barclay Streets | Size | 935,000 SF |
| Year built | 1913 | Architect | Cass Gilbert |
Description
The Woolworth Building is one of the most iconic and recognizable staples on the New York City skyline, and a National Historic Landmark. Built back in 1913 by F. W. Woolworth, the terracotta-and-limestone tower was the world's tallest building until 1930, and used to house the headquarters of the Irving National Exchange Bank. The Lower Manhattan building was designed by Cass Gilbert in the neo-gothic style, and was dubbed 'The Cathedral of Commerce' because of its resemblance to European Gothic cathedrals. Nowadays, the historic skyscraper houses Class A office space, as well as retail and residential spaces.
Amenity-Rich Class A Office Space Available
The imposing 57-story skyscraper at 233 Broadway in the City Hall/Insurance District was acquired by the Witkoff Group in 1999, and over the years it has become a popular destination for law firms and financial services companies. The top 30 floors were sold to Alchemy Properties in 2012 for $68 million and subsequently converted to residential use. The lower portion of the 935,000-square-foot tower is currently owned by Witkoff and Cammeby's International.
The Woolworth Building offers nearly 899,000 square feet of rentable Class A office space, as well as 75,000 square feet of retail and more than 11,000 square feet of residential space. The amenity package includes 24/7 building access, on-site management handled by The Lawrence Group, USPS drop-off services, covered parking, and above-standard ceiling height.
Getting to and from the Woolworth Building
The Woolworth Building benefits from an excellent location close to both Downtown and Midtown South, and offers easy access to various subway stations, including the Park Place, City Hall, Fulton Street and Chambers Street stations. Major subway lines crossing the area include the 2, 3, 4, 5, E, N, R, J and Z trains. The building is also conveniently located within walking distance of One World Trade Center, the City Hall Park, St. Paul's Chapel and the Brooklyn Bridge.
Who is renting office space in the Woolworth Building?
The Woolworth Building has always been a popular destination for companies working in the law, architecture, and communications industries, as well as for various government agencies. The small- and mid-sized floorplates of maximum 20,098 square feet mean that the building is occupied by numerous companies and agencies, including the NYC Police Pension Fund, the U.S. General Services Administration, law firms like Housenbold and the Law Office of Bohunka O. Goldstein, architecture firms like ShoP Architects, AH Architecture and Biber Architects, as well as tech firms like Iris Software. Retail tenants include Starbucks, T-Mobile and Suburger.
How much is the rent price for office space at the Woolworth Building?
The average asking rents for Lower Manhattan office space hovers above $62 per square foot, while the overall average rent in the City Hall area rests just below $60 per square foot. Office rents in this neighborhood are significantly more affordable than those found in Midtown Manhattan, where the average asking rent reached $87 per square foot in 2019, according to CBRE. 
Available Spaces
Interested in office space at 233 Broadway, Woolworth Building office space? Contact us today
Listing Location & Nearby Public Transportation
Nearby Transportation
Subway
Wall Street (23456J) - 8 minutes WalkFulton Street (236ACGJMZ) - 1 minute WalkWTC Cortlandt - 4 minutes WalkPark Place (23) - 4 minutes WalkChambers Street (123ACEJMZ) - 7 minutes WalkWorld Trade Center (E) - 2 minutes WalkRector Street (1NR) - 9 minutes WalkBrooklyn Bridge–City Hall - 6 minutes WalkCortlandt Street (1NR) - 5 minutes WalkCity Hall (NR) - 6 minutes Walk
Bus
Trinity Place/Thames Street - 8 minutes WalkTrinity Place/Rector Street - 8 minutes WalkChurch Street/Cortland Street - 3 minutes WalkChurch Street/Liberty Street - 5 minutes WalkBroadway/Vesey Street - 0 minute WalkBroadway/Park Place - 3 minutes WalkBroadway/Barclay Street - 2 minutes WalkBroadway/Warren Street - 5 minutes WalkBroadway/Murray Street - 3 minutes WalkBroadway/Reade Street - 8 minutes WalkBroadway/Chambers Street - 6 minutes Walk
Important information
This listing is presented for illustrative purposes only, it may no longer be available, and is provided merely as an exemplary representation of the types of spaces in a given neighborhood for a given price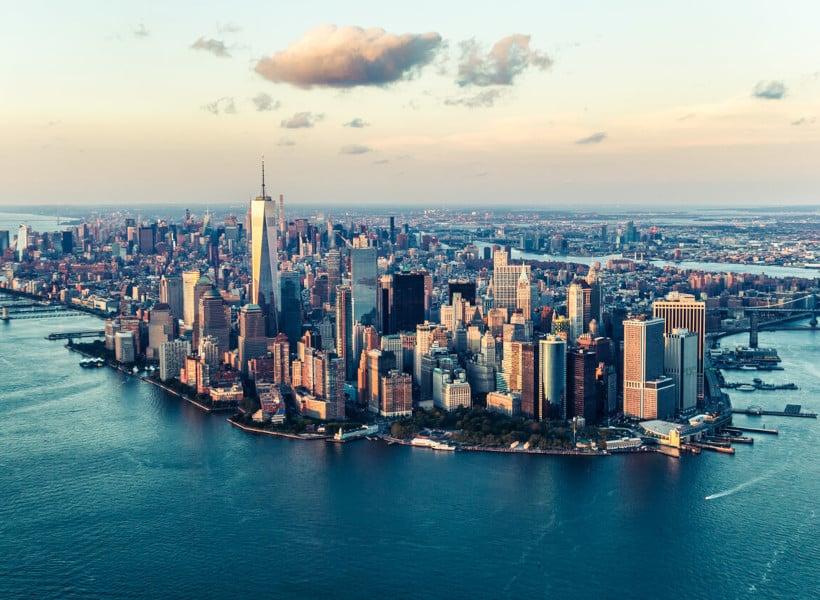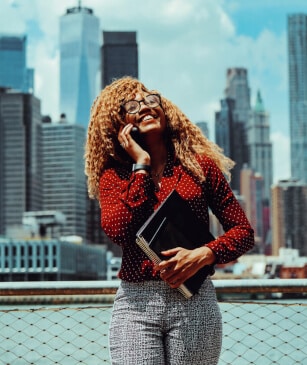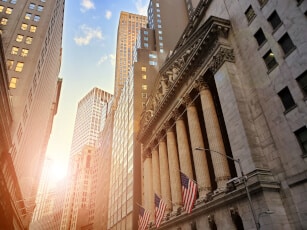 Downtown Manhattan
Downtown Manhattan Neighborhoods Downtown Manhattan has a vibrant and attractive office market. With roughly 90 million square feet of office space, you could find Downtown office space in a modern Class A skyscraper, budget B and C building, or a building with loft-like office space. There are also medical-friendly buildings such as 65 Broadway. Furthermore, many companies with staff living in…
Learn more about Downtown Manhattan
Schedule a Tour
Please select a convenient date for your tour, and one of our colleagues will contact you soon!