255 Greenwich Street Office Space for Lease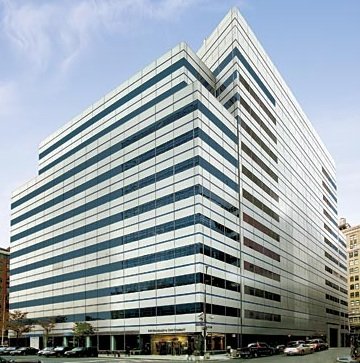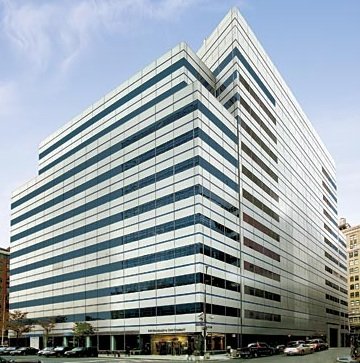 | | | | |
| --- | --- | --- | --- |
| Address | 75 Park Place | Class | A |
| Cross Streets | Park Place & Murray Street | Size | 623,748 SF |
| Year built | 1987 | Architect | Emery Roth & Sons |
Description
The office building at 255 Greenwich Street was built in 1987 with a design by Emery Roth & Sons, and boasts an alternate address of 75 Park Place. Conveniently located in the City Hall/Insurance District of Lower Manhattan, it spans a full block bounded by Greenwich Street, Park Place, Murray Street and West Broadway. 255 Greenwich Street is adjacent to the World Trade Center site, the 9/11 National Memorial and Tribeca, and is home to high-profile city agencies, healthcare corporations, and media/publishing.
624 KSF of Class A City Hall Office Space
The building located at 255 Greenwich Street features 623,748 square feet of Class A Lower Manhattan office space, as well as 50,000 square feet of retail. The 14-story building is owned and managed by Jack Resnick & Sons, and offers a plethora of modern amenities suitable for office-using tenants of any size.
The building features highly efficient, side-core floor plates ranging from 40,000 to 50,000 square feet, ceiling heights that approach 13 feet, and state-of-the-art electrical and cooling capacity. Other features include a 24/7 attended lobby, electronic access via turnstiles, CCTV in all common areas, a web-based visitor pass system, full sprinkler systems, and an off-street loading dock and delivery facilities with direct access to a freight elevator.
155 Greenwich Street also boasts a granite and marble lobby housing an original Charles Hinman wall sculpture, and has a dedicated CUNY entrance on Murray Street. A full-service garage with 100 parking spaces is also available in the building, and bicycle storage is available on the loading dock.
Getting to and from 255 Greenwich Street
The office building at 255 Greenwich Street benefits from an excellent location, nestled between Tribeca, the Insurance District and the World Trade Center complex. It is convenient to all downtown public transportation options, including the Fulton Transit Center, WTC Transit Hub, PATH lins, buses, ferries and water taxis. Those working in the building have easy access to the A, C, E, N, R, 2, 3, 4, and 5 trains, among others.
Who is renting office space at 255 Greenwich Street?
The convenient Lower Manhattan location and strong amenity package make 255 Greenwich Street an appealing destination for office-using tenants. The building houses a high-profile tenant roster, which includes the City of New York, the City University of New York, Mount Sinai Doctors, Weill Cornell Medicine, Thomson Reuters, and Target Corporation.
How much is the rent price for office space at 255 Greenwich Street?
Office asking rents at 255 Greenwich Street are roughly on par with the average found in Lower Manhattan, which hovers around $60 per square foot in 2019. Renting office space in this area isn't exactly cheap, but it's significantly more affordable than Midtown Manhattan, where office asking rents can often surpass $100 per square foot for Class A offerings.
Available Spaces
Interested in office space at 255 Greenwich Street Office Space for Lease? Contact us today
Listing Location & Nearby Public Transportation
Nearby Transportation
Subway
Fulton Street (236ACGJMZ) - 8 minutes WalkFranklin Street (1) - 8 minutes WalkWTC Cortlandt - 6 minutes WalkPark Place (23) - 3 minutes WalkChambers Street (123ACEJMZ) - 3 minutes WalkWorld Trade Center (E) - 6 minutes WalkBrooklyn Bridge–City Hall - 8 minutes WalkCortlandt Street (1NR) - 8 minutes WalkCity Hall (NR) - 5 minutes Walk
Bus
Church Street/Cortland Street - 8 minutes WalkBroadway/Vesey Street - 7 minutes WalkBroadway/Park Place - 5 minutes WalkBroadway/Barclay Street - 6 minutes WalkBroadway/Warren Street - 5 minutes WalkBroadway/Murray Street - 5 minutes WalkBroadway/Reade Street - 5 minutes WalkBroadway/Chambers Street - 5 minutes WalkBroadway & Worth Street - 7 minutes WalkBroadway & Thomas Street - 7 minutes WalkBroadway/Thomas Street - 6 minutes Walk
Important information
This listing is presented for illustrative purposes only, it may no longer be available, and is provided merely as an exemplary representation of the types of spaces in a given neighborhood for a given price
Schedule a Tour
Please select a convenient date for your tour, and one of our colleagues will contact you soon!