Address:
725 Fifth Avenue
Class:
A
Cross Streets:
56th & 57th Streets
Size:

257,000

SF
Year built:
1983
Architect:
Der Scutt, Swanke Hayden Connell & Partners
In the heart of Midtown Manhattan's luxurious Plaza District sits the striking 725 Fifth Avenue, otherwise known as Trump Tower. Your business or organization can lease outstanding Midtown office space tailor-made for modern executives and employees. 
725 Fifth Avenue was constructed in 1983 and is one of the few modern Plaza District office buildings with space available in the 2,000 to 10,000 square foot range. 
While many Midtown office buildings sit as outdated fossils, 725 Fifth Avenue provides modern Class A office space with outstanding amenities.
Completed in 1983, the Der Scutt, Swanke, Hayden Connell & Partners designed building has high-profile banking, finance, and business management tenants.
Class A, Amenity-Rich, Plaza District Office Space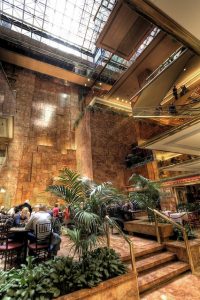 This 58-floor, 664-foot-tall New York City icon will impress your clients from the second they walk inside and glance at the 60-foot waterfall and marble-adorned Atrium.
With roughly 257,000 square feet of usable commercial space, including 130,000 SF of modern office space, available offices for lease range from 2,000 to 13,900 square feet.
Originally the tallest all-glass structure in Manhattan, 725 Fifth Avenue has long been ahead of its time in using amenities to attract commercial tenants.  
725 Fifth offers some of New York's most refined office spaces with sweeping, panoramic views of Fifth Avenue, Madison Avenue, and Central Park. 
Additionally, your employees will appreciate the convenience of four dining establishments in the building. There's Trump Bar, Trump's Ice Cream Parlor, Trump Cafe, and Trump Grill. Thus, you will not have to venture outside on a rainy day to dine. 
Moreover, there's a ​​common garden, a concierge, three attended elevators, a full-time doorman, and a fitness center.  
Besides, 725 Fifth Avenue also boasts 125,000 square feet of retail space on the lower levels. Retailers include Gucci's flagship store and Tiffany & Co. 
Floors 31 through 58 are also separately owned and operated residential condominiums housing various business people, dignitaries, and celebrities. 
Getting to and from 725 Fifth Avenue
It will be an easy and quick commute for your team if leasing office space at 725 Fifth Avenue. After all, you're conveniently at the heart of Midtown Manhattan's Plaza District and near many transit stations. 
The Fifth Avenue-53rd St station is three blocks away and services the E and M lines. 

You're about a 4-minute walk from the Fifth Avenue-59th St station, which services the N, R, and W lines, and the 57th St station, which services the F.  

The Lexington Av-59 St subway station is also about a 5-6 walk and services the N, R, 4, 5, 6, and W lines.  
Who is renting office space at 725 Fifth Avenue?
Several high-profile office tenants and upscale retailers call 725 Fifth Avenue home.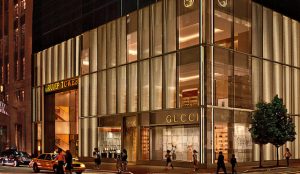 Gucci is the biggest commercial tenant and rents about 48,667 sq. ft. Starbucks is also a prominent retail tenant. 

The Trump Organization is its biggest office tenant and occupies the entire 25th and 26th floors. 

The Industrial and Commercial Bank of China leases two floors.

Other notable tenants include T Capital Management, Legacy Business School, CONCACAF, and Qatar Airways.
How much is the rent price for office space at 725 Fifth Avenue?
Office space at 725 Fifth Avenue commands a premium. You get what you pay for with a location like the Plaza District, coupled with amenities, name recognition, and transportation access.
Moreover, while the Plaza District is one of New York's most coveted business districts, it lacks abundant modern Class A office space. 
As of Q2 2022, Midtown's Class A asking rents sat at roughly $83.04, while the Plaza District's were $95.25/SF.