Welcome to a modern-day "tale of two cities" involving San Francisco and New York City. This story involves each city's commercial office markets and unique post-pandemic landscapes. It also involves San Francisco's vs. NYC's office recovery. 
In theory, you'd think they deal with the same challenges. To a degree, you're correct. Yet recent figures from The Co-Star Group paint a picture of two cities grappling very differently with the new normal.
Interestingly, New York City's office demand has surged 36% month-over-month, with its VODI (Volume of Demand Index) showing impressive growth over the last two years. Meanwhile, San Francisco's office market faces record-high vacancy rates, negative net absorption, and sluggish leasing activity, leaving us to wonder what's behind these differences.
What drives New York City's office market resilience amid widespread challenges? Why is San Francisco falling behind in recovery? Is NYC's growth an outlier, a temporary illusion, or a sign of things to come for other cities? Can this momentum be sustained? 
As we explore the factors shaping these disparities, we'll evaluate each city's distinct characteristics and market drivers. We aim to reveal their unique paths toward office recovery and uncover what lies beneath their differing trajectories.
Overview of San Francisco's Office Market
San Francisco's office market has been facing significant challenges, mainly due to the city's declining appeal caused by a struggling tech sector, rampant crime, drug use, homelessness, and declining foot traffic. The situation has been further exacerbated by the rapid adoption of remote and hybrid work models, leaving office spaces empty and businesses struggling. To address this decline, understanding the underlying factors and examining the current state of the city's office market is crucial.
Declining Office Market in San Francisco
Based on Collier's data, the office vacancy rate continued to rise in the first quarter of 2023, hitting an all-time high due to a negative net absorption of 778,934 square feet.
In Q2 2023, San Francisco's office market continues to see record-high vacancy rates, negative net absorption, and sluggish leasing activity. In addition, the COVID-19 pandemic played a significant role in the market's collapse, as companies and employees fled the city, resulting in a sharp decrease in economic activity. This downturn continues to impact the value and viability of office properties and related businesses.

San Francisco's commercial real estate market is in a bad state. The 22-story glass and stone tower at 350 California Street is a prime example. The building was valued at around $300 million in 2019. Yet today, it's predicted to receive bids worth about $60 million, an 80% drop in value in just four years. Additionally, Union Bank, the building's old anchor tenant, moved out, leaving the tower 75% vacant.
Pre-pandemic Decline and Major Employers' Relocations
Yet, even before the pandemic, the city experienced a decline in its office market. Major employers like McKesson and Charles Schwab relocated their headquarters to more affordable markets like Texas. Consequently, office vacancy levels soared and continue to soar. Nearly 30% of downtown San Francisco's office space is vacant, over seven times the pre-pandemic rate and the biggest increase of any major U.S. city, according to CBRE.
The following graphs from The Co-Star Group, a leading commercial real estate data company, speak volumes.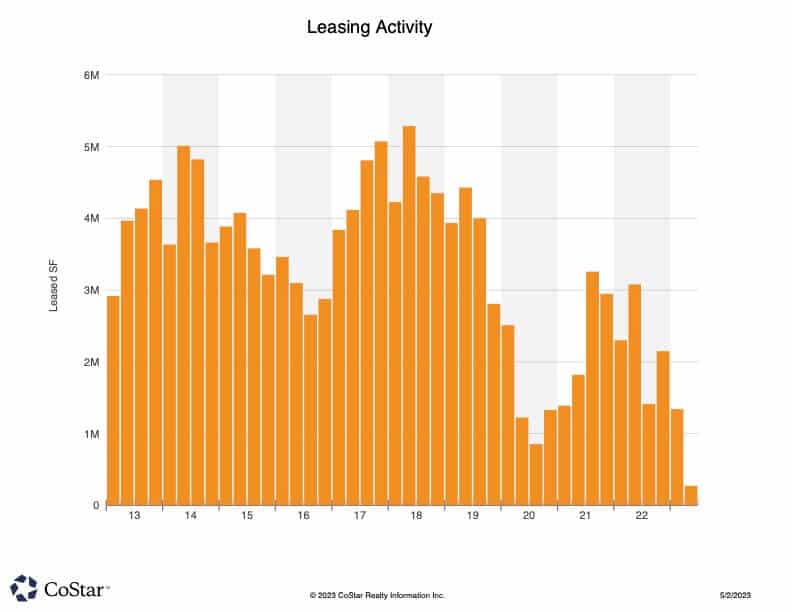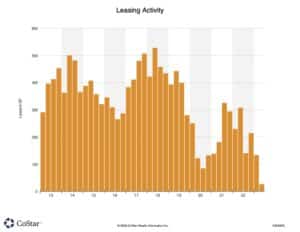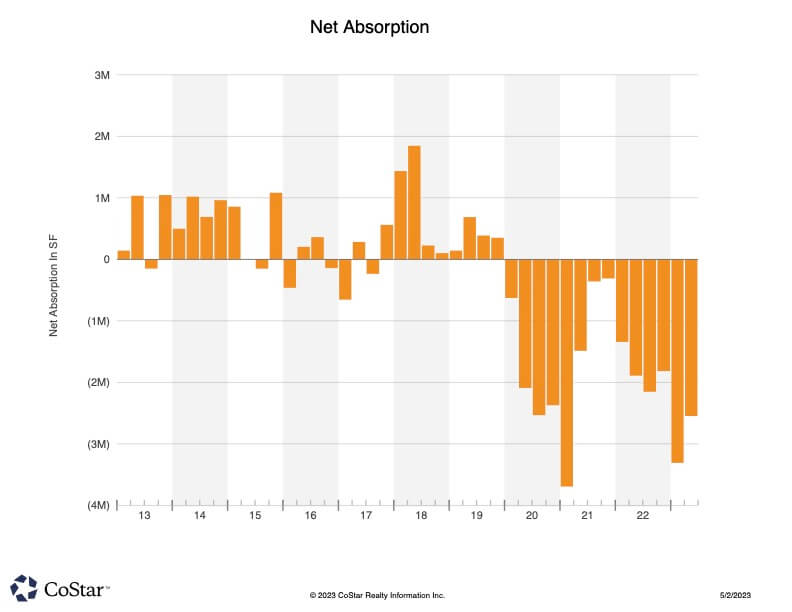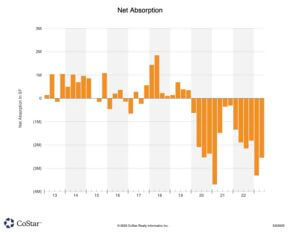 Tech Workforce's Impact and Remote Work Adaptation
San Francisco's tech-heavy workforce and the ease with which they adapted to remote work further contributed to the downturn. As a result, return-to-office metrics have remained below the national average, and the once-thriving downtown core now faces a vacancy rate of over 21%. Notably, major tech firms like Meta, Slack, and Salesforce have added large spaces to the sublease market in 2023, reflecting the ongoing shift away from traditional office spaces.
Even Stable Sectors Struggle 
While some new leasing activity has occurred, it pales compared to the overall trend of businesses vacating office spaces. In contrast to the struggling traditional office market, the life science sector has performed well, particularly in San Mateo County and South San Francisco. However, economic headwinds have slowed demand in 2023, suggesting that even this booming sector may not be immune to the city's challenges.
Factors Contributing to San Francisco's Struggles
Several factors contribute to the struggles of San Francisco's office market:
Over Reliance on the Tech Sector
The struggles of San Francisco's office market serve as a reminder of the dangers of relying heavily on a single industry. Specifically, the tech sector's overwhelming influence on the city's office market has significantly hindered its recovery. Before the pandemic, tech companies occupied 50% of the city's office space. However, with remote work becoming the norm, demand has significantly decreased.
Notably, companies like Dropbox, Yelp, Salesforce Inc., and Meta Platforms Inc. have either downsized their office needs or opted for subletting their spaces. This exodus of office workers has created a domino effect throughout the financial district, impacting restaurants, retailers, and small businesses.  
Government Policies  
San Francisco's progressive policies and taxes have contributed to its office market struggles by straining relationships between the city government and businesses. The 2018 "homelessness tax" is a prime example, levying a 0.5% gross receipts tax on companies with over $50 million in revenue. This tax spurred some businesses to reconsider their city presence. 
Recent election results also signal a shift in public sentiment. In November, majority-Asian American Sunset District voters replaced a progressive Chinese American incumbent with a moderate White candidate, Joel Engardio. This change suggests a growing demand for more balanced policies to help mend business relationships and foster office market recovery.
Crime, Homelessness, and Drug Use
San Francisco's crime, homelessness, and drug use issues hinder its office recovery efforts. For instance, professional security hired to watch a CNN reporter's car failed to prevent a smash-and-grab that occurred within seconds resulting in a shattered car window and stolen bags. This incident reflects the city's alarming increase in property crime. Unfortunately, violent crime doesn't appear much better, especially with the recent murder of tech mogul Bob Lee.
The city's homelessness crisis is equally concerning. According to the SF Chronicle, the city has at least 4,397 unsheltered homeless people and only 34 shelter beds. The worst part? These figures are as of mid-December 2022.
Moreover, public drug use has become increasingly prevalent on the streets, contributing to a sense of uneasiness among residents and businesses. Unless these challenges get magically fixed, they will continue to cast a shadow over its potential for office recovery and future growth, harming the city's overall desirability for businesses and individuals alike.
Retail Vacancies and Reduced Foot Traffic
San Francisco's once-vibrant retail scene is facing a crisis, with major retailers like Nordstrom the latest to shut their doors due to dwindling foot traffic, a challenging downtown market, and a current environment that's "not sustainable." Empty storefronts and vacant offices paint a grim picture for the city, as retail vacancies contribute to a declining urban atmosphere that further deters customers and businesses.
The vacancies have left small businesses struggling to sustain operations and generate revenue without foot traffic. Reduced patronage is also impacting nearby establishments, adding to their woes. Urgent help is needed to prevent these small businesses from facing closure.
Overview of New York City's Office Market
Diversification Helps  
In theory, the chart below from The Co-Star groups reveals a similar glum trajectory as San Francisco's regarding leasing activity.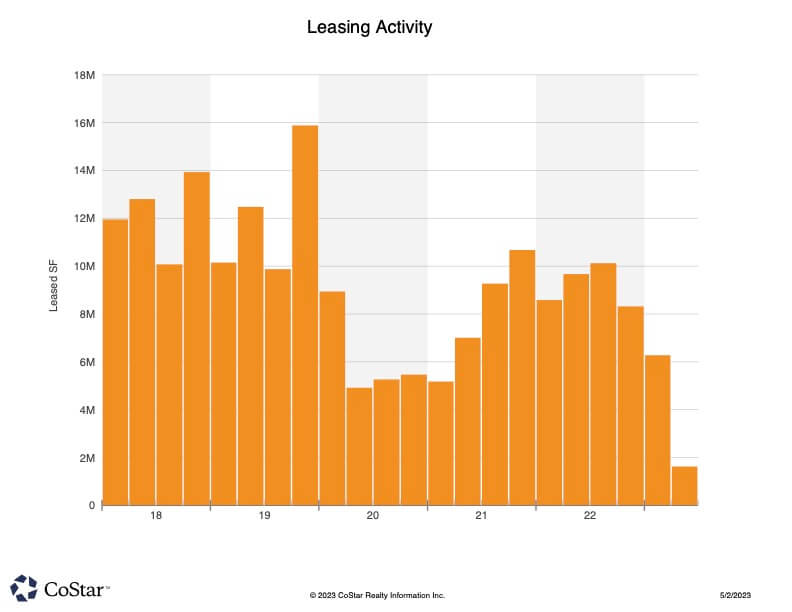 However, if you look at net absorption, New York City is returning toward positive territory and less profoundly and consistently in negative territory than San Francisco.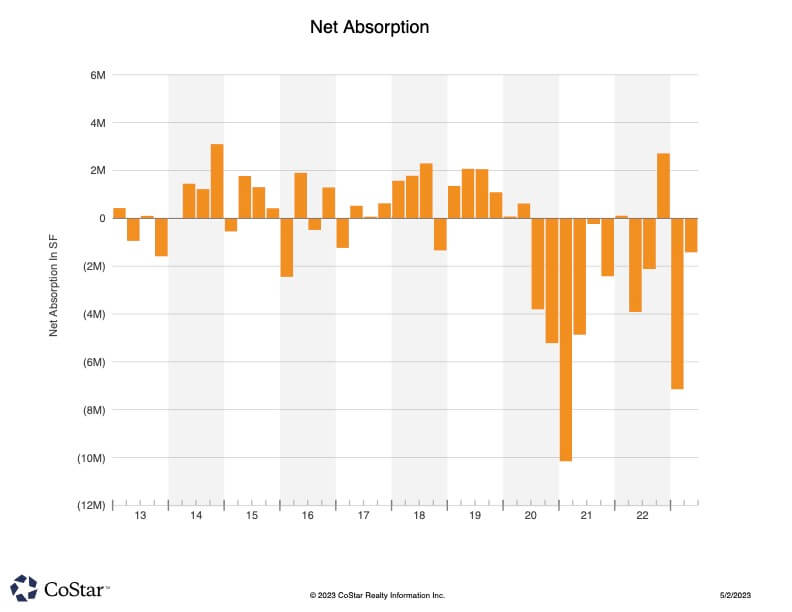 The New York City office market is doing better than San Francisco's, despite not exactly booming. This stability is thanks to the diverse range of tenant sectors contributing to the market's resilience and adaptability.
New York City is less reliant on a single sector than San Francisco. It's a financial hub full of firms requiring employees to return to the office. It also has world-renowned universities and medical centers, contributing to a comparably stable commercial market.
Surprisingly Strong Demand
Recent numbers from The Co-Star Group also show that demand for office spaces in New York City has risen by a surprising 36% month-over-month. In addition, the NYC VODI (a commercial real estate index) has also seen consistent and surprising growth over the past two years, reaching its highest point since September 2021, except for May 2022.
A Promising Future?
A picture is worth a thousand words. According to The CoStar Group, New York City's commercial market value currently sits nearly 4.5 times higher than San Francisco's. By 2027, this disparity could grow even larger.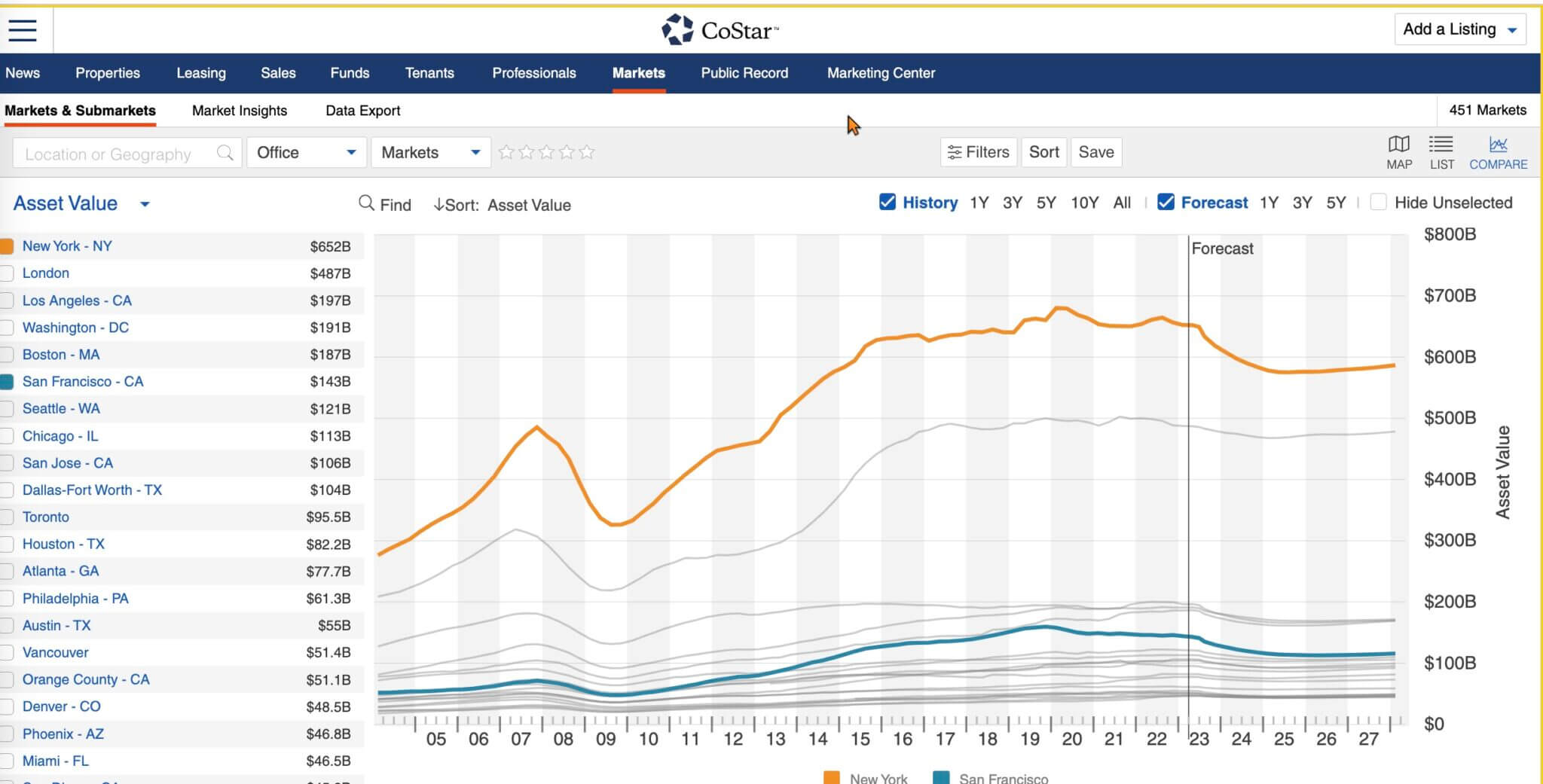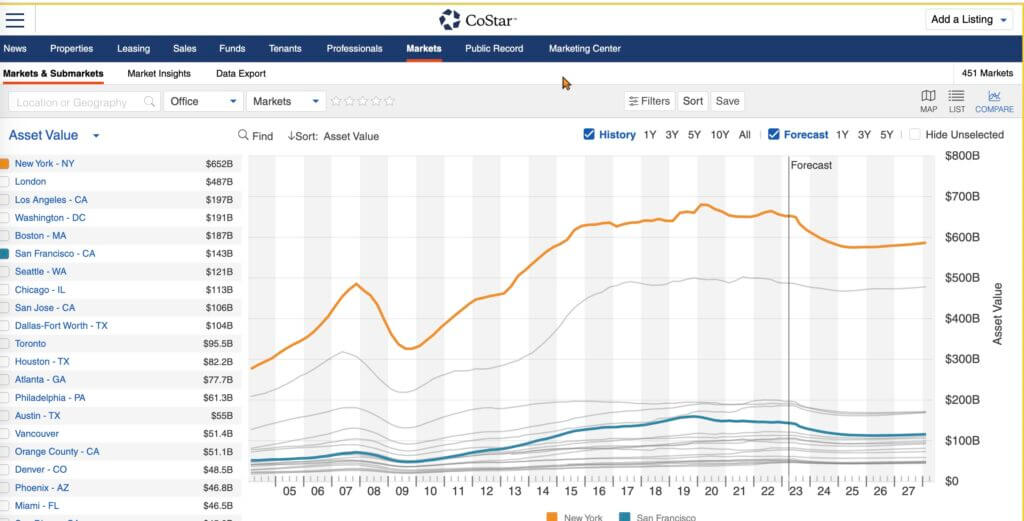 Why New York City's Outperforming San Francisco 
In the ongoing commercial real estate recovery saga, New York City, despite facing similar challenges, has an office market that's displayed remarkable resilience compared to its West Coast counterpart. The below reasons might explain why.
Diversified Industries Supporting Growth
One key factor contributing to New York City's superior commercial real estate market performance is its diversified industry base. While San Francisco heavily relies on the tech sector, New York boasts a more balanced mix of industries, including finance, fashion, media, and entertainment. This diversification offers a safety net, shielding the city from the negative impacts of a single industry's downturn.
Traditional Base of Clients and Major Industries
New York City has long been a global center for business, attracting major corporations and fostering a stable client base. In addition, the city's strong history and established reputation encourage companies to plant their roots, invest, and grow. In contrast, San Francisco's reliance on tech startups makes its market more volatile and susceptible to fluctuations.
High Return-to-Office Rates in Financial Services Sector
NYC's office recovery owes much to the financial services sector, a cornerstone of its economy. This industry has seen high return-to-office rates post-pandemic, reinvigorating the city's commercial real estate market. For instance, JP Morgan recently abandoned its hybrid work policy. At the same time, Goldman Sachs and Morgan Stanley have also championed the return to in-person work.
In contrast, San Francisco faces more significant challenges due to the ongoing remote work trend embraced by tech companies.  
Presence of Major Universities
New York City's abundance of prestigious universities, such as Columbia, NYU, and Fordham, creates a steady stream of talent and innovation. These institutions attract top students and researchers and foster collaboration with businesses, fueling the city's economic growth. While home to some renowned universities, San Francisco does not have the same density of academic powerhouses within city limits.
Key Takeaways and Questions 
As we've explored, New York City and San Francisco exhibit stark differences in their office market recoveries. While NYC's market is far from perfect or booming, it benefits from the crutch of diversified industries, a strong client base, and high return-to-office rates in certain sectors. Meanwhile, San Francisco looks increasingly like a ghost town that will struggle to return to its former glory. 
That's not to say New York City's future is so cut and dry. It's still uncertain. Many businesses who left New York for markets like Florida several years ago due to COVID restrictions may not return. Moreover, Florida still has enticing tax policies, and it's not as if New York doesn't face similar issues plaguing San Francisco.
So this recent encouraging data from The Co-Star Group raises the question: Is NYC's recent success an outlier or a sign of things to come?
As we ponder the sustainability of this uptick in demand, we must also consider if NYC's recovery can serve as a model for other cities. Is this revival long-lasting, indicative of better times, or merely a temporary illusion? Ultimately, only time will tell.