For the first time since 2000, the market value of New York City commercial real estate has declined. It dropped $28.6 billion in the last year. This figure comes courtesy of a report from City Comptroller Thomas DiNapoli.
A financial hit of this magnitude reflects the challenges that landlords continue to face populating their office buildings. It also has a significant effect on city tax revenue. Companies searching for office space in Manhattan should be aware of this decline's impact on the neighborhoods they consider and the tax rates they expect to pay.
A Sudden Drop Off
Some good news buried in the Comptroller's report is that "between 2011 and 2021, strong demand more than doubled the total market value of office properties to reach a total of $172 billion."
Even so, Covid19's chilling effect on the market resulted in a sudden 17% drop-off in demand. The resulting total appraised valuation is now about $143 billion. This decline most dramatically affected occupancy in Midtown (reporting 19% vacancy), Midtown South (17.5%), and Downtown (17%). Asking rents declined during this same period by 4.5%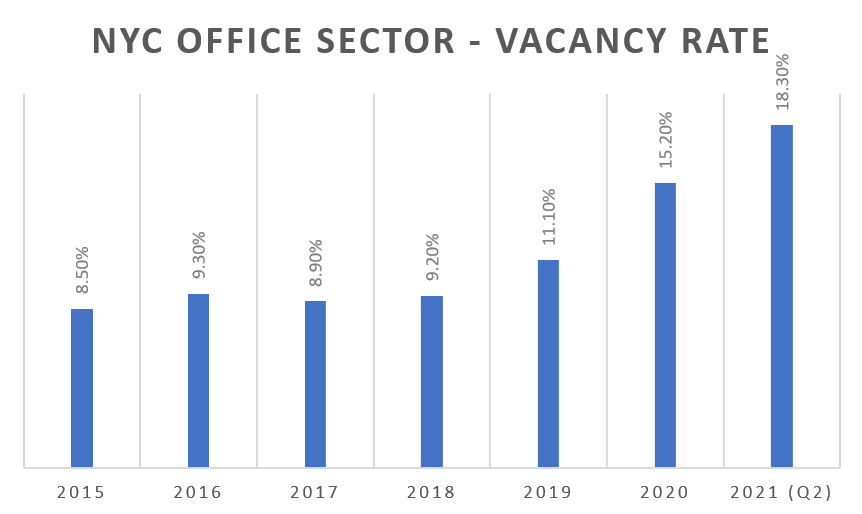 Some of the city's most prominent Class A properties took big hits, including:
All told, the ten most expensive office buildings in New York City lost 12.5% of their value.
There are, of course, adverse follow-on effects to increased office vacancies. Notably, restaurants and retail tenants experienced a crash both regarding employment and leasing. We have seen encouraging signs in recent months, but there are still many vacant storefronts. Workers returning to the office are likely to find that their neighborhood's resources to be significantly reduced.
The Blow to City Revenue
Generally speaking, office properties have much higher tax assessments than residential properties. They comprise about one-quarter of city tax revenue.
As you can imagine, this drop in market value severely impacted tax receipts. Overall, the property value hit described by the Comptroller's office translated to a $1.7 billion decline over the last year.
New York will largely avoid immediate cuts to social services because of Federal aid. That won't last forever, though. The long-term fiscal health of the city relies on a reversion to the pre-pandemic property values. That might take some time. The Comptroller's office does not expect tax revenue from office properties to rebound fully until at least 2025.
Continuing Headwinds for Office Leasing
Remember: 100,000 New York jobs disappeared last year, yet a relatively low number of them were office jobs. As I have discussed before, an equal impediment to leasing right now is remote work. The city's office workers might still have jobs, but these jobs aren't necessarily in the office.
The pandemic fundamentally shifted what we want from the office. Employees seek a more equitable balance between commuting and working from home. At least for the time being, personal space and outdoor amenities are at a premium. I believe it's unlikely that either 100% remote work or socially distanced office plans will be permanent features for white-collar work.
Indeed, we happily saw some good news, with New York commercial leasing activity jumping 18% in Q2 2021. Much of this activity concentrated on Class A buildings with more modern HVAC systems and touchless technology. It's becoming increasingly clear that companies returning to the office want well-ventilated, studiously clean environments.
What This Decline Means for Office Tenants
If you rent office space in the city, you might see some unexpected benefits on your monthly rent invoice. Reduced tax assessments on commercial properties could lead to rent credits for office tenants. At a minimum, most current office tenants will not see increases in their real estate tax liabilities per their lease.
The same is true of prospective tenants. Most likely, the tax rate a new tenant finds themselves paying in their first year of occupancy will remain relatively flat in the coming years. Customarily, tenants pay their proportionate share of tax increases over a base year. With taxes remaining level, they might not see any supplemental charges for several years. Combine that with reduced asking rents, and your near-term monthly costs for NYC commercial office and retail space are more affordable than they have been in many years.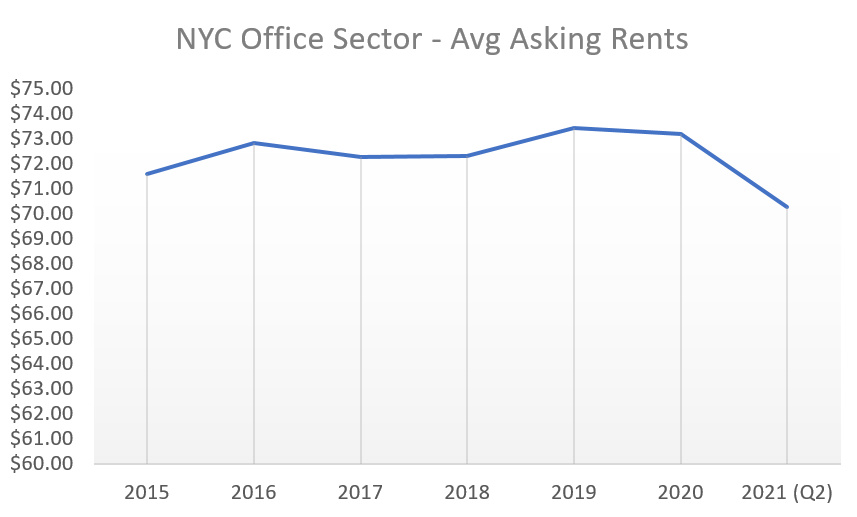 Even so, I caution new tenants not to assume that their tax liability will remain low in perpetuity. If there's one thing you can count on in Manhattan, it's that property values will increase over time. It might take longer than 2025, but tax bills will find their way back up to pre-Covid levels.
The Cost to All New Yorkers
The most concerning aspect of this decline in market value is the result of lost tax revenue. Every New Yorker should be troubled by potential cost-cutting in city programs. Public transit, policing, social work, student resources – social programs like these play a significant role in keeping New York safe and livable.
Already, we see that crime statistics are trending in the wrong direction. Even as overall crime decreased in 2020, the NYPD reported a 97% increase in shootings, a 44% increase in murders, a 42% increase in burglaries, and 67% more car thefts.
Whoever becomes New York's next mayor, he will need to contend with these issues and the fiscal problems exacerbating them.
I don't want to be alarmist in discussing crime trends. New York has become infinitely safer since the early 1990s. A $1.7 billion city real estate tax revenue decrease is significant, but it isn't catastrophic. Our city is unlikely to return to the worst-in-the-nation crime figures of the seventies and eighties.
However, any company looking to rent office space in Manhattan needs to consider neighborhood quality. The New York Post has reported recently about daytime open-air heroin use in the Garment District. Employers must be aware of the crime stats for the neighborhoods they consider; they also must pay attention to the safety and reliability of transit hubs that their workers will take to the office every day.
The Bottom Line
The Office of the Comptroller's office sector report confirms many concerns that New Yorkers share. The overall drop in office market value is worrisome, but it is unlikely to foretell a long-term decline.
The same is true of the city's revenue shortfall. City residents and commuters are rightly worried about how this will affect their quality of life. If you are looking for new office space in Manhattan, we recommend you speak candidly with your commercial real estate broker about neighborhood safety.
If you are negotiating to lease a new commercial space, or perhaps negotiating an office or retail space renewal, pay close attention to the clauses pertaining to real estate tax. You can expect this charge to remain mostly flat for a few years, but it will increase over time.