Manhattan's commercial real estate market was hit with an unprecedented blow when the Covid19 pandemic emerged in March 2020. The market has been struggling ever since, recording decreased activity across the board. As a result, New York City office space is significantly more affordable than it was pre-pandemic and significantly emptier. 
The Delta variant has hampered efforts to bring office workers back into Manhattan's skyscrapers. Even so, the market is showing signs of recovery. Increased leasing activity is prompting experts to suspect that an imminent return to normal is brewing under the surface. Recent leasing and transaction activity for Manhattan office space signifies that interest in this market has not waned. Moreover, it's a signal that companies continue to see the long-term appeal of having an outpost here. 
Early signs of a comeback for Manhattan office market
Although many office spaces in Manhattan are lying vacant and the vacancy rate remains high, at over 17%, the market is showing early signs of recovery. According to a recent report by Cushman & Wakefield, office tour activity is surging in the city. In December 2020, office tour activity was 65% lower compared to pre-pandemic levels. From December 2020 to May 2021, this activity doubled. This indicates that companies are already preparing to return to the office and are still willing to bet on NYC. 
Office employment numbers are also encouraging, with the economy recovering 76% of the 2.2 million job loss it suffered in March and April of 2020. Cushman & Wakefield's research suggests that the U.S. will return to pre-pandemic office employment levels in the first quarter of 2022. This would translate into roughly two years of recovery for this sector. Which struggled to recover for six years following the 2008 financial crisis. This research is encouraging and points to a potential return to normal next year. 
Leasing and transaction activity intensifying in Manhattan
Another promising sign that NYC commercial real estate is headed for better days is the increased leasing activity and transaction velocity. Investor interest seems to remain strong, and technology corporations are leading the pack. According to the Seattle Times, Facebook, Amazon, Roku, and Microsoft are all reportedly looking to expand their office footprint in the city. Microsoft is said to be eyeing 100,000 square feet of office space in Flatiron, while Roku is also in talks to rent 100,000 square feet at 5 Times Square in Midtown Manhattan.
Stripe is another company betting on Manhattan's appeal. The company has recently taken over 100,000 square feet at a WeWork location in the borough. All in all, technology firms toured 2.1 million square feet of office space in the city, 91% more than in the previous three months combined, according to data from VTS cited by the Times. Google is paving the way for other startups and tech firms, as it has recently announced that it would shell out $2.1 billion for the St. John's Terminal project on West Side Manhattan. 
Leasing Activity Up 18% in Q2 of 2021
Leasing activity was up 18% in Q2 2021 compared to Q1 and up 28% compared to Q2 2020, per Cushman & Wakefield. Another encouraging sign is that 75% of leases signed in the first half of the year were for more than four years. One-fourth of leases were for 10+ years. It seems that companies are no longer reluctant to sign long-term leases, signaling that confidence in the market is strengthening.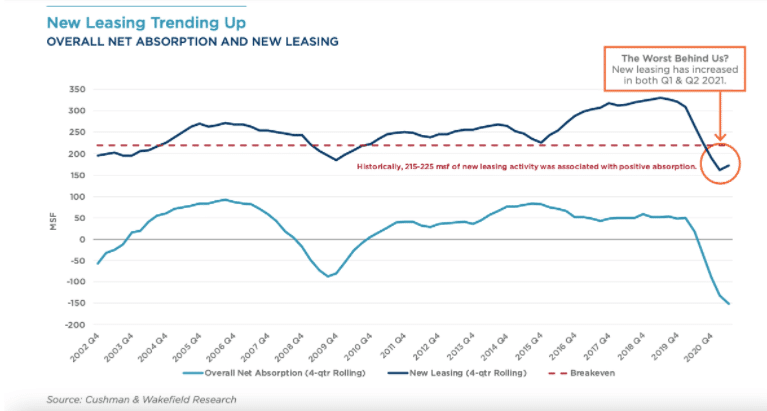 August 2021 was the strongest month for Manhattan office leasing since January 2020, the Commercial Observer reports. Roughly 2.5 million square feet of office space was leased during the month. This was even as average asking rents hit a low point of $72.68 per square foot. Midtown Manhattan, in particular, had a good month, recording its highest leasing volume since July 2020. So far in 2021, the market saw 13.91 million square feet of space leased, slightly ahead of the 13.69 million square feet leased during the same time in 2020. Though the difference is incremental, it's a positive signal that the market might finally be stabilizing and poised for recovery. 
A post-pandemic flight to quality
Companies signed several major office leases in the city over the past weeks and months. According to the Commercial Observer, the Helmsley Building at 230 Park Avenue welcomed seven new tenants, including two law firms and two real estate services firms. The firms took over a combined 48,000 square feet in the 1.3 million-square-foot Plaza District tower. Law firm Lowenstein Sandler renewed and expanded its headquarters at 1251 Avenue of the Americas. According to The New York Post, rents for the company's expanded space on the 17th, 18th, and 19th floors start at $86 per square foot and rise to $100 per square foot over 17.5 years. 
At 1301 Avenue of the Americas, some tenants chose to downsize, while others decided to expand their existing footprint. Credit Agricole shrank its office presence in the building from 240,000 square feet to 167,000 square feet. At the same time, SVB Leerink more than doubled its office footprint at the property. Taking over the 12th and 13th floors and part of the 6th floor. Last but not least, BDO USA signed up for 143,000 square feet of Midtown Manhattan office space at 200 Park Avenue, as reported by Globe Street. 
80% of New Office Leases in Class A Properties
According to a JLL report, close to 80% of new leases signed in the city were for Class A properties. By comparison, 65% of new office leases were for Class A spaces in 2019. The same report shows that Class B office vacancy rates climbed by 620 basis points compared to last year, while Class A vacancy rose by just 500 basis points. The focus on Class A office space signals a post-pandemic flight to quality in NYC commercial real estate. Tenants are likely to be eyeing modern office buildings with state-of-the-art amenities. With a particular focus on HVAC, ventilation, sanitation, and touchless technology to keep Covid19 at bay.