One Bryant Park, Bank of America Tower office space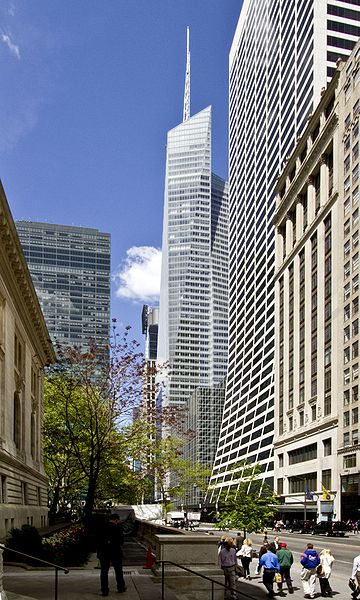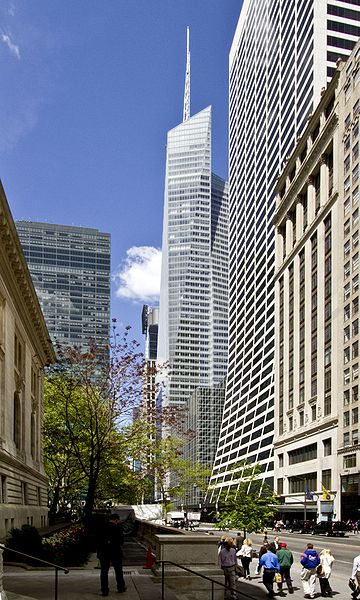 | | | | |
| --- | --- | --- | --- |
| Address | 113 West 42nd Street | Class | A |
| Cross Streets | 42nd & 43rd Streets | Size | 2,100,000 SF |
| Year built | 2010 | Architect | Cook + Fox Architects |
Description
One Bryant Park, otherwise known as The Bank of America Tower, is a glistening Midtown Manhattan glass-clad tower with plenty of attractive Class A office space for lease overlooking Bryant Park.
However, it's not only the amenities and location that appeal to tenants. One Bryant Park, since its 2010 completion, has set global standards in sustainability as the first ever LEED Platinum-certified skyscraper in North America.
Thus, leasing modern office space in this state-of-the-art building makes a statement to both your employees and clients.  
The building hosts Bank of America's global corporate and investment banking headquarters, The Durst Organization's corporate headquarters, and many other prestigious tenants in law and finance for a reason.
LEED Platinum, Class A Office Space Available
The second your workers or clients enter the new glass-enclosed dual-stair subway entrance at 42nd Street; they will realize that One Bryant Park offers something new and unique. 
The Durst Organization-owned and COOKFOX Architects-designed 55-story building offers nearly 2.4 million square feet of Class A+ office space emphasizing daylight, fresh air, and the outdoors. Hence, office spaces for lease are tailor-made to fit the needs of modern workers. 
One Bryant Park offers open, flexible, naturally lit, and column-free office space with 9.5-foot ceilings. Furthermore, many offices provide views of Manhattan through a clear, floor-to-ceiling, high-performance glass curtain wall.
However, that's only the tip of the iceberg. Many other amenities at One Bryant Park set the standard for modern office space for lease. 
Thus, game-changing sustainability amenities exist, such as:
LEED Platinum-certification 
Hospital-grade, 95% filtered air
Abundant natural daylight 
Under-floor ventilation system with individually-controlled floor diffuser
Round-the-clock air quality monitoring
Gray water system; which collects and re-uses rainfall
Floor-to-ceiling insulating glass
Automatic daylight dimming system
Tenant-controlled HVAC
On-site power generation 
Further, other on-site amenities uniquely position One Bryant Park as one of the most innovative buildings in all of New York City.
The Urban Garden Room at its base- an indoor garden open to the public
The first 'green' Broadway theater, the 50,000-square-foot, LEED Gold-certified Stephen Sondheim Theater
The large lobby bar at the orchestra level 
Ground floor bar/cafe 
Restaurant on the upper mezzanine level 
37,000 square feet of first-floor retail  
On-site Management
Through-block pedestrian passage 
Available office spaces range from 7,000-20,000 square feet. 
Getting to and from One Bryant Park
One Bryant Park benefits from an excellent location in the heart of Midtown. Sitting on the corner of Sixth Avenue and 42nd Street, overlooking Bryant Park, the tower offers easy access to convenient transportation.
Besides, you're a short walk away from Times Square, Penn Station, and Grand Central Station.
Additionally. the building's located near most major subway lines, including the 42nd St-Bryant Park station, which services the B, D, F, M, and 7 lines.
Who is renting office space at One Bryant Park?
Bank of America is the anchor tenant of One Bryant Park, occupying six trading floors and 75% of the building. Moreover, The Durst Organization owns the building and has its corporate headquarters here.
In addition, other notable tenants lease office space at One Bryant Park, like: 
Akin Gump Strauss Hauer & Feld 
AMP Capital 
Apex Capital Management 
Ascot Underwriting 
Avesta Capital Advisors 
Elie Taharie 
Generation Investment Management 
Light Sky Macro 
Manikay Partners  
Marathon Asset Management 
McKool Smith 
Melkonian Capital  
Merrill Lynch  
Mitsui & Co.
Powa Technologies  
QFR Capital Management  
SRS Capital Management  
TriOaks Capital Management 
Furthermore, retail tenants include Starbucks, Charlie Palmer Steak, and Burger & Lobster.
How much is the rent price for office space at One Bryant Park?
The tower's state-of-the-art energy-saving features and top-notch amenities keep attracting tenants.
However, while over half of the building's occupied space serves as the headquarters for Bank of America, a wide choice of prime office space remains available for rent.
Asking rent at One Bryant Park often exceeds $100 per square foot, and it's understandable why. Conversely, Midtown's Class A average asking rent as of Q2 2022 was roughly $83.04. 
Available Spaces
Interested in office space at One Bryant Park, Bank of America Tower office space? Contact us today
Listing Location & Nearby Public Transportation
Nearby Transportation
Subway
42nd Street–Bryant Park - 4 minutes WalkTimes Square - 4 minutes Walk42nd Street–Times Square - 5 minutes Walk47th–50th Streets–Rockefeller Center - 6 minutes Walk5th Avenue (7N) - 5 minutes Walk49th Street (NR) - 9 minutes Walk
Bus
West 42nd Street/7th Avenue - 6 minutes WalkWest 42nd Street/Broadway - 4 minutes WalkWest 37th Street/Broadway - 8 minutes Walk5th Avenue & West 44th Street - 5 minutes Walk5th Avenue & West 42nd Street - 5 minutes WalkMadison Avenue & East 40th Street - 8 minutes Walk
Important information
This listing is presented for illustrative purposes only, it may no longer be available, and is provided merely as an exemplary representation of the types of spaces in a given neighborhood for a given price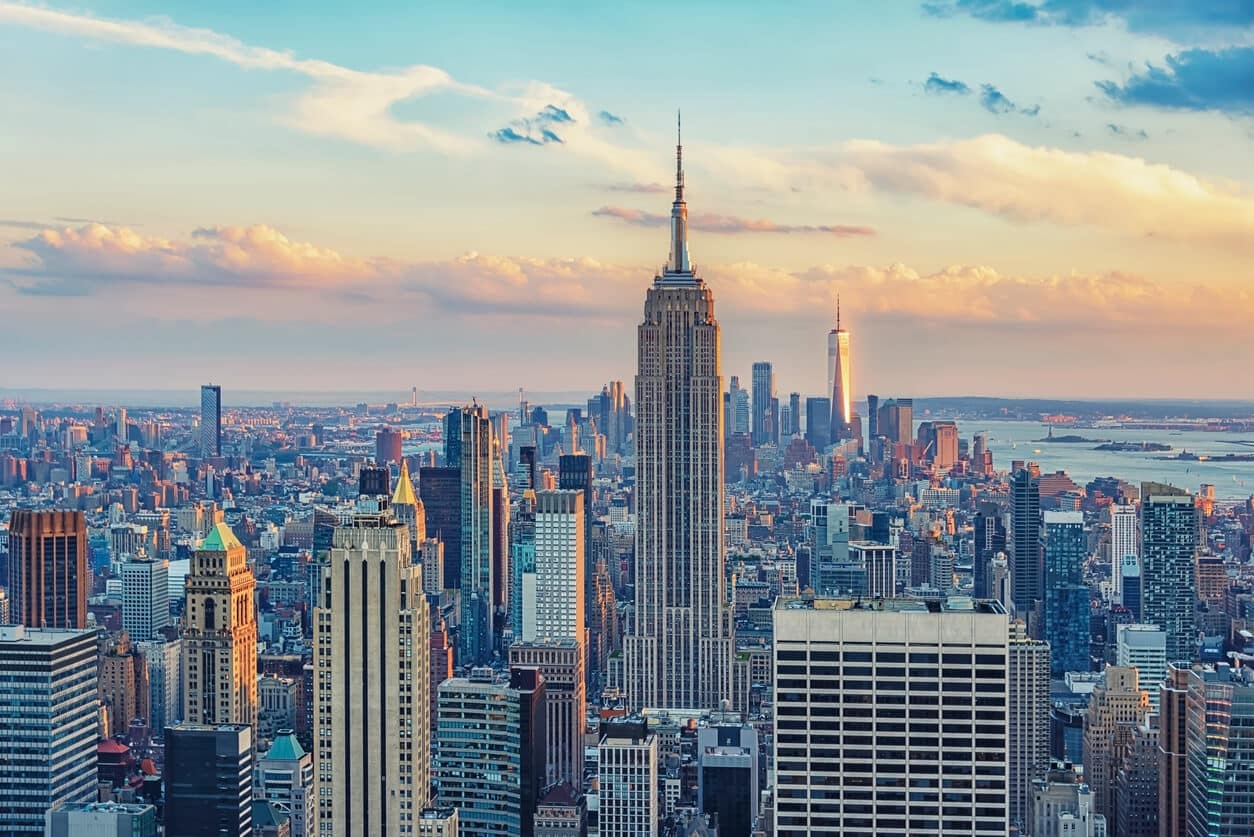 Midtown Manhattan
Midtown Manhattan Neighborhoods Midtown is Manhattan's central hub and its largest and most prominent office market. With roughly 242 million square feet of Midtown office space, there are various options to choose from. Moreover, you have several submarkets to consider in this expansive, diverse area. However, leasing or subletting office space in Midtown Manhattan is not a…
Learn more about Midtown Manhattan
Schedule a Tour
Please select a convenient date for your tour, and one of our colleagues will contact you soon!