New York City's office market is finally showing clear signs of recovery, at least according to the most recent second-quarter reports released by brokerages. Workers are slowly returning to the office, while leasing activity is picking up steam and average rents are on a steady rise. 
According to Marcus & Millichap, office usage is finally on the upswing and is now at 38% of pre-pandemic numbers. Based on a Kastle Systems office utilization survey, the data shows that office usage in the city exceeds pre-omicron figures and is now at a post-pandemic peak. Still, 78% of the city's traditional office-using employers plan to implement hybrid work options, which means there are still many empty desks in Manhattan's office buildings. Because of this, Marcus & Millichap predicts that office tenants will continue to look for smaller, more flexible spaces that allow them to adapt to potential changes. 
In terms of employment, the numbers paint a promising picture. According to Cushman & Wakefield's Q2 Manhattan Office MarketBeat, total employment in NYC reached 4.5 million jobs in May, adding 304,600 jobs year over year. That's also the highest employment level recorded since March 2020, when the pandemic began. Leisure and hospitality are on the path to recovery, adding 124,500 jobs over the past month, while the financial services sector reached 468,900 jobs this spring. However, tech continues to drive employment in the city, as the information services sector reached an all-time high of 235,900 jobs as of May 2022. 
Q2 office leasing volume up 61% year-over-year
According to Colliers' Q2 office report, Manhattan office leasing volume decreased by 2.9% during the second quarter, to 7.32 million square feet. However, the total leasing volume for the first half of the year (H1 2022) recorded a 64.2% increase compared to the first half of 2021. Leasing volume in H1 2022 totaled 14.95 million square feet; by comparison, 9.11 million square feet of office space were leased during H1 2021. At the same time, Q2 2022 leasing volume was up 60.8% compared to Q2 2021, when 4.55 million square feet of office space were leased. 
The market is showing signs of recovery but still has a long way to go. Colliers reports that office demand in Q2 2022 was 10.1% below Manhattan's five-year rolling average of 8.14 million square feet. Additionally, Q2 demand was 10.6% below the 10-year average of 8.19 million square feet. However, leasing activity in Q2 signals a possible return to pre-pandemic levels. If leasing volume in Manhattan is to continue at the same pace, the full-year leasing volume in 2022 will surpass the total recorded in 2021 by 19.8%.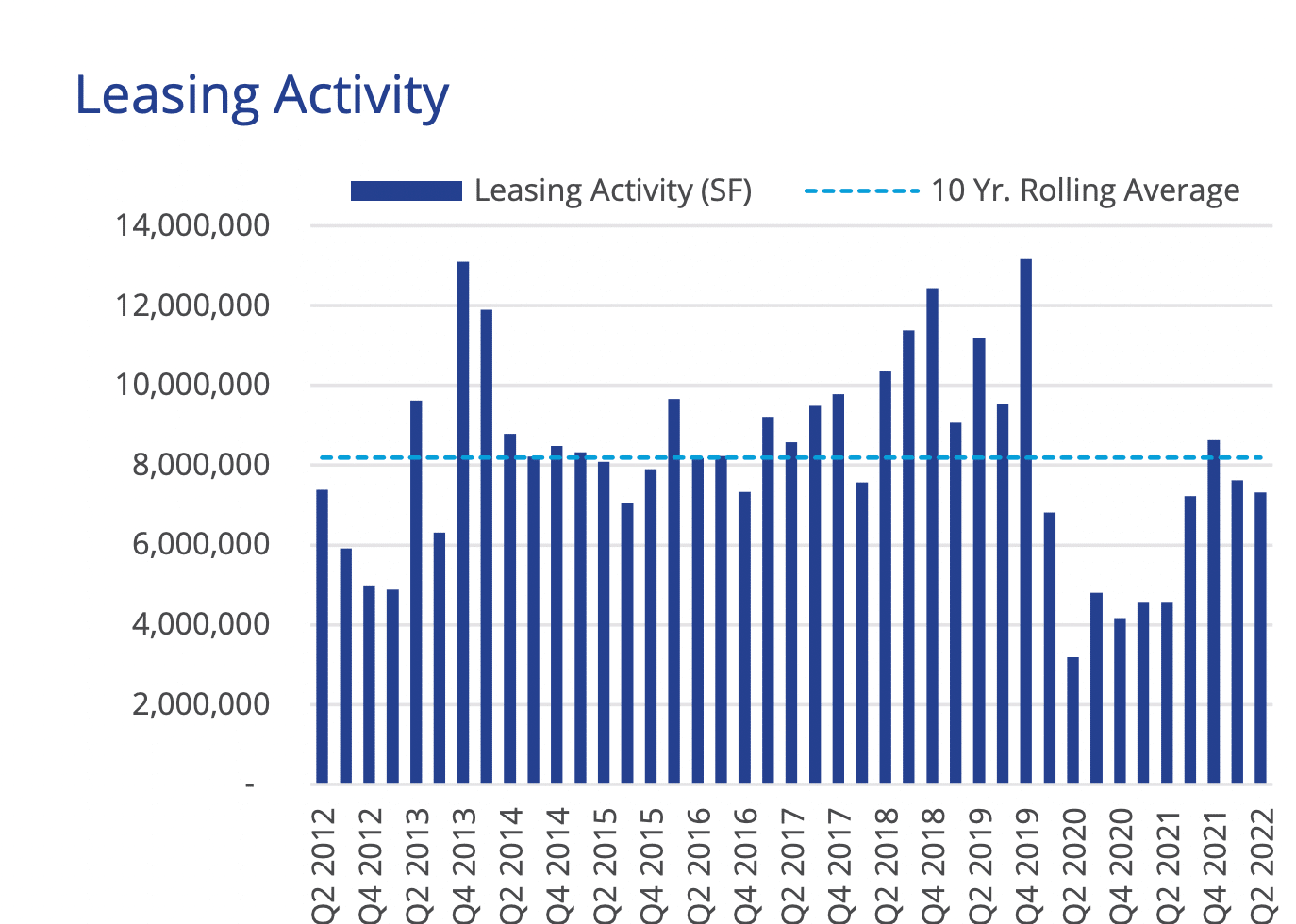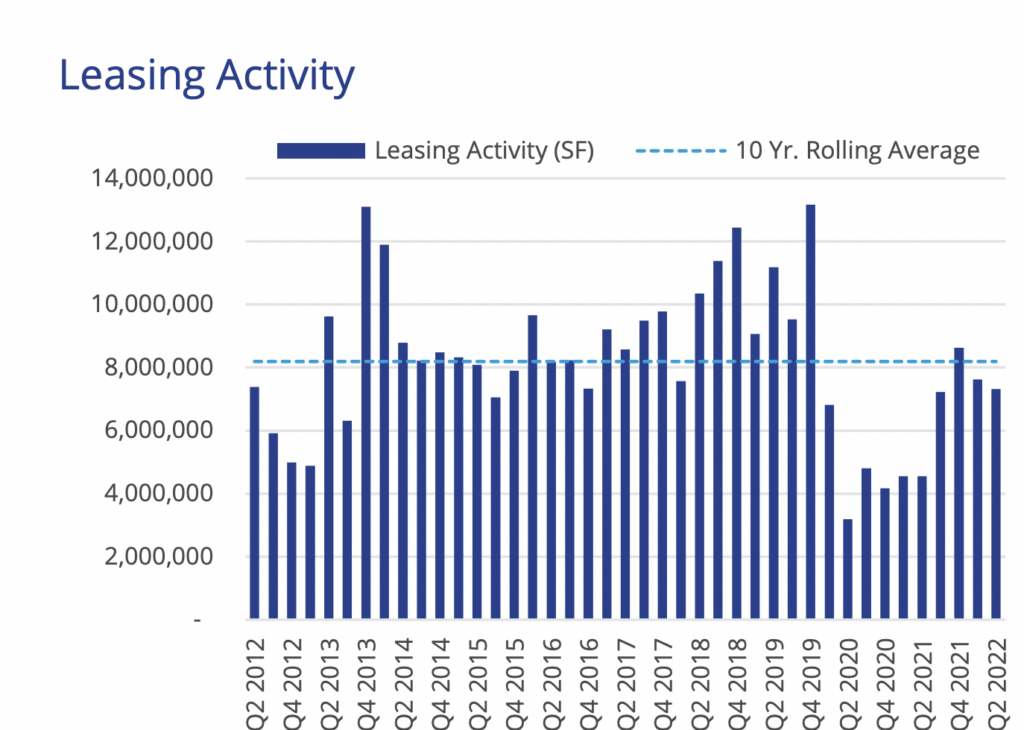 Source: Colliers
Leasing activity in Manhattan during the second quarter of 2022 was led by FIRE (financial services, insurance, and real estate) tenants, which were responsible for 47% of the total quarterly leasing volume. Within this sector, 3% of the leasing volume was recorded by coworking and flex space companies, signaling a preference for smaller, more flexible, shorter-term office leases. 
TAMI (technology, advertising, media, and information services) tenants had the second-highest share of office leasing activity in the borough (15%). Last but not least, financial services companies were responsible for 14% of the total quarterly leasing volume.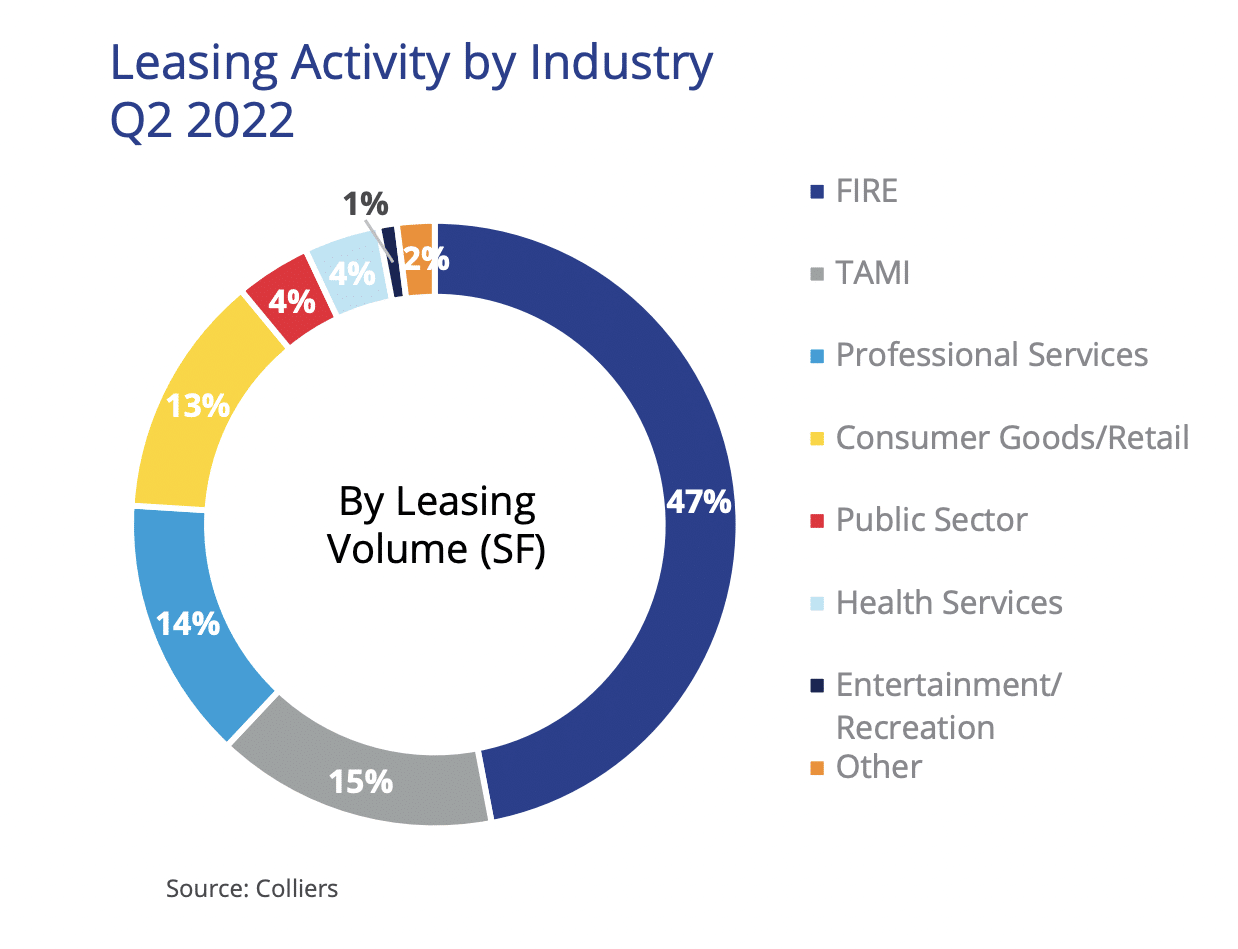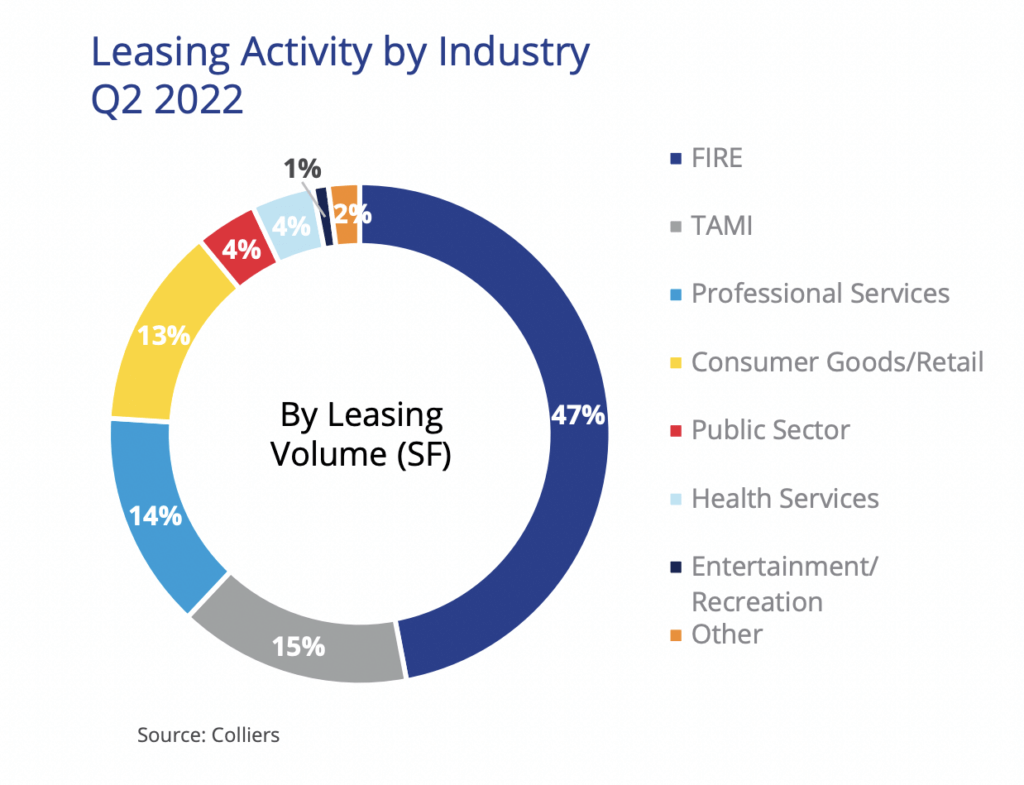 The 5 largest Manhattan office leases in Q2 2022
During this year's second quarter, the leasing activity in Manhattan was led by FIRE, TAMI, professional services, and retail/consumer goods tenants. The five largest office leases of the quarter were all closed in the Midtown Manhattan submarket:


Average asking rent on the rise for the 3rd consecutive quarter
The average asking rent for Manhattan office space also saw a slight uptick in the second quarter. Per Colliers data, the asking rent in Manhattan rose for the third consecutive quarter, reaching $75.61 per square foot. The 0.7% rise marks the borough's longest consecutive streak of rent increases since 2019.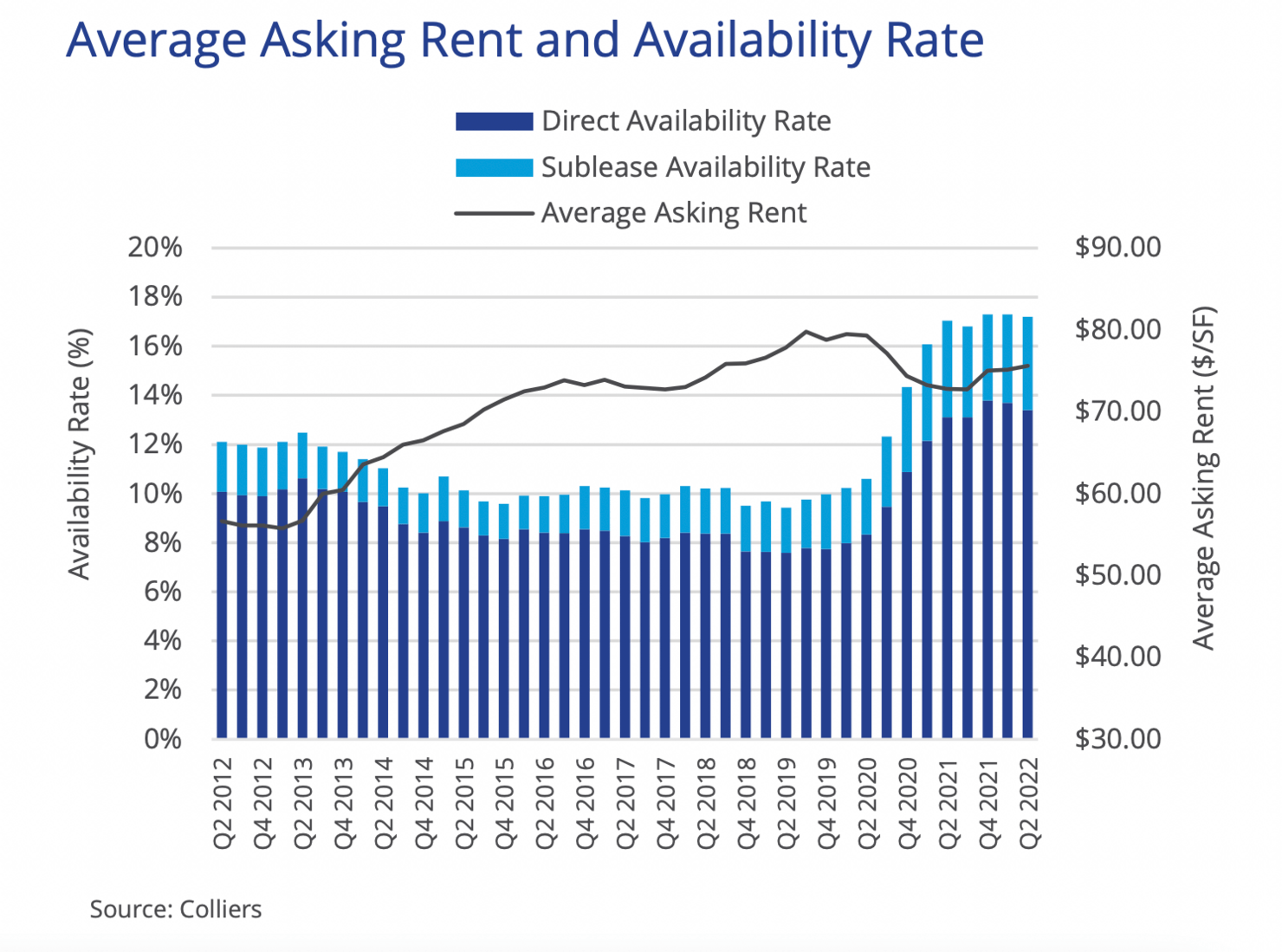 Class A office rent averages rose 0.4% compared to March 2022, reaching $81.44 per square foot at the end of June. Class B office space reached an average asking rent of $65.48 per square foot, while Class C rents now rest at $53.36 per square foot. In Hudson Yards/Manhattan West, asking office rents reached $137 per square foot, ending the second quarter at higher numbers than in Q1 2020. 
The increase in asking rents can be partly attributed to the delivery of the newly constructed, 2.9 million-square-foot 50 Hudson Yards, the completion of the 200,000-square-foot 1245 Broadway, and the 268,000-square-foot 124 East 14th Street. 
---
What's next for the market?
Suppose leasing activity continues at the same pace throughout the rest of 2022. In that case, the full-year office leasing volume will exceed the total recorded in 2021 by close to 20%, signaling a healthy recovery for the market. Tenants continue to flock to high-quality, amenity-rich Class A offices that enable them to attract and retain top talent. At the same time, smaller companies look to coworking or flexible office spaces for expansion opportunities. Delivering new, quality office space like 50 Hudson Yards will likely generate even more leasing activity and lure tenants back to the office.