375 Park Avenue,The Seagram Building office space for lease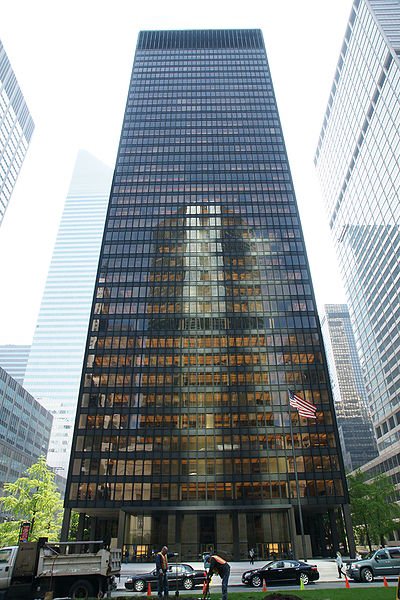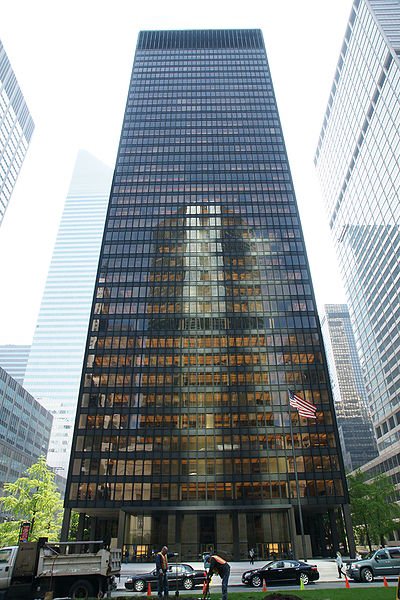 | | | | |
| --- | --- | --- | --- |
| Address | 375 Park Avenue | Class | A |
| Cross Streets | 52nd & 53rd Streets | Size | 150,918 SF |
| Year built | 1958 | Architect | Ludwig Mies van der Rohe, Philip Johson |
Description
One of the finest examples of modernist architecture, the Seagram Building in Midtown Manhattan was designed by world-renowned architect Ludwig Mies van der Rohe, alongside Philip Johnson. The 38-story skyscraper was built in 1958 and it was Mies van der Rohe's first office building and his only project built in New York City.
The tower paved the way for modern skyscraper design, and was the first office building in the city to feature floor-to-ceiling windows. The ground-floor plaza is also highly acclaimed and a popular gathering spot in the Plaza District, and skyscrapers built after the Seagram Building replicated this model. The building spurred a rezoning project that encouraged the inclusion of 'privately owned public spaces' at the base of office towers.
900 KSF of Class A Office Space on Park Avenue
The Seagram Building was the world's most expensive skyscraper when it was completed in 1958 with a construction cost of $41 million. Located at 375 Park Avenue between 52nd and 53rd streets, the building features nearly 900,000 square feet of Class A office space. Floor plates range in size from 15,000 to 39,000 square feet.
RFR Realty, owner of the Seagram Building, invested in a major renovation effort in 2002, to bring the tower to modern, more energy efficient standards. Amenities at the tower include floor-to-ceiling windows, a 150-car underground parking garage, three restaurants and a spacious, elevated public plaza at the tower base. The plaza incorporates two large fountains that serve to block out the noise of the traffic on Park Avenue.
Getting to and from The Seagram Building
The Seagram Building benefits from an excellent location in the heart of the Plaza District, Midtown Manhattan's most prestigious business cluster. Right across the street is the iconic Lever House, which boasts a similar design. The tower offers easy access to several subway lines, including the E, M, 4 and 5 trains, served by the nearby Lexington Avenue-53rd Street station.
Who is renting office space at The Seagram Building?
The Seagram Building has always been popular among law firms, financial services firms and Fortune 500 companies. Notable office-using tenants on the building's roster include Wells Fargo, Fintech Advisory, Fried Frank, Crestline Investors, and Strategic Value Partners, among many others. The tower also houses three restaurants, namely The Grill, The Pool and The Lobsters Club, and used to house the famous Four Seasons restaurant that closed in 2016.
How much is the rent price for office space at The Seagram Building?
Office asking rents in Midtown Manhattan have reached a post-recession peak of $87 per square foot in 2019. Office rents at the Seagram Building go even higher, often exceeding $100 per square foot. The building's ideal location and prestige make it a very popular choice for hedge funds, finance institutions and companies in the legal sector.
Available Spaces
Interested in office space at 375 Park Avenue,The Seagram Building office space for lease? Contact us today
Listing Location & Nearby Public Transportation
Nearby Transportation
Subway
53rd Street–Lexington Avenue - 3 minutes Walk59th Street (456) - 8 minutes WalkLexington Avenue–59th Street - 7 minutes Walk51st Street (6) - 5 minutes Walk53rd Street–5th Avenue - 7 minutes Walk
Bus
East 50th Street/3rd Avenue - 8 minutes WalkEast 50th Street/Lexington Avenue - 7 minutes WalkEast 60th Street/Park Avenue - 8 minutes WalkMadison Avenue/East 59th Street - 8 minutes Walk3rd Avenue/East 60th Street - 8 minutes Walk3rd Avenue/East 61st Street - 8 minutes Walk2nd Avenue & East 57th Street - 6 minutes WalkEast 60th Street/Lexington Avenue - 7 minutes Walk2nd Avenue & East 54th Street - 6 minutes WalkEast 60th Street/2nd Avenue - 8 minutes WalkEast 57th Street & 3rd Avenue - 3 minutes WalkEast 57th Street & Lexington Avenue - 2 minutes WalkMadison Avenue & East 54th Street - 6 minutes WalkEast 57th Street & Park Avenue - 5 minutes Walk3rd Avenue & East 55th Street - 2 minutes Walk
Important information
This listing is presented for illustrative purposes only, it may no longer be available, and is provided merely as an exemplary representation of the types of spaces in a given neighborhood for a given price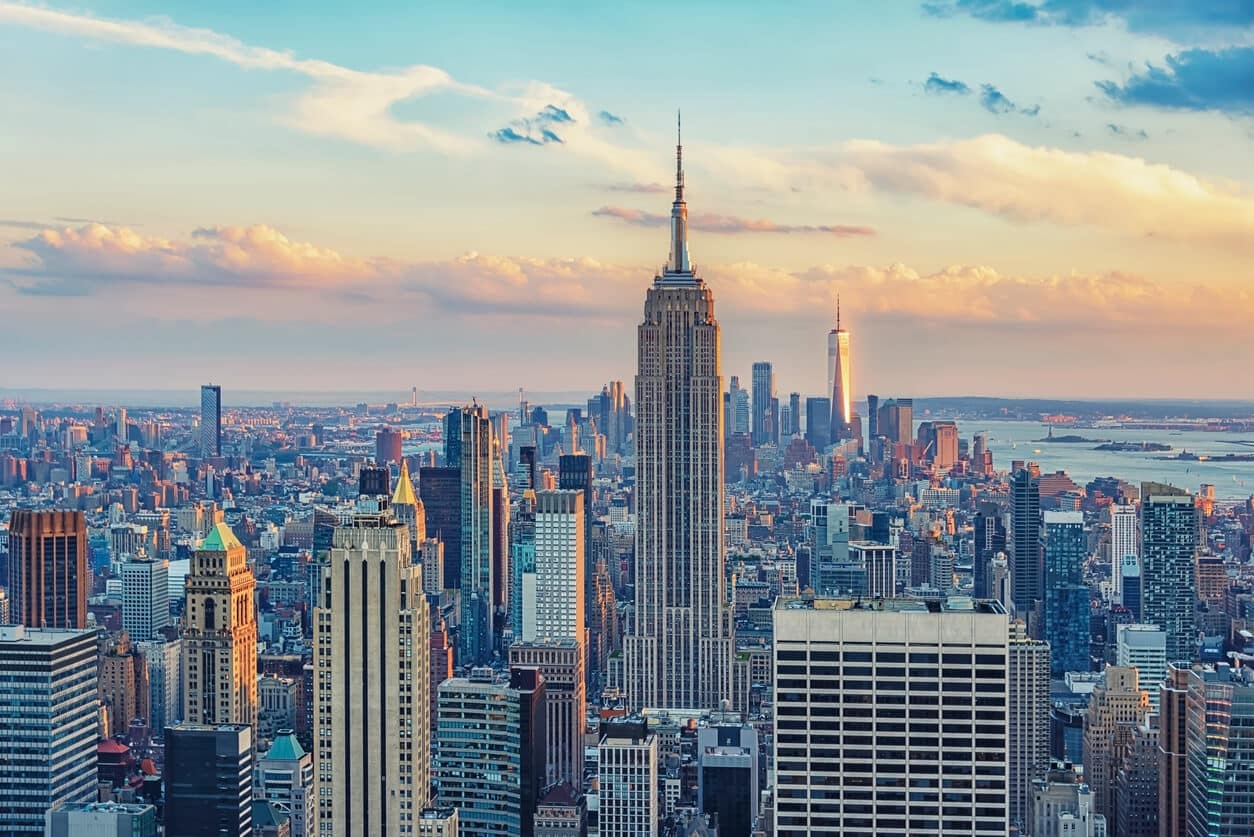 Midtown Manhattan
Midtown Manhattan Neighborhoods Midtown is Manhattan's central hub and its largest and most prominent office market. With roughly 242 million square feet of Midtown office space, there are various options to choose from. Moreover, you have several submarkets to consider in this expansive, diverse area. However, leasing or subletting office space in Midtown Manhattan is not a…
Learn more about Midtown Manhattan
Schedule a Tour
Please select a convenient date for your tour, and one of our colleagues will contact you soon!