A rich tapestry of fashion showroom buildings in NYC mirrors the city's diverse array of styles and trends. A vital component of the fashion industry, these showrooms facilitate connections among wholesalers, retailers, and designers. 
From the Garment District's vibrant clothing and apparel scene to the Accessory District's eclectic mix of costume jewelry, watches, and handbags, Manhattan has long been home to fashionable enclaves catering to its tenants' specific needs. Moreover, Murray Hill's inviting atmosphere proves irresistible to lingerie and loungewear companies, who find the area perfect for showcasing their latest collections. 
Though e-commerce has reshaped the landscape, high-visibility areas outside the Garment District, like Soho, Park Avenue, Fifth Avenue, and Madison Avenue, remain go-to destinations for showroom tenants seeking to make their mark on New York City's ever-evolving fashion scene. 
So, without further ado, let's discuss some places to find an ideal showroom space and watch your fashion-focused business flourish.
What Tenants Look for When Renting Showroom Space in NYC
Fashion showroom buildings in NYC are designed to meet the diverse demands of the industry. When scouting for the ideal space, tenants seek features that enhance their product presentation. High ceilings, abundant wall space to display merchandise, and generous layouts create stunning displays. Meanwhile, extra storage and office areas streamline operations, and freight elevators simplify merchandise transportation.
Furthermore, location is crucial. Tenants flock to commercial hotspots brimming with like-minded businesses. For two reasons this is beneficial. First,  companies can bolster their brand's presence and forge lucrative partnerships by joining forces with peers. Second, these companies do business with each other.  So being in the same building as other tenants in their industry is critical.
Taking all of these factors into consideration, we've listed some of the finest retail and showroom buildings with space for lease in New York City.
1400 Broadway | Garment District
Located in the Garment District, 1400 Broadway stands tall as a 37-story Class A building. It's the ideal choice for businesses seeking exceptional office and showroom spaces. The building boasts an impressive 940,000 square feet of office space, complemented by 18,000 square feet of prime retail area, catering to diverse needs. Moreover, fashion showroom buildings in NYC like this offer retailers a perfect spot with outstanding brand exposure between Times Square and Herald Square.
Ely Jacques Kahn designed 1400 Broadway in 1930, and Empire State Realty Trust now owns it. A comprehensive renovation in 2010 ensured modern amenities, including 24/7 security, keycard access, a web-based visitor system, and cutting-edge infrastructure.
Rents range from $50 to $64 per square foot. At the same time, accessibility is unparalleled, with Penn Station, Grand Central, Port Authority, and 16 subway lines close by. In addition, notable tenants like Clarins, Burlington, Kohl's, Uber, and American Exchange proudly call 1400 Broadway home.
Sample Listing (Courtesy of VTS):
Partial 28th Floor, Suite 2810
Suite 2810 is a 4,068 sq. ft. office space. Perfectly designed to accommodate up to 36 professionals, this pre-built, direct-lease office balances creativity and productivity.  
1407 Broadway | Garment District
1407 Broadway, nestled in the Garment District, is a prime choice for apparel businesses seeking fashion showroom buildings in NYC. With 1.1 million square feet of Class A office space, the building underwent a complete renovation in 2017, creating an ultra-modern ambiance.
Shorenstein Properties owns this property, featuring flexible floor plates, 12-foot slab-to-slab ceilings, an updated lobby, elevators, and common areas. Prime retail space is also available for lease. Providing 24/7 security and unparalleled access to Times Square, Bryant Park, Penn Station, Herald Square, and the Port Authority, convenience is at your fingertips.
Esteemed tenants such as Double Take Fashion, Alex Apparel Group, Highway Jeans, and Geneva Watch Group call 1407 Broadway home. With rent prices between $55 and $70 per square foot, it's an opportunity worth considering.
Sample Listing:
Entire 40th Floor (Courtesy of Loopnet)
Discover the ultimate workspace on the entire 40th floor, an 8,797 sq. ft. office space with stunning skyline views, abundant natural light, and available for immediate occupancy. This fully built-out, flex shared office space provides a tasteful blend of an open floor plan, seven private offices, and 22 cubicles in a dynamic bullpen. Increase or share sublet space tailored to your team's requirements as needed.
Designed to impress, you'll have access to one large and one small shared conference room and a convenient wet pantry.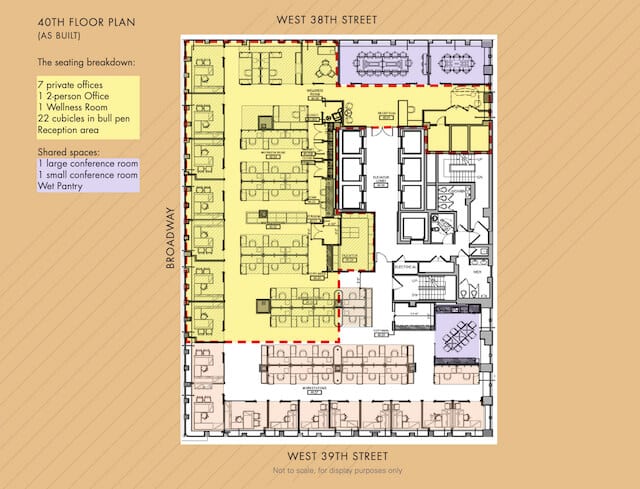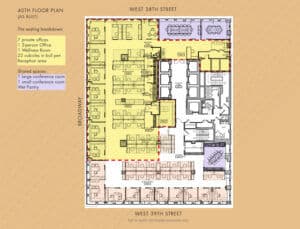 525 Seventh Avenue | Garment District
At the heart of the Garment District, 525 Seventh Avenue, or the Fashion Center Building, offers an exceptional choice for businesses seeking fashion showroom buildings in NYC. Boasting 510,000 square feet of Class A office space, it stands proudly at the junction of Fashion Avenue and West 38th Street, a creation of Henry Ives Cobb in 1925.
Currently owned by Olmstead Properties, Inc., this notable building provides a host of amenities, including 24/7 access, a refurbished lobby, modernized hallways, bathrooms, elevators, and an updated facade. Accessibility to Times Square, Grand Central Station, and Penn Station ensures seamless connectivity.
With rents ranging between $25 and $115 per square foot, tenants such as Duane Reade, Almost Famous Clothing, and Columbia Sportswear have found their homes at 525 Seventh Avenue.  
Sample Listing (Courtesy of VTS):
Partial 7th Floor, Suite 710
Suite 710 is a 2,958 sq. ft. space that is currently available. Ideally designed to accommodate approximately 37 people, the office boasts a direct lease type. Furthermore, it's pre-built and move-in ready so that you can settle in without delay. 
214 West 39th Street | Garment District
Also in the Garment District, 214 West 39th Street stands tall as a 13-story building ideal for businesses searching for fashion showroom buildings in NYC. G. Holdings Corporation owns this 205,000-square-foot property, which Frederick C. Browne designed in 1910. The building, which underwent renovations in 1988, offers a compelling choice for apparel companies looking for affordable yet compact showroom spaces.
214 West 39th Street rent ranges from $35 to $50 per square foot—moreover, the ground floor houses 5,000 square feet of prime retail space, perfect for fashion-oriented tenants. Prestigious occupants include Ma Luxury Design Group, JMB Apparel, and NYC Idol Apparel, demonstrating the building's appeal to various businesses.
Sample Listing
Partial 7th Floor, Suite 707
Suite 707 encompasses a spacious 2,552 sq. ft. area. Additionally, this versatile workspace is available for immediate lease and boasts abundant natural light, making it perfect for various uses. Furthermore, it comes move-in ready and offers negotiable terms, ensuring a seamless transition for your business.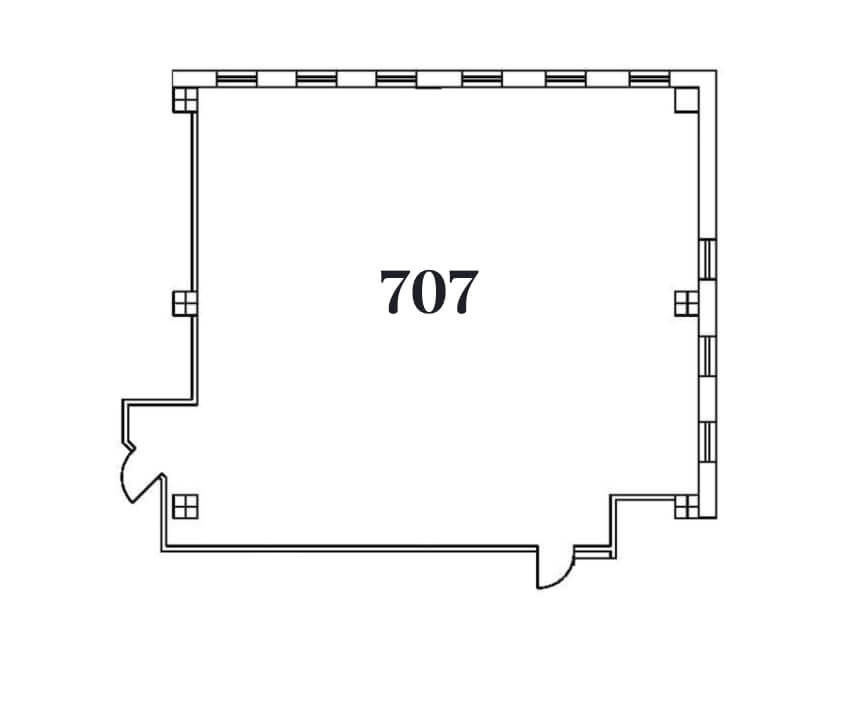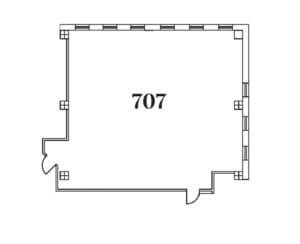 390 Fifth Avenue | Accessory District
Situated in Midtown Manhattan's Accessory District, 390 Fifth Avenue (the Gorham Building) is a prime location for businesses seeking fashion showroom buildings in NYC. In 1903, McKim, Meade & White Architects constructed the 135,000 square feet property. However, the Hilson Management Corporation-owned property underwent significant renovations in 2004.
Recognized as one of Manhattan's premier accessories showroom buildings, 390 Fifth Avenue is home to esteemed tenants like Seiko Watches, Cejon Accessories, and Steve Madden. Additionally, the fireproof, fully wired, and modernized building offers rents ranging from $30 to $47 per square foot. Though its top quality is the versatility it offers for various business needs.
Sample Listing (Courtesy of Loopnet)

Partial 8th Floor, Suite 806-8
Suite 806-8 is a recently demolished, 3,205 sq. ft. office space available immediately for lease. With windows facing 36th Street, the space has an open floor plan. In addition, it is fully customizable for any fashion brand's specific needs. Lastly, asking rents cost $45.00/SF/YR plus a proportional share of electrical cost.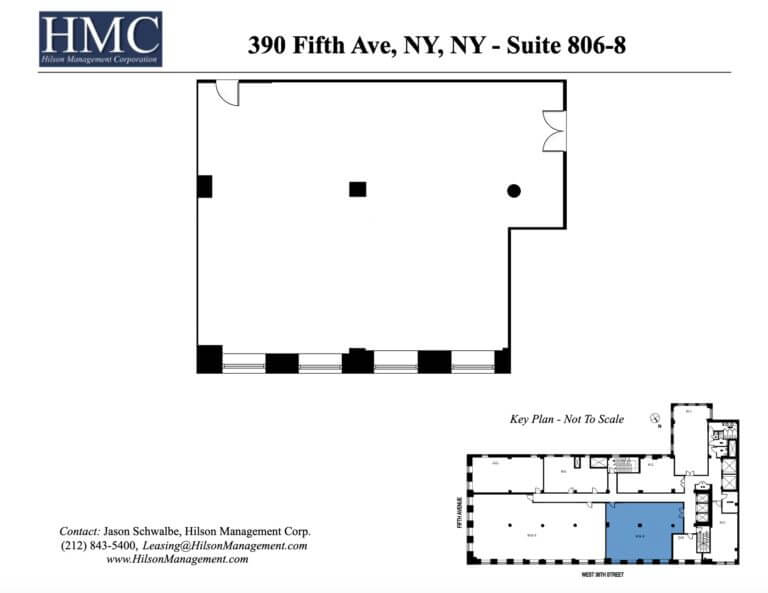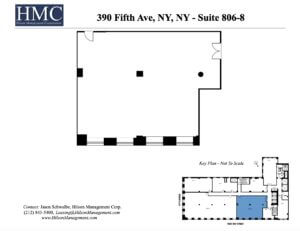 358 Fifth Avenue | Garment District
Located in the heart of Midtown, 358 Fifth Avenue, also known as The Accessory Center, is an exceptional fashion showroom building in NYC. Additionally, the 120,000-square-foot property, completed in 1929 and owned by Hilson Management Corporation, features an impressive lineup of tenants from the fashion and accessories industries. Esteemed tenants include Timex Watches, Jones NY, and X-Ray Jeans. 
In addition, the recently renovated building offers attractive amenities such as an Art Deco lobby, ample outdoor space, attended elevators, and modern air conditioning.   
Sample Listing (Courtesy of Loopnet)
Partial 6th Floor, Suite 600
Suite 600 is a beautifully built, 7,372 sq. ft office space well-suited for various businesses. In addition, it includes one private office, two conference rooms, a kitchen, a print/copy room, private restrooms, and secure storage. Furthermore, the landlord is willing to modify or build to suit, will provide architectural services, and will cover the cleaning cost in the rent.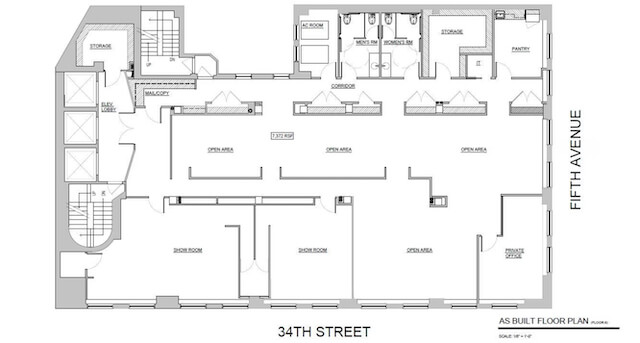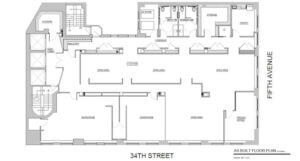 181-183 Madison Avenue | Murray Hill
Murray Hill's 181-183 Madison Avenue offers an exceptional opportunity for lingerie and loungewear businesses. Also known as the Madison Belmont Building, this 275,000-square-foot property boasts a rich history, designed by Warren & Wetmore in 1925 and serving as a showroom building.
Presently owned by APF Properties, the building hosts renowned tenants such as WeWork, Dreamwear, and Chantelle Inc. Moreover, with rents ranging from $50 to $70 per square foot, tenants enjoy a remarkable bronze and marble lobby, 24/7 access, security, and modern infrastructure. Additionally, the building's location on Madison Avenue ensures excellent brand exposure in one of NYC's most coveted retail corridors.
Sample Listing:
Partial 5th Floor, Suite 005 – 100 (Courtesy of VTS)
Suite 005 – 100 spans a generous 7,547 sq. ft. and is designed to accommodate around 60 people comfortably. Additionally, the suite is currently available and offers a flexible lease type.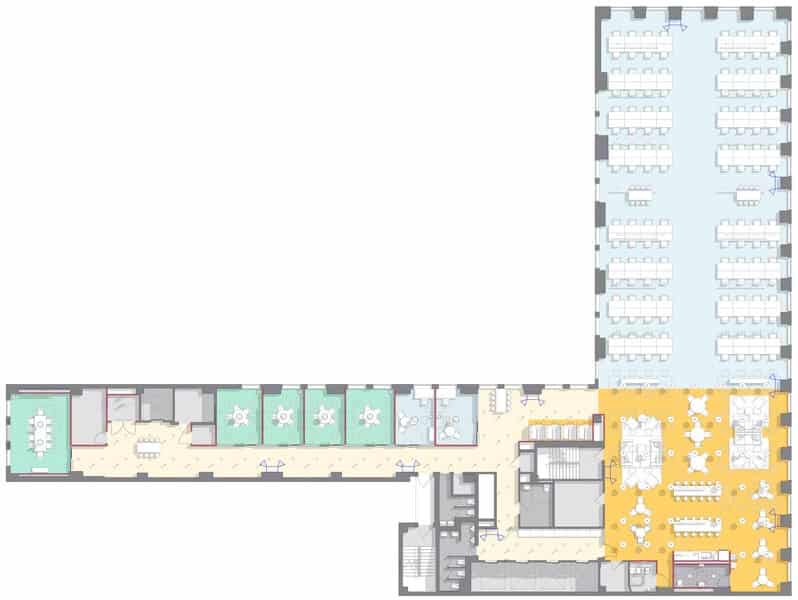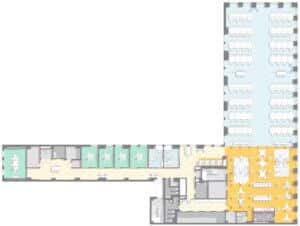 The Key Takeaway
As you explore the world of fashion showroom buildings in NYC, remember that each offers a unique blend of history, location, and amenities. Carefully consider your brand's specific needs and how these properties can help elevate your presence in the industry.
With iconic locations throughout the city, there's no shortage of worthwhile showroom space for your company. So, while searching for your spot, remember that these buildings have housed and nurtured the success of various fashion brands. The right address could be the key to unlocking your brand's potential, connecting with fellow creatives, and carving your niche in the vibrant NYC fashion scene.
Seeking the perfect Manhattan location for your fashion showroom or retail space? Contact Metro Manhattan Office Space at (212) 444-2241 or [email protected] to discover your perfect space.