Imagine this- your clients exit the elevator onto a high floor of a towering office building in Midtown Manhattan. As they step out, they're met with an awe-inspiring view of the city skyline, immediately enveloped in a tangible sense of success. You aren't just offering a service; you're offering an experience that leaves a lasting impression. However, that only scratches the surface of leasing office space in one of the tallest buildings in Midtown Manhattan.
Your employees, too, benefit immensely from this choice. Picture them thriving in a workspace illuminated by natural light, a tranquil haven high above the city's hustle and bustle. That's the transformative power of an iconic New York City office location.
Midtown Manhattan itself is a testament to architectural innovation. Landmark structures like the Empire State and Chrysler Buildings have proudly graced this skyline since the 1930s. Yet, the cityscape continues to evolve, embracing modern Class A office spaces designed to cater to today's forward-thinking businesses.
Whether you're in the early stages of your search or weighing up your options, we're here to guide you. We will take you on a virtual tour of the best high-floor office spaces in the city, each offering unbeatable views and first-rate amenities. 
Introducing the 10 Tallest Office Buildings in Midtown Manhattan
Midtown Manhattan's skyline is breathtaking, with towering office buildings that are architectural marvels and symbols of ambition and success. As the city evolves, businesses looking for prestigious addresses should stay informed about the most iconic and sought-after office locations.
From timeless classics to modern masterpieces, our list of the 10 tallest office buildings in Midtown Manhattan provides an insider's perspective on each remarkable structure's unique features and opportunities.
1. One Vanderbilt | 1 Vanderbilt Avenue | 1,401 feet
One Vanderbilt stands tall at 1,401 feet and ranks one of the tallest buildings in New York City and the tallest office building in Midtown Manhattan. Designed by KPF and completed in 2020, this 93-story skyscraper features 1.8 million square feet of Class A office space. It also sits adjacent to the iconic Grand Central Terminal.
One Vanderbilt sets itself apart with a strong emphasis on sustainability and accessibility. The development team, including SL Green, Hines, Gensler, and AECOM Tishman, incorporated 1.2-megawatt cogeneration, recycled construction materials, and a 90,000-gallon rainwater collection system. This modern marvel has attracted a notable roster of tenants, such as Sentinel and TD Bank, thanks to the Midtown East rezoning plan.
Tenants enjoy exclusive access to a 30,000-square-foot amenity floor featuring conference and meeting areas, an outdoor terrace with Grand Central views, and a club-style lounge. In addition, direct underground access to Grand Central Terminal connects One Vanderbilt to all parts of the city. At the same time, $200 million in infrastructure upgrades ensure seamless transit for busy professionals.
See our video about One Vanderbilt, including a newer video about One Vanderbilt's incredible observation deck.
Sample Listing (Courtesy of VTS)
Partial 54th Floor, Suite 5405 (Suite A) 
Suite 5405 (Suite A) is a 6,393 sq ft pre-built office space available now for direct lease. Your team has a spacious and comfortable work environment with an estimated capacity of 73 people and a generous 15′ 2″ slab-to-slab ceiling height.
2. 30 Hudson Yards | 1,270 feet
Soaring 101 stories high, 30 Hudson Yards is a masterpiece Kohn Pedersen Fox (KPF) designed. This office tower was completed in 2019 and has 2.8 million square feet of office space.
As part of the transformative Hudson Yards project, 30 Hudson Yards redefines modern offices with river-to-river panoramic views, outdoor terraces, direct access to premium restaurants and retailers, and virtually column-free spaces. It also boasts the highest observation deck in the Western Hemisphere. Moreover, this LEED Gold-seeking skyscraper is home to high-profile tenants such as Time Warner, HBO, CNN, Warner Brothers, KKR, Related Companies, and Oxford Properties.
At 500 West 33rd Street, this property offers direct access to the new 7 New York City Subway line at the 34th Street-Hudson Yards station. Additionally, employees enjoy a range of public transportation options, from PATH trains to Hudson River ferries, making commuting a breeze.
Sample Listing: (Courtesy of The Costar Group)
This expansive 43,354 sq. ft. office space is available for sublease on the 51st Floor. The layout includes 162 workstations and 49 private offices, ensuring ample room for a large team. Furthermore, you'll find 10 well-designed meeting areas and conference rooms for collaborative work or formal discussions.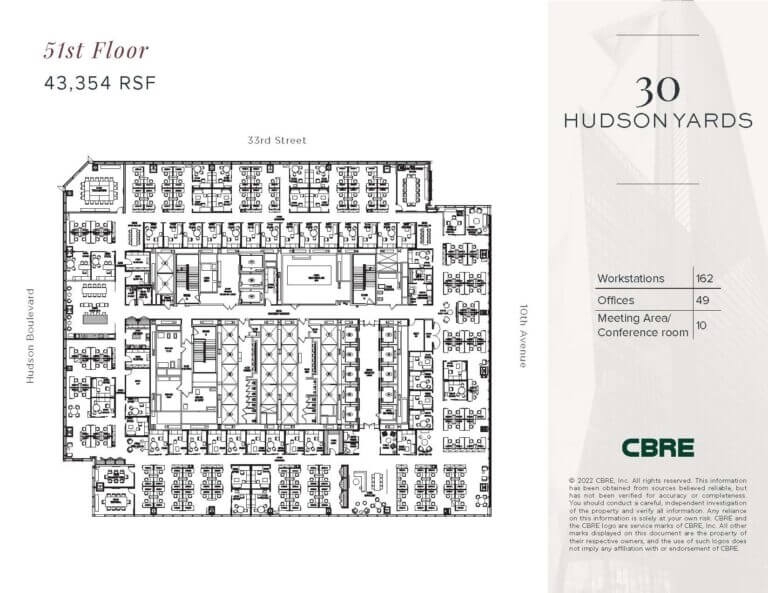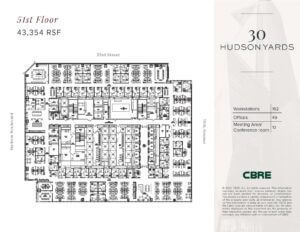 3. Empire State Building | 350 Fifth Avenue | 1,250 feet
The Empire State Building, a 102-story masterpiece completed in 1931, still stands proudly among the tallest office buildings in Midtown Manhattan. This iconic tower is located at 350 Fifth Avenue and offers 2.3 million square feet of Class A office space. Despite its age, the building underwent a complete renovation in 2011, blending historic charm with modern standards.
Designed by Shreve, Lamb & Harmon Associates, the Art Deco tower boasts LEED Gold certification, reflecting its commitment to sustainability. The Empire State Building houses a diverse range of tenants, providing exclusive access to The Urban Campus, which features a 15,000-square-foot fitness center, a tenant-only conference center, and on-site dining options like the STATE Grill and Bar and Tacombi.
Nestled between Grand Central Terminal, Penn Station, Bryant Park, and Madison Square Garden, the Empire State Building offers unparalleled access to dining, shopping, and entertainment. With the 34th Street/Herald Square station steps away, employees enjoy convenient transportation options, including the B, D, F, M, N, Q, R, and PATH trains.
Sample Listing (Courtesy of VTS)
Partial 77th Floor, Suite 7730
Suite 7730 offers a 5,745 sq ft pre-existing office space, available now for direct lease. With an estimated capacity of 38 people, it provides an excellent workspace for a growing team.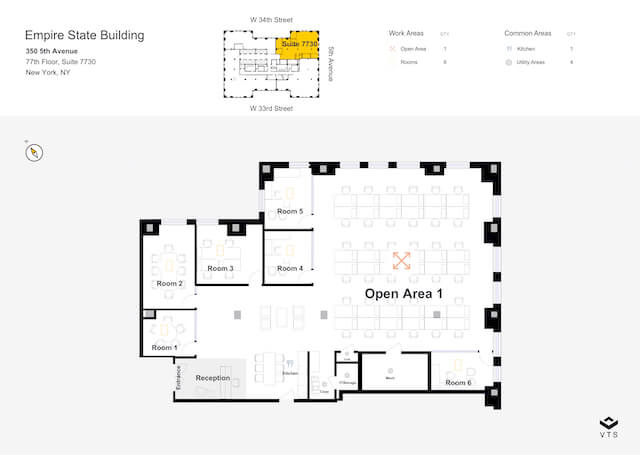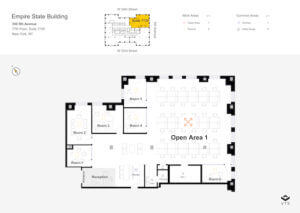 4. Bank of America Tower | 1 Bryant Park | 1,200 feet
Rising 55 stories above Midtown Manhattan, the Bank of America Tower at 1 Bryant Park boasts 2.1 million square feet of Class A office space. Completed in 2009, this remarkable building designed by Cook + Fox Architects and developed by The Durst Organization was the first commercial high-rise in the U.S. to earn LEED Platinum certification for its energy efficiency. Bank of America, McKool Smith, and HBK Investments are just a few of the esteemed tenants that call this tower home.
With its open, flexible, and naturally lit office spaces, the Bank of America Tower is a testament to modern design. In addition, the building creates an inviting and productive work environment. The column-free spaces with 9.5-foot ceilings and floor-to-ceiling glass curtain walls speak for themselves. Beyond that, its commitment to sustainability is evident in features such as hospital-grade filtered air, gray water systems, and on-site power generation.
Furthermore, the Bank of America Tower offers easy access to Times Square, Penn Station, and Grand Central Station. Proximity to the 42nd St-Bryant Park station, servicing the B, D, F, M, and 7 lines, ensures seamless transportation options for tenants. In addition to its ideal location, the building features an array of on-site amenities, including an indoor garden, the LEED Gold-certified Stephen Sondheim Theater, and 37,000 square feet of first-floor retail.
Sample Listing
N/A
5. The Chrysler Building | 405 Lexington Avenue | 1,046 feet
The Chrysler Building at 405 Lexington Avenue is an enduring symbol of New York City's architectural prowess. This iconic Art Deco masterpiece, completed in 1930 for Walter Chrysler, is a National Historic Landmark featuring a range of automotive-inspired ornaments and a breathtaking public lobby. Today, it is a sought-after destination for diverse tenants, including law firms and media companies like Moses & Singer, A&L Goodbody, and Time Inc.
Offering 1.3 million square feet of LEED Gold-certified, Class A office space, the Chrysler Building is a testament to quality and style. RFR Realty, the building's owner, enhances these spaces with above-standard finishes and premium materials. Moreover, tenants on the upper floors enjoy small floor plates with multiple corners, providing stunning city views.
Not only does the Chrysler Building boast a prestigious address, but it also offers unbeatable convenience. Employees can enjoy a hassle-free commute with direct tunnel access to Grand Central Station. Moreover, the 24/7 accessibility and proximity to major subway lines enhance its appeal as an ideal location. 
Sample Listing (Courtesy of VTS)
Partial 33rd Floor, Suite 3303
Suite 3303 is a 3,547 sq ft office space available now for direct lease. With an estimated capacity of 24 people, it's an ideal workspace for small to medium-sized teams.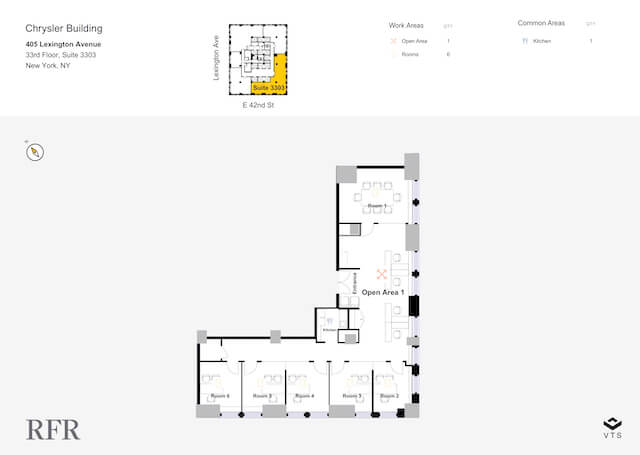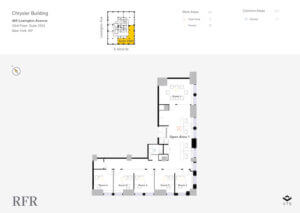 6. The Spiral | 66 Hudson Boulevard | 1,041 feet
Prominently in Hudson Yards, The Spiral at 66 Hudson Boulevard is a 66-story tower designed by Danish architect Bjarke Ingels and completed in 2022.  
The Spiral boasts 2.8 million square feet of Class A office space, featuring amenities like high ceilings, retail floors, bike lockers, and conference rooms. Unique to the building, each floor offers outdoor gardens that wind around the tower, providing a touch of nature and enhancing employees' well-being. In addition, the building's top floor, ZO, is a clubhouse lounge with stunning city views, food, and beverages.
Finally, The Spiral's convenient location provides easy access to public transportation via the 34 Street-Hudson Yards Subway Station. With tenants like Pfizer, Debevoise & Plimpton, and AllianceBernstein, the building's reputation as a premier office destination in Midtown Manhattan is well-deserved.
Sample Listing (Courtesy of VTS)
Partial 53rd Floor, Suite 5340
Suite 5340 offers a spacious 6,747 sq ft office space with an estimated capacity for 45 people. Currently available for direct lease, this pre-built suite is ready to accommodate your team.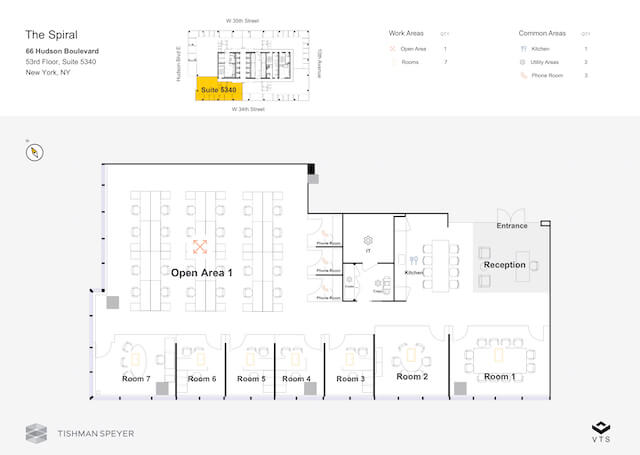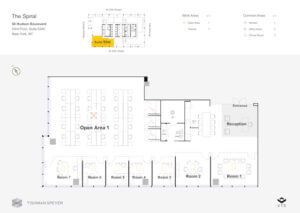 7. 50 Hudson Yards | 1,011 feet
50 Hudson Yards, at 415 10th Avenue, is a highlight of Hudson Yards. This 58-story tower, designed by Foster + Partners, offers 2.9 million square feet of office space. Related Companies developed it, and Mitsui Fudosan America owns it.
This tower doesn't disappoint. Tenants get top amenities like an auditorium, retail spaces, and stunning views. Furthermore, it has two terraces, private sky lobbies, valet parking, and 24/7 security. Even better, an artwork by Frank Stella decorates the entrance. Aiming for LEED Gold, its energy-efficient design is a hit.
The office spaces at 50 Hudson Yards are flexible. Floor plates range from 47,500 to over 60,000 square feet. With floor-to-ceiling windows and high ceilings, it's light and spacious. Commuting is easy, too, with the No. 7 train just across from the Hudson Boulevard entrance.
Big names like Facebook and BlackRock are among the tenants.
Sample Listing (Courtesy of The Costar Group)
The Plaza Suite is an 11,907 SF office space with 1 large office, 7 small offices, 36 open office desks, 1 meeting room, 1 coat closet, an open kitchen, and more.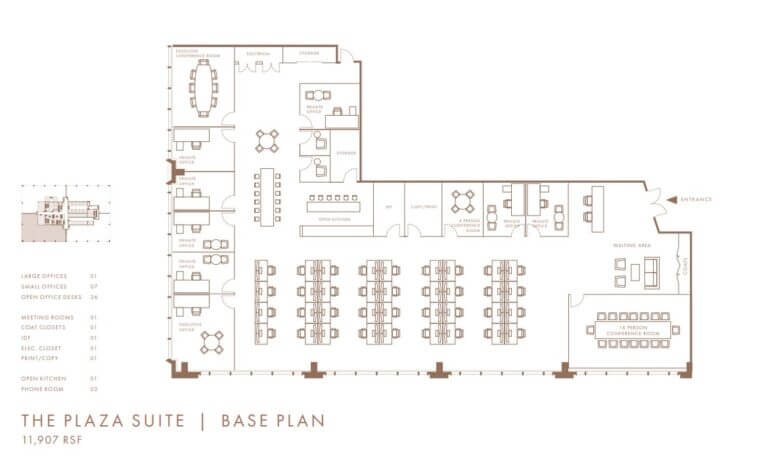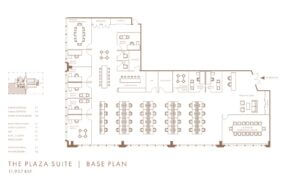 8. One Manhattan West | 401 Ninth Avenue | 996 feet
Tower One Manhattan West, a standout 67-story building, graces the 5.4 million-square-foot Manhattan West masterplan. This 2019 masterpiece, designed by Skidmore, Owings & Merrill, was developed by Brookfield Property Partners and the Qatar Investment Authority. Quickly, it's become a tenant magnet.
This tower doesn't compromise on quality. Tenants enjoy column-free offices, lofty ceilings, and loads of natural light. Plus, it's LEED Gold certified. Floor plates vary from 33,000 to 38,000 square feet, so there's something for every business.
It's also a breeze to get to. The 34th Street-Hudson Yards subway station is close, so public transport is easy. Other options include the PATH train, Penn Station commuter rails, the Lincoln Tunnel, the West Side Highway, and Hudson River ferries.
Finally, the tenant lineup is impressive. Law firm Skadden, Arps, Slate, Meagher & Flom, the National Hockey League, Accenture, Ernst & Young, McKool Smith, and Fried Frank all call it home.
Sample Listing
N/A
9. Two Manhattan West | 401 West 31st Street | 935 feet
Two Manhattan West, a towering 58-story building, stands proudly in Midtown West. Right next to its sister, One Manhattan West, it's hard to miss. Designed by Skidmore, Owings & Merrill, it peaked in 2022 and opened its doors in 2023.
Providing a vast two million square feet of Class A office space, this modern tower truly shines. Moreover, it's a stellar example of green design and energy-efficient workspaces.
Housing top-tier tenants such as KPMG, Jefferies, and the law firm Cravath, Swaine & Moore, it's a bustling hub of industry. As a result, two Manhattan West doesn't skimp on amenities to cater to these professionals. Notably, it boasts a fitness center, a rooftop terrace, and a conference center.
It's conveniently located in Manhattan, just a stone's throw from Penn Station, Madison Square Garden, and the Empire State Building. Furthermore, the area around Two Manhattan West teems with a vibrant mix of restaurants, shops, and cultural attractions.
Sample Listing
Two Manhattan West does not have floor plans available. However, the building has an impressive inventory of available office space for lease. Floor plates range from 9,000 SF to over 37,000 SF.
10. Citigroup Center | 601 Lexington Avenue | 915 feet
Finished in 1977, the iconic Citigroup Center at 601 Lexington Avenue boasts a unique design. It's a marvel to behold, crafted by Hugh Stubbins & Associates and Emery Roth & Sons. Originally built to house Citibank headquarters, this 59-story Class A Plaza District office tower features 1.4 million square feet of office space. In addition, the building's impressive tenant roster includes Citibank, Blackstone, Boston Properties, Kirkland & Ellis, and Fahrenheit Capital.
Beyond its office space inventory, it also has 50,000 square feet of retail space. Tenants enjoy direct access to the Atrium Shops and Cafes, providing first-class shopping, dining, and a health club. Additionally, Gensler designed the remarkable 200,000-square-foot public plaza and atrium, creating an urban oasis in Midtown Manhattan.
601 Lexington Ave offers abundant amenities and great transportation options in the prestigious Plaza District. In addition, the building offers direct access to the E, M, and 6 trains without stepping outside, with its location atop a major subway station.  
Sample Listing (Courtesy of VTS)
Partial 59th Floor, Suite 5901
Suite 5901 is a 5,724 sq ft office space with an estimated capacity of 38 people, available now for sublease. Moreover, the space is in a pre-existing condition, ready for immediate occupancy.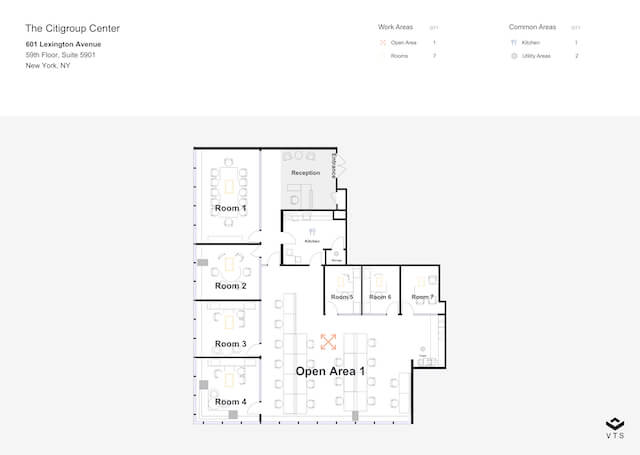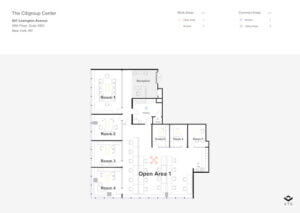 The Key Takeaway
Choosing the right office space is a big decision. It's not just about size or amenities. Instead, it's about finding a space that fits your business's character and vision. Each skyscraper offers a unique opportunity to elevate your business. So whether you prefer the prestige of the Empire State Building or the innovative spirit of Hudson Yards, it's up to you. The tallest office buildings in Midtown Manhattan have a ton to offer.
Remember the picture we painted earlier? Your clients step out of the elevator, wide-eyed at the views. But, of course, this isn't just a dream. It could be your reality.
Yet, it's not just about the views. Above all, it's about setting a tone for your business, creating a good space for your team, and making a name for your brand in the heart of New York City.
Are you considering setting up your business in a convenient location in Manhattan? Are you looking to lease space in a modern building offering the best views in the city? To learn about available office space, call Metro Manhattan Office Space at (212) 444-2241 or email us at [email protected].