Every type of commercial tenant has a unique checklist when searching for New York City office space. For instance, law firms require private rooms and top-notch videoconferencing. Dance studios crave high ceilings and soundproofing. Startups and creative tenants may gravitate to neighborhoods that foster creative energy and loft-type spaces. Yet one thing appears on everyone's checklist nowadays, regardless of their size and sector- NYC office buildings with outdoor space.
Outdoor spaces are not just sought-after amenities; they're catalysts, enablers, and breaths of fresh air in the literal and figurative sense. Imagine you're working on a deadline, and instead of being filled with the typical clutter of an office environment, you're out in the open, filled with sunshine and the city's buzzing energy.
That's why we bring you this list of ten Manhattan office buildings featuring prime outdoor spaces today. These establishments, seamlessly merging work and nature, redefine the workplace concept. 
Outdoor Space: The Next Frontier for Office Buildings
In response to the evolving needs of the modern tenant, landlords and property managers in Manhattan have begun embracing the great outdoors. They're transforming terraces, investing in rooftop gardens, and integrating green courtyards to offer a seamless transition between work and nature.
The Rising Demand
According to recent CBRE research, outdoor space has catapulted to the top of amenity wish lists for NYC office buildings. Interestingly, it's not just the creative and tech firms with younger employees driving this demand. More traditional sectors, like finance or legal services, are also warming up to this trend. 
The Win-Win Proposition
Far from being just an appealing feature for tenants, outdoor spaces have also proven to be wise investments for landlords. CBRE data indicates that office floors boasting terraces or balconies command a premium of 14% over non-terrace floors. Average rents for terrace floors hover around $105.35 per square foot, surpassing the $92.34 per square foot for non-terrace floors.
High-Profile Tenants and Outdoor Spaces
The allure of outdoor spaces extends to high-profile tenants as well. Take, for instance, 300 Lafayette Street. The numerous terraces and outdoor spaces there were instrumental in securing Microsoft as the anchor tenant. It's clear that integrating nature into workspace design isn't just a fad; it's the new frontier for office buildings.
10 Office Buildings in Manhattan With Access to Outdoor Space
Across Manhattan, you'll encounter a diverse collection of office buildings. Some exude history and nostalgia, while others boast modernity and cutting-edge features. Yet, on this list of 10 office buildings in Manhattan, all share a common, transformative feature – access to outdoor space.
From towering high-rises to artfully refurbished classics, each of these ten unique buildings presents its interpretation of integrating nature with the workspace. It's not just about terraces and balconies anymore. We're talking rooftop gardens, expansive courtyards, and awe-inspiring vistas. Let's begin.
1. 3 World Trade Center
Silverstein Properties' 3 World Trade Center has been a towering symbol of modern architecture and open-space work culture since 2018. This 2.8-million-square-foot hub, renowned for fostering creativity and innovation, features a column-free interior and floor-to-ceiling windows. Accordingly, unobstructed views and bountiful natural light make it an ideal canvas for startups and creative businesses to design workspaces reflecting their unique vision. Nevertheless, the star attraction is undoubtedly the 17th-floor sprawling 5,000-square-foot terrace. Offering spectacular views of Lower Manhattan, this feature further cements the reputation of 3 World Trade Center as one of the finest NYC office buildings with outdoor space. 
Sample Listing (Courtesy of VTS)
Partial 49th Floor, Suite 4900B
This office space, still under construction, is up for sublease. It spans 20,978 sq. ft. and can accommodate 294 people. Firstly, the plan features 3 spacious open work areas, promoting collaboration. Secondly, there are 14 independent rooms, fostering focused work. Lastly, including 2 kitchens adds a layer of convenience to the workspace, effortlessly bridging the gap between productivity and comfort.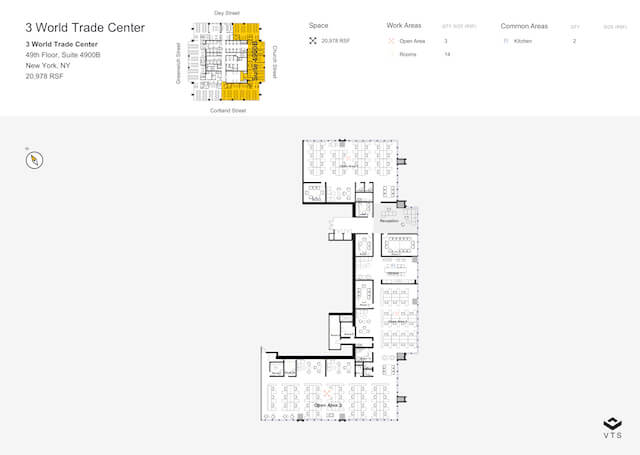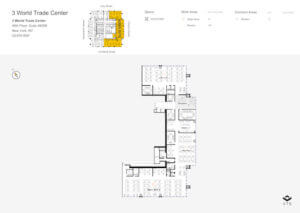 2. 441 Ninth Avenue
At 441 Ninth Avenue, historic charm meets modern flair. This NYC office building, reimagined by Cove Property Group in 2020, combines the best of both worlds. Firstly, there's the rich texture of the original 1982 structure. Secondly, there's a modern, soaring 17-story tower added on top of it. Now known as Hudson Commons, the building seamlessly integrates indoor workspaces with the outdoors. Nearly every level flaunts private terraces and balconies, inviting tenants to soak in the city's vibe. The cherry on top? A landscaped terrace atop the building offers panoramic views that capture the spirit of the Big Apple.
Sample Listing (Courtesy of VTS)
Entire 3rd Floor, Suite 300  
Available for sublease, this expansive, pre-existing  50,319 sq ft office space is poised to accommodate an estimated 335 individuals. Additionally, its current configuration features a blend of open areas (3), rooms (31), utility spaces (19), and dedicated phone rooms (7), offering a range of options for diverse work styles. Finally, one kitchen and six bathrooms provide essential amenities, rounding off this space.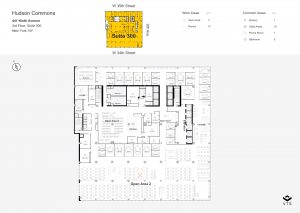 3. 4 Times Square 
Located at the heart of the luxe Plaza District One Five One, formerly known as 4 Times Square, dares to redefine the standard for NYC office buildings with outdoor space. Erected in 1999, this unique office tower spans a colossal 1.6 million square feet, embodying sustainable design and ranking among the city's most eco-friendly structures. Moreover, tenants have a trifecta of open-air delights. Firstly, the expansive terraces offer a sweeping view of the bustling city. Secondly, a lush green roof provides a verdant escape from the urban sprawl. Lastly, generous outdoor spaces add to the appeal, unequivocally raising the bar for urban workspaces.
Sample Listing (Courtesy of The Costar Group)
This vacant, core and shell, 18,247 SF office is ready for a direct lease. Additionally, it ensures easy access to a sprawling 45,600 SF amenity floor. Here, a gourmet food hall, an exquisite coffee and wine bar, and tailor-made meeting venues, all curated by Chef Charlie Palmer, await. As you step into the office, you're immediately embraced by dramatic views and natural light, further enhanced by inspiring terraces. Furthermore, the workspace's generous ceiling heights and expansive floor plates are worth noting, as they effortlessly combine futuristic design and strategic location, thus promising a unique work experience.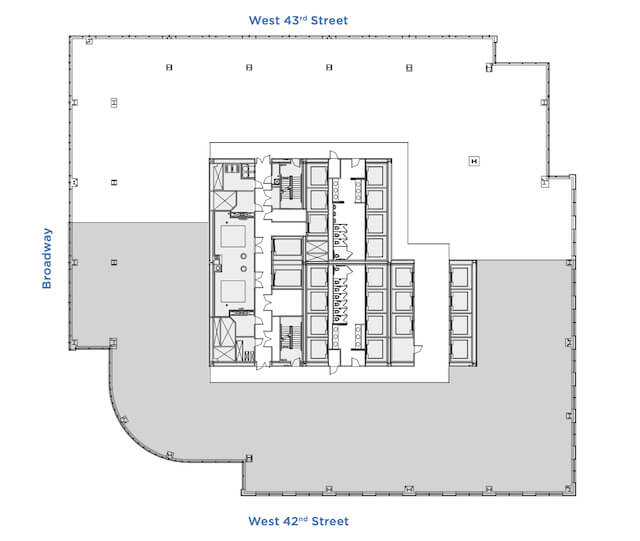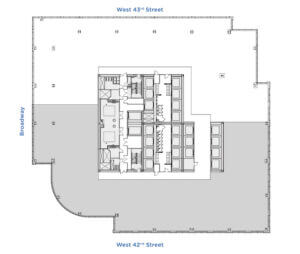 4. 1633 Broadway
Midtown Manhattan's Paramount Plaza at 1633 Broadway raises the bar for NYC office buildings with outdoor space. Following a 2012 transformation, it proudly exhibits a unique gem, a breathtaking double-height outdoor terrace atop its vast 2.6 million square feet of Class A, LEED, Gold-certified office space. This open-air charm, a literal and figurative breath of fresh air, was compelling for New Mountain Capital to relocate their offices from 787 Seventh Avenue. Thus, without a doubt, it's a glowing testament to the power of outdoor spaces in redefining urban workplaces.
Sample Listing (Courtesy of VTS)
Entire 35-36, Suite E35-36
Suite E35-36 occupies the 35th and 36th floors, giving 105,892 sq ft of office space. Available for sublease, it can easily fit up to 706 people and has 15 open work areas, 150 individual rooms, and 7 private phone rooms. Moreover, there are 2 kitchens, 45 utility areas, and 11 bathrooms for everyone's comfort. Lastly, if needed, there is a divided 52,903 sq ft plan available.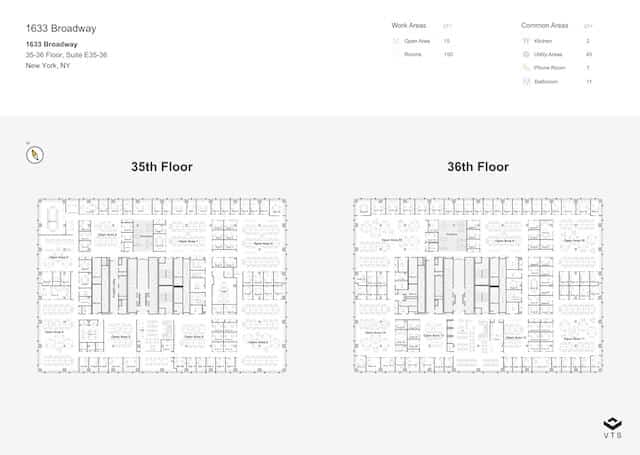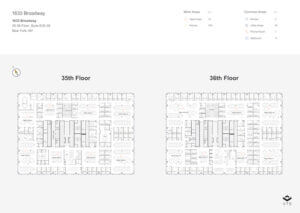 5. 375 Park Avenue
In 2014, the iconic Seagram Building at 375 Park Avenue took a bold step, unveiling an expansive 11th-floor terrace. This creative twist, astonishing for a 1958 vintage structure, succeeded in luring dynamic businesses. Now, tenants revel in a private city haven that houses a generous 5,000-square-foot lounge, effortlessly merging into a sizeable 7,280-square-foot outdoor deck. Standing tall as a leading choice among NYC office buildings with outdoor space, the Seagram Building presents a breathtaking vista of Midtown Manhattan. Hence, uniting work with relaxation creates a distinctive and inviting work environment.
Sample Listing (Courtesy of VTS)
Partial 23rd Floor, Suite 2309
Suite 2309 is a pre-built, 4,746 SF office space available for direct lease. A well-planned layout awaits with the capacity to accommodate 32 people. Moreover, there's an open area for collaborative activities, four dedicated rooms for focused work or meetings, a kitchen, and three utility areas. Overall, this office does the job with combining convenience with professionalism.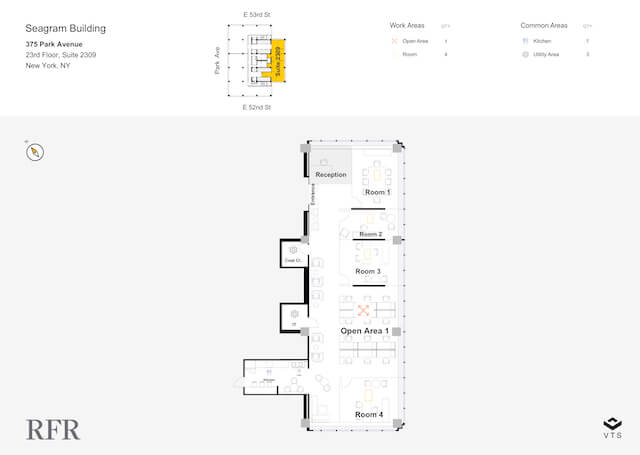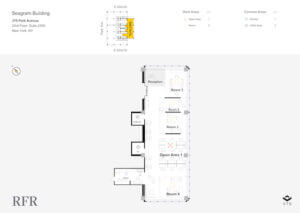 6. 512 West 22nd St
Immersed in Chelsea's vibrant scene, the 512 West 22nd Street building marries innovation with nature. Crafted by CookFox Architecture and completed in 2019, it champions the concept of 'biophilia,' seamlessly intertwining workspaces with the outdoors. In addition, beyond the operable windows lie 13 private, landscaped terraces, each offering a tranquil escape for tenants. Nevertheless, the crown jewel is the expansive 5,600-square-foot rooftop deck park. From this vantage point, breathtaking views span the Hudson River and the High Line Park. 
Sample Listing (Courtesy of VTS)
Partial 7th Floor, Suite P7
This pre-existing 11,902-square-foot office space is currently available for a growing team. In addition, with an estimated capacity to accommodate 79 people, the office is ideal for businesses seeking room to expand. Moreover, available for sublease, it's a fantastic opportunity to make an already built-out workspace your own.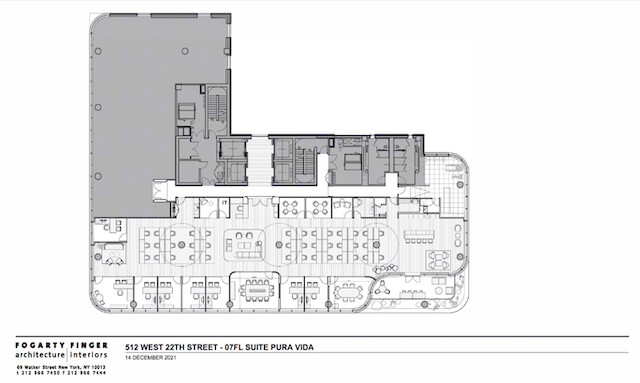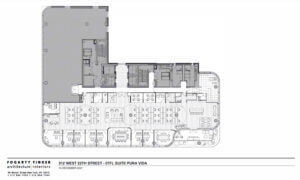 7. One Manhattan West
Manhattan West's centerpiece, One Manhattan West, is a testament to modern design. Completed in 2019, this colossal two-million-square-foot tower expertly balances design with function, introducing a fresh concept for NYC office buildings. Flaunting column-free spaces, soaring ceilings, and a wealth of natural light, it's a sight to see. However, the real game-changer is its unique access to a 2.6-acre public plaza, a lush oasis in the city's concrete jungle. Moreover, a new dash of excitement is stirring at the plaza with its new ice-skating rink.
Sample Listing (Courtesy of The Costar Group)
Step into a top-tier, 5,267 SF office designed by Skidmore, Owings & Merrill. First, it's vacant and in excellent condition. It boasts a specialized build-out and impressive 13'6″ slab-to-slab ceilings. Moreover, it's ready for direct lease and offers negotiable terms for added flexibility. Additionally, the layout, ideal for a team of 15, showcases two conference rooms, nine collaboration seats, two private offices, and twelve workstations. Finally, a welcoming reception area comes into view, followed by a practical pantry and a convenient copy/print room. Four storage closets, a serene respite area, and an IDF round it out.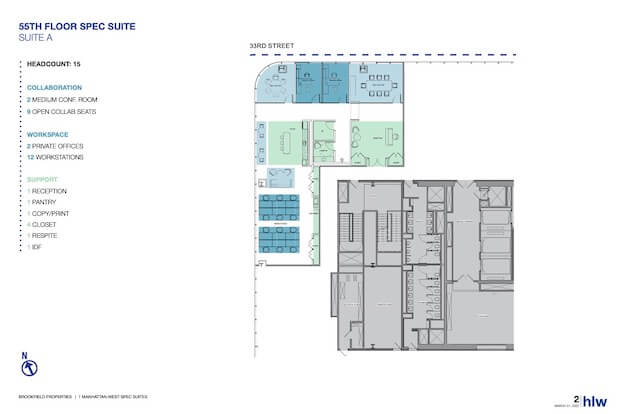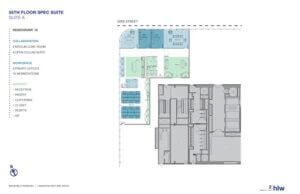 8. The Spiral
Brought to life by Tishman Speyer in 2022, The Spiral, a 66-story architectural masterpiece, stands proudly amidst the trendy Hudson Yards. Envisioned by Bjarke Ingels, it boldly redefines the meaning of office architecture. Spanning an impressive 2.8 million square feet, this unique building boasts Class A office space. However, the building's true charm emerges from its signature design feature: a series of terraces winding gracefully around the building, unfurling into a cascading spiral. Accordingly, each floor has a touch of outdoor space, a feature enticing enough alone to elevate The Spiral as one of the top NYC office buildings with outdoor space.
Sample Listing (Courtesy of VTS)
Partial 53rd Floor, Suite 5340
Available for direct lease, Suite 5340 boasts 6,747 sq ft of pre-built office space that can comfortably house up to 45 people. With a layout comprising an open area, 7 private rooms, 1 kitchen, and 3 utility spaces, the suite offers an environment ripe for collaboration. Lastly, three dedicated phone rooms provide additional privacy for focused work or important calls.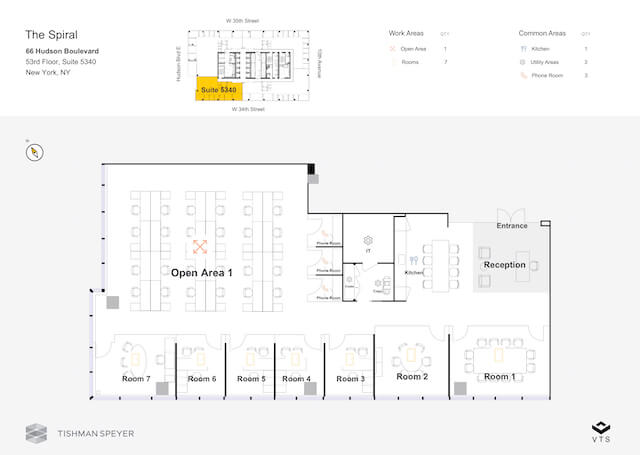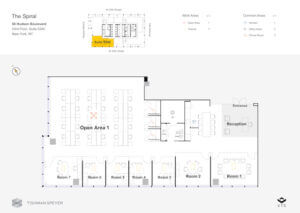 9. 55 Hudson Yards
Set your eyes on 55 Hudson Yards, a striking emblem of modernity within Manhattan's shimmering Hudson Yards complex. This 1.3 million-square-foot LEED Gold-certified tower lures businesses seeking a unique blend of creativity and sustainability. Seamlessly combining a dash of vintage NYC charm with contemporary efficiency, it presents flexible floor plans and expansive floor-to-ceiling windows. But what truly elevates this building to one of NYC's top spots with outdoor spaces is its breathtaking 10th-floor terrace. This wraparound marvel offers sweeping panoramic views of Manhattan, serving as an unending source of big-city inspiration, all encapsulated in one astounding tower.
Sample Listing  (Courtesy of VTS)
Partial 3rd Floor, Suite 301
This 10,853 sq ft office space is available for sublease now. Notably, it offers a perfect balance of collaborative and private work areas. With a capacity to comfortably accommodate 47 people, it features 2 open areas, 17 individual rooms, a functional kitchen, and 3 utility areas. Lastly, a unique addition to this space is its dedicated outdoor area, providing a refreshing retreat for employees.
10. 110 Greene Street
Drawing from its historical roots, 110 Greene Street, known as The Soho Building, blends the timeless charm of its 1910 structure with modern appeal. Offering 295,000 sq ft of Class A office space in Soho, this SL Green-owned property doesn't hold back on desirable features. Among the striking features, you'll find exposed brick, soaring ceilings, a convenient on-site café, and elegantly polished concrete floors. Yet, the crown jewel is undoubtedly the tranquil rooftop garden. This slice of calm encourages employees to pause and recharge, adding a refreshing twist to the traditional workday.
Sample Listing (Courtesy of VTS)
Partial 6th Floor, Suite 600B
This spacious office space boasts approximately 3,364 square feet and can comfortably accommodate up to 22 individuals. It is available for direct lease and immediate occupancy. Moreover, the space is pre-built and includes one open area, three rooms, and a kitchen for convenience.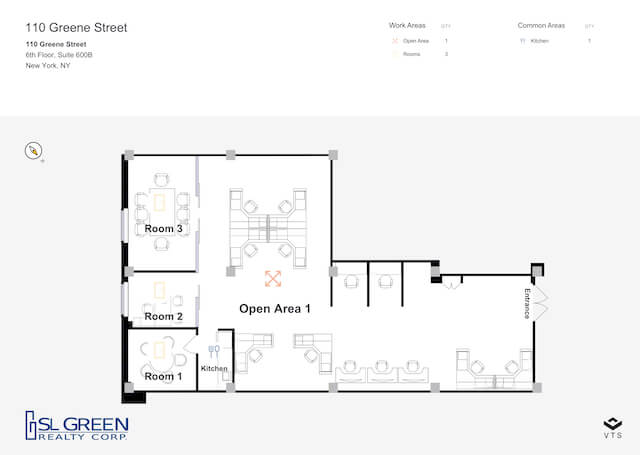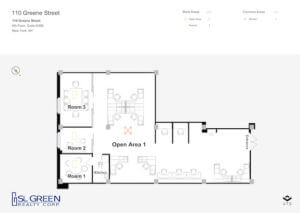 The Key Takeaway
Outdoor spaces have indeed sparked a revolution in NYC office buildings, infusing workplaces with new energy. Notably, they provide a literal breath of fresh air to tenants across a broad spectrum, from startups to established law firms.
Moreover, landlords are thrilled as these in-demand spaces frequently command a premium price.
So, as we move forward, this trend is set to endure, particularly with the ongoing push to return employees to office environments. It'll be fascinating to witness how innovation continues to seamlessly meld nature and office design, contributing to the evolution of workplaces.
Are you looking for offices featuring outdoor space in Manhattan? Metro Manhattan Office Space can help you find one, regardless of industry or size. To learn about available office spaces, call us at (212) 444-2241 or email us at [email protected].