The Covid19 pandemic has triggered a massive shift in priorities for landlords and tenants alike. In just a few months, the way people work has changed forever. Numerous employers have learned to embrace hybrid and remote work models. While employees took this opportunity to improve their work-life balance, landlords have had a rough time. Struggling to retain tenants or attract new ones, having to lower their asking rents, and even finding different use types for their office space – these issues have kept landlords and property managers busy in the past year. 
What does it take to bring employees back to the office? 
Recent commitments from Amazon, Facebook, and Google offer a glimmer of hope for Manhattan office space. As tech companies continue to bet big on office buildings in NYC, there is hope that employees will eventually trickle back into offices, and things will go back to normal. 
However, as more and more companies offer remote work options, convincing people to work in a shared office space becomes more challenging. Amenities such as game rooms, free coffee, and casual Fridays don't cut it anymore. Nowadays, health and wellness are what employees value above everything else. And landlords have to find ways to integrate these concepts into their buildings. 
Access to fresh air and outdoor space seems the most sought-after office amenity in the post-pandemic world. Nonetheless, it's a trend that was already in place two years ago. According to an October 2019 survey done by CBRE, 79% of new buildings completed since 2010 featured some form of outdoor space. What's more, at the time of the study, 9 out of 10 Manhattan buildings under construction incorporated outdoor space.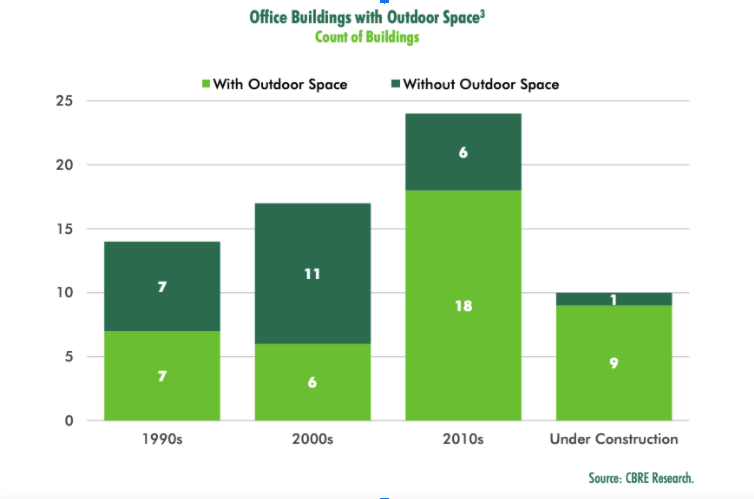 Fast forward to 2021, and access to outdoor space and air quality are the top priorities for tenants and landlords alike. Joanna Frank, president of the Center for Active Design, told the New York Times that connecting the office to nature has gone from "being a nice-to-have to being a risk if you don't do it." So, how are developers doing it? 
Incorporating outdoor space in Manhattan's office buildings 
Balconies, terraces, and rooftop gardens are now integrated into nearly every new commercial office project in Manhattan. Brookfield Properties' Manhattan West complex will include various outdoor spaces, including a skating rink at One Manhattan West. Vornado Realty Trust's 512W22 in Chelsea offers 16,920 square feet of terraces, as well as a rooftop garden. Related Companies' boutique commercial building at 300 Lafayette Street has terraces on four of its six floors.  This amenity was a key amenity in luring Microsoft as the anchor tenant. 
The list goes on and on. Hudson Commons at 441 Ninth Avenue includes 14 terraces and balconies and a 12,000-square-foot, wrap-around terrace. The office tower at 55 Hudson Yards features two large terraces, while 3 World Trade Center also includes an 11,000-square-foot outdoor terrace. Currently under construction, Tishman Speyer's The Spiral will incorporate outdoor gardens on each floor that 'spiral' around the building. That adds up to a total of 65 terraces, one for each floor of the 1,005-foot tower. 
Adding terraces and balconies to new constructions is a straightforward process. But how can building owners add outdoor spaces to existing office buildings? The Tribeca Investment Group is activating an inner courtyard and two wrap-around terraces at 295 Fifth Avenue, a century-old property. KPF worked with Brookfield Properties to modernize 660 Fifth Avenue and used the building's setbacks to create terraces on three sides, including one facing Fifth Avenue. Vornado's redevelopment of the James A. Farley Building, now occupied by Facebook, will add 70,000 square feet of outdoor landscaped park space on the building's fifth floor. At 399 Park Avenue in Midtown, setbacks will be repositioned into terraces, while the 8th-floor terrace upgrade at 1271 Avenue of the Americas helped land high-profile tenants like Major League Baseball. 
Adding outdoor space to office buildings is a win-win initiative
There are numerous studies to prove that access to the outdoors has substantial benefits for office workers. Harvard University ran a study to simulate indoor environmental conditions in 'green' and 'conventional' office buildings. Upon comparing the results, the university found that cognitive scores were 61% higher when people worked in a green office building for the day. 
Regular breaks outside can boost productivity, performance, creativity and lead to higher employee satisfaction and wellbeing. In the context of the pandemic, having access to outdoor balconies or terraces where people can safely unwind and have lunch becomes an invaluable amenity. But the benefits aren't just for office tenants; incorporating outdoor spaces brings advantages for landlords, as well. 
Paul J. Amrich, a vice chairman with CBRE, told the New York Times in 2019 that landlords could charge 10% to 15% more for Manhattan properties that include access to outdoor space. According to Amrich, landlords can't charge per square foot for terraces or rooftops. But such amenities allow them to set higher asking rents.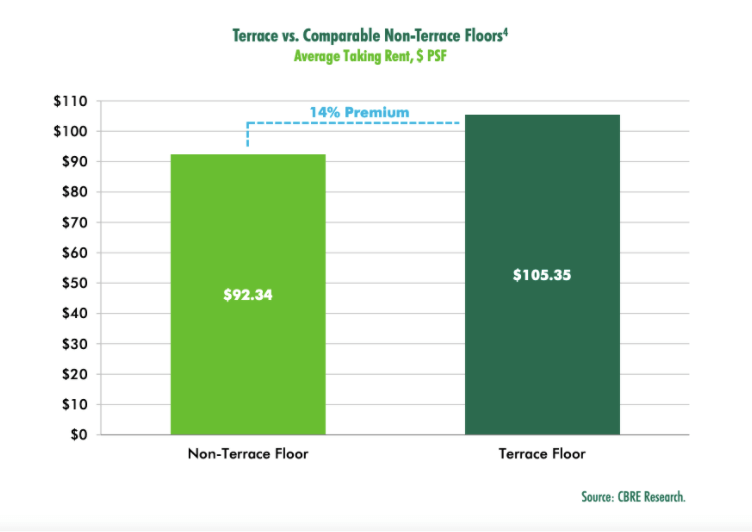 CBRE's 2019 study showed that average rents at office buildings featuring terrace floors were 14% higher than those commanded in non-terraced buildings. Last but not least, a recent MIT study found that 'healthy' building rents are between 4.4% and 7.7% higher per square foot than conventional buildings in the same area. The study concludes that "healthy buildings are seen as an asset that correlates with employee or tenant wellbeing and productivity."