Crime in Manhattan makes the news more than renting commercial office space nowadays. However, it's all interconnected. Crime surged during the DeBlasio administration, and District Attorney Alvin Bragg's progressive policies came under intense fire. 
The NYC crime wave leads many to doubt the future of New York City commercial real estate. 
However, there is cautious optimism that Mayor Eric Adams will eventually clean things up. After all, he is an ex-cop, and the real estate industry backed his candidacy for a reason. 
Yet, the fact remains that overall crime in New York City surged in September 2022 by 15.2% year-over-year. Burglaries also rose by 22.7%, grand larceny auto increased by 21.5%, and grand larceny climbed by 21.3%. 
This is not good at all. 
An August article from NPR titled "A spate of horrific attacks in New York has people fearful of returning to work," went deeper. Although companies desperately want and need employees to return to the office, many workers are too scared. Some Manhattan neighborhoods are simply more dangerous than others, and many people are too frightened to ride the subway. 
But the sky is not falling, and you don't have to wait on a questionably effective city government to fix things. You can do your part for business, and your employees with where you rent and how safe and secure the building is.
When Do I Know It's Time to Relocate My Office to a Safer Neighborhood?
Things can always come up with your company that you might not anticipate, and crime and security are no exception. 
If your team works after hours and is reluctant to travel to the office, relocation is something you should explore.
If security is a major concern negatively impacting your team's return to the office, consider secure buildings in neighborhoods with low crime. Look for buildings with 24/7 attended lobbies, video cameras, security turnstiles, and more. 
If your office space's lease expires in the near future, start researching office space rentals in more secure neighborhoods sooner rather than later. 
Moreover, marketing your space for sublease is possible if your lease isn't expiring shortly. 
Speaking to a reputable office space rental agency and experienced New York City commercial real estate broker can be beneficial. They will precisely understand what to look for based on your business needs and security concerns.
What are the Safest Neighborhoods in Manhattan?  
Note the below crime map. The darker the color, the higher the crime; the lighter the color, the lower the crime.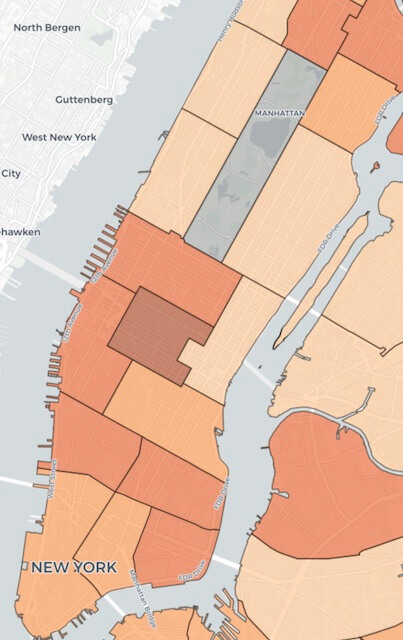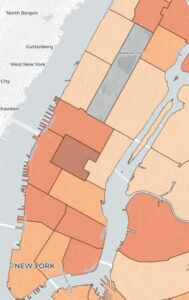 The discrepancy between certain parts of Midtown vs. the rest of the city is striking. 
Crime is highly concentrated around the Midtown South precinct, consisting of Koreatown, the Garment District, the Theater District, and Penn Station. In September 2022, this area saw 376 crimes, roughly 18.2 per 1000 residents.  
However, walk a few blocks east, and you're in the most secure part of Manhattan. The 17th precinct, which runs from 59th St to 30th St, between Lexington Ave. and FDR, saw only 91 crimes in September 2022 and only about 1.15 per 1000 residents. 
Mind you, the 17th precinct also has a higher population than Midtown South, with ​​79,126 people compared to 20,651. 
In other words, it has almost 4x the people yet over 4x less crime.
However, the New York City crime map only provides a snapshot. 
Finding quality office space where your workers will feel safe depends on deeper research into specific neighborhoods. 
You have many excellent options to choose from in what remains the greatest city in the world.   
Battery Park City
Battery Park City is a bubble of tranquility from the hustle and bustle of New York City. Located amongst the lush 92-acre Battery Park at the southernmost tip of Manhattan, Battery Park City is a quiet, peaceful, and safe alternative in Downtown Manhattan. 
Although Battery Park City is primarily residential, it is adjacent to relatively secure areas such as The Financial District (FiDi) and World Trade Center.
The area has a diverse supply of office space for lease, including many secure and affordable Class A buildings with attended lobbies. 
Battery Park City, Tribeca, and FiDi make up the NYPD's 1st precinct. According to the NYC Crime Map, this precinct is one of the safest parts of Manhattan. In September 2022, the 1st precinct had only 143 crimes and 2.14 per 1000 residents.
Crime rates in Battery Park City are also roughly 45% lower than the national average.
Tribeca
Whether or not you consider Tribeca part of Downtown Manhattan or Midtown South, there's a reason why it's one of Manhattan's priciest office markets. After all, as of Q2 2022, asking rents increased 24.46% year-over-year.
High-end inventory is available, and Tribeca commands a premium.
Tribeca's 32 Avenue of the Americas offers Class A amenities like new mechanical and communications infrastructure, a 569,000-square-foot data center, high ceilings, large windows, expensive floor plates, bike storage, and 24/7 access. 
Demand for industrial/warehouse-style loft space is also skyrocketing, with properties like the former printing and manufacturing building on Hudson and Varick Street attracting attention.
Even Tribeca's Class C office buildings like 60 Hudson Street/160 West Broadway have amenities like lobby security and 24/7 access. 
When you live or work in Tribeca, you're paying for safety, and you're paying for luxury. As part of the 1st precinct alongside Battery Park City and FiDi, Tribeca is undoubtedly one of the city's safest and most secure neighborhoods for renting office space. 
Chelsea
Chelsea is one of the best neighborhoods NYC has to offer. Filled with bars, restaurants, cafes, parks, and art galleries, it's a joy to live or work here.
Although it's part of the 10th precinct, an area that saw 2.29 crimes per 1000 people in September 2022, this figure is misleading. The 10th precinct has a smaller population than many other precincts and tends to lump in many crimes from the less safe Meatpacking District. 
After all, the 10th precinct also includes the luxe Hudson Yards, so how unsafe can it be?
Chelsea has high-class tenants, art galleries, access to the High Line, and of course, Chelsea Market.
Google's facility and 111 Eighth Avenue are Class A gems. However, other Class B buildings in Chelsea offer similar amenities to older Class A spaces in outstanding locations. For instance, you might pay a premium to be adjacent to Chelsea Market. However, as of Q2 2022, Chelsea had Midtown South's cheapest Class B asking rent at $68.08 
Consider reasonably priced and secure Class B assets like 75 Ninth Avenue. 75 Ninth offers 220,000 square feet of retail space and access to Chelsea Market.
The Starrett-Lehigh Building at 601 West 26th Street is also one of Manhattan's largest Class B structures and is undergoing a massive renovation. 71 West 23rd Street also offers plenty of affordable Class B space for tenants in healthcare, law, and financial services. Furthermore, overlooking properties like 113-133 West 18th Street and 395 Hudson Street is a mistake. 
There are decent loft spaces to consider as well in buildings like 540 West 28th Street, 270 Lafayette St, and 352 Seventh Ave.
Flatiron District
The iconic Flatiron District is one of Manhattan's most vibrant yet safest neighborhoods. With a location in the heart of one of Manhattan's safest precincts, the 13th, you'll be in an area that saw only 154 crimes in September 2022 and 1.64 per 1000 residents.
The Flatiron District takes its name from one of the city's most iconic landmarks, the Flatiron Building. However, the neighborhood has become well-known for its attractive and newly renovated loft-style office spaces. Other notable properties in the Flatiron District include the MetLife Tower.  
Moreover, the Flatiron District is one of Manhattan's most heavily trafficked areas. Pedestrians, after all, outnumber vehicles by 18:1 here.
Additionally, you sit steps away from Union Square. Besides being a focal point of much of the city's youthful energy, Union Square offers some of the city's best outdoor space. It is also one of NYC's most important transit hubs and hosts the L, N, Q, and R lines.  
Kips Bay
Just below Murray Hill sits Kips Bay, a safe and secure Midtown East neighborhood. 
The area is generally better known for its residential spaces than commercial spaces, but make no mistake, there are plenty of options. Kips Bay is well-known as home to NYU and other medical institutions, so there are plenty of medical office spaces for lease.  
You also share a precinct with Gramercy and the Flatiron District, two other secure neighborhoods with attractive office inventory of their own. You have quality office spaces at 11 Madison Avenue and the iconic Flatiron Building. Gramercy also has plenty of budget-conscious loft spaces with lots of charm. Startups or small businesses may love the plethora of 500-1,500 Square Foot office rentals with competitive asking rents.
Conclusion: What Can You Do
You are likely outraged if you're a tenant paying high rent, scrambling to get workers back in the office, and surrounded by crime. Nobody asked for this, especially you.  
However, there is no reason to stay stuck in your current situation. If you're concerned about your security, the safety of your workers, and getting your staff back, the crime map speaks for itself. 
A building with 24/7 security, secured entrances, and modern security systems can only help so much if the neighborhood is less safe. 
The best thing you can do is to consider New York City office space in Manhattan's safest and most secure neighborhoods. Do your due diligence, and don't only rely on resources like a crime map. 
Furthermore, pay attention to the news and speak to people on the ground.
In times like this, a reputable office space rental agency and experienced New York City commercial real estate broker can provide unique insights and invaluable advice. The more experienced commercial realtors have an intimate knowledge of the various buildings and neighborhoods. Moreover, they know the safest and most secure places to rent New York City office space. 
So while the crime is concerning, you can work around it and experience the best of New York City from a professional and personal perspective. 
Rather than waiting for things to get better (and they may), take the necessary steps today to put you and your workers in the safest position tomorrow.