75 Ninth Avenue, Chelsea Market office space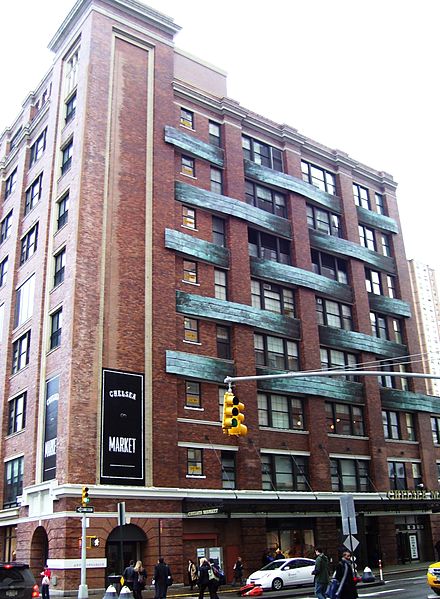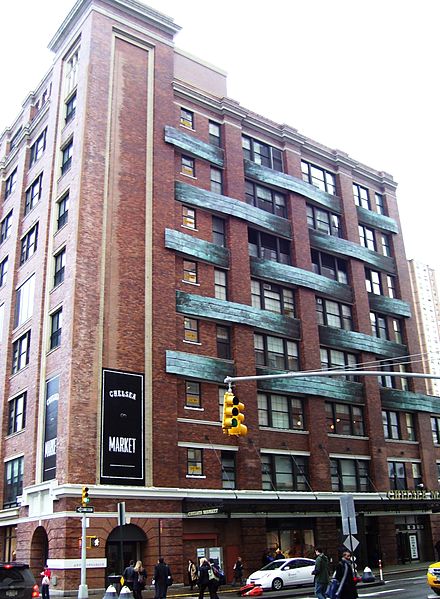 | | | | |
| --- | --- | --- | --- |
| Address | 75 Ninth Avenue | Class | B |
| Cross Streets | 15th & 16th Streets | Size | 1,158,397 SF |
| Year built | 1930 | Architect | Vandeberg Architects (renovation) |
Description
Chelsea Market is a landmark location in Midtown South, and the beating heart of the Chelsea neighborhood. Originally built in 1934, it was converted to office use in 1997, and its ground-floor food court is now a popular gathering place for New York City foodies.
In recent years, Chelsea Market has also become a hotspot for companies in the tech industry. In 2018, Google paid $2.4 billion to acquire the iconic property, in one of the largest single-building sales in New York history. The tenant roster includes big names like Google, YouTube and Jamestown.
Class A Creative Office Space Available
The property at 75 9th Avenue features 1.1 million square feet of Class A office space across 8 stories. Included are also 220,000 square feet of retail space and various high-end restaurants. Previous owner Jamestown is handling leasing efforts at Chelsea Market, and continues to lease office space in the building.
The original Chelsea Market originally housed the National Biscuit Company (Nabisco) factory complex, where the popular Oreo cookie was produced. The building kept expanding until it came to occupy an entire city block. In the 1990s, developers acquired the property and converted it to office use, in an adaptive reuse project designed by Vandeberg Architects. The upper floors of the building consist of office space featuring exposed brick walls, high ceilings, and tenant-controlled HVAC systems, all while preserving the old architectural details of the former industrial property.
The Chelsea neighborhood, much like the Meatpacking District, has become a popular destination for tech-style tenants looking for creative office space, and numerous adaptive reuse projects have been undertaken in these markets. Tech giant Google seems to be establishing a corporate campus in Chelsea; the California-based company paid $2.4 billion for Chelsea Market in 2018, and also owns the building across the street at 111 Eighth Avenue.
Getting to and from Chelsea Market
Chelsea Market is strategically located close to the 14th Street and 8th Avenue subway station, offering easy access to the A, C, E and L trains.
The High Line, which opened in 2009, passes through the 10th Avenue side of the building, which connects the Javits Center to the Meatpacking District.
Who is renting office space at Chelsea Market?
Chelsea Market is an appealing destination for foodies and shoppers, as well as for tech-style tenants looking for flexible, creative office space with a unique history. Major office tenants within the building include Google, former owner Jamestown, which continues to operate the ground-floor food court, YouTube, Scripps Networks Interactive, Spectrum News NY1, and MLB Advanced Media. The retail and dining portion of the building is home to Anthropologie, Friedmans, Filaga, Creamline, Buonitalia, and Chelsea Wine Vault, among many others.
How much is the rent price for office space at Chelsea Market?
Office asking rents in the Midtown South area average roughly $84 per square foot as of 2019, per CBRE data. The increasing popularity of Chelsea and the Meatpacking District among creative office users continues to push asking rents higher. Office asking rents at Chelsea Market often surpass $100 and even $200 per square foot, signaling the massive appeal of adaptive reuse projects and the eagerness of companies to join a high-profile, tech-oriented tenant roster.
Available Spaces
Interested in office space at 75 Ninth Avenue, Chelsea Market office space? Contact us today
Listing Location & Nearby Public Transportation
Nearby Transportation
Subway
8th Avenue - 6 minutes Walk14th Street (123ABCDEFMQ) - 7 minutes Walk
Bus
Hudson Street & West 13th Street - 5 minutes WalkWest 14th Street & 8th Avenue - 6 minutes Walk
Important information
This listing is presented for illustrative purposes only, it may no longer be available, and is provided merely as an exemplary representation of the types of spaces in a given neighborhood for a given price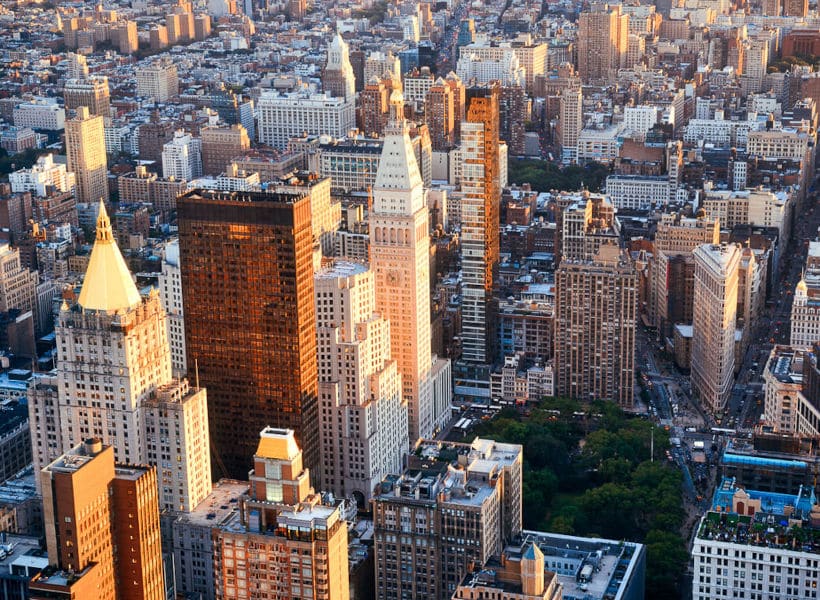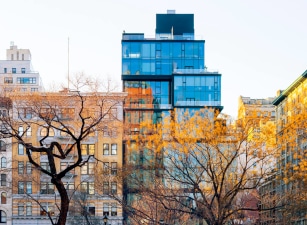 Midtown South
Midtown South Manhattan Office Space for Rent Guide Midtown South may be compact in size. But with roughly 70 million square feet of office space in some of Manhattan's trendiest neighborhoods, you have some of the best of New York City office space at your fingertips, no matter your needs. Midtown South consists of the…
Learn more about Midtown South
Schedule a Tour
Please select a convenient date for your tour, and one of our colleagues will contact you soon!