The U.S. office market took a significant hit during the pandemic, with most companies switching to a fully remote or hybrid workstyle. Manhattan, as one of the densest business districts globally, was heavily affected by this switch, and as a result, vacancy rates are climbing while rental rates are dropping.
Recent research shows just how the pandemic effects have translated into the Manhattan office market, and it's not a pretty picture, at least not for landlords. According to a recent Colliers International report cited by The Real Deal, office availability in Manhattan hit its highest number on record, namely 16.1% in Q1 2021. That equates to a 5.9% jump year-over-year and 1.8% higher than Q4 2020. What's more, the report reveals that the average asking rent for office space in Manhattan hit its lowest number since 2018, closing Q1 at $73.23 per square foot.
Q1 2021 totaled just $400 million in sales volume in terms of office sales, marking a nearly 90% decrease year-over-year. The quarter's biggest transaction was closed by Brookfield Asset Management, which purchased a 25% stake in Tower 46 from S.L. Green for $275 million. By comparison, $3.8 billion worth of office deals closed during the first quarter of 2020.
Financial services, life sciences tenants bet big on Manhattan office space in Q1
The biggest office lease of the quarter was closed by Blackstone, which signed a 720,000-square-foot renewal at 345 Park Avenue. According to data from Savills, another major lease closed in the Columbus Circle submarket, where Mount Sinai's Icahn School of Medicine leased 167,348 square feet at 787 11th Avenue. Mount Sinai's new location further proves that NYC's life sciences sector is on the upswing, especially as research into vaccines and Covid19 treatments is ongoing.
Other notable leases were signed by Ann Taylor, AXA, and the United Nations Joint Staff Pension Fund, among others. According to Savills, financial services tenants were the busiest during Q1, accounting for 31.7% of the top transactions by square footage. The research also shows that 28.3% of significant office leasing activity took place in the Grand Central Station submarket, currently experiencing a resurgence.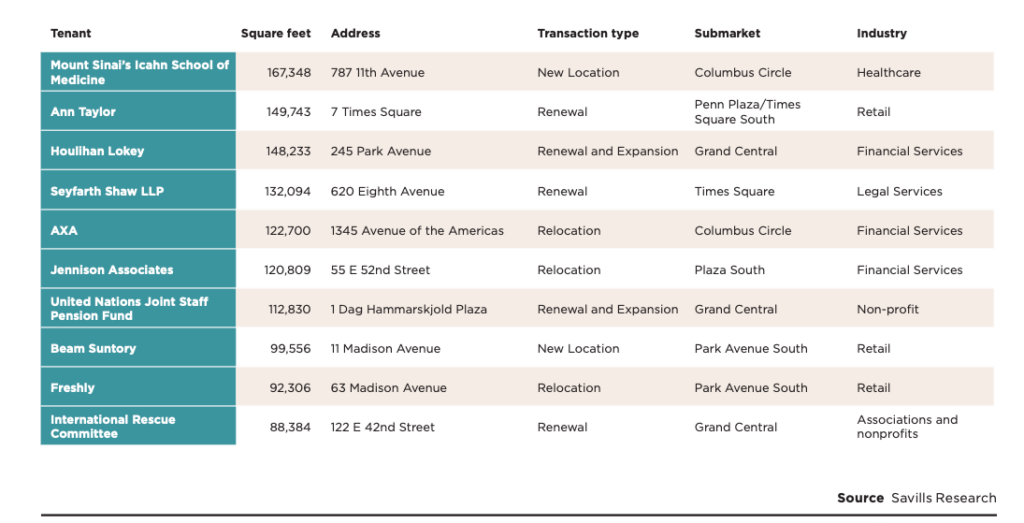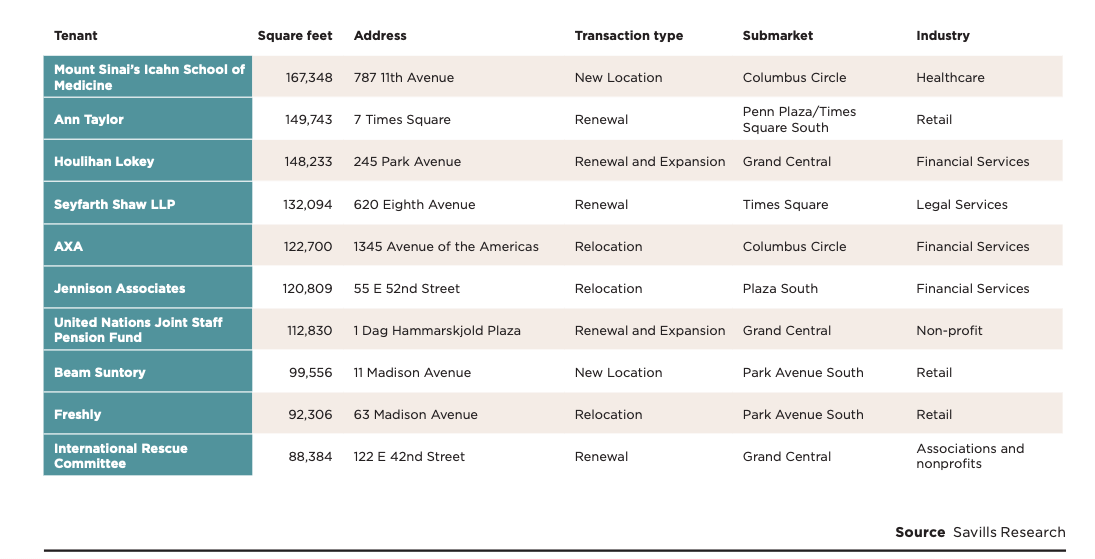 Hudson Yards is still the priciest office submarket in NYC
Recent Q1 research by Savills shows that Hudson Yards is the most expensive office submarket in the city, with rents here closing the first quarter at $128.66 per square foot. Availability in this ultra-pricey market is also the lowest in the city, closing Q1 at 12.3%. Plaza North, Greenwich Village, and Plaza South follow close, with office rents here surpassing the Manhattan Class A average, which hovers at $88 per square foot.
At the other end of the spectrum, we find the City Hall submarket, which boasts an availability rate of 17% and an average rent of $52 per square foot. The Financial District is asking $54 per square foot, while in Penn Plaza, tenants can expect to pay $59 per square foot for office space. The highest availability rates are found in Soho (27%), Flatiron (22.6%), Plaza North (21.7%), and Union Square (20.4%).
Manhattan, a tenant's market in 2021
Colliers data also shows that office leasing volume in Q1 2021 dropped 36% year-over-year to just 4.6 million square feet; however, it was up 9.4% compared to the last quarter of 2020. This shows that, while the numbers seem to paint a bleak picture for Manhattan office landlords, tenants are at an advantage.
Startups and mid-sized tenants have historically been priced out of Class A or trophy Manhattan office buildings, as asking rents for such spaces often surpassed $90 or $100 per square foot. What's more, demand for affordable Class B or C office space was intense, and available space for rent was scarce. Now, a year after the pandemic first hit NYC, tenants have a plethora of options to choose from at never-before-seen prices. A bonus is that landlords are becoming desperate to fill up vacant offices, which means that they're offering more concessions than ever.
Manhattan landlords are keeping an open mind, looking for opportunities to fill the space left behind by tenants that have either switched to a remote system or have downsized their office footprint. Potential new tenants can now negotiate the asking rent by as much as 25% and benefit from concessions such as free rent, tenant improvement allowances, and build-outs. Savills research shows that the average TIA rose 15.5% to $124.85 per square foot in Q1, while the average free rent offered by landlords climbed 17.4% to 13.5 months. Anchor tenants downsizing their office footprint also provides more room for smaller businesses, which now have access to best-in-class properties that had previously been leased out to a single tenant.