With retail and office vacancy rates remaining high in New York City, landlords are looking for solutions to sure up their bottom line. Recently, Empire State Realty Trust made a big move to diversify its portfolio.
Empire State Realty Trust, which owns and operates many prominent buildings here in New York City including the Empire State Building, announced that it will acquire two residential apartment complexes in Manhattan, totaling 625 units. The price tag is $307 million dollars, or about $500,000 dollars per unit on average. At this time, ESRT has not disclosed the sellers or the locations of the buildings.
I suspect we could see more office landlords taking similar interest in residential to diversify and strengthen the long-term value of their assets.
What is Empire State Realty Trust?
Empire State Realty Trust is a Real Estate Investment Trust or REIT. Typically, REITs focus strongly on one asset class. In this case, ESRT has focused exclusively on commercial real estate. In fact, it has not owned any multifamily properties since it went public in 2013.
Anthony Malkin, the Chairman of Empire State Realty Trust, stated that purchasing these two apartment buildings was, quote: "an opportunity to add value through another asset class."
In addition to the iconic 34th Street tower, Empire State Realty Trust owns many other commercial properties in New York City. Their portfolio includes One Grand Central Place, a 55-story neo-Gothic building across the street from the New York Public Library on 42nd St. They also lease retail space around the city, notably in Union Square.
Most of ESRT's assets are in Manhattan. They also manage buildings in Westchester and Connecticut. Their portfolio's total square footage is around 10 million.
ESRT's Covid Struggles
Throughout the Covid-19 pandemic, Empire State Realty Trust has struggled to control vacancies, although recently, their finances have improved slightly. In July, CEO Malkin announced the signing of deals totaling 191,000 square feet in Q2. This was a huge improvement over the losses ESRT endured in 2020 and early 2021.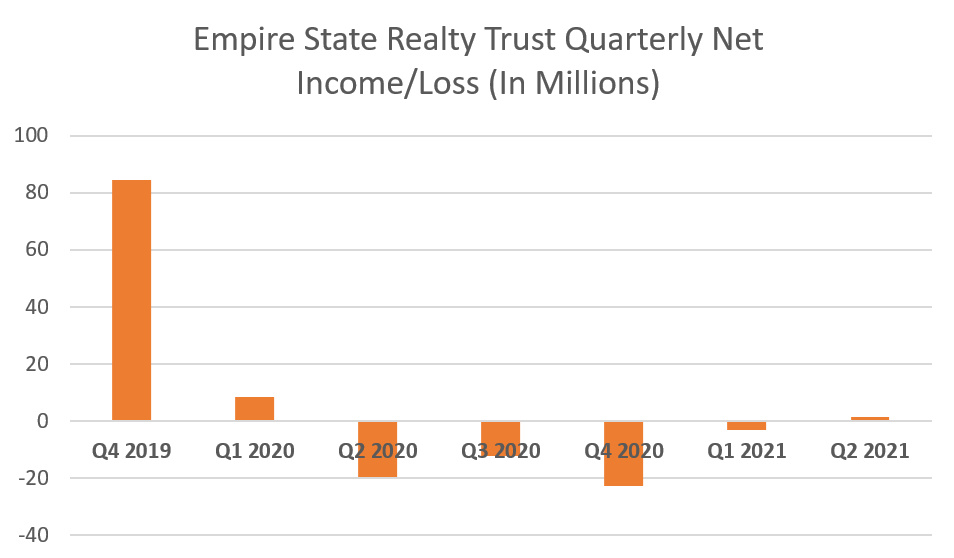 Even that good news was tempered with bad, as Malkin added that the fashion conglomerate GBG – which leases 353,000 square feet at the Empire State Building – had filed bankruptcy. GBG had already subleased roughly half of that. Now, ESRT will draw down on their $17 million letter of credit.
In addition to ESRT's office and retail vacancies rising, revenue from the Empire State Building's profitable observation deck plummeted in 2020 as fewer tourists visited Manhattan.
Betting Big on Residential
Purchasing two residential properties will diversify Empire State Realty Trust's portfolio. Most top landlords in New York City maintain a mix of commercial and residential assets. Many developers combine office floors and apartments in new buildings, which protects landlords from market fluctuations in either sector.
Residential properties in New York City are still a gamble. In recent times, landlords have found multi-family dwellings to be somewhat risky investments. State-mandated tenant protections limited rent increases even before Covid-19. Since the pandemic spread, state and local governments tightened regulations on how much landlords could charge residents of rental properties. A federal eviction moratorium removed the primary mechanism multi-family owners had to remove delinquent tenants.
Still, this move by ESRT shows faith in the residential market when New York office vacancies remain high at 14%.
Will this bet pay off? There is some reason to believe so. Malkin seems to have personal experience with residential investment. His family-controlled entity Malkin Holdings owns several thousand units, though not in New York City.
I am more interested in seeing if commercial landlords including Empire State Realty Trust will end up pursuing residential conversions of commercial spaces.
Converting Offices into Apartments in NYC
Empire State Realty Trust's purchase presents a tantalizing scenario. If this residential venture is profitable, will the company take steps to rezone some of its office space for apartments? In other words, how likely are we to see luxury condominium apartments for sale in buildings like the Empire State Building?
It has been tried in the past.
Back in 1991, the Empire State Building was owned by the colorful Japanese heiress Kiiko Nakahara. She wanted the tower to be modernized and turned to an even more colorful figure in New York real estate: Donald Trump.
Trump accepted a stake in the building and almost immediately sued everyone else, so that he could convert it to luxury apartments. He wanted to force out the co-owners Peter Malkin, father of the current Empire State Realty Trust CEO, and Leona Helmsley known at that time as "Queen of Mean" because of her tyrannical approaches to life and business. It was a wild conflict of huge New York personalities.
In the end, a judge blocked Trump's attempt to take full ownership of the Empire State Building. The rezoning to residential never happened. Within a decade, Nakahara gave up her stake in the tower.
Still, there is plenty of precedent in Manhattan when it comes to converting commercial space to residential. One of the biggest revitalizations Manhattan has seen occurred in the 1960s, when multiple light industrial warehouses in SoHo became the airy artist lofts we know today.
More recently, Alchemy Properties converted the top half of the landmarked Woolworth Building in In 2015. They brought in tdeisgners Thierry Despont to create a slate of contemporary luxe condos in the TriBeCa. Thierry also lovingly restored Frank W. Woolworth's private pool in all its pre-war marble glory.
What Would Empire State Building Apartments Mean?
Supertall apartment buildings like Central Park Tower, Steinway Tower on W. 57th St., and 423 Park Ave are all the rage. Manhattan residents apparently do not mind an ear-popping elevator ride or a bit of vertigo in their home. I have no doubt the ultra-wealthy would flock to purchase residences at the Empire State Building.
One big question every landlord must ask when converting an office property into apartments is whether they will be rental units or condos. The Woolworth Building and Central Park Tower, for example, are condominium complexes. Residents own their spaces, and there are no subsidized affordable rental units available inside those buildings.
Developers creating rental properties, on the other hand, face community pressure to include affordable apartments. New York also provides incredible tax incentives for properties with moderate-income units and abide by rent stabilization rules. Conversion from office to rental units might not be financially feasible without these tax breaks.
However, condos are generally more profitable for developers, and an Empire State Building apartment would be at the high end of the market. The opportunity to charge $3,000-4,000 per square foot might be too good for ESRT to pass up.
Such a change would also be an opportunity to reimagine the Empire State Building's retail component. Right now, it contains dining options like the State Grill and Bar and the Mexican street food option Tacombi. In terms of shopping, the tower currently offers very little. Welcoming high-earning residents would create a market for better dining and retail. Maybe ESRT could bring in a celebrity chef to open a new eatery or engage with chic clothing brands to take space near potential customers.
A Change in the Neighborhood
Finally, shifting a large portion of a 102-story skyscraper in the heart of Midtown Manhattan to apartments would fundamentally alter the neighborhood. Right now, Midtown is primarily a business district. Empire State Residences would nudge it closer to a modern working and living community.
This shift would likely also affect commercial rents. Reducing the supply of office space results in higher commercial rents. We saw this happen in Lower Manhattan after the dot-com bubble burst in the early 2000s. Property developers, left with vacant offices, converted many to apartments, and downtown's Financial District became the fastest-growing residential neighborhood in Manhattan.
With excess office inventory because of Covid lockdowns, something similar could happen in Midtown. If it does, commercial rents in the area will rebound much quicker.
But that is speculation. For now, we will need to see how Empire State Realty Trust's current acquisition pays off.