Welcome to Downtown Manhattan – an epicenter of commerce pulsating with energy and some of the world's largest corporations. Yet beyond the business activity, this major market, which includes The Financial District, World Trade Center/World Financial Center, City Hall, and The Insurance District, is also renowned for its breathtaking skyline. Yet the tallest office buildings in Downtown Manhattan, while towering feats of engineering and design, also offer awe-inspiring views over the city, the park, and the river.
A perfect illustration is the famous One World Trade Center. As the tallest building in the United States, it showcases the resilience and ambition of Downtown Manhattan. But let's not stop there. A myriad of impressive skyscrapers adorns this district, teeming with major law firms, financial enterprises, and innovative technology startups leasing commercial space. 
These architectural masterpieces offer more than just a workspace. They come with stunning vistas, cutting-edge amenities, and a unique prestige. Such features elevate businesses, setting them apart in the competitive marketplace. 
Moreover, beyond the corporate grind, Lower Manhattan enthralls visitors with a diverse range of recreational activities and cultural treasures at the doorstep. So without further ado, let's explore the top ten tallest office buildings in Downtown Manhattan, their unique offerings, and the excitement surrounding them.
1. One World Trade Center
One World Trade Center isn't only one of the tallest office buildings in Downtown Manhattan. It's not even solely one of the tallest buildings in the entire United States. Try the entire Western Hemisphere. This skyscraper, completed in 2014, stands on the site hosting the former 6 World Trade Center. 
Crafted by renowned architects Skidmore, Owings & Merrill, the building reflects ingenuity at its best. It stretches across 3.1 million square feet and is a testament to modern design. Here, expansive, column-free office spaces invite sunlight through floor-to-ceiling windows. These glass panes serve as a canvas, painting unobstructed views of New York City for those lucky enough to work here. Renowned tenants such as Conde Nast, Moody's, CBS, Cushman & Wakefield, and Ameriprise certainly benefit from it. 
Sample Listing (Courtesy of VTS)
Partial 80th Floor, Suite P80
Experience luxury corporate living in Suite P80. Located on the 80th Floor of One World Trade Center, it's hard to complain about working near the top of the crown jewel of Downtown Manhattan's tallest office buildings. This unit spans 18,593 square feet and comfortably accommodates roughly 124 people, making it ideal for dynamic teams.
Ready for immediate occupation, this subleased office comes with a pre-existing layout. It boasts two spacious open areas that foster collaboration and six separate rooms for focused work or meetings. The dual kitchens serve as relaxation zones during those much-needed breaks. Additionally, the suite features five dedicated utility areas, ensuring a smooth workflow.
2. 3 World Trade Center
Emerging onto the scene in 2018, 3 World Trade Center is the second-tallest office building on our list of the tallest office buildings in Downtown Manhattan.
3 World Trade Center is a paragon of modern design, offering top-tier, Class A office space. The building sets itself apart with a stunning 5,000-square-foot terrace on the 17th floor. This outdoor oasis offers tenants an awe-inspiring cityscape vista, providing a perfect escape from the hustle and bustle of corporate life.
An address at 3 World Trade Center is a mark of prestige, with a tenant list boasting high-profile names such as GroupM, Uber, Diageo, and McKinsey & Co. GroupM, in particular, has an impressive presence here, claiming 700,000 square feet of office space as its own.
Sample Listing (Courtesy of VTS)
Partial 49th Floor, Suite 4900B
Suite 4900B is an impressive office space on the 49th floor of 3 World Trade Center. Stretching across 20,978 square feet, this office can comfortably house 294 employees.
Presently under construction, this suite will be available for immediate sublease upon completion. The space design comprises three open areas for fostering collaboration alongside 14 private rooms for focused tasks or group meetings. In addition, the office's two kitchens will provide perfect spots for staff to relax and refuel.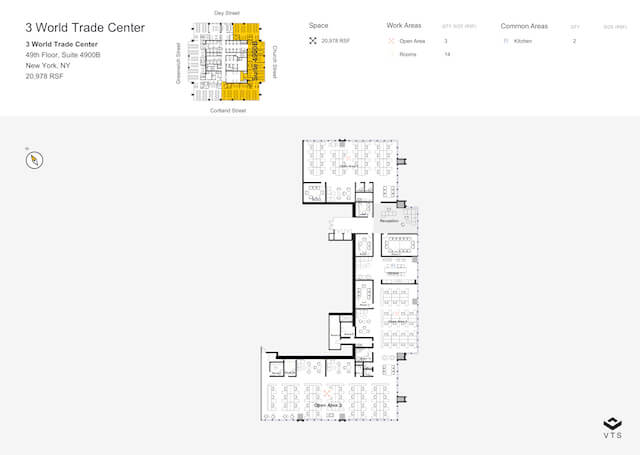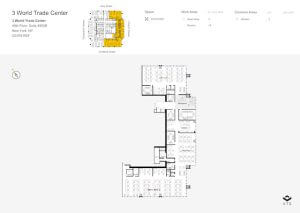 3. 4 World Trade Center
Completed in 2013, 4 World Trade Center graces Downtown Manhattan's skyline as its third-tallest office building. This 72-story marvel, occupying 2.5 million square feet, is a notable addition to the list of the tallest office buildings in Downtown Manhattan.
Esteemed architect Fumihiko Maki designed this modern masterpiece. Moreover, tenants include industry leaders like the Port Authority of New York & New Jersey, Spotify, Morningstar, and Eataly. 
In addition, 4 World Trade Center proudly holds LEED Gold certification from the USGBC, underscoring the building's commitment to energy efficiency. 
Sample Listing (Courtesy of VTS)
Entire 61st Floor, Suite E61 
Suite E61 is a premium office space where functionality meets prestige in one of the tallest office buildings in Downtown Manhattan. Taking up the entirety of the 61st floor in 4 World Trade Center, this 34,340 square feet space can comfortably accommodate an estimated 229 employees. 
Ready for immediate occupation, this subleased space carries a pre-existing layout. It features five open areas for team collaborations and 29 private rooms for those crucial one-on-ones or quiet work moments. Additionally, the suite boasts four conference rooms for essential business meetings and 131 workstations to ensure a smooth operation.
The suite boasts three kitchens perfect for breaks and informal chats. Moreover, the landlord considered every detail to create a seamless working environment with seven utility areas, two telephone rooms, and six bathrooms.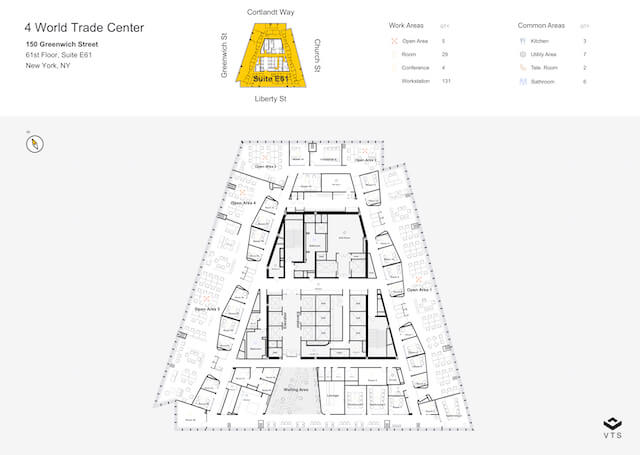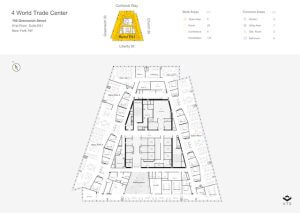 4. 40 Wall Street
A part of Downtown Manhattan's fabric since 1930, the tower at 40 Wall Street, also known as the Trump Building, holds a unique place in Manhattan's architectural history. In fact, it once vied with giants like the Empire State Building, the Chrysler Building, and the Woolworth Building for the title of New York City's tallest building.  
In 1995, the Trump Organization breathed new life into this illustrious tower, injecting a substantial $200 million into renovations. The transformation revitalized office spaces and common areas alike, reinforcing the building's charm while catering to contemporary business needs.
Today, 40 Wall Street stands proudly among the elite addresses in Manhattan. Its popularity with financial services companies attests to its continued prominence and desirability, further cementing its status among the tallest office buildings in Downtown Manhattan.
Sample Listing (Courtesy of VTS)
Partial 17th Floor, Suite 1700
Suite 1700 is a compact yet thoughtfully designed office space on the 17th floor of 40 Wall Street. Spanning 4,768 square feet, it comfortably accommodates up to 32 employees.
Ready for immediate occupancy, this directly leased office offers a pre-built layout. The space provides an open area for team interaction and five separate rooms, perfect for private meetings or focused tasks. In addition, the suite comes equipped with a kitchen, adding a homely touch to the work environment.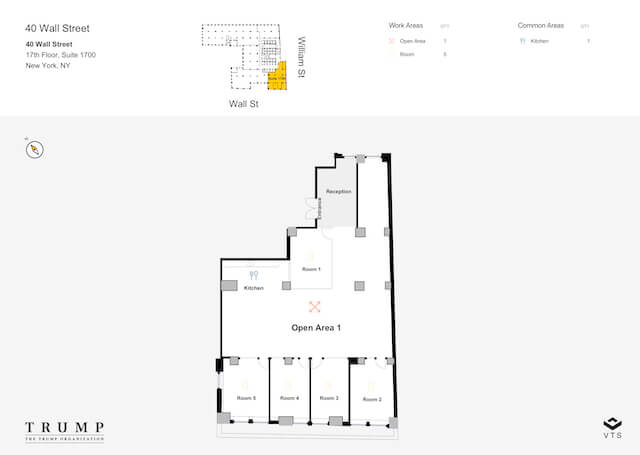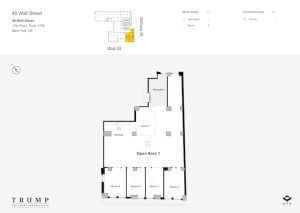 5. 28 Liberty Street
Standing tall among the skyline of Downtown Manhattan is the impressive 28 Liberty Street. This 2.2 million-square-foot tower, crafted by the globally renowned architect Gordon Bunshaft of Skidmore, Owings & Merrill, ranks among the tallest office buildings in Downtown Manhattan. Since its completion in 1963, it has remained a fixture in the city's architectural landscape.
28 Liberty Street bears a striking resemblance to Chicago's Inland Steel Building, another creation by Bunshaft. Beyond its architectural allure, the tower promises breathtaking views of Manhattan. A unique blend of features enriches the office experience here – a theater/cinema for entertainment, a sunken Japanese garden for tranquility in the outdoor plaza, and a state-of-the-art event space perched on the 60th floor. This harmonious balance of function and aesthetics underscores its enduring appeal among Downtown Manhattan's tallest office buildings.
Sample Listing (Courtesy of VTS)
Partial 44th Floor, Suite 4401
Situated on the 44th floor of 28 Liberty Street, Suite 4401 offers a spacious, newly built workspace spanning 22,552 square feet. With the capacity to comfortably house up to 150 people, this turnkey office is ready for immediate occupancy under a sublease term through February 2034.
The office design is a seamless blend of productivity and comfort, featuring seven conference rooms and a dedicated board room for formal gatherings. It also includes a private library, eight huddle rooms, and a quiet room to cater to diverse work styles. Open seating for 95 and a fully equipped pantry add to its appeal.
Three sides of the space are illuminated by natural light, accentuating the incredible views of the city. Moreover, furniture can be made available upon request for businesses seeking a hassle-free move.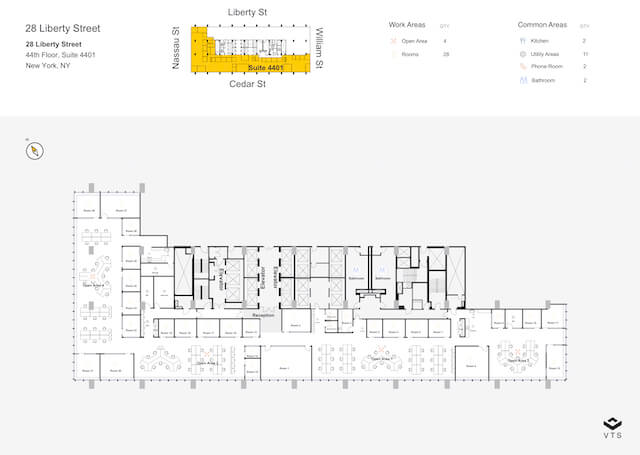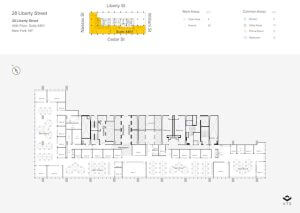 6. 200 West Street
Among the towering structures that define Downtown Manhattan's skyline, 200 West Street claims a distinctive place. Marking its presence as the sixth-tallest office building in Lower Manhattan, it serves as the proud global headquarters of Goldman Sachs.
Firstly, you can witness the incredible architectural prowess of Henry Cobb manifested in this 2009-completed $2 billion project. Not only does this stunning structure offer unparalleled views of Battery Park and Downtown, but it is also renowned for its unique and luxurious amenities. Furthermore, the highlight of these amenities is undoubtedly the Sky Lobby – a captivating double-height space adorned with skylights that open to sweeping, unobstructed river views. As a result, the Goldman Sachs Tower isn't merely a building; instead, it's a rich and immersive experience that perfectly captures the essence of Downtown Manhattan's tallest office buildings.
Listings Unavailable 
7. 60 Wall Street
The 55-story tower at 60 Wall Street holds its own among the tallest office buildings in Downtown Manhattan. Initially, the neoclassical building functioned as the headquarters for J.P. Morgan & Company. However, following the 9/11 attacks, Deutsche Bank shifted its base to this tower. This arrangement lasted until 2018, when they relocated to the Time Warner Center in Columbus Circle. In 2021, a new chapter began for this structure. KPF initiated a $150 million renovation project, injecting a fresh lease of life into the tower.  
Sample Listing (Courtesy of VTS)
Entire 43rd Floor, Suite 4300
Discover Suite 4300, occupying the entire 43rd floor at 60 Wall Street. This 31,273 square-foot space comfortably accommodates around 208 individuals. Moreover, it's immediately available under a direct lease. Currently, the suite offers a blank canvas— or a 'white box'— ready for customization. Additionally, the space includes five open areas and two bathrooms, allowing flexibility to adapt to your company's unique needs and culture.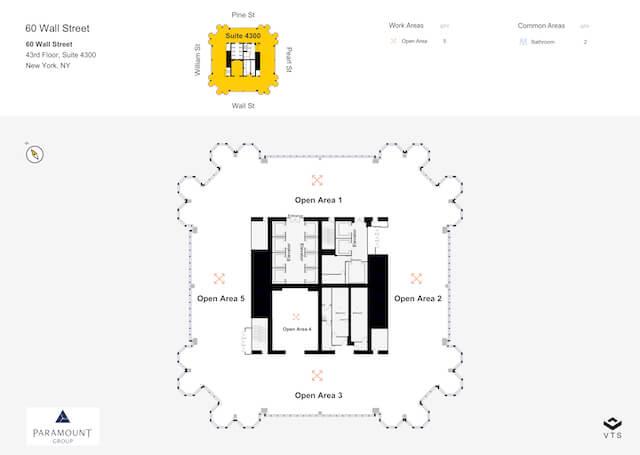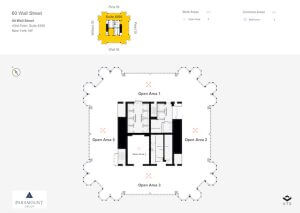 8. One Liberty Plaza
Among the tallest office buildings in Downtown Manhattan, One Liberty Plaza, One Liberty Plaza, also known as 165 Broadway, proudly ranks among the tallest office buildings in Downtown Manhattan. Constructed in 1973, this 2.2 million-square-foot tower, unfortunately, endured damage during 9/11 due to its proximity to the World Trade Center. However, the building bounced back stronger than ever after extensive renovations. Today, it boasts an awe-inspiring view of the Hudson River, the East River, and the New York Harbor. Moreover, the building offers Class A office spaces for rent, equipped with column-free layouts.   
Sample Listing (Courtesy of VTS)
Partial 28th Floor, Suite 2805
Begin by immersing yourself in Suite 2805, a sprawling 28th-floor office located in One Liberty Plaza. This impressive 11,296-square-foot space has the capacity to accommodate up to 75 people comfortably, making it perfect for a medium to large team. Next, it's important to note that the office is currently available for immediate occupancy and comes with a direct lease type, ensuring ease of access for potential tenants. Furthermore, the office is in a 'White Box' condition, acting as an open canvas ready for your unique design vision. Adding to this, the high ceilings reaching up to 12 feet 6 inches not only provide a sense of openness but also a feeling of grandeur. Lastly, with two expansive areas available, this office space offers versatility to cater to your diverse business needs.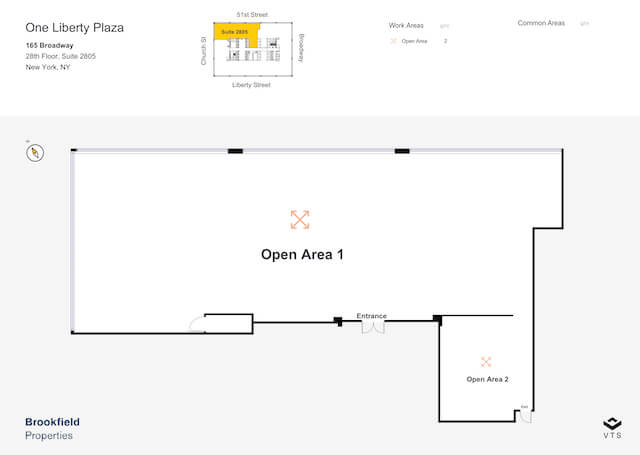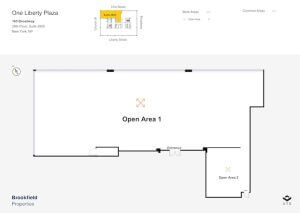 9. 7 World Trade Center
7 World Trade Center, a standout among the tallest office buildings in Downtown Manhattan completed in 2006, punctuates the city's skyline. This 1.7 million-square-foot gem showcases the masterful design of David Childs from Skidmore, Owings & Merrill. However, beyond its architectural brilliance, it's a frontrunner in environmental sustainability.
Among its peers, 7 World Trade Center stands tall as one of the greenest office properties in the nation. It proudly is the first commercial tower in New York City to earn LEED certification from the USGBC. This honor speaks volumes about its commitment to sustainable practices.
Nonetheless, the skyscraper doesn't stop at being eco-friendly. Occupants have breathtaking, expansive views of Manhattan and the Hudson River. On top of these visuals, they can enjoy peace of mind as the building is considered one of the safest skyscrapers in the country.  
Sample Listing (Courtesy of VTS)
Partial 39th Floor, Suite P39 
Gracing the 39th floor of 7 World Trade Center is Suite P39, a spacious office spanning 8,948 square feet. Ideally configured to host up to 70 people comfortably, this suite is primed and ready for immediate occupation. Upon stepping in, you'll find a pre-existing build-out thoughtfully divided into communal and private areas.
The layout captures the essence of versatility. Two expansive open areas foster a collaborative work environment, while five separate rooms ensure privacy for focused work or meetings. Additionally, a fully-equipped kitchen is a welcome convenience for your staff.
Adding a layer of practicality are four utility areas and two dedicated phone rooms. Lastly, the lease type is a sublease, bringing a blend of flexibility and commitment to your business. 
10. 200 Vesey Street
The 52-story tower at 200 Vesey Street stands tall among the tallest office buildings in Downtown Manhattan. This skyscraper is part of the colossal Brookfield Place complex, marking the largest urban project constructed in Manhattan since Rockefeller Center. The tower, completed in 1985, features a functional yet elegant design by Cesar Pelli & Associates.
Not only does 200 Vesey Street offer stunning views of the river and city, but it also holds a rich history. Previously, it served as the global headquarters for Lehman Brothers. Following that, today, it proudly houses the world headquarters of American Express, a testament to its continued importance in the business sector. Consequently, the evolution of this iconic tower mirrors the dynamic changes that have shaped Manhattan's financial landscape over the years. Ultimately, it stands as an enduring symbol of the city's resilience and innovative spirit.
Sample Listing (Courtesy of VTS)
Partial 25th Floor, Suite 2554
Firstly, take a moment to explore Suite 2554, an expansive and unmodified office space on the 25th floor of 200 Vesey Street. Boasting an impressive 6,892 square feet, this suite can comfortably accommodate around 46 people. Secondly, it is currently available for immediate direct lease, offering an inviting opportunity for a tailored interior design. Essentially, it's a blank canvas, patiently awaiting for you to inject your unique business vision and bring it to life.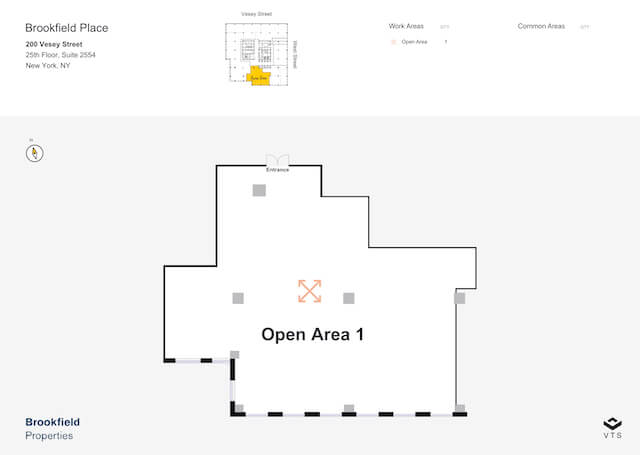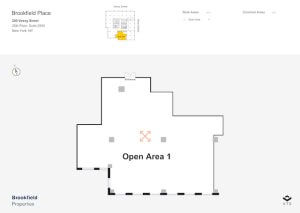 The Key Takeaway
Exploring the tallest office buildings in Downtown Manhattan, we've studied architectural spectacles and impressive office spaces. Each tower, with its history and charm, offers unique advantages to its tenants.
However, these buildings aren't just monolithic structures of steel and glass. Instead, they are dynamic workplaces, fostering an environment ripe for creativity, collaboration, and innovation. From the majestic One World Trade Center to the elegant 200 Vesey Street, each one narrates a distinct story and provides a unique working environment.
Yet, it's critical to note that, even though these buildings are a feast for the eyes, Downtown Manhattan isn't simply a collection of some of the tallest office buildings in New York City. Rather, it's a vibrant and energetic hub of business, brimming with a potent blend of history, modernity, and unparalleled city views. Thus, leasing office space here has the potential to work wonders for any business.
Ready to elevate your business in one of Downtown Manhattan's tallest office buildings? Reach out to Metro Manhattan Office Space at (212) 444-2241 or email [email protected] today.