The office space market in Manhattan has shown vital signs of recovery in the second quarter of 2022. Office usage is on the upswing, with more and more workers returning to the office. Employment in the area is on the rise, especially in the tech sector, while the average asking rent for Manhattan office space increased for the third consecutive quarter.
Today, we're taking a deep dive into the Colliers July 2022 Manhattan Office Space Market Snapshot, to uncover some market trends.
This report unveiled Manhattan's July 2022 metrics and made month-over-month (M/M) and year-over-year (Y/Y) comparisons. The data reveals promising signs regarding leasing activity; however, many metrics are still below pre-pandemic levels.  Certain submarkets, such as Downtown Manhattan have seen a decrease in average rent of nearly 10%, which could present a great opportunity for enterprising individuals and startups alike.
Office Leasing Activity in Manhattan Up 43% in July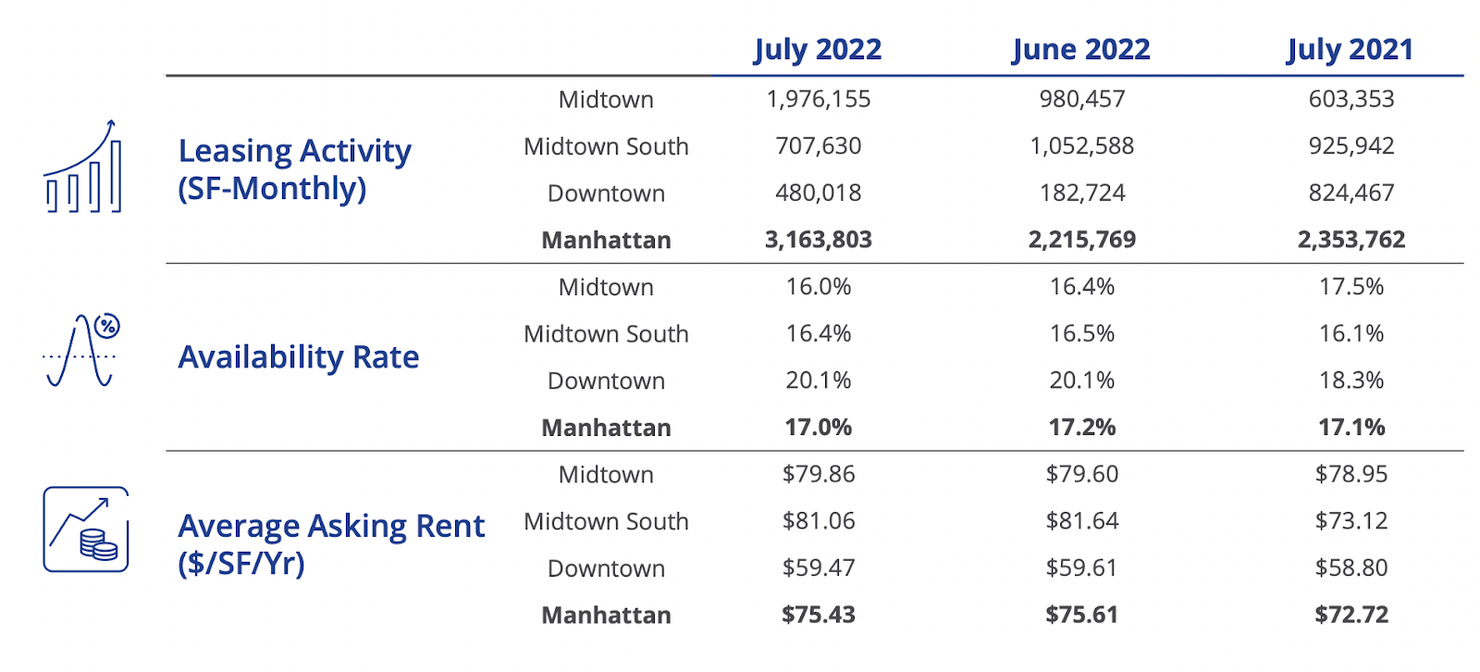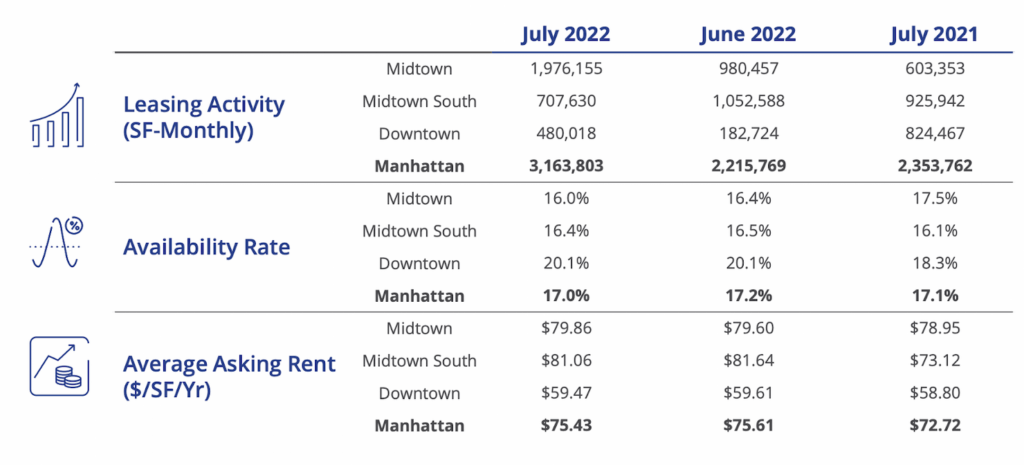 Average asking rents on the rise in Midtown Manhattan
According to Colliers' recent market snapshot, office leasing activity in Manhattan skyrocketed in July, with more than 3,000,000 SF leased. This represents a 43% M/M increase and a 34% increase Y/Y. It indicates that businesses are beginning to flock back Manhattan.
The Midtown Manhattan submarket was the busiest in terms of office leasing activity, with close to 2,000,000 SF of office space leased during the past month; the highest monthly volume since December of 2018. This figure is up massively from just over 980,000 SF in the previous month, and 603,000 SF in the prior year.  
The unusually high volume in July was the result of industry giants leasing out large swathes of office space at a discounted rate. Some of the largest deals that contributed to this record month were renewals and expansions from Datadog (330,000 SF) and Indeed (247,000 SF).  
We also saw just over 700,000 SF of leasing activity in Midtown South in the month of July.  This represents a 33% M/M decrease and a 24% Y/Y decrease in leasing activity, indicating a taper in the Midtown South market.  This could be attributed to average rent surpassing pre-pandemic levels by roughly 4%.
Lastly, there was roughly 480,000 SF of office space leased in Downtown Manhattan in July. This figure is up massively on a M/M basis (163%), but still substantially down on a Y/Y basis (-42%).  
A Stagnation in Availability Rate
The office availability rate in Midtown decreased slightly from 16.4% in June to 16% in July. It also marked a significant drop year-over-year, from 17.5% in July 2021. Midtown South's availability rate is higher than in 2021, hovering at 16.4% in July 2022. However, it did mark a slight decrease month-over-month. In Downtown Manhattan, the office availability rate closed July at 20.1%; by comparison, the availability rate in this part of the city was 18.3% in July 2021.|
Average Asking Rents on the Rise in Midtown Manhattan
The average asking rent for office space in Manhattan recorded a slight drop in July compared to the previous month. The rate closed in June 2022 at $75.61/SF and in July 2022 at $75.43/SF. The average rent in Manhattan has recovered substantially since the pandemic low of $72.68/SF.  However, rents still have some catching up to do, as they're still 5.1% lower than pre-pandemic levels.
The highest average rent for office space in Manhattan is in Midtown South, closing July at $81.06/SF. Rents in Midtown are slightly lower, at $79.86/SF, which marked a slight increase month-over-month, from $79.60/SF. Downtown rents are still substantially below pre-pandemic levels, at just $59.47/SF on average.  This represents a potential opportunity for those in the market for Manhattan office space.
A Flight to Midtown Manhattan
According to Crain's New York, 'the recent appeal of office space in Midtown is bucking the longer-established trend.' Since Conde Nast's big move downtown in 2011, tenants have been flocking to submarkets like Hudson Yards or the World Trade Center. Now, fueled by new towers like One Vanderbilt and the revamping of the city's major transportation hubs, Midtown seems to be the main point of attraction for office tenants. The neighborhood was the busiest in the borough during July when office leasing activity more than tripled compared to the same month last year.


Increasing Average Lease Terms
According to Colliers' research, Manhattan's average office lease term is also lengthening. Over the past two years, uncertainty related to the pandemic caused tenants to be cautious and sign shorter-term leases for office spaces. As a result, in 2020 and 2021, the average lease term was shorter than ten years. 
In 2022, lease terms have steadily been creeping back up.  This increase in average lease terms shows that companies are confident in the future of Manhattan, and are looking to establish new roots in the area or cement existing ones.  Given the current pricing trends, many large companies view now as an opportune time to lock up large, prime spaces at favorable pricing and terms.
Startups and smaller businesses still prefer to sign short-term leases with possibilities for renewal/expansion or lease coworking space on a shorter-term basis.  This keeps them from being pigeonholed while they establish their roots in New York City. 
A Silver Lining for Smaller Tenants and Startups
While increased leasing activity, rising asking rents, and longer lease terms are positive signs for Manhattan, the market remains in recovery mode, and remote work continues to be a trend for many businesses. Colliers notes that supply has skyrocketed since the pandemic's start. With Midtown recording a 39.1% increase in its office supply since March 2020. Midtown South doubled its supply, while Lower Manhattan's increased by 97%.
On the other hand, the amount of vacant office space on the market bodes well for smaller tenants or companies looking to enter the market. These tenants now have the opportunity to lease high-quality office space with favorable terms from landlords eager to fill in vacant space.
This is driven by the drastic increase in small (1,000 to 3,000 SF) office spaces on the market.  Prior to  March of 2020, these spaces were few and far between. However, in the present day, this size range is abundant.  Tenants looking for these smaller units will now have a much broader selection with far less competition.
Metro Manhattan Office Space is a New York City commercial real estate agency specializing in representing business tenants in the acquisition and disposition of office, loft, medical and retail space. The firm was founded in 2004 and has represented hundreds of tenants over the years in negotiating leases with New York City's major landlords, brokerage firms, and managing agents. If you or your company are in the market for a quality New York City commercial space, contact us today at (212)-444-2241 or by email at [email protected].