The Manhattan office space landscape is living through an era of "amenitized" Modern Class A buildings. Many public corporations, hedge funds, large financial services firms, and tech companies crave space in this asset class to induce their employees to willingly return to office without force.
As Harvard Business Review says, "employers are hard pressed to attract and retain talent—and to bring that talent onsite—the office of the future must be more inviting."  
However, it goes far beyond enticing employees to show up in person with flashy amenities. Employers need a "wow" factor for their workers and potential clients. 
This "wow factor" can be as simple as an office near a public park—specifically Central Park.
Access to outdoor space for commercial office tenants in Manhattan is no longer a luxury but a necessity. Employers that work with a skilled NYC commercial real estate broker have a better chance of finding a property with unique attributes suited to their employee's needs. Especially those who understand the value a high-quality NYC office space with a beautiful view of Central Park can provide. 
The right location can fundamentally alter a business's growth trajectory.
The "Wow Factor" of Central Park
Almost all current, high-end office developments in Manhattan feature on-site outdoor spaces. Yet while on-site outdoor spaces are lovely and can add 10%-15% to a Manhattan property's value, nothing compares to the proximity of a public park. 
Park access creates a separation from the work environment. Moreover, according to the National Recreation and Park Association (NRPA), if individuals spend more time in parks and green spaces, they can better fight against mental health issues like depression, anxiety, and stress.  
Plus, for employers looking for that "wow factor," consider what the Commercial Observer reported this past March. They revealed that a Trust for Public Land report shows New York City's 30,000+ acres of park space can increase property values by about $15.2 billion. 
However, nothing compares to Central Park. 
A 2015 study commissioned by the Central Park Conservancy called "The Central Park Effect: Assessing the Value of Central Park's Contribution to New York City's Economy" disclosed that Central Park added more than $26 billion to the market value of properties on the blocks closest to the park. 
Central Park is the first landscaped public park to exist in the U.S. and is 843 acres full of lush greenery. While New York has many other high-quality parks, nothing has the name value, prestige, size, and nature of Central Park. 
Finding office space overlooking Central Park can help convince your team to return to the office and improve their satisfaction. If you're an employer, working with a Manhattan commercial real estate broker with extensive experience and extensive knowledge of NYC real estate can help you navigate the environment and find what best fits you and your business.
Here is a brief list providing names of some of the best office buildings with views of Central Park.
1. 152 West 57th Street (Carnegie Tower)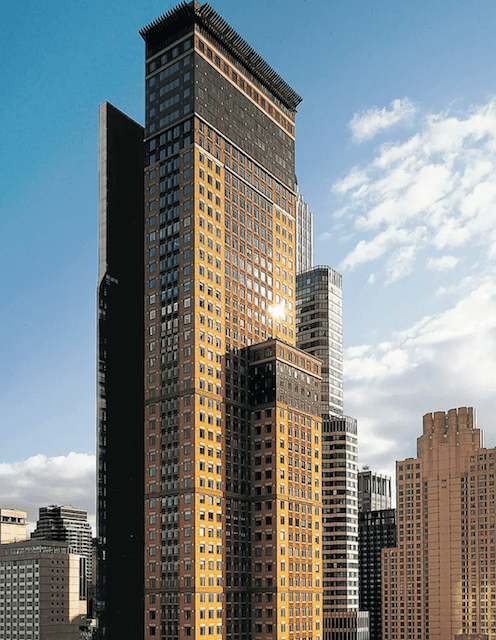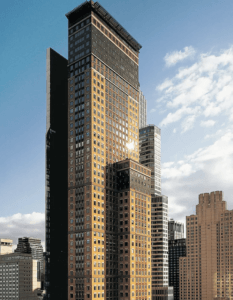 Source: TFC
The Carnegie Tower is a 550,000-square-foot Class A Office Building built in 1991 and sits at one of Manhattan's most sought-after addresses. Measuring 757 feet and 60 stories, the Carnegie Tower is unique because of how narrow it is. At only 50 feet wide on 57th St and sandwiched between Carnegie Hall and the Russian Tea Room, it was among the world's narrowest skyscrapers at its completion. Designed by the famed architect Cesar Pelli, a recipient of an Honor Award from the American Institute of Architects, the building, besides panoramic views of Central Park, also has magnificent views of the New York City skyline and the Hudson River.
Floor plans range from 8,300 to 16,000 square feet and include efficient layouts, high-end finishes, tall ceilings, and natural light. Higher-floor tenants can even look out to the Atlantic Ocean. However, perks like a 43rd-floor amenity boardroom, terrace, and exclusive golf simulation suite truly stick out.  Additionally, the magnificent vaulted through-block lobby was renovated in 2021, and 10 high-speed passenger elevators were modernized in 2022. Other amenities include an atrium, controlled access, an on-site property manager, concierge, bicycle storage, food service, and security service. The building is also conveniently located near a bus line and several subway stations.
Tenants: Greystone, Kingdon Capital Management Llc, Wolverine Worldwide, Grubman Shire & Meiselas, P.C., Cranemere Group 
Asking Rent: N/A
Available Floor Plans (Source: TFC):
Partial 54th Floor South- 3,338 SF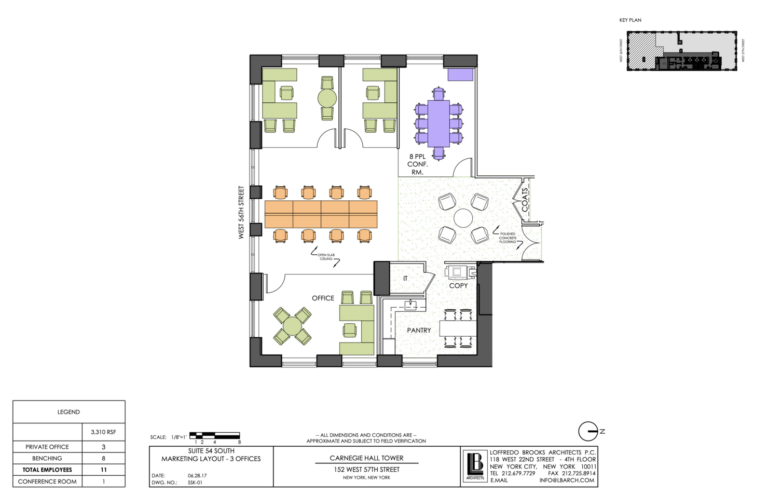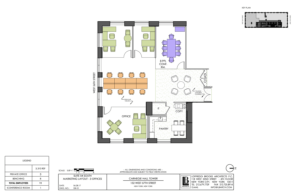 Entire 29th Floor- 5,651 SF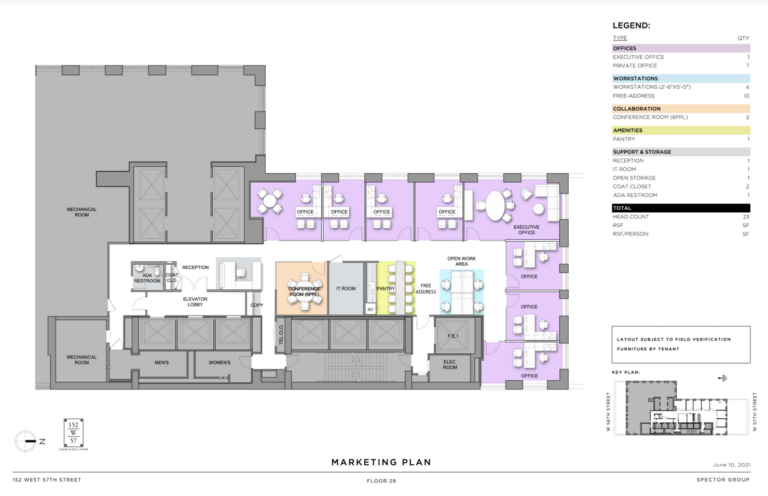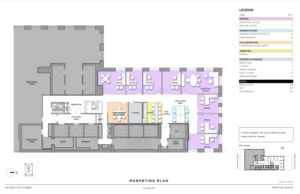 Entire 34th Floor- 10,851 SF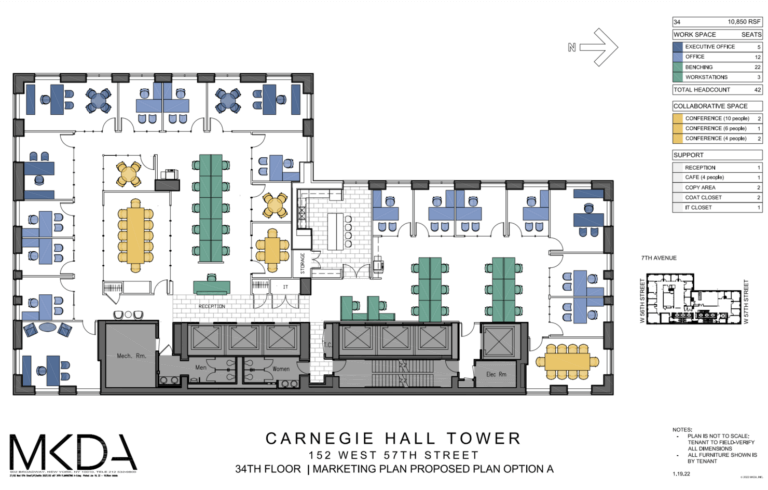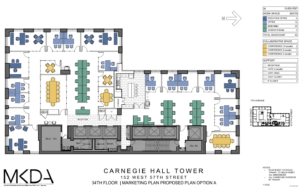 2. 1700 Broadway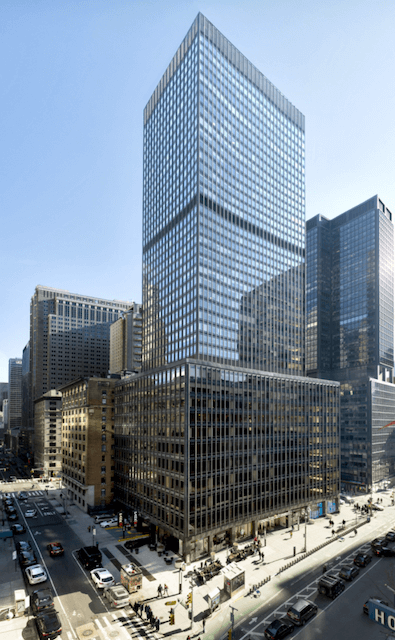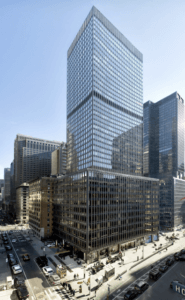 Source: Ruben Companies
1700 Broadway is a 659,391 square foot Class A Office building built in 1968 and completely renovated by the end of 2021. Out of all the buildings on this list, it's the most recently renovated and modernized. The roughly 533-foot, 42-story property is located in one of the hottest locations in Midtown and is a classic Manhattan building reimagined with the modern worker in mind. The property offers large glass windows with unobstructed views of Central Park, the Hudson River, and the best of Manhattan's skylines. In addition to convenient access to roughly seven subway lines and major transit hubs, the property's drastic renovation provided it with market-leading amenities such as a private lounge, conference center, rooftop terrace, and on-site dining. The lobby and destination dispatch elevators were also completely redone in December 2021.  
Tenants: ​​Gensler, CBS, Cardiovascular Research Foundation, Chaffetz Lindsey LLP, Excel Sports Management 
Asking Rent: N/A
Available Floor Plans (Source: Rockhill Management):
Partial 16th Floor, Suite 1601- 4,667 SF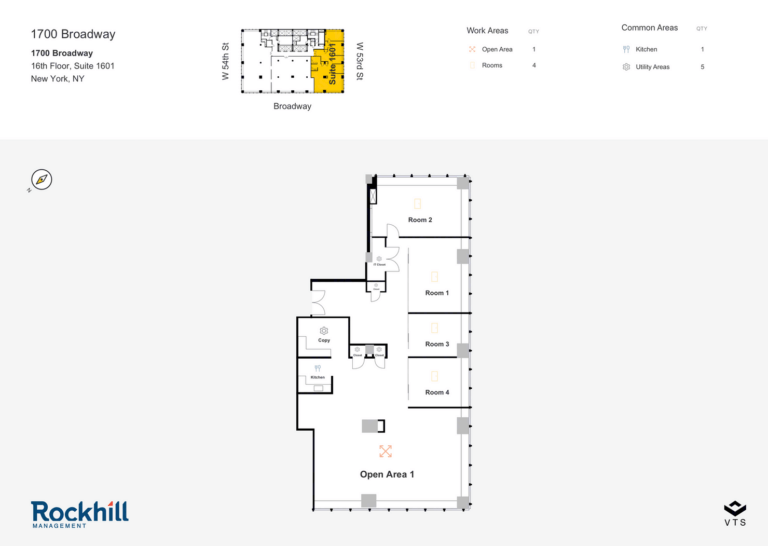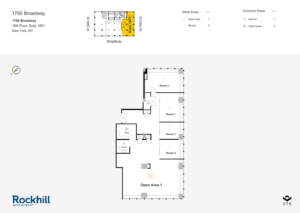 Partial 28th Floor, Suite 2801- 9,908 SF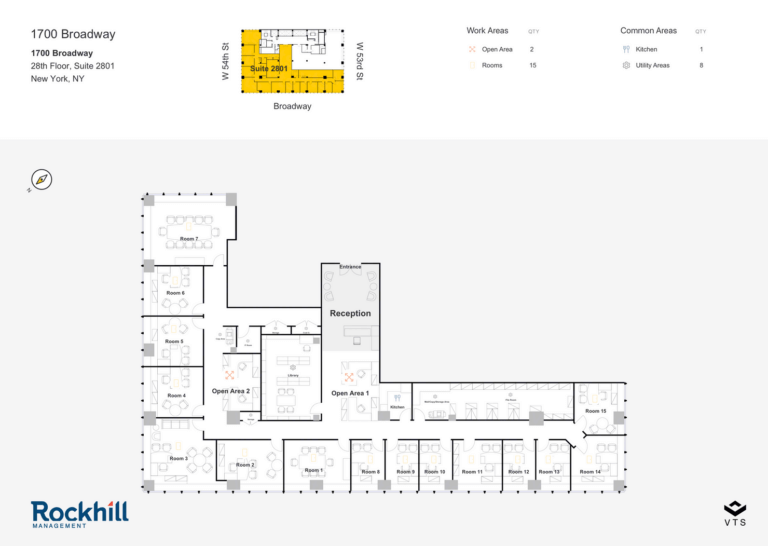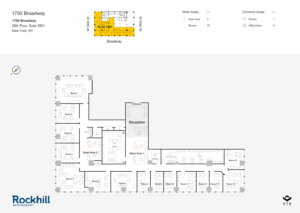 Entire 40th Floor, Suite 4000- 13,770 SF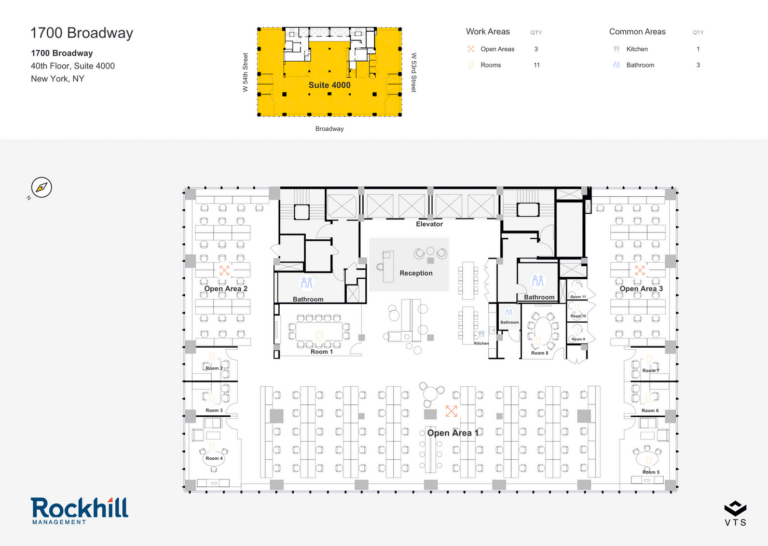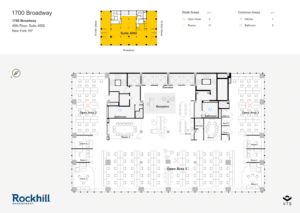 3. 767 Fifth Avenue (General Motors Building)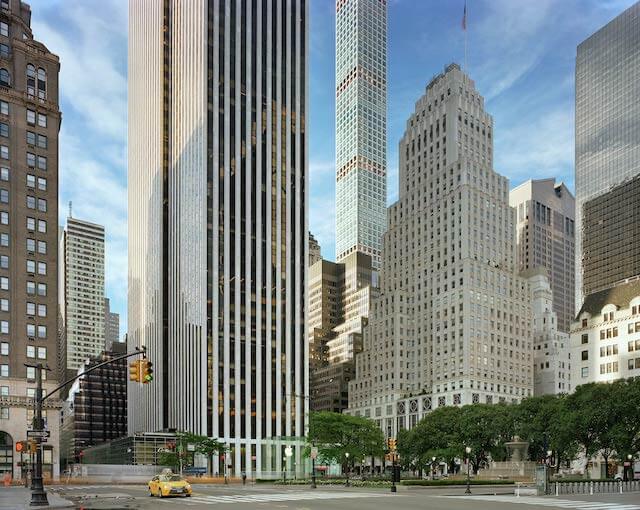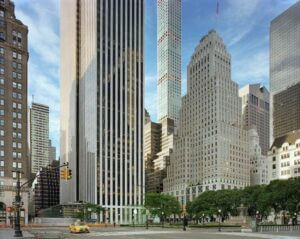 Source: David Leventi
The General Motors Building at 767 Fifth Avenue is a Class A property built in 1968 by Cecilia Benattar, designed by Edward Durell Stone, and renovated in 2019. It is one of New York City's most iconic office buildings and one of the few to occupy an entire city block. Located at the southeast corner of Central Park between Fifth and Madison Avenues and 58th and 59th streets, the building is 705 feet, 50 stories, and features roughly 1.9 million square feet of office space.
Each of the property's previous owners, including Donald Trump and Macklowe Properties, invested in upgrading the property. Trump notably raised the street-level plaza, added 65-foot long fountains, and built a marble sitting area. Macklowe invested in cosmetic renovations in 2005. Today, the building boasts sweeping views of Central Park and the Manhattan skyline, a fitness center, an on-site restaurant, convenient access to the N, R, and W trains at Fifth Avenue, and bus lines. It also boasts roughly 150,000 square feet of retail space, including the famous Apple 'Cube' Store, Balenciaga, TUMI, and Under Armour.
Tenants: Weil, Estee Lauder, Perella Weinberg Partners, Bamco, York Capital Management   
Asking Rent: N/A
Available Floor Plans (Source: CoStar):
Partial 34th Floor, Suite 34B- 4,151 SF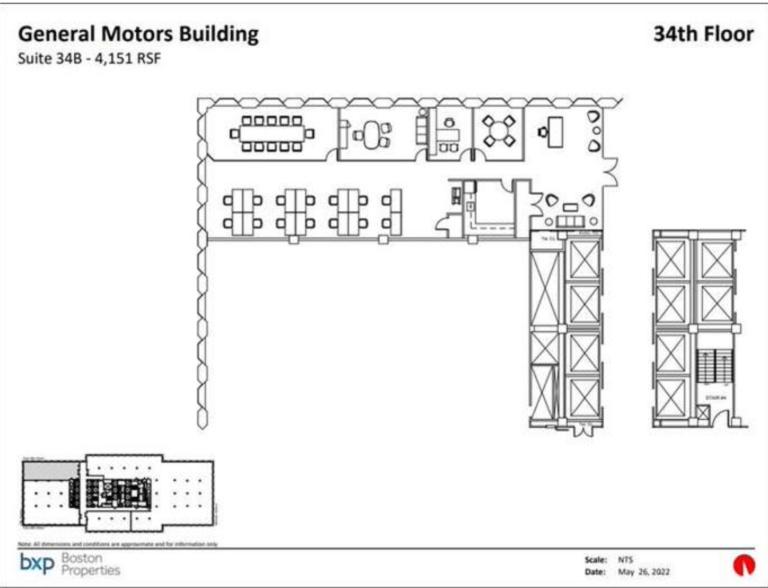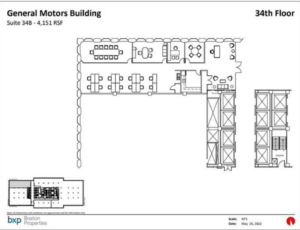 Entire 43rd Floor- 41,000 SF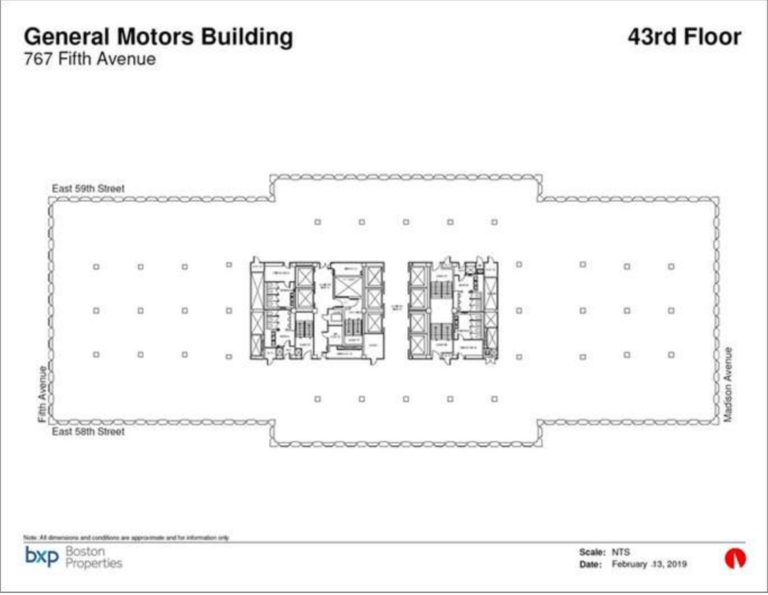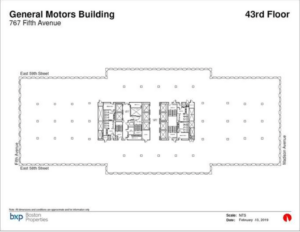 4. 1350 Avenue of the Americas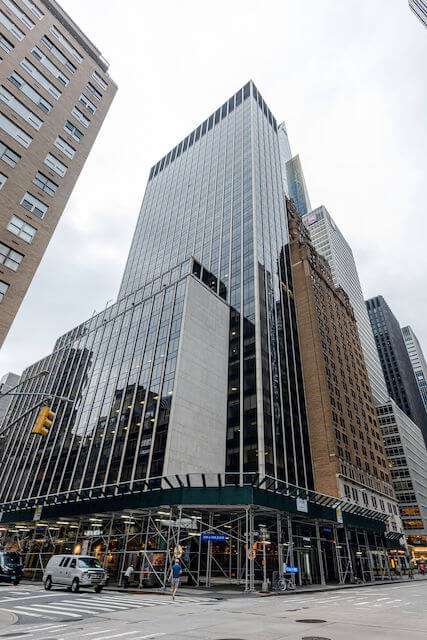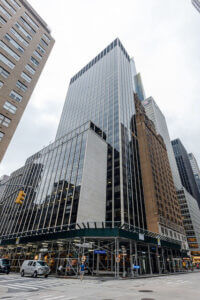 Source: VTS
1350 Avenue of the Americas is a 601,330 square foot Class A Office Building built in 1966 and renovated in 2017. This prime property is a green office building and is notable for its sustainability. It's earned a LEED Gold certification from the USGBC. Plus an Energy Star rating, and a BOMA 360 award due to its multiple energy-efficient features. A 416-foot building with 34 floors, the property has several prestigious tenants, including Amazon and KPMG. It incorporates nearly 8,000 square feet of retail space. Amenities include a redesigned lobby, expansive views of Central Park, new elevators, corridors and bathrooms, on-site parking, a restaurant, and a hotel-style concierge. 
Tenants: Amazon, KPMG, BFMS.NY, NYC Office Suites, P. Schoenfeld Asset Management 
Asking Rent: $85.00 – $95.00/TBD according to CoStar. 
Available Floor Plans (Source: VTS):
Partial 12th Floor, Suite 1200- 3,243 SF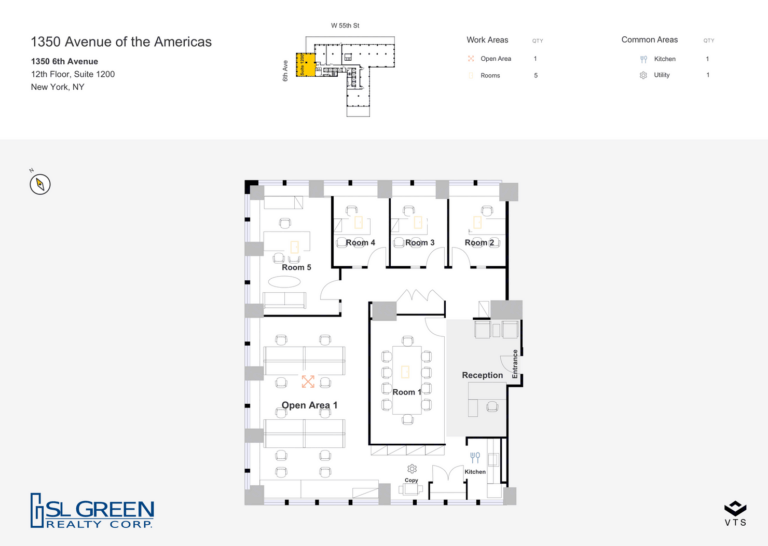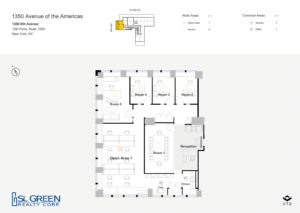 Partial 7th Floor, Suite 710- 11,300 SF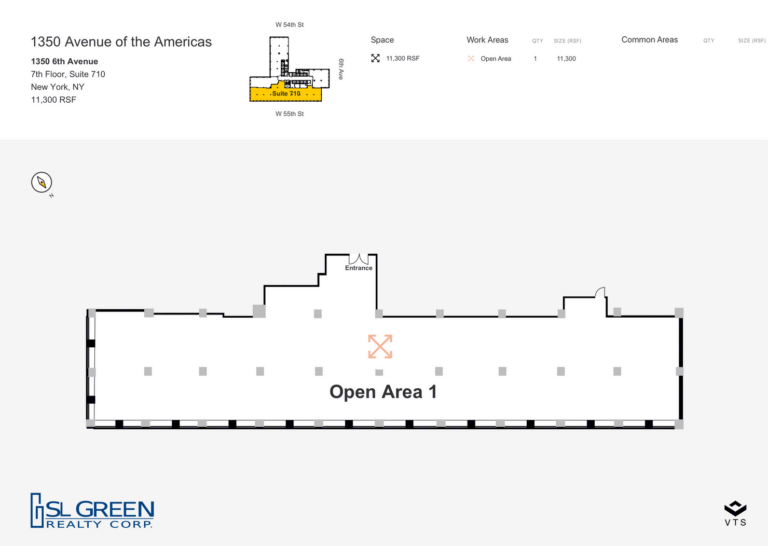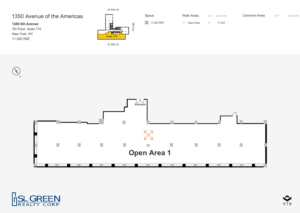 Entire 4th Floor- 24,833 SF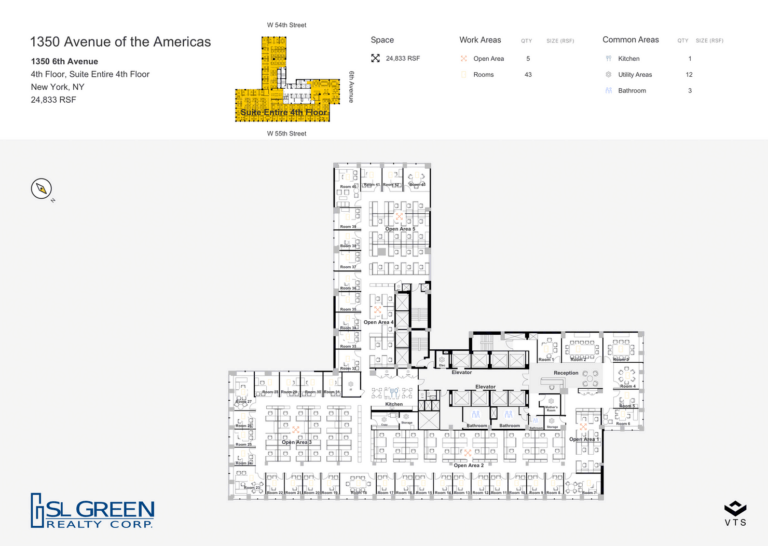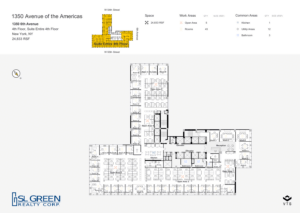 5. 250 West 57th Street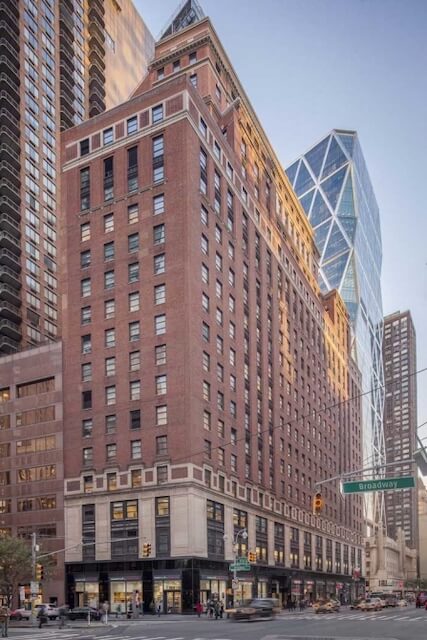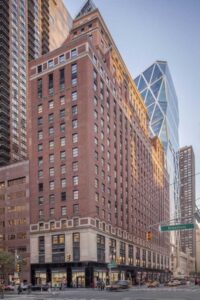 Source: Empire State Realty Trust
Sandwiched between Broadway and Eighth Avenue, the iconic 250 West 57th Street building is in the heart of the luxurious Columbus Circle. It was completed in 1921 and renovated extensively in 2017. This 534,070 square foot Class A Office Building is what you can call a New York City blue-blood. A stone's throw away from the Time Warner Center, Carnegie Hall, Lincoln Center, Central Park, and Nordstrom's future flagship store, you truly have the best of New York City at your fingertips. So much so that the building provides direct in-building access to the Time Warner Center/Columbus Circle subway station and street access to 11 additional lines. Following its extensive 2017 renovation, the building offers extensive amenities. These include a new Gensler-designed lobby, a restored facade, new windows, elevators, storefronts, and state-of-the-art electrical, plumbing, HVAC, and security systems.
In-building retailers include Duane Reade, HSBC Bank, Bank of America, AT&T, and T.J. Maxx. Many high-profile music industry companies also occupy office space
Tenants: ASCAP, Lighthouse Guild International, Inc., Universal Music Group, Constellation Advisers, LLC, Cook & Fox Architects
Asking Rent: Roughly $60 per square foot but can go above $90 per square foot, depending on the terms and size of the lease.
Available Floor Plans (Source: Empire State Realty Trust):
Partial 18th Floor, Suite 1832- 1,300 SF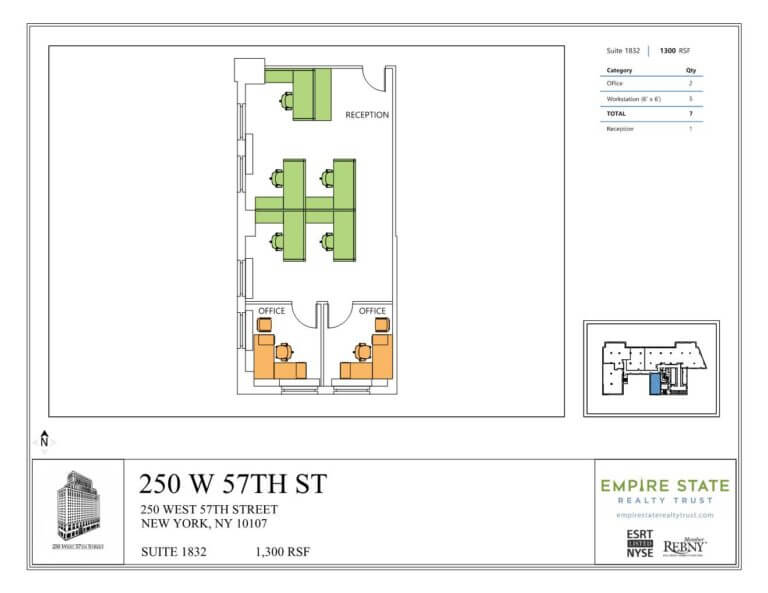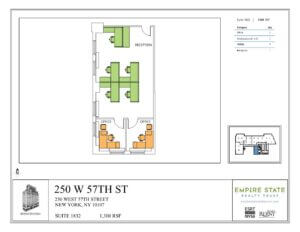 Entire 22nd Floor- 12,622 SF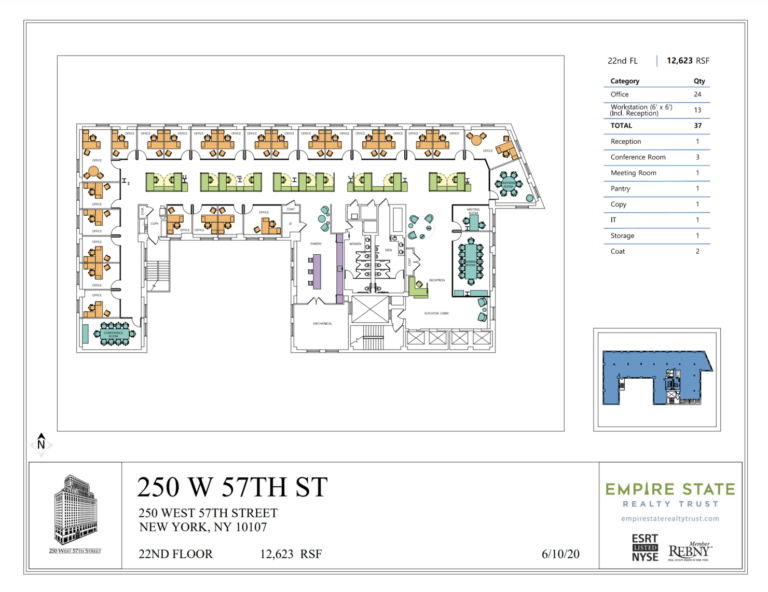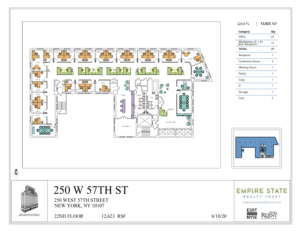 Entire 11th Floor- 26,129 SF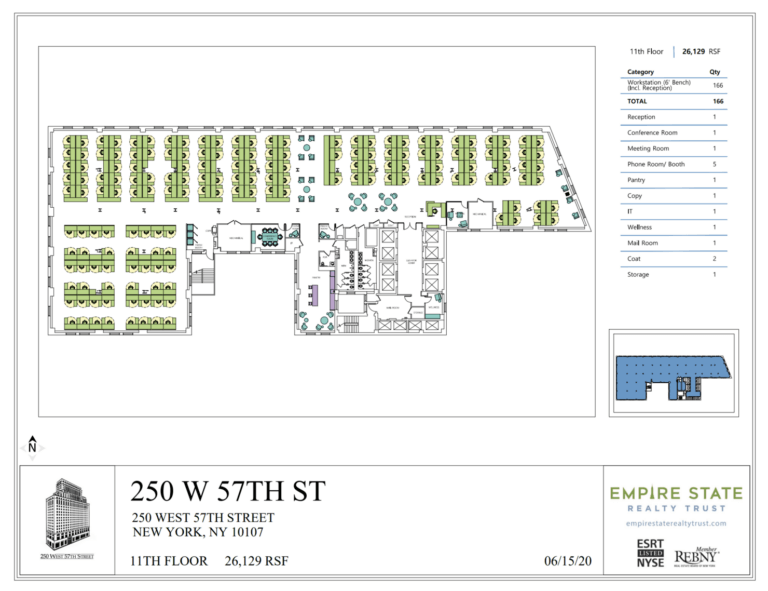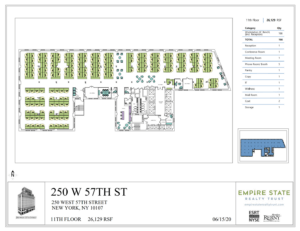 6. 590 Madison Avenue (IBM Building)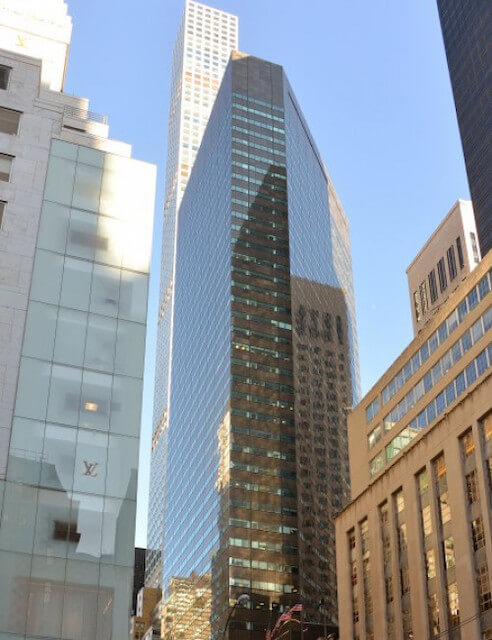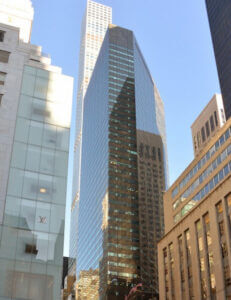 Source: Skyscraper Center
590 Madison Avenue, also known as the IBM Building, is a 1,030,000 square foot Class A office building built in 1982 and renovated in 2014. Developed by IBM and designed by Edward Larrabee Barnes. 590 Madison Avenue was ahead of its time regarding the benefits of open outdoor space and unique design. The building does not occupy its entire lot and has considerable square footage assigned to public spaces. Roughly 603 feet and 42 stories, the building is conveniently located around the 4, 5, 6, E, F, M, N, Q, and R trains, a pedestrian arcade, and a direct bus line to Grand Central Station.
Following its massive renovation, the building boasts 40,000 square feet of retail space and an atrium with shops, food and drink kiosks, table and chairs, and bamboo trees. The 78-car, tenant-only, reserved-space parking garage, 24/7 building access, 24-hour video surveillance, and visitor badge system add a nice touch too.
Tenants: IBM, Crowell & Moring LLP, American Securities, Corcoran Group, Morgan Stanley 
Asking Rent: Roughly $87 per square foot, but asking rents can go even higher due to the building's prestige and excellent location. 
Available Floor Plans (Source: 590 Madison):
Partial 26th Floor- 3,623 SF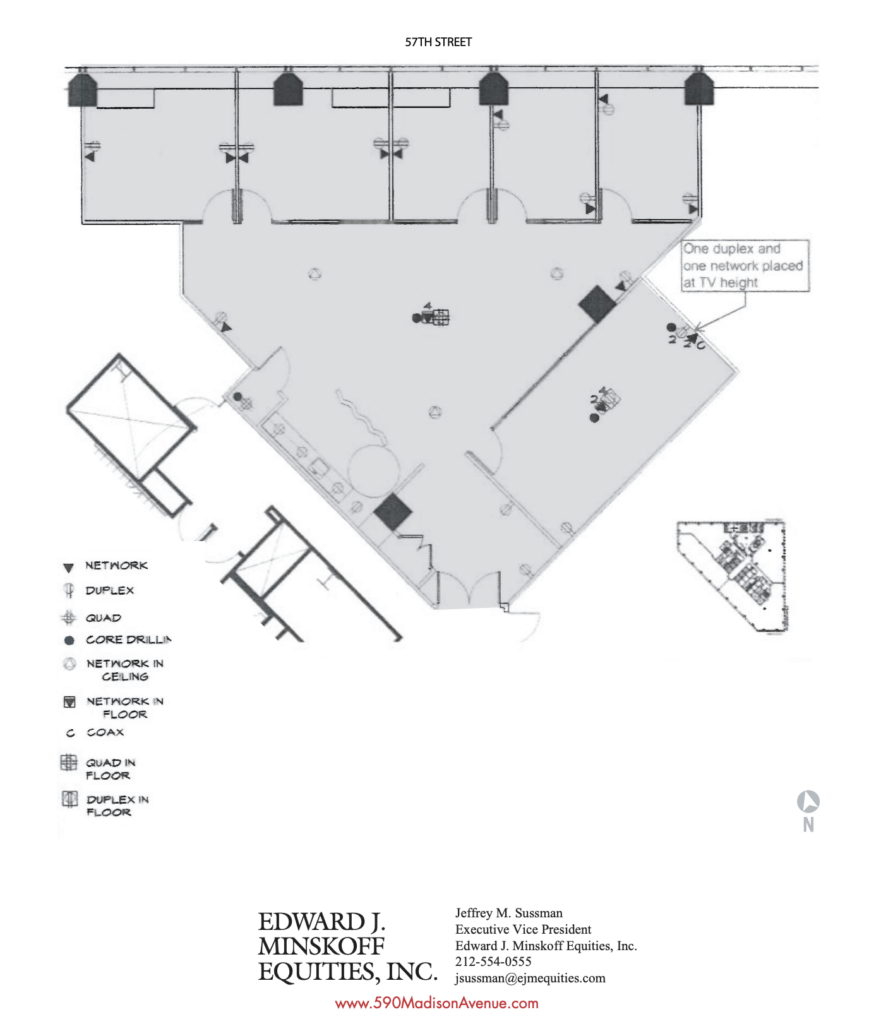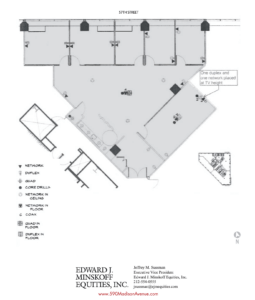 Partial 13th Floor- 8,158 SF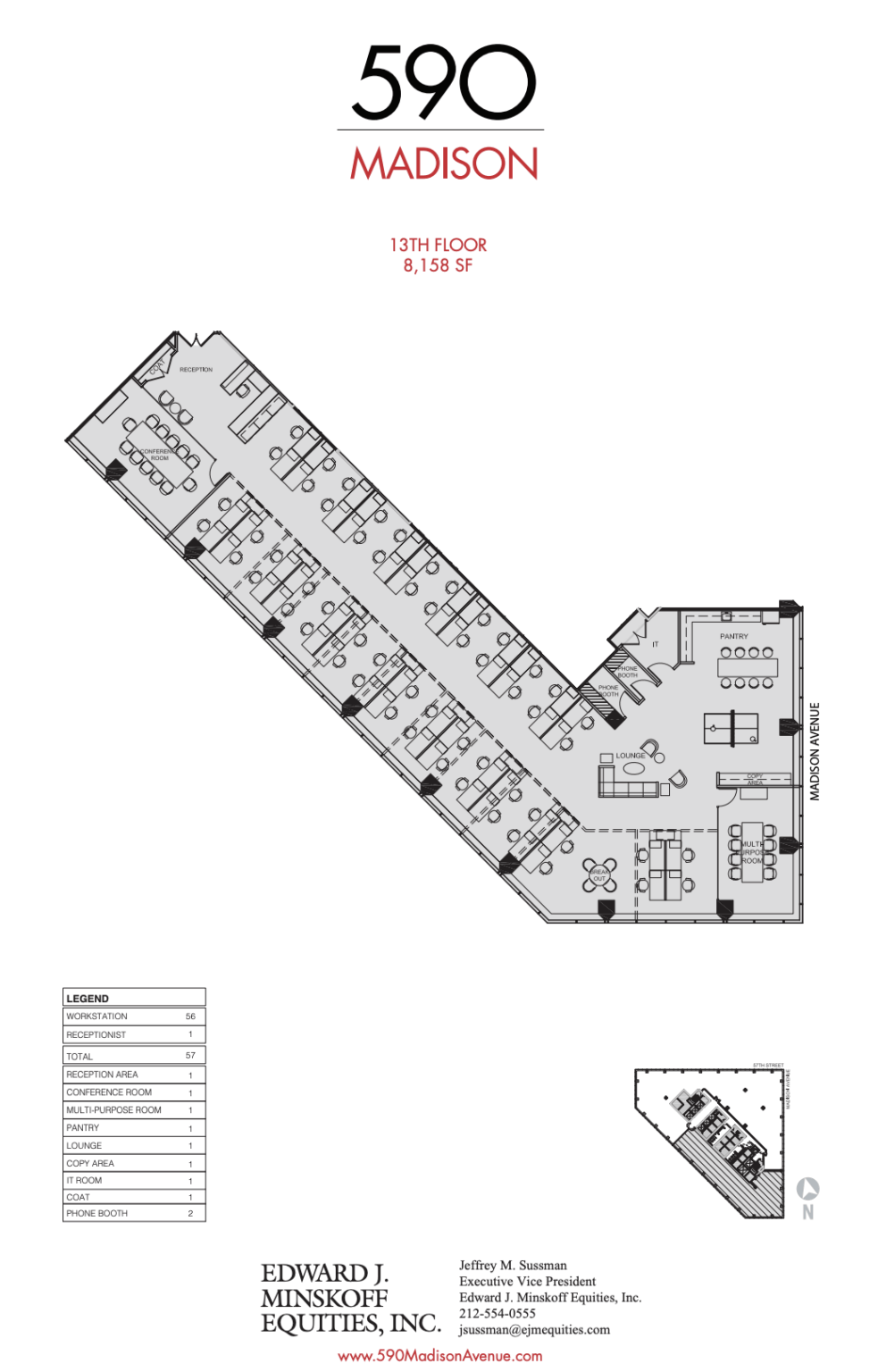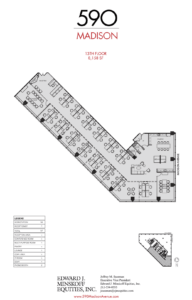 Partial 32nd Floor- 15,751 SF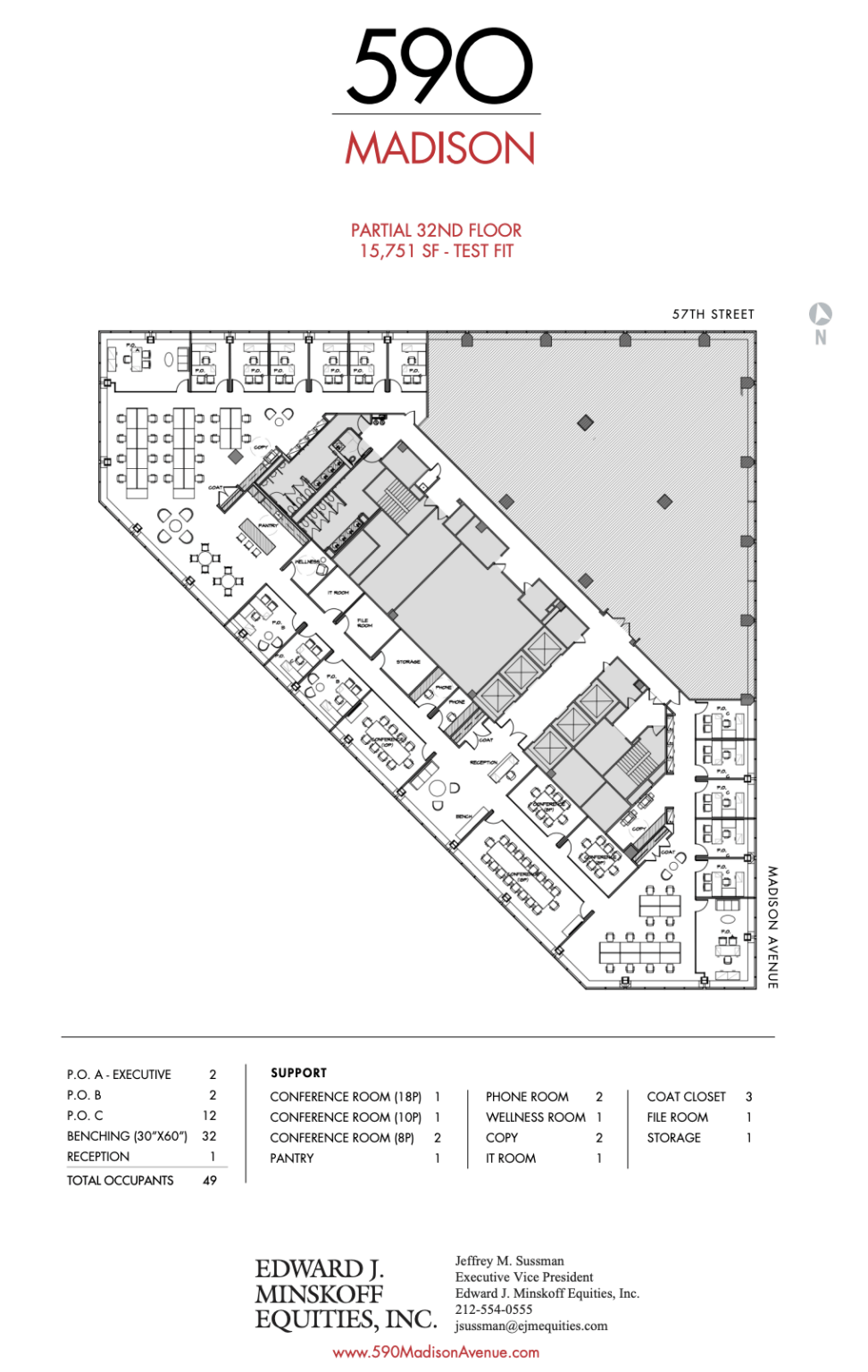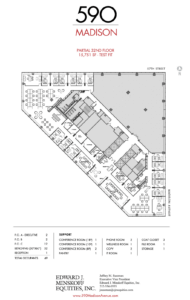 7. 630 Fifth Avenue (Rockefeller Center)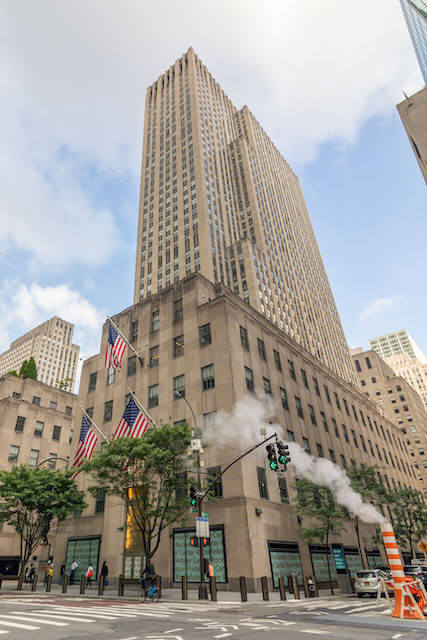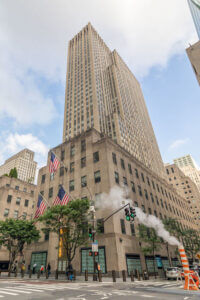 Source: VTS
Last but certainly not least on this list of the best office buildings with views of Central Park. 630 Fifth Avenue, better known as the tallest and most prestigious building in Rockefeller Center. It's commonly known as The International Building because many international consulates have been tenants. The 2,605,386 square foot Class A Office property was built in 1934. It is 512 feet and 41-stories full of history, glamor, and prestige. It was designed by Raymond Hood, Rockefeller Center's lead architect. And it is made of limestone with a granite base and is full of elegant artwork, bronze sculptures, and ornate decorations. The lobby alone is four stories and contains large marble pillars and elegant escalators.
630 Fifth Avenue is a landmark building in one of the world's most iconic complexes. It includes amenities such as 24 Hour Access, Banking,  Food Service, Restaurants, an on-site property manager, and convenient access to transit. Moreover, the property hosts prominent retail tenants such as The LEGO Store and Equinox.
Tenants: BakerHostetler, Rockefeller Capital Management, Rockefeller Group Business Centers, Patek Philippe & Co, Riverside Co 
Asking Rent: N/A
Available Floor Plans (Source: VTS):
Partial 26th Floor, Suite 2608- 1,268 SF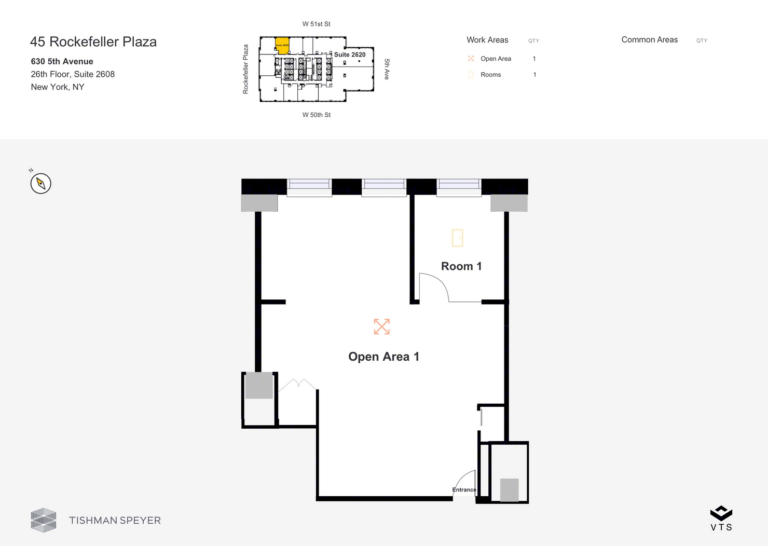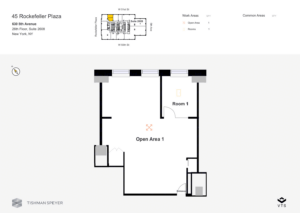 Partial 36th Floor, Suite 3602- 8,393 SF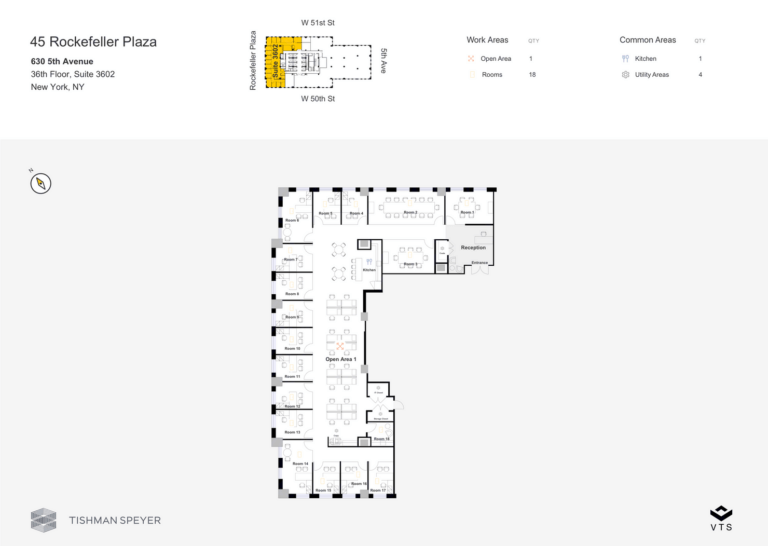 Entire 33rd Floor- 27,722 SF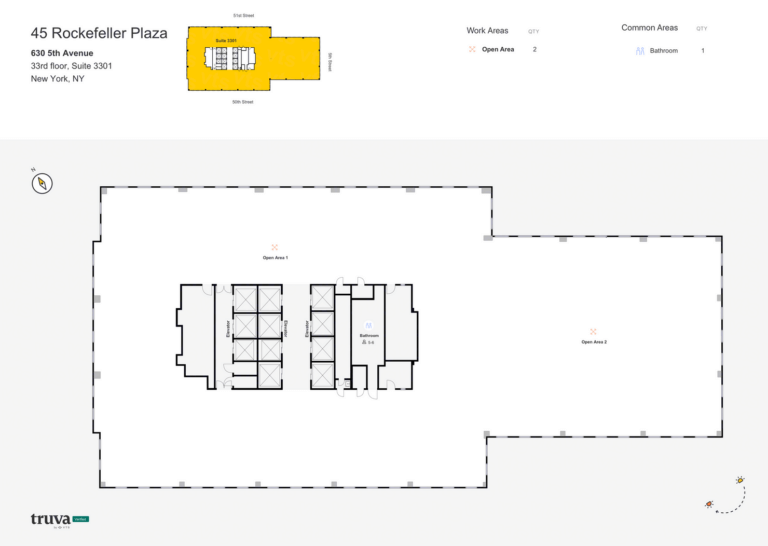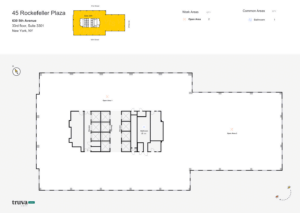 Conclusion:
Landlords, tenants, employers, and employees are in a unique predicament. The labor landscape has changed, and so has New York City office real estate. Employers must do all they can to respect the needs and desires of their workers if they want them back in the office. They can do that by finding an office with easy access to Central Park. And ideally sweeping panoramic views of the lush greenery. Central Park, throughout history, has proven to be an economic stimulator for the city, and property values around the park prove that. As landlords struggle to retain tenants and employers aim to bring workers back to the office, working with an NYC commercial broker who understands the market is critical. Precisely one that understands how to get the most out of a property with some of the city's best views of Central Park.