Healthcare technology firm Flatiron Health has nearly doubled the space it occupies at One SoHo Square, a two-building Class A office development owned by Stellar Management and Imperial Capital in Manhattan's SoHo neighborhood. In a deal intermediated by Savills, the company, which focuses on cancer research, has signed a 10-year lease renewal and expansion, bringing its total occupancy to 252,452 square feet.
Besides the renewal of the 130,384 square feet it currently leases in One Soho Square's 15-story east tower at 161 Avenue of the Americas, Flatiron Health will take an additional 122,068 square feet in the 13-story west tower, which has an alternate address of 233 Spring St., bringing its total footprint to nine full floors. This unusual business center is the result of its current owners–after acquiring the buildings in 2012 for $200 million, the two developers merged the 14-story Butterick Building, designed by Horgan & Slattery and completed in 1904, with the 10-story, 1927-built industrial loft next door–having Gensler at the drawing board.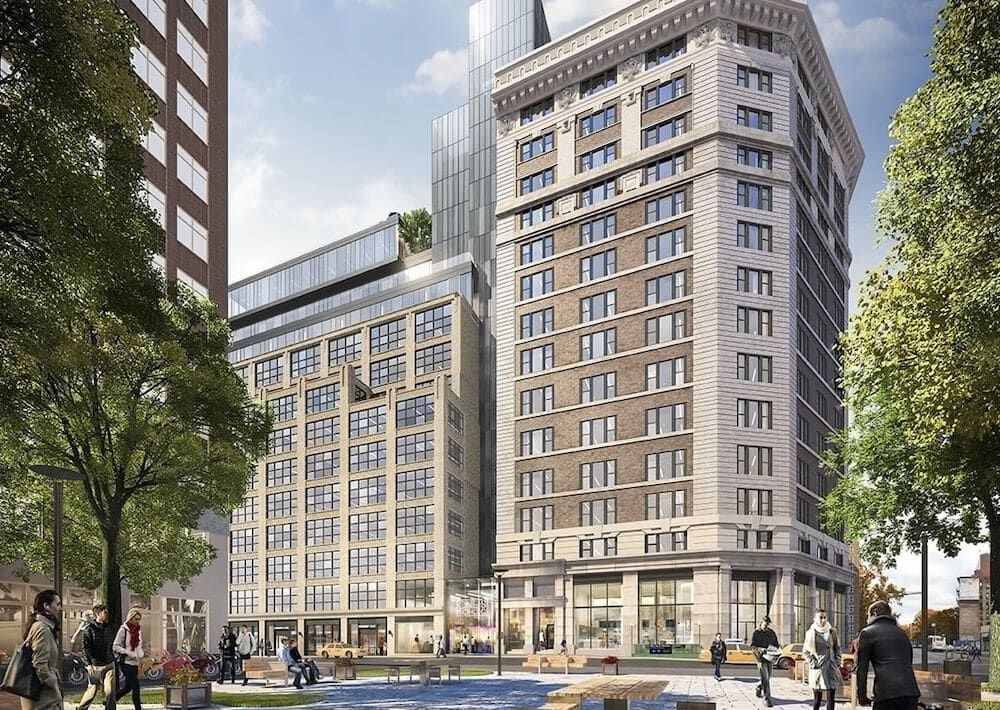 The architect connected the two towers through a double-height marquee glass-cube lobby and new central core overlooking the recently renovated Spring Street Park. The core, which matches the height equivalent of 21 floors, houses nine passenger elevators, mechanical systems and new bathrooms, which enables the spaces to work in efficient and diverse configurations. At street level, the core's addition recedes behind the historic buildings, set back from the sidewalk and slotted within the narrow alleyway, allowing the two historic buildings to continue being observed as distinct structures. 
One Soho Square's amenities include a 20,000-square-foot tenant-exclusive rooftop deck, 24/7 concierge, messenger center, secure bike facilities and private outdoor terraces on some of the floors overlooking the Hudson River, the Empire State Building and the World Trade Center.
Savills, which first secured Flatiron's headquarters at One SoHo Square in 2017, was rehired to design a real estate plan to help the organization expand. A team led by Senior Managing Director Zev Holzman, along with Brad Wolk and Herman Dodson, partnered with Roswell Hobbs, Flatiron's head of office and real estate, to advise the company in the long-term agreement. Newmark Knight Frank's team comprising Brent Ozarowski, David Malawer, Andy Perets and Brian Waterman represented the owners in the transaction. 
"We are thrilled to support Flatiron's growth by continuing to expand our space at One SoHo Square," Carol Jensen, chief people officer at Flatiron Health, said in a press statement. "Since relocating our headquarters last June, we've grown from 500 employees to over 800—with 200 more expected by year's end. We're thankful to have the opportunity to nearly double our current capacity and call One SoHo Square home for many years to come."
With the current lease expansion, the complex is almost at full occupancy, with only one floor remaining at 30,000 square feet, specifically the seventh in the west tower. Tenants at One SoHo Square include health insurer Aetna Inc., eyewear maker Warby Parker, MAC Cosmetics and e-cigarette startup Juul.
Are you thinking of setting up your business in a convenient location in Manhattan, and are looking to lease space in a modern building offering state-of-the-art amenities? Then reach out to us and we will show you worthwhile space situated right in the heart of New York City. To learn about available office space, call Metro Manhattan Office Space at (212) 444-2241 or email us at [email protected].