Finding NYC office space isn't exactly like playing catch. It's a complex task that's only become more difficult due to an evolving labor market and uncertain real estate environment.
Maybe you're a large hedge fund or international law firm looking for amenity-rich office space to bring your workers back. Perhaps you're a startup or small business looking for cheap office space in NYC. 
No matter who you are, finding suitable office space for your needs is a challenge in Manhattan. The competition is fierce, and asking rents can vary by asset class and submarket. 
Finding office space in New York City requires deep research and answers to pressing questions. Just be sure to give yourself ample time to answer them. 
So if you want to start your search ASAP, here are some essential questions to ask before leasing NYC office space.
How much office space do I need to lease?
Figuring out the amount of office space you need should be the first question you ask. Answering this question is much more complicated than expected, especially in 2022. 
First, ask this question with a long-term plan in mind. Understand your current headcount. Projecting the growth of your staff, short-term and long-term, is also critical. Nobody wants moving office space to become an annual occurrence. 
Additionally, consider how taking on interns or organizing events in your office could affect space needs. 
You must understand how to best allocate square footage per employee; it can vary from industry to industry. Open office layouts are pretty popular and conducive to collaboration. However, many sectors still prefer a set floor plan, privacy, and space allocation requirements. For instance, an open floor plan will not do the trick if you're a lawyer trying to have a confidential discussion with a client.  
Generally, you should allocate 150 square feet per employee. But of course, you don't want to pay excessively for extra space you don't need. Renting out a coworking space on a shorter-term basis or a shared space can work as great options if your headcount and growth plans are uncertain.  
Moreover, when figuring out appropriate office space, you must consider the needs of visitors and clients.
Be sure also to understand the difference between usable and rentable square footage.
When figuring out how much office space you need, understand the difference between usable and rentable square footage.  
Usable square footage, or "USF," refers to space you can use as you please. USF can include a conference room, open seating area, or lounge space. 
Rentable square footage, or "RSF," on the other hand, refers to space you pay for but don't actively use for your business. RSF can include fire stairs, electrical closets, utility rooms, or lobby space.
You never want to waste money on unused office space. So when searching for NYC office space, be sure to press landlords on how a space's USF and RSF break down.
Where is the best location and neighborhood?
Choosing the right location for your office can fundamentally alter your business's growth trajectory.
First, consider which neighborhood fits your business best. Remote work is more widespread and accepted in 2022 than ever. Yet distinct New York City neighborhoods remain associated with particular companies.
For instance, financial services, private equity firms, hedge funds, international law firms, and other prestigious successful businesses often congregate in Midtown's Plaza District or FiDi.
Chelsea office space, or space in the Meatpacking District, and SoHo are often associated with startups and small creative businesses. The Garment District and Murray Hill also offer more affordable Midtown office spaces with boutique buildings and smaller spaces.
Consider commute times too. 
As popular as remote and hybrid work has become, not all businesses have the option. For instance, medical office space in NYC must be easily accessible for patients if you're in the healthcare or medical industry. Medical practices must be close to their patient base. If they relocate, they want to stay near their existing location.
Furthermore, if your company is desperately trying to bring employees back to the office, you'll want to be close to transit, parking, and other amenities.
Plus you have to consider clients and their travel needs.
Commute times in New York City are notoriously long. Put this fact and the travel needs of clients and employees at the forefront of your office search. Everyone wants a happy workforce and happy clients. 
Ideally, you'll want to find a space in a transit-oriented location or neighborhood readily accessible by train, subway, bus, bike, or foot. Understand where your employees and clients live and how they travel to work.  
What office building should I choose?
The office building in Manhattan you choose to rent space in may be just as important as the actual office space. Maybe if you're a startup, this factor isn't as important. But if you're looking for high-quality build-outs, modern amenities, and a "wow factor," you understand that a building can make or break an office experience.  
Asking what the building is like is a broad question that can go in several directions. Perhaps narrowing it down to a few specific questions can help tighten your search for NYC office space a little bit more. 
Is the building's layout easy to navigate? 

If I was a visitor, would I enjoy coming?  

Will this building impress clients? 

How's the lobby? Is there an attendant? Do the lobby, and common corridors have air conditioning?

Is the facility secure? Are there 24/7 security personnel? What about cameras and doors that lock? 

Can team members access the building on weekends and after hours?

How many floors and tenants are in the building? Who are the other tenants in the building? 

Is there more than one elevator? Is it high-speed and recently renovated?   

How does freight access work? 

How is tenant parking?  

​​Is the building ADA compliant?

Are there amenities included? Are they modern?
Zero in on the office space amenities
Amenities are arguably the most important thing you want to figure out before leasing office space in New York City. Building amenities are critical in employee attraction and retention and are especially important in 2022. That's why Modern Class A complexes like Hudson Yards have impressive occupancy rates, with large multinational corporations gobbling up space. The owners of older Class A buildings are also upgrading with the latest amenities to lure workers back.
Understanding what amenities are essential to your business is crucial in your office space selection. You might see amenities like shared recreation areas, shared conference rooms, rooftop access, reception and concierge services, 24/7 security, and green space as essential.
Modern technology and sustainability standards may be a priority too. Consider how fast the building's WiFi is or if the facility meets current sustainability and emissions standards.
Do I need to budget for construction and design? 
Before renting office space, consider how much you want to customize your workspace. Will you need to hire an architect or a designer to bring your vision to life?  
Architects can help with larger-scale undertakings, office layouts, and design. Interior designers can help manage nitty gritty spatial relationships and remodeling projects. 
It all depends on what type of business you are. If you're a tech or media company, maybe an interior designer is what you need for specific build-outs. 
Class A and many B buildings offer architectural planning services as part of the deal for office space. But they don't offer interior design.
After an offer is submitted and the agreement is within reach, you, as the tenant, will meet with the landlord's architect. The architect will confer with you and create architectural drawings. These drawings will then serve as the foundation for the work letter incorporated into the lease. 
For some of the more basic B and even C buildings, a broker can help you develop a basic plan. You can then meet with the building's general contractor and finalize plans. 
Usually, an interior designer is not so involved.
Many of these build-outs are rather basic. A quality building architect can take care of them after a few short meetings. If you're a larger company, perhaps you need an architect to reimagine the space and give it an entire facelift.
Consider that at the start of the process in some B and more often in Class A, architects will provide a free "test fit" to help you understand whether or not the space can work for you. They will further explain if the size and shape can result in an efficient layout.
Just be sure to understand what's in your budget and that you don't spend beyond your means.
What's my rent budget?  
Now that you've answered the first few questions about what type of office space is best for you, it's time to crunch numbers. 
It's essential to narrow down your office space selection based on what building and neighborhood fit your business needs. But if it's above your budget, it won't matter. You need to make sure that you can afford it. 
It's a dream to sit alongside some of the world's most famous and successful corporations in areas like the Plaza District, Park Avenue, or FiDi. But these are some of the most expensive submarkets in one of the most expensive cities in the world for office space.
So weigh your options and see what average asking rents are in neighborhoods and submarkets. For instance, in Midtown, the modern towers of Hudson Yards ask for rents exceeding $100 per square foot. For Class A spaces, landlords also may ask for rents of $95.25/SF on average in the Plaza District.
But if there are more affordable options throughout Midtown. Midtown's average asking price per square foot sat at $83.04 in Q2 2022 for Class A spaces. The U.N. District's average Class A rents are also roughly $68.36/SF, while certain other Class A buildings offer rents as low as $55/SF.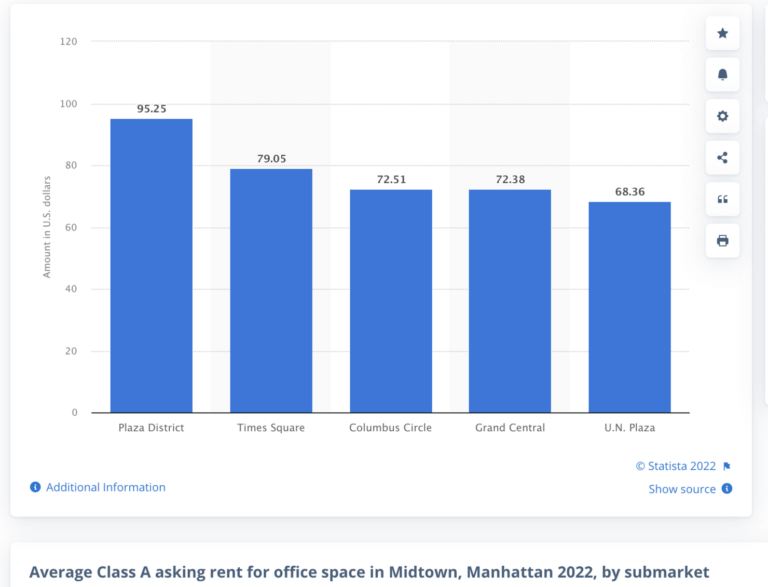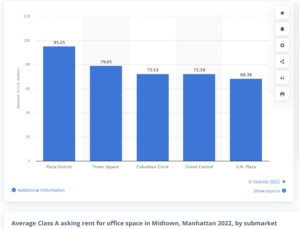 Source: Statista

Don't thumb your nose at more affordable Class B and Class C options or more affordable neighborhoods. Downtown asking rents are roughly $60.27 per square foot as of Q2 2022. Rents in the trendy, diverse, and up-and-coming Harlem can go for $40-$50 per square foot. 
Your decision ultimately depends on your budget and what's most important to you.
What type of commercial office space lease do I want?
Once you figure out your rent budget, It's crucial to consider your lease terms.
Consider the length of the lease term you want. Do you prefer a short-term lease, or are you willing to commit to a 5-10 year lease with enhanced concessions and potential stability? 
If you sign a long-term lease, be sure to see if your lease includes an escalation clause or a base-year cause. Review the annual rent escalation clause carefully. Understand that you will typically pay a proportionate share of real estate tax increases over the base year. Understanding the recent history of the property's annual tax increases is also critical.
Furthermore, consider who covers certain costs outside of rent. Who covers taxes and insurance, utilities, maintenance expenses, and repairs? What about HVAC costs and cleaning expenses? Keep in mind that a TIA funds initial improvements to the space before you move in. You only move in upon substantial completion of the landlord's work.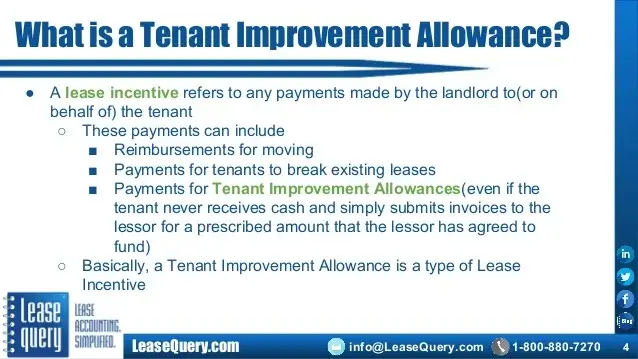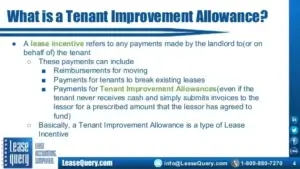 Source: SlideShare
Lastly, you want to make sure that you're able to sublet your office space if needed. Curveballs can happen, and you might find that the office space doesn't fit your needs as it once did. Perhaps you're overpaying for unused space or outgrowing the space. If your lease prohibits subletting, you're stuck in a moribund situation.  
How long will this whole process take?
The total time frame can last from a few weeks to 1.5 years.
The process can take as quickly as 2 weeks if improvements to the space are primarily cosmetic (paint and carpet) and the lease is simple. The search can take several months to a year if the tenant is particular. Keep in mind that there is also the negotiation of business terms and final lease language by the attorneys. Then you have to file permits and handle the build-out. 
If time isn't on your side, and you need some new space in a pinch, month-to-month coworking space while pursuing a long-term solution could be a great option.    
The Concluding Question
How do I find the right commercial tenant broker?
You can try to answer all of these questions on your own. Perhaps you understand the market and can come up with some concrete answers.
However, a commercial tenant broker can help you manage the process from A-Z, answer these questions with the utmost detail, and look out for your best interests. 
Moreover, a top-notch NYC commercial real estate broker can help make a time-consuming, arduous process as efficient as possible. 
The best commercial real estate brokers in New York City are invaluable assets and understand the nuances of a complicated market. They can ease the process and headache of finding the perfect office space. 
Working with an NYC commercial broker who understands the market is critical in 2022. Precisely one who understands how to find an office space best fitting you, your business, and your future growth.