"New York City is dead forever." 
A hedge fund manager and comedy club owner named James Altucher wrote this piece mid-pandemic in August 2020. At the time, the blog was nothing more than a self-published vent session. Once the New York Post picked it up, more eyes and ears paid attention to a grim reality check. 
One of the things Mr. Altucher highlighted at the time was the emptiness of Midtown Manhattan. Prime office real estate like the Time Life building was 90% empty because employees had to work remotely.
Two things happened in the two years since the publication of "New York City is dead forever." 
First, workers realized they had the leverage once their employers begged them to come back into the office. They could get by just fine working remotely and loved the improved work-life balance. 
As a result, employers have had to pull out all the stops to find offices that provide workers with comfort and modern amenities.
Second, New York City did not die forever. There were whispers workers would never return to Midtown Manhattan, and it would remain a ghost town. However, a seismic shift in the labor market has considerably influenced New York City's office real estate market in the last two years, having an opposite "ghost town-like" effect.  
NYC, warts and all is back. But it's a fragmented recovery and a recovery that's seeing a "flight to quality." 
The days of trying to get by with cheap NYC office space are over. The landscape of Manhattan commercial real estate has evolved along with workforce needs in 2022. Workers will not return to the office unless induced with the right work environment and amenities. Furthermore, high vacancy rates have destabilized many landlords. It can be brutal in this environment to find a property owned and managed by a stable and credit-worthy landlord with sufficient attributes and amenities to bring your team back. That's why working with a tenant representation brokerage firm in this complex real estate environment can be beneficial.
The Impact of the Great Resignation 
Although the total number of resignations as of June 2022 is somewhat below the peak of November 2021, "The Great Resignation" has been one of the most remarkable phenomena in the post-pandemic labor market. As recently as June 2022, 4.2 million workers resigned. This figure represents roughly 2.9% of the total workforce and remains considerably higher than the pre-pandemic average of 3.5 million monthly resignations.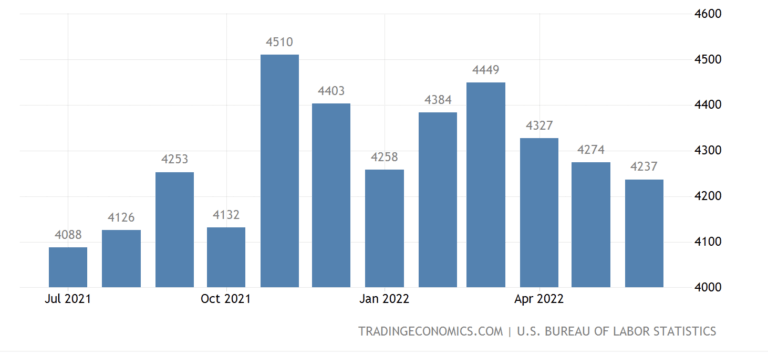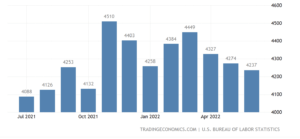 Image Source: https://tradingeconomics.com/united-states/job-quits 
What's driving this? 
Yes, wage stagnation is a contributor, especially with this ungodly inflation. But it's no longer only about the money. Employees need more positive in-office experiences and a work-life balance. 
In other words, workers, primarily mid-level professionals between the ages of 30 to 45 and Gen Z'ers, are burnt out and fed up.  
According to a Mind Share Partners survey, two-thirds of millennials who left their jobs in 2021 blamed mental health. The share of Gen Z'ers was even higher, at 81%. 
The below chart from a Harvard Business Review study paints an even bleaker picture.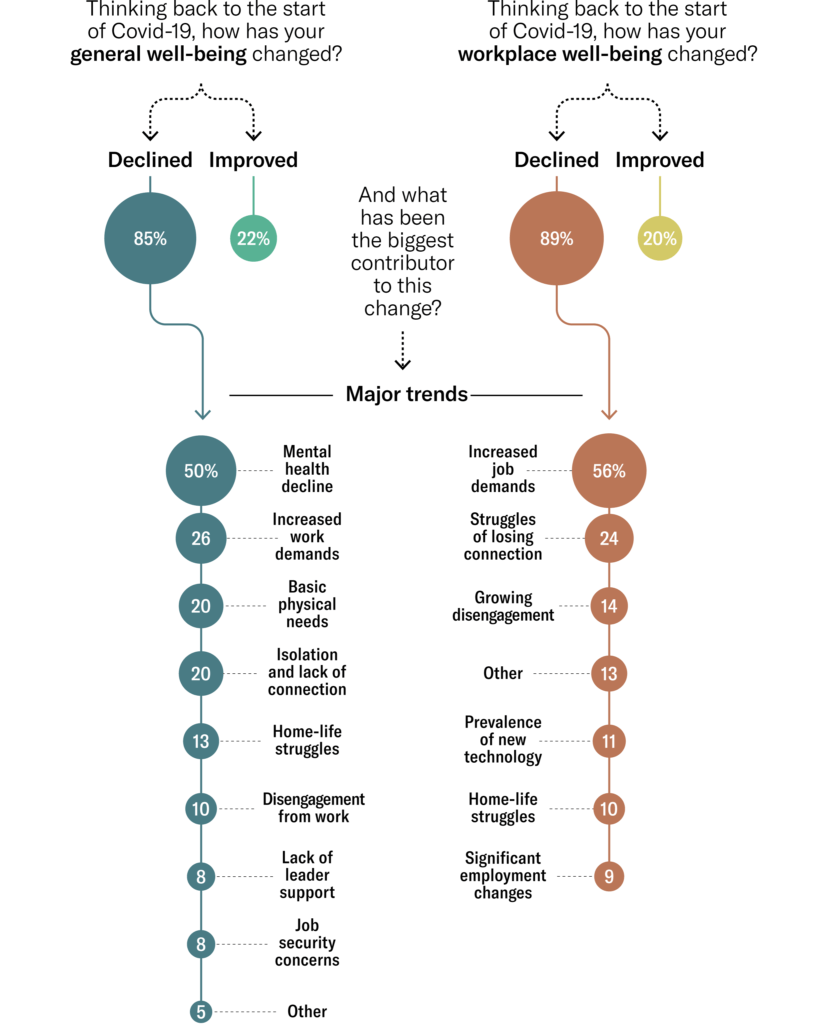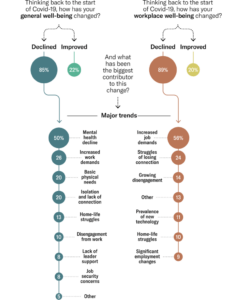 Image Source: LinkedIn
The pandemic caused many of these long-simmering feelings to boil over. 
If Employers Want Workers Back in the Office, They Need to Adapt
Remote work will stay, and employees will simply quit if employers don't adapt. Workers have all the leverage and will continue to have it. 
Consider the following data:
According to Traci Palmer, vice president of people and organization capability at software company Citrix, "The rules of work have been fundamentally rewritten."
Harvard Business Review expands on this, saying, "Because employers are hard pressed to attract and retain talent—and to bring that talent onsite—the office of the future must be more inviting." 
Employees work their best when in an environment they are most comfortable. Companies don't want their workers at home full-time. But, if companies wish to see them in the office at least some of the time, their best bet is to pull out all the stops to create spaces that aren't only conducive to work but conducive to socializing, relaxing, meeting, and enhancing their work-life balance. 
Employers, in 2022, have no choice but to do all they can to make modern offices and workspaces as pleasant and attractive as possible. 
Manhattan, especially Midtown, is a central location relative to transit hubs, entertainment, and culture. The opportunity for Harvard Business Review's "office of the future" to take over Midtown Manhattan office space is skyrocketing.
That's why Class A office spaces continue recovering at an accelerated trajectory while the rest of the NYC office market flounders. That's why there is a general flight to quality office space, with rents on Class A new construction reaching a premium. 
That's why whenever there's the opportunity to lease or buy a Class A property in Midtown, typically, it does not stay on the market for long. 
The New Era of Work is Why Class A Office Space is in Such High Demand
In the first quarter of 2022, the national office vacancy rate rose for the 10th consecutive quarter. In Manhattan, specifically, office occupancy rates continued hovering around 40% of their pre-pandemic level, while available office space for lease is at a staggering 19.2%.
Meanwhile, commercial real estate analytics company Green Street projects flexible work to cause office demand to plummet by approximately 15%.
However, these misleading statistics ignore a critical factor- the "flight to quality." 
Class A buildings are nationally, and in Manhattan, surging in demand. This is as companies do all they can to attract and retain skilled employees. Older, under-invested buildings are falling behind, while newer Class A buildings with effective managers, attractive amenities, and locations outperform.  
The modern worker is what drives the strategic design of Class A buildings. Class A buildings are more than flashy glass skyscrapers with sexy architecture and sustainable practices. These assets offer a complete experience, with various amenities contributing to the onsite work experience.  
According to CBRE, by 2021, the Class A Manhattan office market exceeded pre-pandemic figures. $100/square foot deals increased 114% year-over-year and stood 18% above the five-year historical average.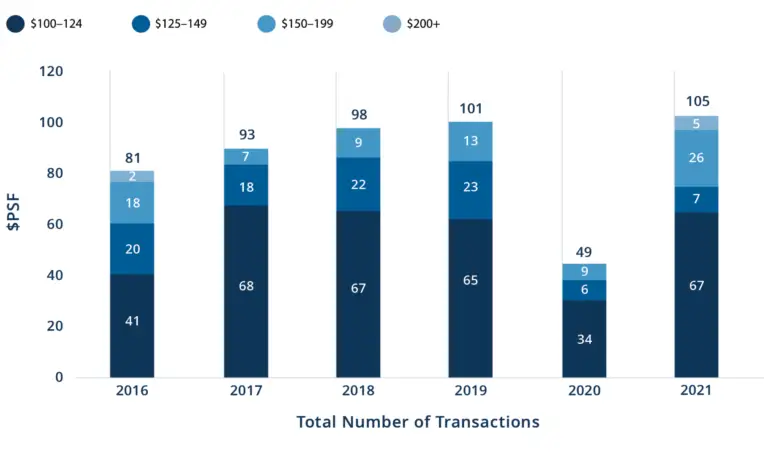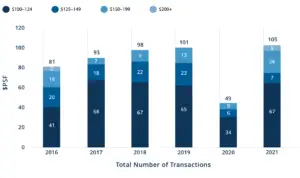 Image Source: https://www.brookfield.com/insights/office-update-flight-quality-underway 
Despite the rough market in 2022, Ariel Property Advisors' research reveals that demand for New York City office buildings rose in the first six months of 2022 with $4.7 billion trading, up 11% from 2H 2021 and up 353% from 1H 2021.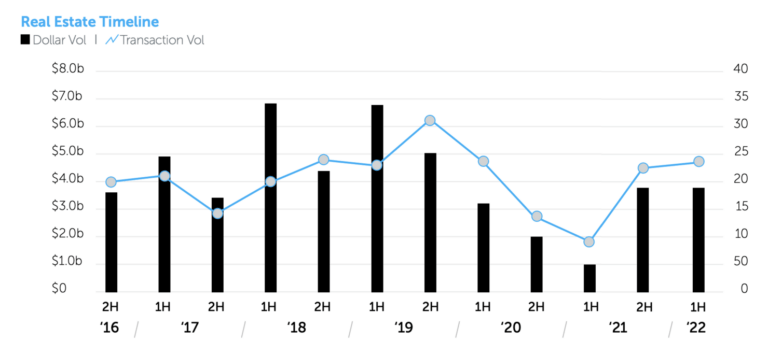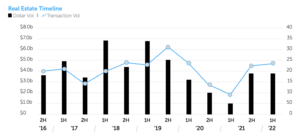 Image Source: https://arielpa.com/report/report-APA-Manhattan-mid2022-Sales-Report 
Hudson Yards- A Microcosm of a Bigger Trend
A property like Hudson Yards is a unique microcosm of how hot NYC's Class A Office market is. According to several brokers, the glossy three-tower, 8.6 million square foot facility is about 95% leased or sold. Hudson Yards' newest tower, 50 Hudson Yards, isn't yet open and is already 84% leased. 
You'd never know the Manhattan office market was in such disarray with historically high vacancy rates based on Hudson Yards' momentum. 
What's especially telling is that most employees working at a Hudson Yards-based company come to work in person too. A company leases office space, but it doesn't mean its workers will show up in person. Hudson Yards's physical office occupancy sits at roughly 60%. This is approximately 20% higher than the Manhattan average, which shows workers WANT to be there.   
Several major moves in New York City's Class A office sector reveal the lengths significant companies will go to build their version of Hudson Yards and create an all-encompassing work environment to lure workers back. 
Hint, they're paying a hefty premium too.
Take Google, for example. It spent $2.1 billion to purchase office development, St. John's Terminal in SoHo. Forget that this transaction accounted for roughly 45% of the total dollar volume for NYC Class A offices. The transaction showed how desperate Google is to tempt workers by creating a space that's more than just an office. St. John's Terminal will not only possess Google offices. It will include 
Public food hall

Community spaces 

Art galleries

The city's largest public rooftop space

Educational and environmental programs overseen by the Hudson River Park Trust 
Microsoft also leased 150,000 square feet of space in October 2021 at 122 Fifth Avenue in Union Square. It brought on Bromley Companies to oversee a $100 million initiative to upgrade private and communal terraces.
Where Does This Leave Midtown Manhattan?
A goldmine of Class A opportunity and demand exists in Midtown Manhattan because the neighborhood lacks enough Class A office space for the modern worker. Workers will not return to the office if they have to commute daily to an office lacking modern amenities from the 30s, 40s, or 50s. For this reason, companies like Meta, Warner Bros., BlackRock, Discovery, Tapestry, Wells Fargo, L'Oreal, and Point 72 all work at Hudson Yards. 
Data shows that the scarcity of Class A space in Midtown is why it gets gobbled up so quickly and at a premium. Cushman & Wakefield reveals that 84% of total leasing activity in midtown Manhattan occurred in Class A office assets. According to Brookfield, several Midtown Manhattan deals also exceeded $200 per square foot.
Take what happened with One Vanderbilt, for instance. 
SL Green's One Vanderbilt is a 93-story modern skyscraper. It is directly attached to Grand Central Station on 42nd Street and Vanderbilt Avenue. For good measure, it's the city's fourth-tallest building.  
Despite several building delays and opening at about the worst possible time in September 2020, the heart of the COVID pandemic, the building was still 67% leased and was 72% leased by the end of 2020. By October 2021, the building was 90% leased, but, according to SL Green's CEO, Marc Holliday, as quoted by the Financial Times, he wishes he "had 20 more floors because if [he] did we could lease them."
Several other recent transactions in 2022 indicate how hot the Class A market in Midtown is. If the building wasn't a Class A building, it's about to become one.
RFR purchased

475 Fifth Avenue

for $290 million, more than double the $143.9 million Nuveen paid for it in 2011.

Amazon is revamping the historic Lord & Taylor Building at

424 Fifth Avenue

, which it acquired from WeWork for $978 million in March 2020.

Meta (Facebook) signed a 730,000 square foot lease in August 2020 for the Farley Post Office building across from Penn Station, a property which

Vornado

is investing $1.03 billion to redevelop. 

In January 2022, Roku announced it was taking 240,000 square feet on the top eight floors of 5 Times Square. Owners RXR and David Warner are investing $126 million to improve the facility and add 50,000 square feet of amenities. 
With the new Long Island Rail Road (LIRR) terminal finally opening up beneath Grand Central Station after 15 years of construction, the gloves could be off for Midtown's complete rebirth. With a 350,000-square-foot commuter corridor connected to One Vanderbilt and 25,000 square feet of brand-new retail space, this new terminal will save about 40 minutes of travel time and redirect roughly half of LIRR commuters to Grand Central. 
Conclusion: New York is Not Dead- Unless Your Office is a Fossil  
We are in an unprecedented labor market where the workers have the leverage. Employers have had no choice but to bend over backward and cater to current and prospective employees' demands.  
The bottom line? Employers need to provide perks, benefits, and amenities if they want employees back in the office. As "The Great Resignation" continues, companies must find better ways to attract and retain the best talent. 
One way we see that is a flight to quality in New York City office real estate.
Older Class C and Class B buildings are getting left behind. To lure workers back to the office, landlords of older Class A buildings are upgrading their properties with the latest amenities.  No longer will workers accept commuting to work just to show up to a fossil. Workers know that to return to in-person work, they deserve a workspace that's more than a workspace. They need a complete experience that enhances their social life, culture, and work-life balance.  
The hybrid-work era is here, and so is New York's abnormal revival. The only way for this revival to be complete is for more higher-quality, sustainable buildings in prime locations. 
Supply cannot meet demand. We see what's happening around facilities like Hudson Yards and what most office real estate activity in Midtown Manhattan looks like. 
Office real estate is recovering along with New York City, but only the best and highest quality assets will benefit.   
Identifying buildings with the specific amenities that your business seeks requires specialized knowledge of the commercial real estate market. Will a gym in your office building get your team to return to the office three days a week? What about five days a week? Will they appreciate an outdoor roof deck and relaxed social space? Finding a property with specific needs requires a high level of expertise. Contacting a commercial real estate broker in New York City specializing in tenant representation can facilitate the search and uncover the city's best.