Imagine strolling down Wall Street on your lunch break, soaking up the energy of the Stock Exchange, and returning to an office with unparalleled views of the Hudson River. It's not just a pipe dream; it's a reality for many who've discovered the value of the Financial District (FiDi) as one of the most affordable neighborhoods in Manhattan.
As a rising, budget-friendly alternative to Midtown Manhattan, FiDi not only charms with its rich history and prime office spaces but also stands out among affordable neighborhoods in Manhattan with its mix of properties. Alongside the high-profile One World Trade Center, FiDi boasts an array of cost-effective B buildings catering to a variety of tenants.
Whether searching for prestigious Class A office spaces under 2,000 SF or high-quality Class B space, FiDi has you covered. Ready for a change? Let's explore the neighborhood's full potential further.
FiDi: Top Value for Office Space
In the hunt for affordable neighborhoods in Manhattan, astute business owners find themselves drawn to the allure of Lower Manhattan. This district, once primarily a financial hub, has evolved into a showcase of excellent value in office spaces.
Looking for small, modern office space in Manhattan can often feel frustrating. However, FiDi streamlines the process. The secret lies in its diverse array of Class A and B office spaces, boasting significantly lower prices than comparable Midtown options.
The icing on the cake? Government incentive programs like the Community Renewal Program (CRP) and Relocation Assistance Program (REAP). These incentives further reduce leasing costs for budget-conscious businesses seeking a prime Manhattan location.
Where to Find Quality Office Space in FiDi
Below is a concise collection of Lower Manhattan office buildings. Our goal? To illustrate the remarkable value these properties provide compared to Midtown Manhattan alternatives:
11 Broadway
If searching for affordable neighborhoods in Manhattan, consider 11 Broadway, a competitively priced, well-maintained Class B property. Managed by Braun Management, this historic 22-story building, known as the Bowling Green Building, infuses classic charm into any workspace.
Built in 1898 and expanded in 1921, 11 Broadway offers 432,348 square feet of office space. As a New York City Landmark since 1995, it's easy to see its appeal. Tenants enjoy 24/7 access, UPS and FedEx services, upgraded elevators, modern bathrooms, corridors, and a renovated marble-floor lobby.
Furthermore, with floorplates ranging from 4,500 to 25,000 square feet, it caters to businesses of all sizes. Among its notable tenants are Flatiron School, Wall Street Services, and the New York State Department of Motor Vehicles.
Asking rents at 11 Broadway typically range between $42 and $50 per square foot, influenced by factors such as tenant credit, lease length, and required work. With this in mind, this property offers value and a prestigious address in Manhattan's thriving Financial District.
Sample Listing (Courtesy of VTS):
Entire 21st Floor, Suite E21
The 21st floor of the Bowling Green Building offers a spacious 5,090 square feet of turnkey office space, estimated to comfortably accommodate up to 34 people. Additionally, this suite is currently available for immediate occupancy, providing a flexible sublease option for growing businesses.
160 Broadway
Discover the ideal fusion of history and modernity at 160 Broadway, a premier Class B office space nestled in the Financial District's heart. Managed by Braun Management and built in 1908, this former Lawyers' Title Insurance and Trust Company Building now boasts 145,000 square feet of top-notch workspace. With its rich heritage and appealing amenities, 160 Broadway creates an exceptional environment for today's businesses.
Furthermore, valuable on-site amenities encompass messenger services, 24/7 access and security, on-site management, and even an in-house McDonald's. Additionally, the building is owner occupied and the landlord has their offices on the 2nd floor. 
Notably, tenants at 160 Broadway include United Equities, Raskin & Kremins, and New York Acupuncture and Chiropractic. Such a diverse tenant-base showcases the building's versatile appeal. Moreover, with starting rents at $40/SF, varying based on lease terms, it offers an enticing choice for businesses seeking accessible and well-positioned office space.
Sample Listing (Courtesy of Braun Management):
Entire 13th Floor, Suite 1300 
Suite 1300 is a generously-sized office space spanning 5,750 square feet and tailored for a growing business. Additionally, with direct electricity access and a competitive rent of $48 per square foot, it offers a modern and efficient environment to support any business operations.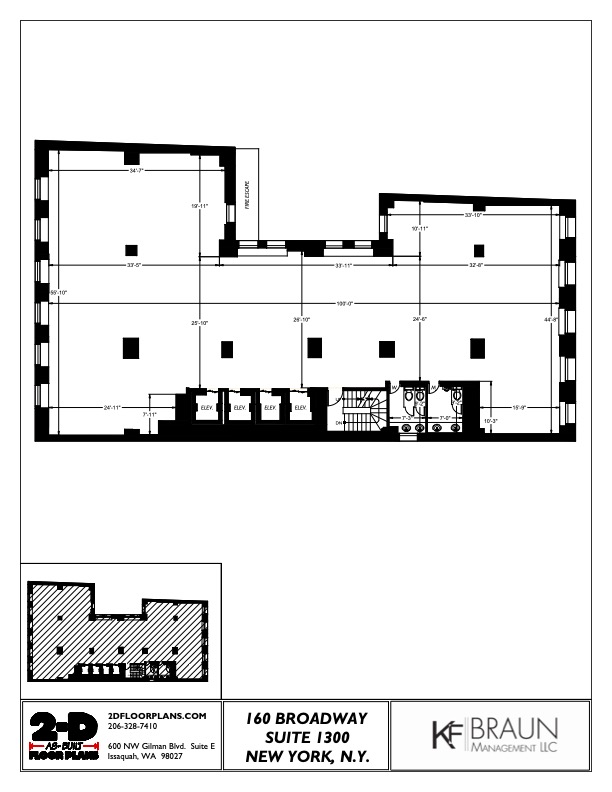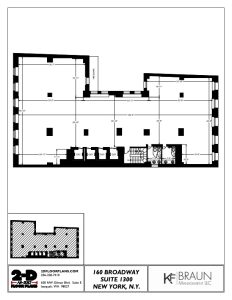 80 Broad Street
Discover the affordability and charm of 80 Broad St, a Class B building in one Manhattan's most sought-after, affordable neighborhoods. Offering 423,403 square feet of office space, it caters to businesses seeking both value and high-quality facilities. Managed by Broad Street Development and Invesco, they ensure hands-on, tenant-friendly services.
Additionally, recent upgrades to the building include a brand-new, 24/7 attended lobby, along with striking pre-built office spaces showcasing glass and concrete floors. Immerse yourself in Lower Manhattan's vibrancy with floor-to-ceiling windows on all four sides and adaptable floor plates, ranging from 7,500 to 15,000 square feet.
Moreover, additional amenities feature surface parking, bike storage, and Zuul food delivery service. Asking rents range from the high $40s to $50s per square foot, depending on factors such as space condition and location. Notably, current tenants at 80 Broad Street comprise Redmond Law, Goldstein Hall, Malkin & Ross, and Forte Capital Group. Additionally, on-site retailers like Gregory's Coffee, DIG, and Bolton's Restaurant cater to diverse dining needs.
Sample Listing (Courtesy of VTS):
Entire 36th Floor, Suite 3600
Introducing Suite 3600, a spacious 2,667 sq. ft. office. This suite, occupying the entire 36th floor, offers an impressive capacity for up to 18 people. Available immediately, it presents a unique opportunity to secure a prime sublease for your business. Additionally, the office's pre-existing condition ensures a hassle-free move-in experience.
14 Wall Street
14 Wall Street, a landmark Class A office building, stands tall as the former Bankers Trust Building. This 37-story FiDi tower boasts an impressive one-million-square-foot workspace. Completed in 1912 and revamped in 2008, the building showcases a modernized lobby and floorplates ranging from 8,000 to 40,000 square feet.
Ideally situated, 14 Wall St. resides across from the New York Stock Exchange and diagonally opposite the original JPMorgan Chase headquarters. The building spoils tenants with top-notch amenities, such as 24-hour access, a secure lobby, an exclusive conference center, bicycle storage, an Equinox gym, on-site TJ Maxx, and nearby high-end retailers, hotels, and restaurants.
With asking rents starting in the high $40s per square foot, 14 Wall St. has lured prestigious tenants like NYU Langone Health, Empire BlueCross BlueShield, FDM Group, Rose Grove Capital, and Hinckley Allen.
Sample Listing:
Partial 30th Floor, Suite 3001
Introducing Suite 3001, a spacious 4,428 SF office space that's immediately available to elevate your business. With a competitive rate of $53.00 per SF, this suite offers a remarkable opportunity for companies seeking an inspiring work environment.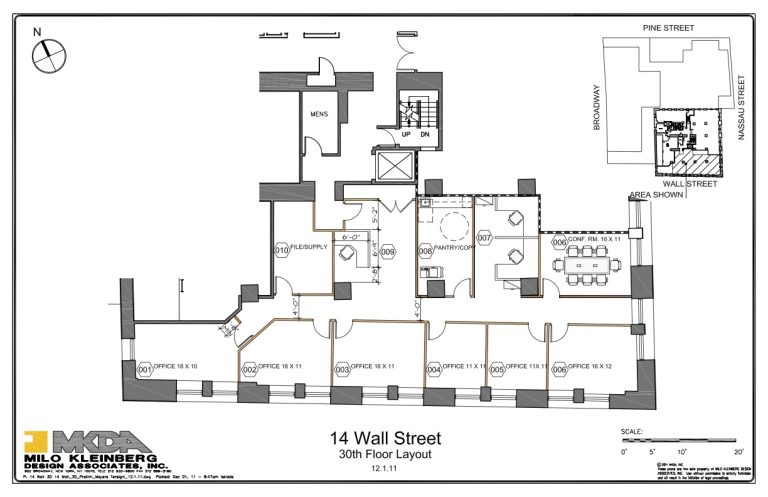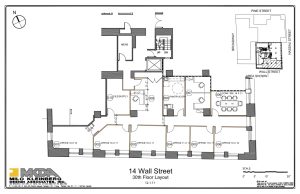 15 Maiden Lane
If you're a savvy tenant seeking affordable Manhattan neighborhoods, you'll be thrilled to uncover the hidden charm of 15 Maiden Lane. Located just north of the Financial District, this unique building defies traditional office spaces, offering a breath of fresh air for those craving a more creative atmosphere.
Venture into this 20-story, Class B property, and you'll discover striking loft-like spaces oozing character. Built in 1908, 15 Maiden Lane features exposed ceilings over 11 feet high, cultivating an unmistakable industrial ambiance. This authentic office space distinguishes itself from its neighbors south of City Hall. Additionally, it's conveniently located near the Fulton Transportation hub.
Moreover, Heller Properties, the building's landlord, meticulously maintains it. As you wander through the building, you'll appreciate the attention to detail – lovely tile floors in common corridors and captivating artwork tastefully displayed.
Additionally, 15 Maiden Lane's appealing aesthetics come with reasonable asking rents. You're not alone in recognizing its value. Notable tenants include BerlinRosen, Rosen Leonard, Cerebra Metrics, SMC International Group, and Altrum.
Sample Listing:
Introducing the 19th floor at 15 Maiden Lane, an attractively priced, spacious office space for commercial tenants. Spanning 6,400 SF, it's a bargain at just $39 per SF. Furthermore, this double corner loft office is flooded with natural light. With 12-foot ceilings and oversized windows, the sense of volume is undeniable. It boasts an open plan, perimeter offices, exposed ceilings, and concrete floors.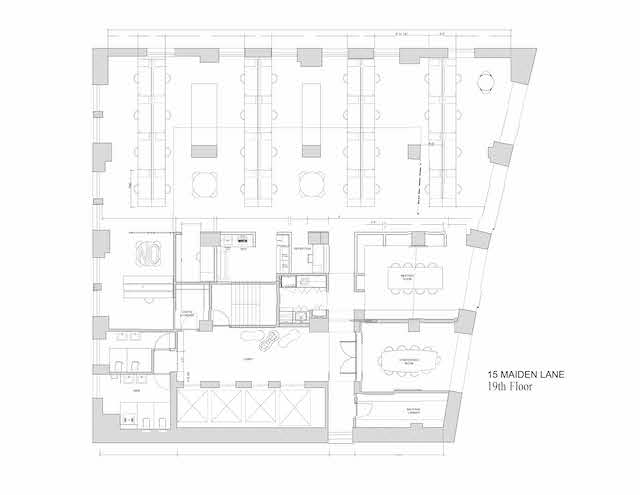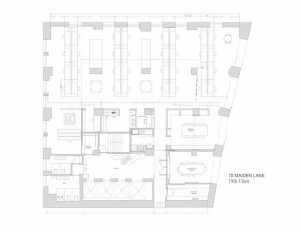 The Key Takeaway
As tenants pursue value, culture, and convenience in New York City, FiDi shines as a haven for affordable neighborhoods in Manhattan. Moving beyond Midtown's appeal, FiDi's hidden potential attracts those seeking inspiring and accessible spaces.
Picture yourself wandering through FiDi's charming streets. Then, envision yourself encompassed by unique office spaces and a lively, growth-oriented, creative community.
Thus, with its unique character, FiDi stands as a cost-effective Midtown alternative. So, whether you're an entrepreneur or an established business seeking change, let FiDi's potential ignite your path to success.
Need office or retail space with high-end amenities in a convenient Manhattan location? Contact Metro Manhattan Office Space at (212) 444-2241 or email [email protected] to learn more about available options.