The New York City retail scene had a busy second quarter, however, it wasn't quite as busy as the first one. There were five leases closed in Q1 over 40,000 square feet, and the top deal of the quarter was for 90,000 square feet. By comparison, the biggest NYC retail space lease of Q2 was by far a 45,885-square-foot lease signed by Food Bazaar. Still, the market saw some large leases get signed during the past three months, across all boroughs.
According to a recent REBNY report, Manhattan's top retail corridors are seeing rents decrease, while availability is on the rise. New developments at Hudson Yards, Essex Crossing or Gansevoort Row are adding to the city's retail inventory, and retailers are eyeing options outside traditional corridors like Fifth or Madison Avenues.
As a result, our list of top Q2 retail leases is a mixed bag, and what stands out is that the market is very active across the five boroughs. When it comes to office leases, Manhattan is the undisputed king, yet as far as retail goes, boroughs like Brooklyn or Queens are equally appealing.
We turned once again to The Real Deal and their monthly leasing reports to extract the 10 biggest retail leases of Q2 2019. Check them out below, and read on for highlights on each deal.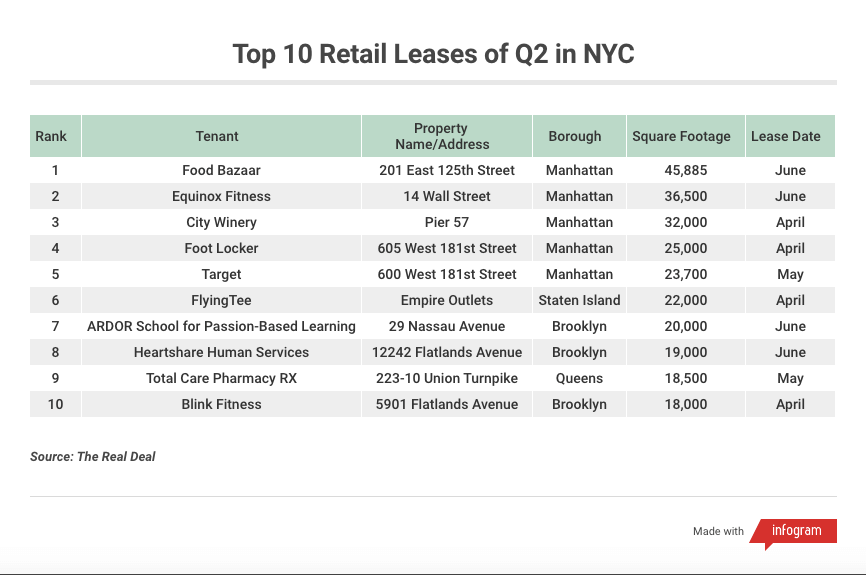 1. Food Bazaar Snags 46 KSF at One East Harlem
The largest retail deal of Q2 closed in June, when Food Bazaar signed a 45,885-square-foot, 20-year pre-development lease at One East Harlem in Uptown Manhattan. The project located at 201 East 125th Street broke ground in April, and will feature 65,000 square feet of retail and 404 residential units upon completion in late 2021.
The new Food Bazaar location will span across two floors and feature a corner entrance on 125th Street, and will offer dedicated parking for both staff and customers, Real Estate Weekly reports. An ABS Partners team led by Mark Tergesen and Joe Italiaander represented the tenant in the lease negotiations. The landlord, a joint venture between The Richman Group Development Corp., Bridges Development Group, Monadnock Development LLC, Hope Community Development and El Barrio Operation Fightback, was represented by Ripco Real Estate and Michael Berfield of Bridges Development Group.
2. Fitness Chain Equinox Takes Over 37 KSF at 14 Wall Street
The second-biggest retail lease of the quarter was signed by luxury gym chain Equinox at 14 Wall Street in the Financial District. The gym has been operating in the building since 2000, and will be keeping its 36,500-square-foot Lower Manhattan location for another 20 years. The asking rent for the space was reportedly $100 per square foot, and Equinox was represented in-house in the negotiations. The landlord, Ukrainian billionaire Alexander Rovt, was represented by RKF's Darrell Rubens. The 37-story tower previously known as the Bankers Trust Company Building is also home to Skidmore, Owings & Merrill, Aflac and NYU Langone Health, among others.
3. City Winery Sets Up 32 KSF Shop at Pier 57 in Chelsea
After 10 years operating at its 155 Varick Street location, wine maker and music venue City Winery is moving to Hudson River Park. The company signed a lease with RXR Realty and Young Woo & Associates to occupy 32,000 square feet at Pier 57 in Chelsea, and plans to move there by the end of the year. City Winery signed a 25-year lease for its new flagship location, which will include two performance venues, a concert hall, loft space, a restaurant, and a fully functional wine production facility. The new location will be open 7 days a week, 365 days per year.
Pier 57, which will be anchored by Google, is listed on the National and State Registers of Historic Places, and is located nearby Chelsea Market, the High Line, the Whitney Museum and the Meatpacking District. Lee & Associates' Peter Braus brokered the deal on behalf of the tenant, while the landlord was represented in-house by William Elder of RXR.
4. Foot Locker Signs 25 KSF Lease at 605 West 181st Street
Foot Locker signed a 25,000-square-foot lease at 605 West 181st Street in Washington Heights in April. The retailer will open its new 'power store' in the fall, and offer experiential activities like creating custom sneakers and gaming zones, and will also include a barber shop and event space. Foot Locker will be tripling the size of its current store at 621 West 181st Street, and will pay $180 per square foot in rent to occupy the entire building owned by Marx Realty, Globe Street reports. The property is conveniently located close to public transportation options, as well as other retailers like Blink Fitness, T-Mobile and Game Stop. Evan Schuckman from Ripco represented Foot Locker, while a team led by Marx Realty's Henry Henderson represented the landlord.
5. Target Inks 24 KSF Deal at 600 West 181st Street
In early May, Target confirmed it had signed a 23,700-square-foot lease at 600 West 181st Street in Washington Heights. The retailer inked a 15-year lease with Maverick Management Corp., and will move into the new location in 2020. It will occupy two floors and offer a mix of goods like food and beverage, apparel and accessories, health and beauty, and home decor. Target also announced new locations planned in Hell's Kitchen, the Upper East Side, Columbus Circle, Astoria and Staten Island.
The two-story retail building at 600 West 181st is also home to Best Buy, Kohl's and Modell's. Target was represented by Ripco's Richard Skulnik in the lease negotiations, while the landlord was represented by Jason Pennington, also of Ripco.
6. Flying Tee Seals 22 KSF Deal on Staten Island
Indoor golf simulator Flying Tee signed a 22,000-square-foot lease at Staten Island's Empire Outlets in April. The new venue is set to open next year, and be the company's third location and home to its first TEE SUITE in the city. The TEE SUITE will provide an interactive golfing experience in a lounge setting and allow guests of all ages to play beginners' golf and other games indoors. According to Silive, the new location will also serve as a one-of-a-kind viewing venue for sports, concerts and other major events, and will offer panoramic views of Lower Manhattan.
Empire Outlets is located adjacent to the St. George ferry terminal, and will house more than 100 designer outlet retailers and a parking garage. Brands like Nike, H&M, Nordstrom Rack, Columbia, Levi's, Converse, and U.S. Polo have already signed up for retail space at the development.
Paine & Associates represented Flying Tee in the lease negotiations, while landlord BFC Partners was represented by Casandra Properties.
7. ARDOR School Lands 20 KSF at 29 Nassau Avenue
The ARDOR School for Passion-Based Learning signed the biggest Brooklyn retail lease of the quarter in June. The school signed a 35-year lease for 20,000 square feet at 29 Nassau Avenue in Greenpoint, on the site of a former Catholic convent. The ARDOR School plans to open its new outpost between North 15th and Dobbin Streets in the fall, and it will admit children as young as two years old through eighth grade, according to NYRej. The three-story property, located at the border between Greenpoint and Williamsburg near McCarren Park, offers classrooms, a gymnasium, a school kitchen, and a rooftop playground. It also offers easy access to public transportation via the subway stations at Nassau and Bedford Avenues.
Meridian Capital Group's James Famularo and Eliot Goldschmidt represented the tenant, while Modern Spaces represented the landlord, the Slovak Royal Catholic Church of the Holy Family.
8. HeartShare Snags 19 KSF in Brooklyn's Flatlands
HeartShare Human Services of New York, a non-profit organization and the third-largest children's services provider in the city, signed a major retail lease in Brooklyn this June. The organization signed up for 19,000 square feet of space at 12242 Flatlands Avenue, on the southwest Corner of Elton Street in the Gateway Center area. According to The Real Deal, HeartShare inked a 15-year lease and was represented by Barry Rosner of Newmark Knight Frank. The landlord, Hudson Companies, was represented by Ripco Real Estate's Richard Senior and David Goldschmidt.
9. Total Care Pharmacy Moving to 19 KSF in Queens
Independently owned pharmacy Total Care RX signed the largest Queens retail lease of Q2 in June. The pharmacy will be moving to a new 18,500-square-foot space at 223-10 Union Turnpike in Hollis Hills. The space was formerly occupied by a 99 cent store, and is located right off of the Grand Central Parkway and just one block from the Manhattan Express Bus. The landlord, Gabrielli Irrevocable Trust, was represented by Michelle Abramov of Asset Commercial Realty Group. There is no official information on whether the tenant had a broker in the transaction.
10. Blink Fitness Takes 18 KSF at 5901 Flatlands in Brooklyn
Blink Fitness, the low-cost model of luxury fitness chain Equinox, inked the 10th largest retail lease of Q2 in April. The gym signed a 15-year lease for 18,000 square feet at 5901 Flatlands Avenue in Brooklyn. The move is part of the brand's plan to open locations in underserved neighborhoods, a plan that also included a 15,000-square-foot lease at 1134 Fulton Street in Bedford-Stuyvesant. In Flatlands, Blink Fitness is taking over the entire two-story building owned by Laundry Capital. Ezra Saff of Retail Zone represented the gym in the lease negotiations. The gym chain owned by Related Companies concluded 2018 with roughly 80 locations in New York, New Jersey, California and Pennsylvania.
If you're thinking of setting up your business in a convenient location in Manhattan, and are looking to lease state-of-the-art space with top-notch amenities, reach out to us and we will show you worthwhile options situated right in the heart of New York City. To learn about available commercial space, call Metro Manhattan Office Space at (212) 444-2241 or email us at [email protected].