The New York City office market started the year in full force, with a fruitful first quarter that saw various high-profile leases signed. The second quarter of 2019 kept that momentum going, and office leasing activity remained strong.
According to a recent Savills report, office leasing volume in NYC totaled 9.9 million square feet in Q2, most of it concentrated, of course, in Manhattan. The success of Hudson Yards is fueling demand for quality office space in Midtown, and companies are willing to pay a premium to attract top talent. The average asking rent for NYC office space reached $78.31 per square foot in Q2, according to the report. Rents for Class A office space are significantly pricier, closing the quarter at $90.86 per square foot. The availability rate dropped down to 10.6%, yet the demand remains high, leading to higher prices and intense competition for available space.
We turned to The Real Deal and their monthly leasing recaps to extract a list of the 10 biggest office leases of Q2 2019 in NYC. Once again, Manhattan is the undisputed business core of the city, with just one Brooklyn deal making our list. What's interesting to note is that half of the deals on our list were renewals; this signals the commitment that companies have to Midtown Manhattan and the market's continued appeal. Check out the list below and read on for highlights on each deal.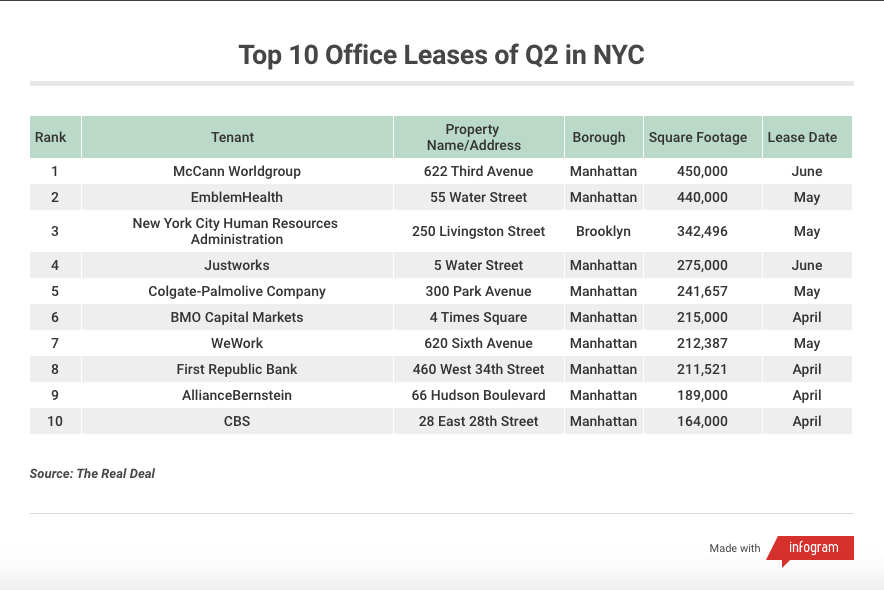 1.McCann Renews 450 KSF Lease at 622 3rd Avenue
The largest office lease of the quarter closed in June, when McCann Worldgroup extended its current lease at 622 Third Avenue for another 15 years. The company's 450,000-square-foot lease was set to expire in 2021, according to the New York Post. The advertising agency has been operating out of the 39-story Grand Central Plaza since 2000, where it occupies floors 2 through 5 and 16 through 28. According to the NY Post, the asking rent was $70 per square foot, well below the Midtown Manhattan average of $87 per square foot.  JLL represented the tenant in the lease negotiations, while the landlord, Cohen Brothers Realty, was represented in-house by Senior VP Marc Horowitz.
2. EmblemHealth Maintains 440 KSF Lease at 55 Water Street
Insurance provider EmblemHealth also signed a 15-year renewal for its offices at 55 Water Street in Lower Manhattan. The company occupies 440,000 square feet in a building that is reportedly the largest office building in the city based on floor area. The 4 million-square-foot tower at 55 Water Street is owned by New Water Street Corp., part of the Retirement System of Alabama, and has been the home of EmblemHealth since 2003. Colliers International represented the tenant in the lease deal, while a CBRE team represented the landlord, Globe Street reports.
3. NYC Human Resources Administration Seals 342 KSF Deal in Brooklyn
The third-largest office lease of the quarter was yet another renewal, this time in Downtown Brooklyn. The New York City Human Resources Administration extended its current lease at Clipper Equities' 250 Livingston Street for another 10 years. The new agreement will start in August 2020, when the current 342,496-square-foot lease expires, and will see the city eventually paying $16.9 million per year for the space, according to Bisnow. The landlord expects this lease to add roughly $5 million to the property's annual net operating income, based on current expense levels. The 12-story building nestled between Hoyt and Bond Streets is also home to the Department of Environmental Protection, and the two government agencies take up most of the office portion.
4. Tech Giant Justworks Commits to 275 KSF at 55 Water Street
A month after EmblemHealth renewed its lease at 55 Water Street, the 4 million-square-foot office building snagged another major tenant. Tech company Justworks parted ways with the Starrett-Lehigh Building in Chelsea to take up 275,000 square feet of FiDi office space.
The 55 Water St. building has seen a lot of success lately, even as an older office tower located in a 'charmless office corridor.' Its 65,000-square-foot floorplates, below-market asking rents and the Elevated Acre public park make it an appealing option for office-using tenants. 55 Water Street is reportedly the second-largest office address by floor space in the country, surpassed only by Willis Tower in Chicago.
5. Colgate-Palmolive Consolidates 242 KSF HQ at 300 Park Avenue
Long-time anchor tenant Colgate-Palmolive has also renewed its current digs at 300 Park Avenue. The company will continue to operate its 241,657-square-foot global headquarters at the Flatiron District building, extending its current lease, which is set to expire in 2023. Even though the company has downsized its office presence from 312,000 square feet, its commitment was enough to make landlord Tishman Speyer scrape demolition plans for the 26-story building. Tishman had been considering building a new office tower at the site, to take advantage of the Midtown East rezoning that allows developers to build taller projects. According to Crain's, Colgate-Palmolive objected to the inclusion of a demolition clause in the new lease, leading Tishman to abandon plans for a taller tower.
6. BMO Capital Markets Takes Over 215 KSF at 4 Times Square
While BMO Capital Markets didn't sign a lease renewal to keep its Midtown Manhattan office space, it didn't move very far either. The investment bank signed a 215,000-square-foot lease at 151 West 42nd Street, also known as 4 Times Square. The bank is moving across the street from its former location at 3 Times Square. It will take over the vacant space left by Conde Nast, which moved to One World Trade Center, as well as a portion of the space occupied by Skadden, which will move to One Manhattan West in Hudson Yards.
BMO will consequently become the largest tenant at the tower owned by the Durst Organization, taking up floors 29 through 33. Bloomberg reports that BMO will be paying $105 per square foot for the upper floors and $85 per square foot for the lower floors. By comparison, Conde Nast paid roughly $50 per square foot for the space prior to its departure in 2014.
7. WeWork Leases Another 212 KSF at 620 6th Avenue
Coworking giant WeWork continued its flurry of office leases in the year's second quarter. However, this time it might use the space to house its own employees instead of setting it up as a shared office hub. The company inked a deal for 212,387 square feet at RXR Realty's 620 Sixth Avenue in Flatiron – right around the corner from the We Company headquarters at 115 West 18th Street. WeWork will take over the space previously occupied by Spotify, which moved to 4 World Trade Center, and Mediaocean, which is moving to 120 Broadway. The deal marked the 8th lease WeWork announced in the city so far this summer, following deals signed across Manhattan, including at 419 Park Avenue South and 550 Seventh Avenue.
8. First Republic Bank Scores 212 KSF at 460 West 34th Street
First Republic Bank is the latest tenant to join the Hudson Yards office roster, after signing a 211,521-square-foot, 25-year lease with SL Green at 460 West 34th Street. The bank will occupy part of the ground and mezzanine floors, to feature both corporate offices and retail bank space.
SL Green purchased a majority interest in the building in May 2019, and will embark on a large-scale redevelopment of the 20-story tower. The Class A office building is conveniently located directly across from the office towers at Hudson Yards and Manhattan West, occupying a full block front of Tenth Avenue.
9. AllianceBernstein Signs 189 KSF Lease at 66 Hudson Boulevard
AllianceBernstein became one of the biggest names to make the move to Hudson Yards this past quarter. The company will join Pfizer at The Spiral, a 65-story office tower currently under development at 66 Hudson Boulevard. AllianceBernstein will move into its new 189,000-square-foot offices in January 2025, taking over floors 25 through 28 in a 20-year lease. The Spiral is being developed by Tishman Speyer on a full block stretching from West 34th to West 35th Streets and from Tenth Avenue to the Bella Abzug Park. The building's anchor tenant will be Pfizer, which will take over 800,000 square feet of office space for its global headquarters in 2022.
10. CBS Renews 164 KSF Presence at 28 East 28th Street
The last deal on our list is another office renewal, this time at 28 East 28th Street in Midtown South. In April, CBS announced it was staying put at the 15-story building for another 15 years. The company occupies 164,000 square feet of office space on floors 8 through 10, as well as a small sub-concourse area. According to Globe Street, CBS will be paying roughly $90 per square foot in monthly rent for its space near Madison Square Park. A Cushman & Wakefield team represented CBS in the negotiations, while building owners George Comfort & Sons, Jamestown Properties and Loeb Partners Real Estate were represented in-house.
If you're thinking of setting up your business in a convenient location in Manhattan, and are looking to lease state-of-the-art space with top-notch amenities, reach out to us and we will show you worthwhile options situated right in the heart of New York City. To learn about available office space, call Metro Manhattan Office Space at (212) 444-2241 or email us at [email protected].