In the hustle of New York City's business scene, one factor stands out in the search for office spaces – a stunning view. More than just a pleasant backdrop, a splendid panorama from your workspace can wield tangible benefits.
Imagine an office with wide, inviting windows. They frame Midtown Manhattan's iconic skyline, a sight that effortlessly attracts top talent and impresses clientele. But, more than aesthetics, this view becomes a daily source of motivation for your team.
An office boasting such a view isn't just about prestige. It's an investment toward a productive, healthier workspace.  
Keeping these factors in mind, we've handpicked five office spaces. Each one delivers a unique glimpse of Manhattan's skyline and incredible views of Midtown Manhattan. Moreover, each space, presented without ranking, seamlessly blends appeal and functionality
500 Fifth Avenue | Grand Central
In the heart of Midtown Manhattan's Grand Central district sits 500 Fifth Avenue or the Salmon Building. Despite living in the shadow of the Empire State Building since 1930, it captivates with its asymmetrical setbacks, a byproduct of straddling two zoning districts. Moreover, this distinctive design, overseen by ​​Shreve, Lamb & Harmon Associates, earned it a New York City Landmark title in 2010.  
Today, it's a sought-after address for revered institutions like Oxford and Georgetown Universities and esteemed corporations like Zara and WeWork. Spread across 60 floors is 660,000 square feet of premium Plaza District office space. Managed by Cushman & Wakefield and owned by Accendo Capital Group, the building boasts tenant-controlled HVAC and a 24/7 lobby. In addition, a unique 'pre-built' program offers exquisite finishes in rental spaces.
Adding to its appeal, 500 Fifth Avenue is a stone's throw from various amenities and transportation options, providing unparalleled convenience to its high-profile tenants. It even has a Jamba Juice on the ground floor for those quick refreshment breaks.
Sample Listing (Courtesy of The Costar Group)
This 2,254 square-foot 57th-floor office showcases stunning views of Midtown and Bryant Park. However, the real kicker is it's available for sublet at a competitive $85.00/mg per year.
Not your average space, this office comes fully furnished. The layout includes two private offices or breakout rooms and four workstations. Moreover, you'll enjoy shared access to common areas. These include a boardroom, a welcoming reception, and a lobby with signage.
Additional perks? You'll have a pantry, ensuite restrooms, a copy room, and a server room. Notably, a brand-new high-end installation enhances the ambiance. It's the ideal solution for businesses seeking a turnkey workspace, currently vacant and fully built out.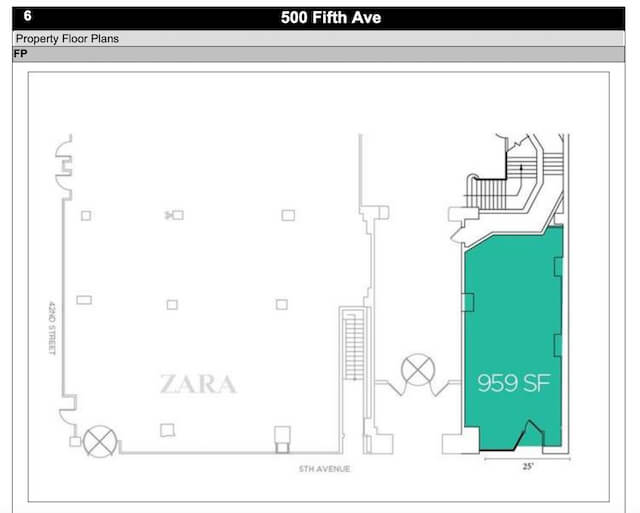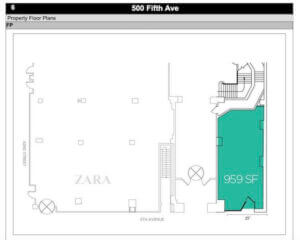 780 Third Avenue | Plaza District
780 Third Avenue is a stunning 50-story building in the heart of the luxe Plaza District. This sleek structure, crafted in 1983 by Skidmore, Owings & Merrill, features an impressive concrete frame accented by large X-braces. Its distinct design opens up column-free interiors, providing an endless canvas for layout creativity.
Inside, you'll discover 489,062 square feet of premium Class A office space, ready for your vision. But there's more. Many amenities await, including a large conference center, an auditorium, seven meeting rooms, and personalized elevator and HVAC controls.
Located six blocks from Grand Central Terminal, your commute is a breeze. After work, a lively mix of dining, shopping, and entertainment venues surrounds you.
780 Third Avenue is already home to companies like Deerfield Management, Dale Carnegie, VISA, and ING Investment Management, spanning diverse industries. So, whether in finance, law, or real estate, envision your future office space here, with breathtaking views.
Sample Listing (Courtesy of The Costar Group)
Discover a flexible office space on the 35th floor, offering 3,874 square feet of potential. The space is white-boxed, promising a blank canvas for your business. In addition, the landlord is prepared to assist with your custom buildout. Vacant and ready for negotiations, this could be your next workspace.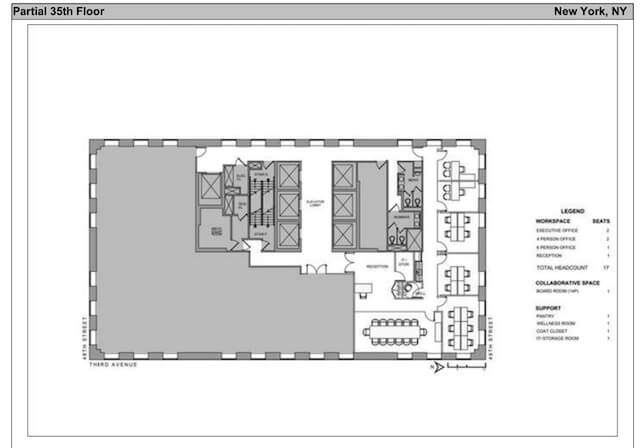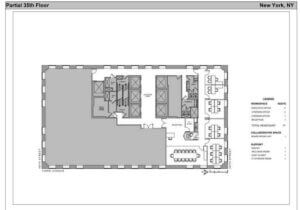 1450 Broadway | Garment District
Welcome to 1450 Broadway, located in Midtown's Garment District. The building houses 388,000+ square feet of Class A office space, boasting stunning views of Manhattan's skyline.
This 42-story Ely Jacques Kahn design, completed in 1931, blends old-world charm with modern elegance. It boasts a stylish lobby and state-of-the-art elevators, providing comfort, security, and accessibility.
Each office space, ranging from snug to spacious, has high ceilings and modern partitions. Furthermore, beyond your workspace, Times Square, Bryant Park, and diverse dining options sit just around the corner.
Commutes are simple, thanks to nearby major transportation hubs. And the tenant roster? It's as diverse as they come, with companies ranging from tech startups to global powerhouses like WeWork, Air France, and AI front-runner WorkFusion. Plus, Chopt Salad Company is onsite for those midday cravings. 
Sample Listing (Courtesy of The Costar Group)
Available now for lease is the entire 36th floor. Spanning a generous 4,109 square feet, it's all about the details. Inside, you'll find polished concrete floors adding a chic touch. Furthermore, exposed ceilings enhance its loft-like appeal. In addition, the landlord installed glass fronts throughout to create a modern and airy feel. Best of all, occupancy terms are open for negotiation, offering potential tenants the desired flexibility.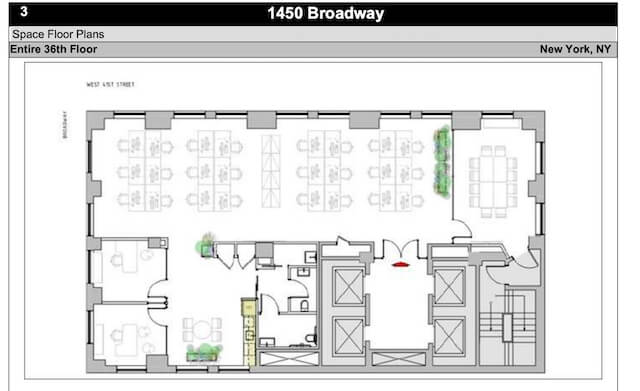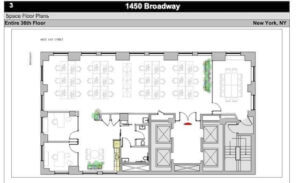 475 Park Avenue South | Murray Hill
475 Park Avenue South is a testament to modern evolution. Erected in 1970 and renovated in 2017 by Pelli Clarke & Partners, this Murray Hill glass-clad tower promises sweeping views of Midtown Manhattan, blending modernity with everyday convenience.
Sprawled across 35 floors, 475 Park Avenue South hosts 465,000 square feet of Class A office space managed meticulously by Cohen Brothers Realty. Inside, expansive windows, a refreshed facade, and a chic lobby designed by AREA Architecture ensure a contemporary feel. Moreover, updated HVAC systems promise comfort year-round, while a covered parking garage adds convenience for commuting tenants.
Murray Hill's prime location means quick access to Midtown's vibrant shopping and dining and the nearby 33rd Street subway station, making daily commutes a breeze.
A mix of top-tier tenants calls 475 Park Avenue South home. Companies like Knotel, Mulberry, and Millennium Alliance sit alongside TD Bank and Mind Gym, creating a diverse business community. Moreover, for that much-needed caffeine fix, there's an onsite Starbucks.
Sample Listing (Courtesy of The Costar Group)
Say hello to this splendid 5,260-square-foot office space on the 30th floor. Abundant natural light floods in through oversized windows, complementing the sweeping views.
Recently pre-built, this suite is well-kept, with possibilities for upgrades or even a cash contribution from the landlord. The layout features ten windowed offices and two internal ones. Additionally, the space has a reception and a pantry for convenience.
Interestingly, there's an adjacent space of 4,750 square feet. This proximity opens up the opportunity for expansion, potentially totaling a generous 10,010 square feet. Thus, your office could grow as your business flourishes.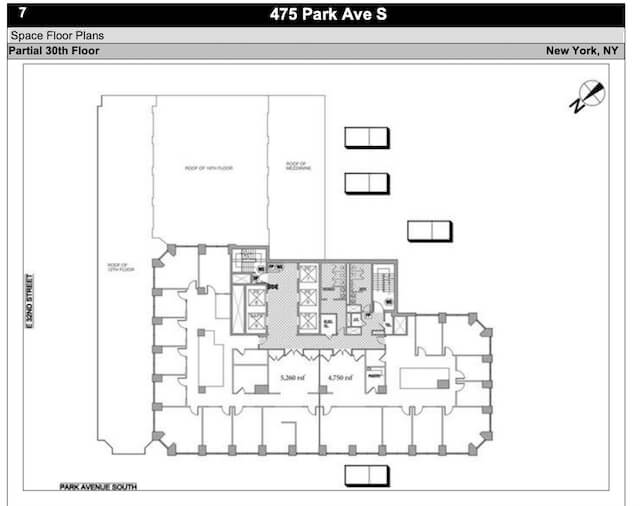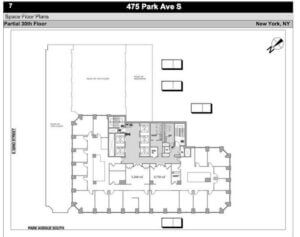 1700 Broadway | Columbus Circle
1700 Broadway stands tall in the always appealing Columbus Circle. Designed by Emery Roth & Sons and constructed in 1968, it houses 660,000 square feet of Class A office space across 42 floors. Rockpoint Group, the property's manager since 2018, has enhanced its prestige through renovations.
The building offers more than just office spaces. Amenities such as a fitness center, conference rooms, and the private 1700 Broadway Club boost productivity and comfort. This exclusive area features a bar, quiet workspaces, meeting rooms, and a rooftop terrace.  
Conveniently located near seven subway lines, 1700 Broadway connects tenants to city-wide attractions. The building's appeal is evident with high-profile tenants like Gensler and CBS, Feingold & Alpert, Harmony Program, and Brandgenuity.  
Sample Listing (Courtesy of The Costar Group)
This top-floor office space generously spans 5,668 square feet. Notably, it opens up to a captivating double-view of Central Park and the Hudson River.
The landlord stands ready to tailor this shell space to your needs, adding a personal touch. Additionally, there's a newly constructed amenity center on the 11th floor. It comes complete with an inviting outdoor terrace, ideal for breaks or informal meetings.
Add to that a recently renovated lobby with destination elevators, enhancing the overall appeal. The best part? It's currently vacant, and lease negotiations are welcome.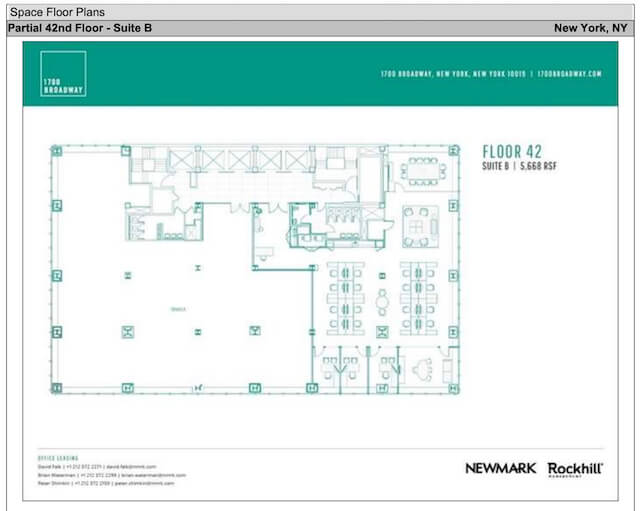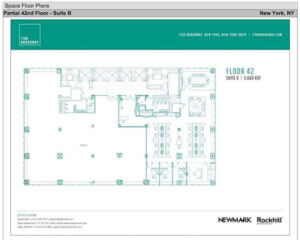 The Key Takeaway
Are you craving a change? Picture this: an office space with views that breathe life into your workday with the inspiring panorama of Midtown Manhattan. Such a setting can turn routine into inspiration, sparking innovation and productivity.
Witness the city's skyline as your dynamic backdrop. Midtown Manhattan's architectural marvels evolve each moment, giving you a workspace far from ordinary.
Surely, this sounds like an inspiring way to close the laptop at the end of the day, no?
In the heart of Manhattan, office spaces with spectacular views await. With just a call or email, we can help you find an ideal location. Reach out to us at Metro Manhattan Office Space at (212) 444-2241, or email us at [email protected].