100 Park Avenue Office Space for Lease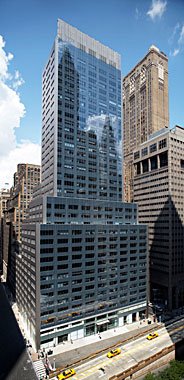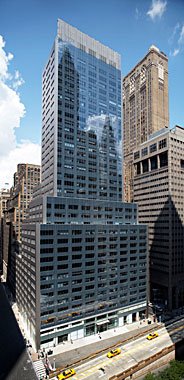 | | | | |
| --- | --- | --- | --- |
| Address | 100 Park Avenue | Class | A |
| Cross Streets | 40th & 41st Streets | Size | 900,000 SF |
| Year built | 1949 | Architect | Kahn & Jacobs |
Description
The office tower located at 100 Park Avenue in Midtown Manhattan was completed back in 1949 with a design by Kahn & Jacobs. The building underwent a $72 million redevelopment in 2008, with renowned architects Moed de Armas and Shannon (MdeAS) at the helm. It became the first building of its type in New York City to install a green roof, and received numerous awards, including the BOMA 360 award. Nowadays the tower houses various high-profile office tenants in industries like law, financial services, and management.
900 KSF of Class A, LEED Gold Office Space
100 Park Avenue incorporates 900,000 square feet of Class A Murray Hill office space across 36 stories, and boasts LEED Gold certification for its sustainability. Owned and managed by SL Green Realty, the property was fully renovated in 2008, adding a new two-story-high atrium lobby, new elevator cabs, and a new state-of-the-art security system, among other upgrades. SL Green also spearheaded the addition of a luxury amenity center featuring conference and meeting space, cafes and lounges, a game room, and a wellness center.
Getting to and from 100 Park Avenue
The office tower at 100 Park Avenue benefits from an excellent location in the heart of Midtown Manhattan, just one block from Grand Central Terminal. Consequently, Amtrak and Metro North trains, as well as several major subway lines, like the 4, 5, 6, and 7 trains, are easily accessible.
Who is renting office space at 100 Park Avenue?
100 Park Avenue is home to a number of big-ticket corporations operating in industries like law, financial services, banking and healthcare. Notable tenants occupying office space in the Midtown Manhattan building include Aetna, Wells Fargo, AECOM, Eaton Vance, DZ Bank, Morgan Creek Capital, and Regus. Retail tenants include the Chopt Salads and 2 Beans restaurants.
How much is the rent price for office space at 100 Park Avenue?
Office asking rents at 100 Park Avenue tend to be on a par with the average found in Midtown Manhattan, which rose above $88 per square foot in 2019. The convenient location close to Grand Central Terminal, coupled with the top-noth amenity package and prestigious tenant roster, make the tower a desirable business address for companies operating in NYC.
Available Spaces
Interested in office space at 100 Park Avenue Office Space for Lease? Contact us today
Listing Location & Nearby Public Transportation
Nearby Transportation
Subway
42nd Street–Grand Central - 4 minutes Walk5th Avenue (7N) - 4 minutes WalkGrand Central - 2 minutes Walk
Bus
East 42nd Street & Park Avenue - 2 minutes Walk5th Avenue & West 44th Street - 6 minutes Walk3rd Avenue & East 42nd Street - 7 minutes Walk5th Avenue & West 42nd Street - 4 minutes WalkMadison Avenue & East 40th Street - 2 minutes Walk
Important information
This listing is presented for illustrative purposes only, it may no longer be available, and is provided merely as an exemplary representation of the types of spaces in a given neighborhood for a given price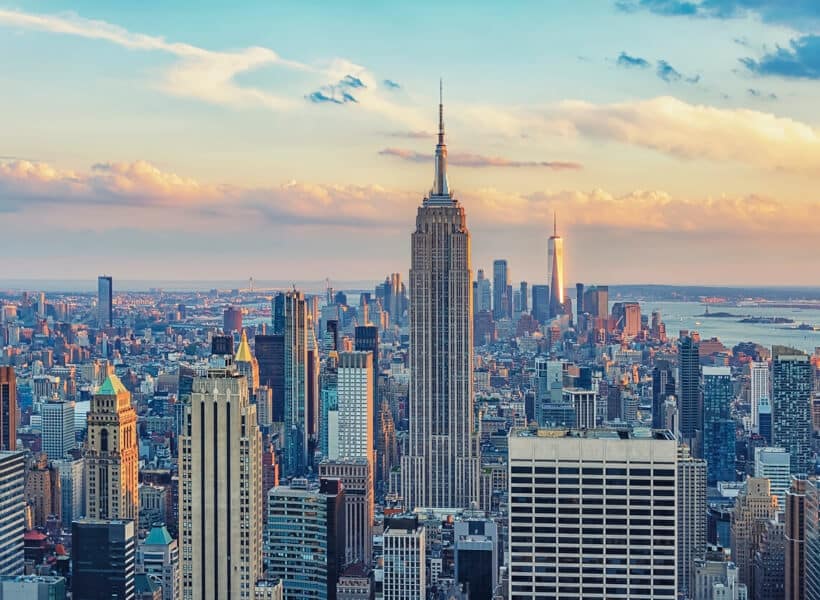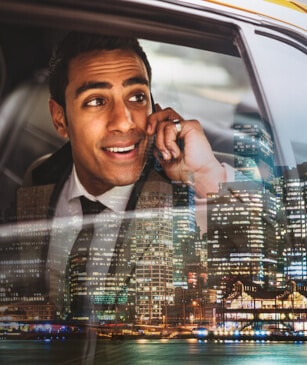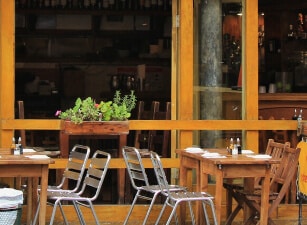 Midtown Manhattan
Midtown Manhattan Neighborhoods Midtown is Manhattan's central hub and its largest and most prominent office market. With roughly 242 million square feet of Midtown office space, there are various options to choose from. Moreover, you have several submarkets to consider in this expansive, diverse area. However, leasing or subletting office space in Midtown Manhattan is not a…
Learn more about Midtown Manhattan
Schedule a Tour
Please select a convenient date for your tour, and one of our colleagues will contact you soon!