SL Green, Manhattan's most prominent landlord, recently closed its first office purchase in four years. The company shelled out $445 million to acquire the Class A Plaza District office tower at 450 Park Avenue from Oxford Properties Group. SL Green had announced its intention to repurchase the trophy office tower in April and finalized the purchase just a couple of months later. 
450 Park Avenue is SL Green's first office purchase in 4 years
SL Green bought the 33-story tower via a joint venture with institutional investors from South Korea and Israel. The company retains a 25.1% interest in the property and will oversee the leasing and management of the property on behalf of this new venture. 
"The international demand to partner with us on the acquisition of 450 Park Avenue demonstrates that New York City continues to maintain its position as one of the most sought-after real estate markets and a haven for long-term capital deployment," Harrison Sitomer, Chief Investment Officer of SL Green, said in a statement. "The acquisition of this world-class asset is a meaningful enhancement to our growing investment management platform." 
The $445 million purchase of 450 Park Avenue was realized with the aid of a $267 million senior mortgage financing provided by Wells Fargo Bank. CBRE's Darcy Stacom, Doug Middleton, and Bill Shanahan consulted on the sale. 
SL Green to invest in new amenity program at 450 Park Avenue
450 Park Avenue was completed in 1972 with a design by renowned architecture firm Emery Roth & Sons. The 33-story building comprises 337,000 square feet of Class A Manhattan office space and retail space and offers sweeping views of Midtown Manhattan and many top-class amenities. Floor plates range from 9,700 to 11,000 square feet, and there's a public plaza with benches, perfect for business lunches and office breaks. SL Green also plans to invest in a new amenity program at 450 Park Avenue, which will provide best-in-class, tailored programs, and services for tenants in the building.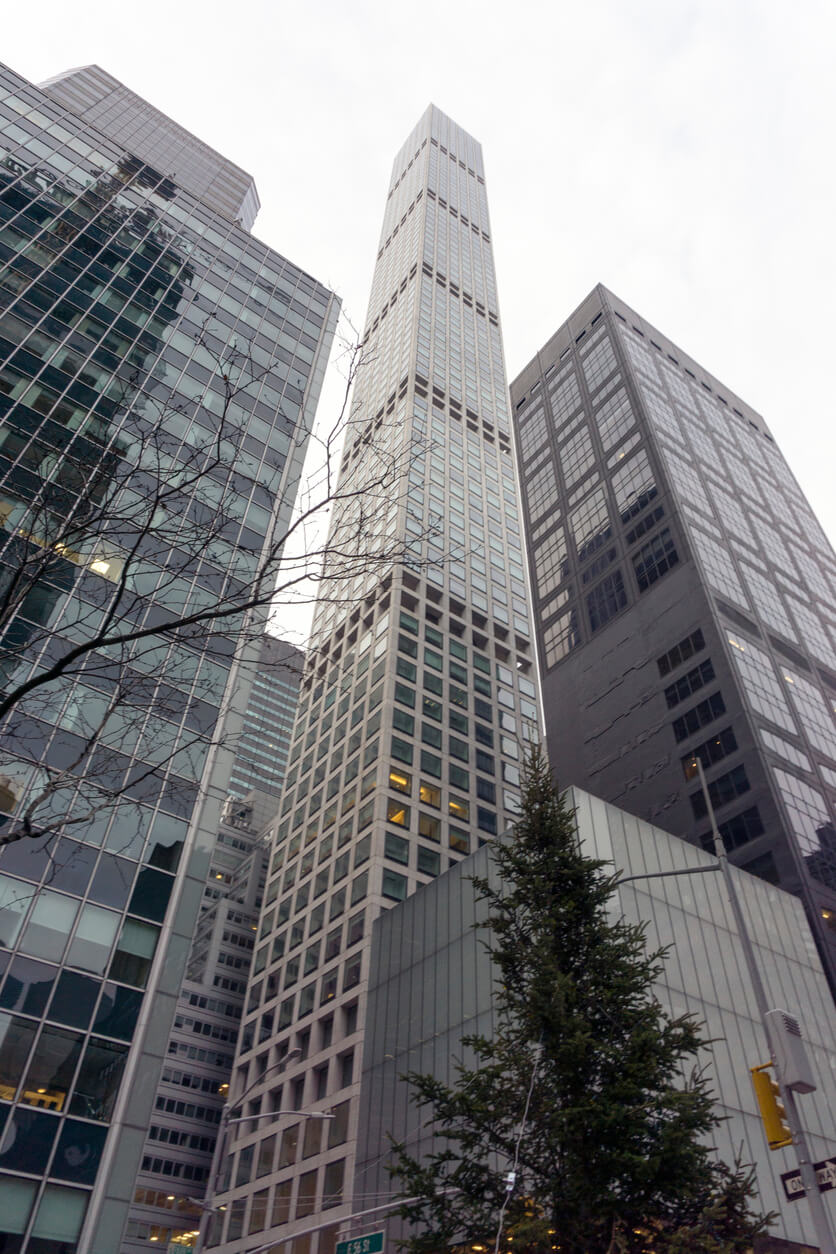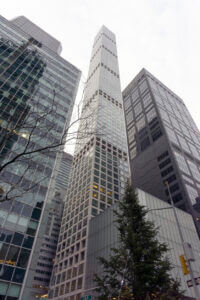 The Class A office tower benefits from an excellent location in the prestigious Plaza District submarket of Midtown Manhattan.
The residential supertall at 432 Park Avenue is to the southwest, while a Turnbull & Asser branch lies to the west. Other neighbors include the Davies Building, 445 Park Avenue, Trump Tower, Sony Tower, the Four Seasons Hotel New York, and the General Motors Building. The excellent location and top-notch amenities come at a steep price: 450 Park Avenue asking office rents hover around $150 per square foot. 
The tower is home to various high-profile tenants, including Once Capital Management, Banco Bradesco, BDT Capital Partners, and Oxford Properties, the real estate arm of the Ontario Municipal Employees Retirement System and the previous owner of the building. 
450 Park Avenue to house Manhattan's first Aston Martin showroom
The prime retail corner of 57th Street and Park Avenue, on the building's ground floor, will soon be home to the first-ever Manhattan showroom by British car manufacturer Aston Martin. The British company will create an 'immersive brand experience' at 450 Park Avenue and showcase one of its $5 million one-off cars. Aston Martin cars are featured heavily in the James Bond movie series, and their limited edition DB5, a replica of Bond's ride in 'Goldfinger,' sells for upwards of $3.7 million. The Vantage roadster model and the new DBX SUV sell for a minimum of $200,000, while the Aston Martin Valkyrie hybrid usually sells for at least $3.5 million. 
The $445 million price tag SL Green paid for 450 Park Avenue makes this one of the most significant office transactions in New York City in 2022. However, it's not the highest 450 Park Avenue has ever fetched. In June 2007, Somerset Partners paid $509 million, or $1,566 per square foot, for 450 Park Avenue. At the time, it was the highest price per square foot ever paid for an office building in the U.S. A few years later, in 2014, Somerset sold the property to Oxford Properties Group for close to $546 million.