You're the head of a thriving design or architecture firm, and your creative team is expanding. You need a versatile space that will foster collaboration and inspiration, reflecting the very essence of your business. SoHo office space, particularly its industrial lofts, could be the answer.
Design and architecture firms face unique workspace challenges. Unlike typical offices, these creative hubs require spacious layouts to accommodate large-format printers, blueprints, and models. SoHo's industrial lofts in one of New York City's most iconic neighborhoods offer roomy, adaptable spaces with abundant natural light, soaring ceilings, and exposed brick walls—perfect for bringing your firm's vision to life.
Once priced out of SoHo, architects and designers now have more budget-friendly opportunities in the neighborhood, thanks to evolving commercial real estate trends, flexible landlords, and incentives like build-out allowances and complimentary rent. However, discovering the ideal loft space requires determination and a keen eye. So, allow this guide to help your path to secure a vibrant, inspiring SoHo workspace tailored to your design or architecture firm's requirements.
What Architects and Designers Want From an Office Space
For architects and designers, finding the ideal office space is a fusion of form and function. Creative minds require an environment that stimulates inspiration while accommodating their unique professional needs. So what are the key factors that make a workspace truly exceptional for design and architecture firms? Let's explore the essential elements.
Location: The Heart of Creativity
Location plays a pivotal role in fueling architects' and designers' creativity. SoHo, the Meatpacking District, and Flatiron are prime examples of neighborhoods that nurture artistic spirits. Thus, these areas boast industrial warehouses transformed into loft-style office spaces that cater to businesses of varying sizes, making them a hot spot for creative enterprises.
Let There Be Light
Natural light is invaluable to design and architecture firms; a dimly lit office won't cut it. So instead, these professionals are drawn to buildings featuring generous floor-to-ceiling windows on upper levels, bathing their workspaces in sunlight, essential for showcasing and developing their projects.
High Ceilings and Open Spaces
Designers and architects thrive in open spaces with high ceilings free of columns. These environments accommodate multiple projects, large equipment, and creative essentials like whiteboards, drawing boards, 3D renderings, and models. Additionally, spacious tables for brainstorming and displaying work are also a must. This open layout allows teams to adapt the space according to each project's demands flexibly.
Balancing Collaboration and Privacy
Though open spaces promote collaboration, design and architecture professionals still need private areas for focused work and client meetings. Landlords often build out these spaces, which tenants can further tailor with dividers, modular furniture, and standing desks. As a result, this strikes the right balance between collaboration and privacy.
Why SoHo Is a Great Fit for Design and Architecture Firms
What makes SoHo a top choice for design and architecture firms seeking the perfect loft space? Rich in history and buzzing with activity, this vibrant neighborhood attracts creative minds across various industries, offering an inspiring environment that fosters innovation.
SoHo's industrial past has left an array of warehouse and factory buildings, which, once converted to office spaces, preserve their original charm and aesthetic. These loft-style offices boast open floor plans, high ceilings, oversized windows, exposed brick, and polished concrete – features that cater to the needs of design and architecture professionals.
Moreover, the neighborhood's casual vibe and lively atmosphere are perfect for young entrepreneurs and creative professionals. With architectural landmarks, shops, restaurants, and art galleries lining the streets, SoHo provides a dynamic backdrop for daily inspiration and networking opportunities. As a hub for design and architecture firms, it encourages connections among like-minded individuals during breaks or leisurely walks.
Lastly, SoHo office space offers the practical advantage of unobstructed sunlight and stunning city views. Unlike areas with towering skyscrapers, businesses in SoHo enjoy well-lit spaces that stimulate creativity and productivity.
Three SoHo Office Buildings for Design & Architecture Tenants
Strolling through SoHo's cobblestone streets, you'll soon realize it's more than just art galleries and upscale boutiques. Instead, this trendy neighborhood has become a hub for design and architecture firms, attracting industry giants like SHoP Architects, OMA, and GRANDE Architecture + Interior Design.
What makes SoHo so alluring? First, diverse SoHo office space caters to firms of all sizes, from cozy sub-2,000-square-foot workspaces to sprawling 75,000-square-foot commercial areas. Second, is SoHo office space is more affordable than other NYC neighborhoods like Grand Central, Hudson Yards, Chelsea, or Flatiron.
Additionally, aesthetics matter, and SoHo delivers unique, loft-style spaces featuring expansive windows, exposed brick, and soaring ceilings—all competitively priced from $60 per square foot. 
Ready to explore? Consider these three prime SoHo office buildings for design and architecture tenants.
594 Broadway
Envision your design or architecture firm nestled in the heart of SoHo, surrounded by innovation and creativity. 594 Broadway, a 250,000-square-foot Class B building, offers the ideal loft spaces to cultivate your creative talents. Spread across 12 floors; this unique property boasts an array of amenities tailored to your industry's needs.
Delight in 17,000-square-foot floor plates, double-insulated tenant-operable windows, abundant natural light, and the convenience of ground-floor retail space. With loft spaces ranging from 587 to 10,524 square feet, 594 Broadway accommodates firms of varying sizes and aspirations.
By choosing 594 Broadway, you'll be in excellent company. Architectural Preservation Studio, the Architectural League of NY, and Asfour Guzy Architects are just a few tenants that have found their creative homes here. Alongside these industry peers, you'll share the building with Nest Seekers, Breather, Staged, and fashion label Desigual.
Sample Listing 
Partial 12th Floor – Suite 1212 (Courtesy of CoStar Group)
Suite 1212 is a spacious 6,604-square-foot Soho loft offering a blend of collaboration, creativity, and productivity for design and architecture firms. Competitively priced at $57/SF, the office space fosters collaboration and productivity with high ceilings, conference rooms, and a shared kitchen. Of course, the abundant natural light and Broadway view are the cherries on top. 
270 Lafayette Street
270 Lafayette Street, a 207,000-square-foot Class B property, is an excellent option for architecture and design firms. Its former factory status provides high ceilings and support for heavy floor loads, creating ideal loft spaces. The building boasts upgraded lobbies and elevators, 24/7 security, and round-the-clock access. Additionally, its proximity to public transportation enhances its appeal.
Spaces range from 950 to 1,812 square feet and host prestigious tenants like Ferguson & Shamamian Architects, Bonetti/Kozerski Architecture, and Wettling Architects.
Sample Listing 
Partial 6th Floor – Suite 602 (Courtesy of CoStar Group)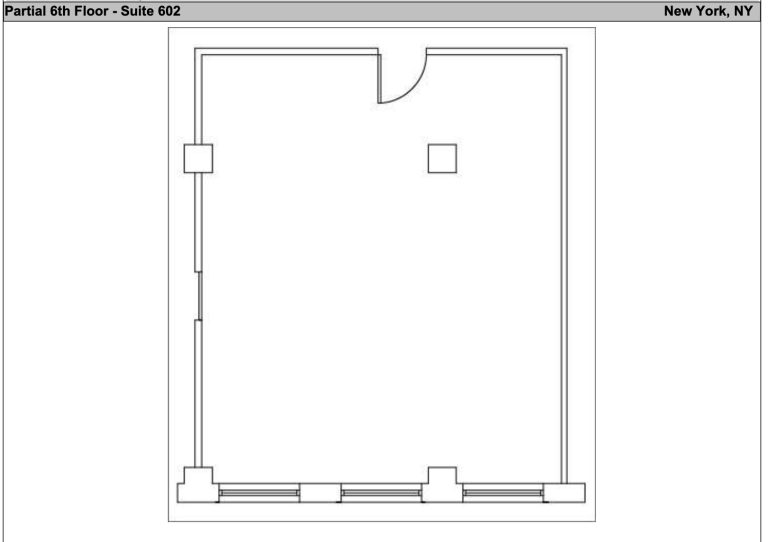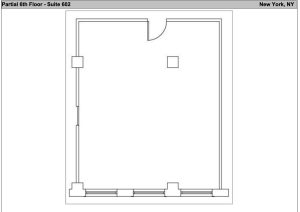 Suite 602 is a 959 SF open-plan loft space fit for design & architecture firms. It features Lafayette St views, partial build-out, and negotiable lease terms – an inspiring and adaptable workspace.
568-578 Broadway
Nestled at 568-578 Broadway, the Prince Building offers an ideal loft space for Design & Architecture Firms. This former manufacturing facility flaunts high ceilings, expansive windows, and open-style floor plates. In addition, the building exudes a creative atmosphere with 354,603 square feet of Class B space, 28,000-square-foot floor plates, and 12-foot-high ceilings.
The recently renovated, attended lobby ensures safety with 24/7 security, while on-site property management adds convenience. In addition, the Equinox fitness center and atrium elevate the work experience for tenants, including Thomas Jim, Peter J. Antinoro Architects, Apostle, Group Nine Media, and SkinCare Lab. Office spaces available range from 2,938 to 15,274 square feet. Finally, its proximity to Broadway-Lafayette station offers seamless access to B, D, F, M, and 6 trains.
Sample Listing 
Partial 4th Floor – Suite 402 (Courtesy of CoStar Group)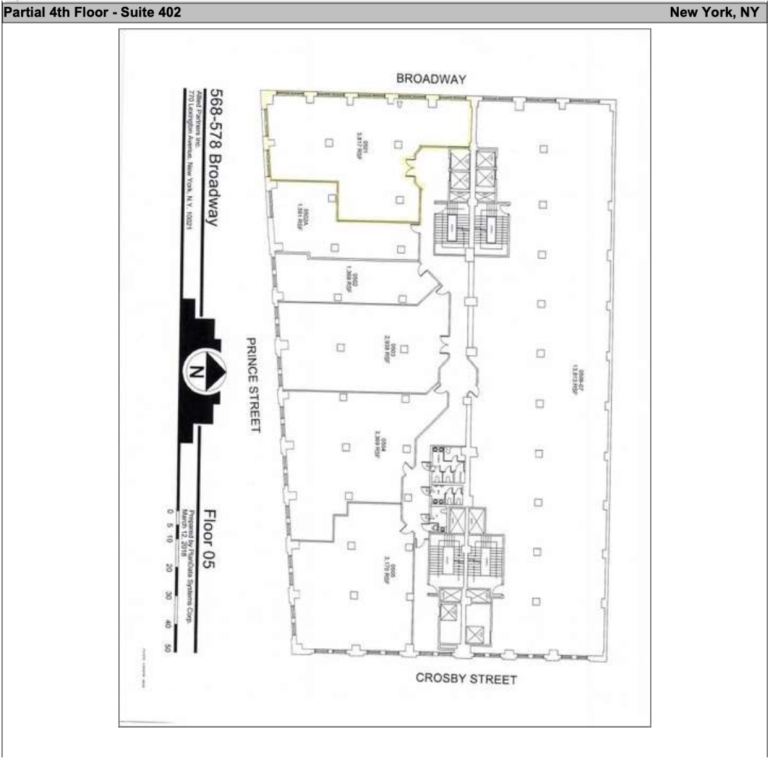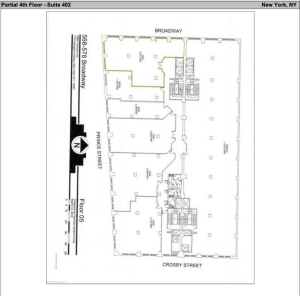 Discover Suite 402, a 1,583 SF loft space tailor-made for design & architecture firms. Seamlessly blending 3 private offices, a welcoming reception area, and sunlit south-facing windows, tenants can secure a lease starting May 2023 with negotiable terms.
The Key Takeaway
Picture your thriving design or architecture firm in the heart of Soho, where industrial loft spaces offer a canvas for your creative vision. These sought-after spaces blend versatility and inspiration with open-concept floor plans, abundant natural light, and a prime location. 
Additionally, as you explore Soho's various office buildings, envision the dynamic environment and daily inspirations that await your team. From cobblestone streets adorned with architectural landmarks to connections with like-minded professionals, the neighborhood presents countless opportunities for networking and creative exploration. 
Keep the key factors outlined in this article in mind as you decide to secure a workspace that meets your professional needs and enriches your team's creative spirit. Then, once you're ready, embrace the possibilities.  
---
Considering a Manhattan location for your architecture or design firm? Find modern, well-equipped spaces tailored to your needs. Contact Metro Manhattan Office Space at (212) 444-2241 or [email protected] for more information.