After roughly six years of construction, 425 Park Avenue is finally complete. This redeveloped and reimagined beauty is Park Avenue's first new full-block office building in 50 years. 
Five decades without a modern office building taking up an entire city block? This fact is shocking, considering the prestige and grandeur of Park Avenue and The Plaza District.
Owned by L&L Holding Company and designed by Pritzker Prize winner Lord Norman Foster of Foster+Partners, the completion of 425 Park makes several statements. 
It first marks an architectural achievement. Midtown Manhattan office space remains outdated and lacks sufficient amenities for the modern worker. 425 Park sets new standards for the office of the future and for workplace design. After all, hedge fund Citadel leased most of the building long before its completion. It also paid $300 per square foot just to rent the top floors- at the time, New York City's highest-ever office rent.
However, 425 Park's most significant statement is the official revival of Midtown Manhattan. The completion of 425 Park Avenue follows in the footsteps of Modern Class A complexes like Hudson Yards and One Vanderbilt. It is the latest opportunity for large companies to lease much-desired modern office space in a revitalized Midtown. 
The Office of the Future
"425 Park Avenue will set new standards for workplace design and provide an enduring landmark that is both of its time and timeless," said building architect Lord Norman Foster.
Even though he's the architect and may have somewhat of a bias, he isn't bluffing. 
It's a new type of labor market in New York City. Although it appears that leverage is starting to teeter back in favor of employers, employees still have the leverage to demand a suitable work-life balance.
According to Traci Palmer, vice president of people and organization capability at software company Citrix, "The rules of work have been fundamentally rewritten."
Harvard Business Review expands on this, saying, "Because employers are hard pressed to attract and retain talent—and to bring that talent onsite—the office of the future must be more inviting." 
Employers have no choice but to do all they can to make modern offices and workspaces as pleasant and attractive as possible. 
Demand exceeds supply for Modern Class A office spaces compared to other New York City commercial real estate asset classes. Tenants desperately flock to trophy office spaces in modern buildings with the finest amenities. 
Take Modern Class A buildings like Hudson Yards and One Vanderbilt, for example.
The glitzy Hudson Yards is roughly 95% leased or sold. Additionally, its physical office occupancy is approximately 60%- nearly 20% higher than Manhattan's average. This figure indicates that employees working at Hudson Yards WANT to be there. 
There's a reason why companies like Meta, Warner Bros., BlackRock, Discovery, Tapestry, Wells Fargo, L'Oreal, and Point 72 are tenants.
Moreover, SL Green's One Vanderbilt attracted tenants, even during COVID's worst months. In September 2020, One Vanderbilt wasn't yet complete but still, 67% leased. By the end of 2020, it was 72% leased, and by October 2021, it was 90%.
But
425 Park Avenue takes the future of in-person work to another dimension. 
The grandiose Park Avenue and The Plaza District have not seen a new complex like 425 Park in decades. It's no wonder it's already 85% leased, with financial services firm and hedge fund Citadel paying a premium for 415,000 of its approximately 670,000 rentable square feet. Or why private-equity firm Hellman & Friedman signed a lease for two entire floors.
425 Park is a referendum on what workers want in 2022 and what employers have to do to attract and retain them. While many workers, especially in Midtown, are stuck in outdated office towers from the 1930s and 40s, properties like 425 Park may significantly appeal to large companies with leases about to expire in these older buildings.
Whether a company is in financial services, law, or tech, it doesn't matter. They will crave office space in a building like this. 
Even from a distance, you can sense that 425 Park Avenue offers something new and different. Three 200-foot concrete fins dot the New York City skyline with bright LEDs lights. 
Once you enter the triple-height lobby, you can further see the appeal. There are high ceilings and floor-to-ceiling glass windows. Furthermore, floor plans are also triple-height diagrid floors and are virtually column-free. 
In addition, there's a private 52-space garage and a lounge for chauffeurs. Chef Jean-Georges Vongerichten, famous for launching the Seaport District's Tin Building food-and-restaurant complex, will also open a two-floor restaurant.
The Diagrid Club also offers tenants collaborative space and world-class food and beverages. Furthermore, indoor and outdoor gardens provide workers with relaxing spaces to socialize.
The cherry on top is the sweeping views of Midtown and Central Park.
However, beyond the amenities, 425 Park is LEED Gold BD+C certified and New York City's first-ever WELL-certified building.
Available Space at 425 Park 
Although Citadel took a big chunk of available office space at 425 Park Avenue, there's still attractive space available. Per Costar, below are three different floor plans representing some of the best options.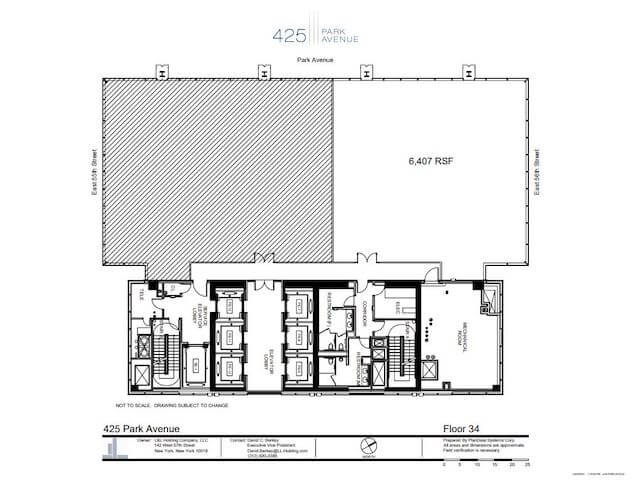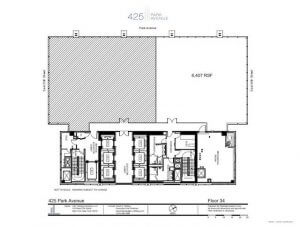 Floor: Partial 34th
SF: 6,407
Rent: $225/SF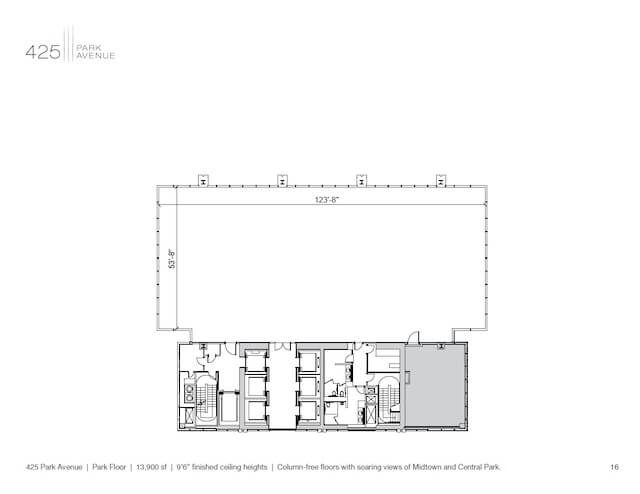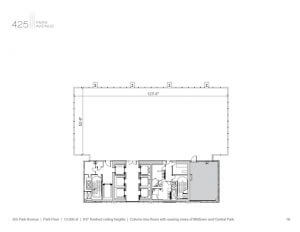 Floor: Entire 28th, Entire 29th, Entire 32nd, Entire 33rd, Entire 39th, Entire 40th
SF: 13,900
Rent: Depends on the floor. The 28th and 29th cost $205/SF, 32nd and 33rd $215/SF, 39th $230/SF, and the 40th $235/SF.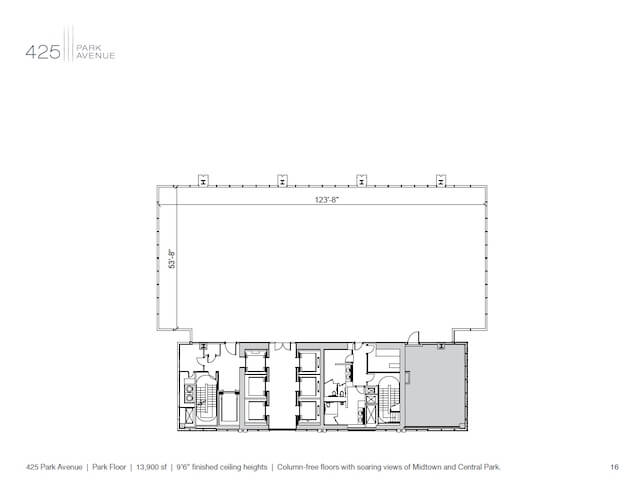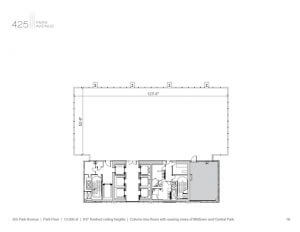 Floor: Entire 41st
SF: 13,900
Rent: $245/SF
Conclusion: 425 Park Makes Midtown's Revival Official
During the lockdown days of the pandemic, it looked like Midtown Manhattan was dead and never coming back. Prime office buildings like the Time Life building sat 90% empty, as employees sat unemployed or working remotely.
The financial crisis didn't even deliver a knockout blow quite like that.
Park Avenue was not immune and lost some big tenants. 
However, today is a new day. 
According to the NY Post, 425 Park Avenue serves as a "bellwether for the future of Park Avenue." 
In other words, it is not only a sign of how the future of work could look. It is just as much a sign that Midtown is coming back.
Yes, as recession risks mount, the labor market and New York City commercial real estate could feel the effects. But the completion of 425 Park again shows that the foundation of Midtown Manhattan's revival is a "flight to quality." 
There is a voracious demand for Modern Class A office space in Midtown Manhattan. Properties like 425 Park, Hudson Yards, and One Vanderbilt are valuable additions. Yet Midtown still lacks sufficient Class A office space for today's employees. The ease of leasing these modern trophy buildings and the premium many tenants pay reflect this. 
Workers will not return to the office if commuting to a dated office from before the Eisenhower presidency.
Whether a company is in financial services, law, or tech, it doesn't matter. They may want to take note if stuck in an older office with a soon-to-expire lease. 425 Park Avenue is Midtown and The Plaza District's new crown jewel. Bigger things could come from here.