Grand Central Station is more than a historic landmark; it's also a hub of business activity, appealing to firms of all kinds due to its prime location and excellent connectivity. However, finding appropriate office space for smaller enterprises, such as startups, medical offices, law firms, and creative agencies, can take time and effort.
However, here's the good news. We've sifted through the listings to bring you five office spaces that are less than 1,000 square feet. These offices for rent near Grand Central offer a blend of location, compactness, and character.
So, let's get straight to it. We've compiled this list in no specific order to make your search easier.
1. 501 Fifth Avenue, Partial 16th Floor
Of our list of offices for rent near Grand Central, consider this space on the 16th floor of 501 Fifth Avenue. This 723 square feet petite but potent workspace offers many opportunities for just $50 per square foot. It currently boasts two rooms but provides the flexibility for modifications, tailoring the space to your needs.
This office sits across from the New York City Public Library and is just a stone's throw away from Times Square. Moreover, the building has many amenities, including a digital directory, an inviting lobby, and efficient elevators to whisk you to your workspace. Furthermore, reliability comes from round-the-clock concierge service and an onsite landlord and property management team.
Your commute? Easy. Grand Central Terminal and the Times Square/Port Authority Bus Terminal station are within a quick, 10-minute walk.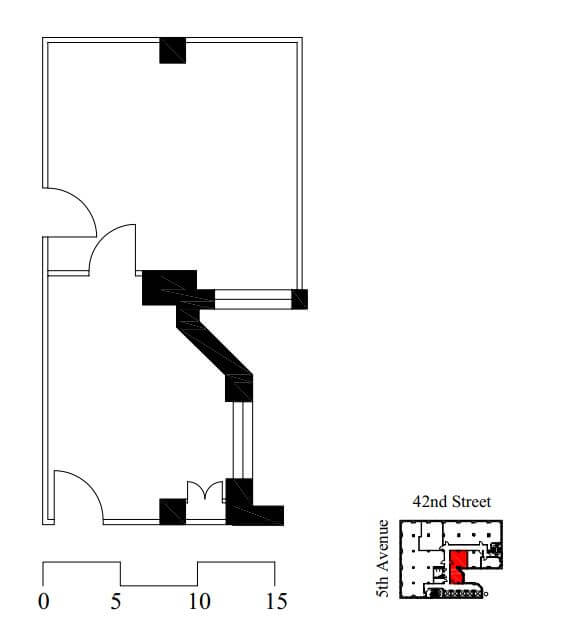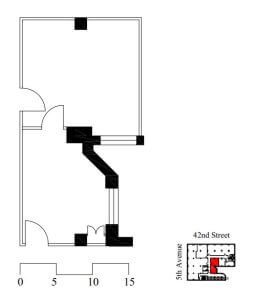 (Courtesy of The Co-Star Group)
2. 420 Lexington Avenue, Partial 25th Floor
This office space on the 25th floor of 420 Lexington Avenue offers 776 square feet of prime real estate. It comes move-in ready at $65 per square foot, with two windowed offices and a reception area.
In addition, 420 Lexington offers "Graybar19", an exclusive amenity center. A shared conference center, comfy lounge seating, and an outdoor meeting set the stage for creative brainstorming, client meetings, or a well-deserved coffee break. Moreover, other amenities include a refurbished lobby, elevators, bathrooms, operable windows, and tenant-controlled HVAC. What's more, it's earned Wired and Energy Star certifications and a LEED Gold rating for energy efficiency.
Let's also talk about connectivity. With direct access to Grand Central, this location makes commuting hassle-free. Completed in 1927, it was an integral part of 'Terminal City' and still holds a public passageway to Grand Central Station.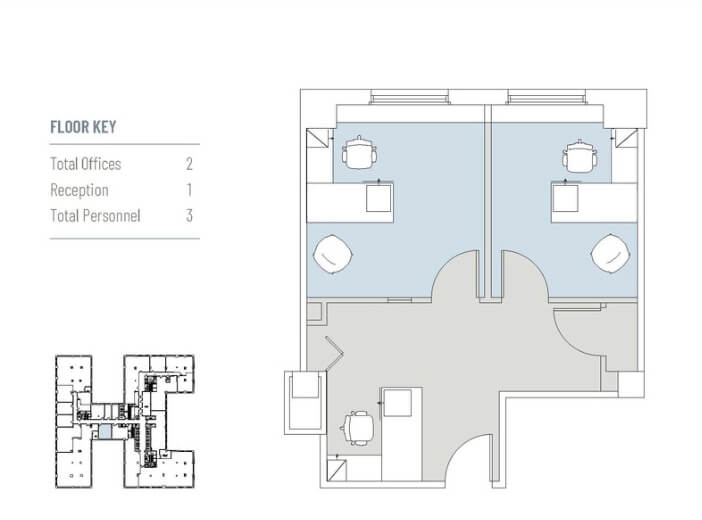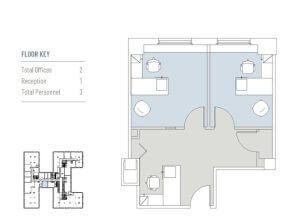 (Courtesy of The Co-Star Group)
3. 551 Fifth Avenue, Partial 5th Floor
This 1,117 square feet office space on the 5th floor of 551 Fifth Avenue could be your next workspace. At $55 per square foot, you can accommodate your team in a space with a private office, an open area for ten, and a pantry to keep those coffee breaks flowing.
This Art Deco masterpiece, constructed in 1927, impressively regained its original charm through a significant renovation in the early '90s. Notably, this restoration earned the property the coveted BOMA 1994-1995 Historic Building of the Year award. Now, as a testament to its enduring allure and significance, it proudly features on the National Register of Historic Places.
However, let's be clear; this place isn't all about history. With a full-scale renovation, the 38-story tower is ready for modern businesses. An updated lobby welcomes visitors while contemporary elevators zip between floors. Other perks? Think of 24/7 access, car charging stations, and onsite restaurants. 
Of course, the location is a winner too. You're smack in the middle of Midtown, with Grand Central Station practically at your doorstep. You're also close to Bryant Park for additional subway options and outdoor space for breaks.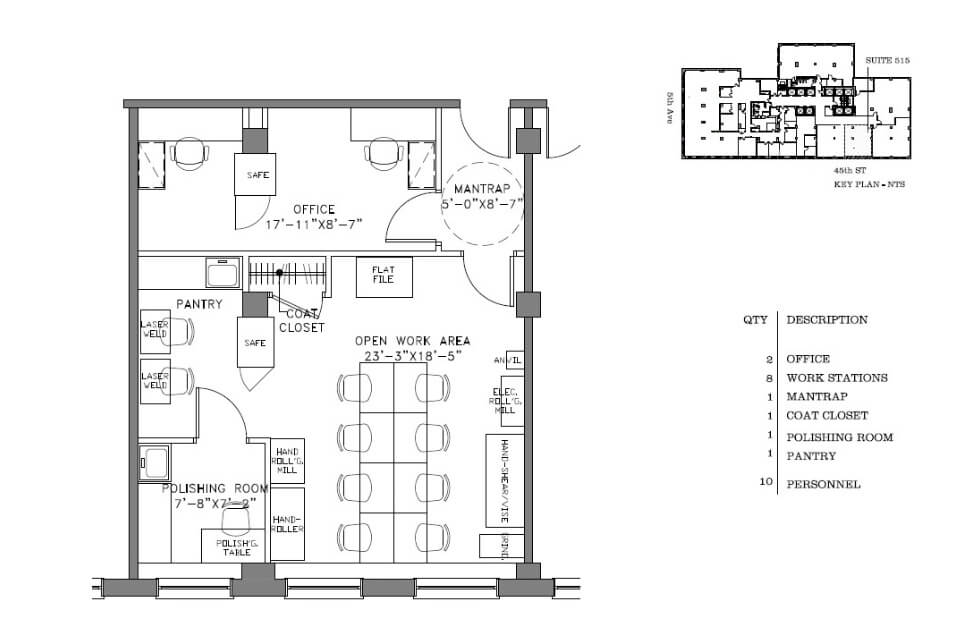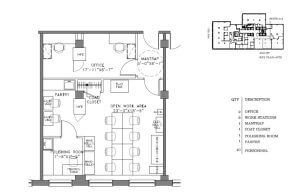 (Courtesy of The Co-Star Group)
4. 18 East 41st Street, Partial 16 Floor
This 1,181-square-foot office space on the 16th floor of 18 East 41st Street is a notable standout among offices for rent near Grand Central. Priced at $48 per square foot, it could serve as your next corporate headquarters. You'll find a well-lit office and a spacious bullpen within this vibrant corner unit. Moreover, you can negotiate additional offices, making it an even more enticing prospect.
Developed by George & Edward Blum in 1914, this 20-story building towers 252 feet high in Midtown Manhattan. Flanked by Fifth and Madison Avenues, it's a quick stroll away from Grand Central Terminal and Bryant Park, among other Midtown hotspots.
The amenities are as impressive as its location. Every detail is handled, from the 24-hour doorman who greets visitors to the concierge who attends to your needs. There's a fitness center for those energy-boosting workouts, a rooftop terrace for breezy lunches, and a bike room for the eco-conscious commuter. The added convenience of a conference center and parking garage puts it a notch above the rest.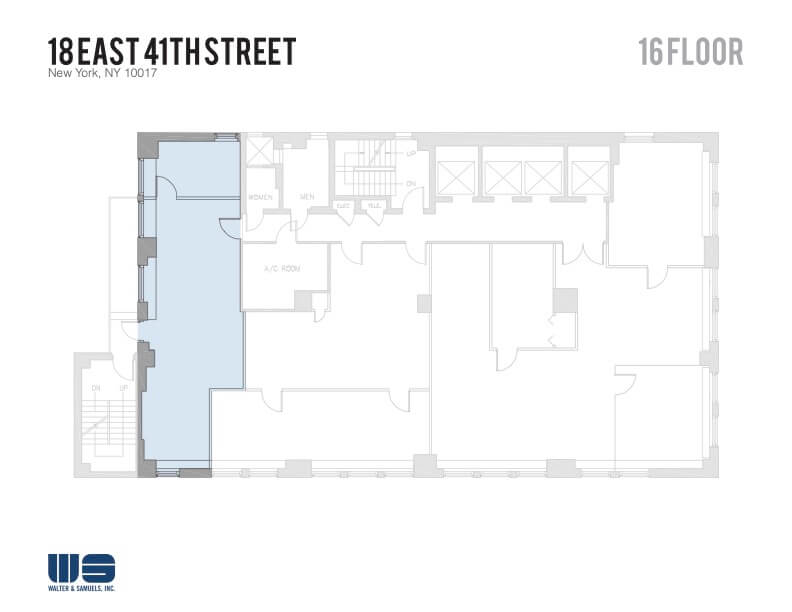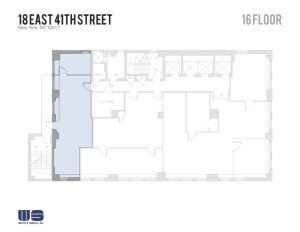 (Courtesy of The Co-Star Group)
5. 295 Madison Avenue, #925
Introducing 295 Madison Avenue #925, a fully-built, wired, and furnished office setup. Spanning 1,440 square feet, with asking prices in the mid $50s, it represents a unique opportunity among offices for rent near Grand Central.
Constructed in 1928, the 22-story 295 Madison is a recognizable element of Manhattan's Murray Hill neighborhood. The building's position at the corner of East 41st Street and Madison Avenue is convenient to Grand Central Terminal. However, as a bonus, you'll find landmarks such as the Empire State Building, Rockefeller Center, and the Chrysler Building within walking distance.
Additionally, this space boasts top-tier amenities that enhance both convenience and productivity. Round-the-clock security, onsite parking, and concierge services streamline your workday, tackling everything from reservation-making to package delivery. The equipped business lounge and modern conference rooms boost productivity. In addition, the gym, accessible during business hours, allows for energizing workout breaks. Finally, you can effortlessly handle your everyday tasks in one location with cafeteria services catering to all meals, a 24/7 Starbucks in the lobby, and onsite dry cleaning and mail services.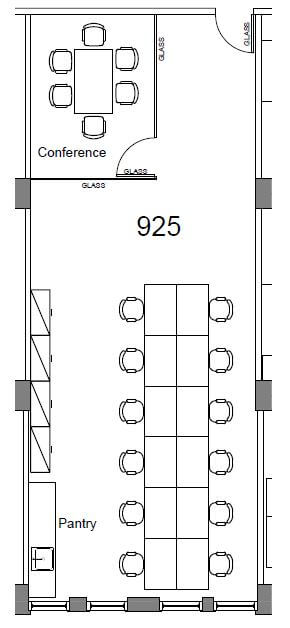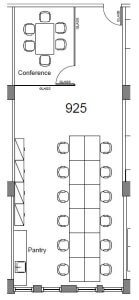 (Courtesy of The Co-Star Group)
The Key Takeaway
We've meticulously selected five unique office spaces for rent near Grand Central, each merging location, functionality, and character in perfect harmony. Whether you're a burgeoning startup, a creative agency, or a law firm, these compact yet amenity-rich offices provide an optimal mix of comfort and connectivity. Thus, if you're strategizing your next move within the dynamic Manhattan business scene, you can rest assured that the perfect office space awaits you among these carefully curated choices.
Are you considering a small office near Grand Central Station for your business? Contact us, and we can help you find a worthwhile space. Call Metro Manhattan Office Space at (212) 444-2241 or email us at [email protected].