Imagine your business flourishing in a Columbus Circle office space, a prime location for businesses of all shapes and sizes. Nestled in Midtown Manhattan, this vibrant, historically rich hub boasts a variety of commercial real estate options, surrounded by easy access to landmarks like Central Park, The Metropolitan Opera, and Carnegie Hall.
Moreover, the neighborhood's allure extends beyond its office buildings, enticing tenants with upscale restaurants like the Russian Tea Room, perfect for client meetings or team celebrations. Furthermore, Columbus Circle's prime location and seamless connectivity, with the 59th Street subway station steps away, make daily commutes enjoyable and hassle-free. Particularly for residents in the Upper West Side who can walk to work should they so choose.
This article will guide you through the best buildings to rent Columbus Circle office space, ensuring your business finds its perfect home in the heart of New York City. So, without further ado, let's explore.
What Are the Best Office Buildings in Columbus Circle, and Why?
When seeking out Columbus Circle office space, first consider your business's unique needs. For example, law firms may prioritize private, soundproofed meeting rooms for confidential client discussions. On the other hand, fitness studios may seek large, open spaces with high ceilings and advanced HVAC systems.
What is indisputable, however, is that in terms of commercial real estate, Columbus Circle has a much better choice of modern office buildings than say  Grand Central or Times Square. You will notice many of the buildings were constructed in the 1980s, 90s, 2000s
Below you'll find a curated list of many prime Columbus Circle office buildings, each catering to various tenant requirements.
Deutsche Bank Center
Immerse yourself in the Deutsche Bank Center, a 55-story Class A mixed-use building ideal for businesses seeking 15,000 sf or more of Columbus Circle office space. Designed by David Childs and developed by Related Companies, it served as Time Warner's headquarters before Deutsche Bank became the anchor tenant in 2021.
The center offers 1.1 million square feet of prestigious office space alongside 2.8 million square feet of residential, retail, and hotel space. In addition, tenants can enjoy the Shops at Columbus Circle Mall, Jazz at Lincoln Center, a Whole Foods store, residential condominiums, and the luxurious Mandarin Oriental Hotel. Key amenities include Central Park views, a 10th-floor outdoor terrace, and 500 indoor parking spaces.
Easily accessible, the 59th Street subway station also sits beneath the property, providing access to multiple subway lines and buses.
As home to high-profile tenants like CNN, Amazon, and Related, the Deutsche Bank Center is a prestigious address for businesses seeking unparalleled Columbus Circle office space.
Sample Listing (Courtesy of VTS)
​​Partial 20th Floor, Suite 2001
Suite 2001, available now for direct lease, spans 13,575 sq ft and has an estimated capacity of 90 people. It comes in pre-existing condition and has two leasing options. Option A provides a 13,575 sq ft office space, while Option B comes divisible with 6,030 sq ft and 7,545 sq ft options.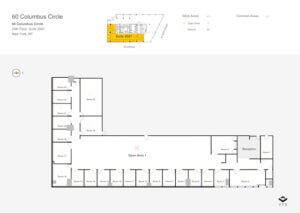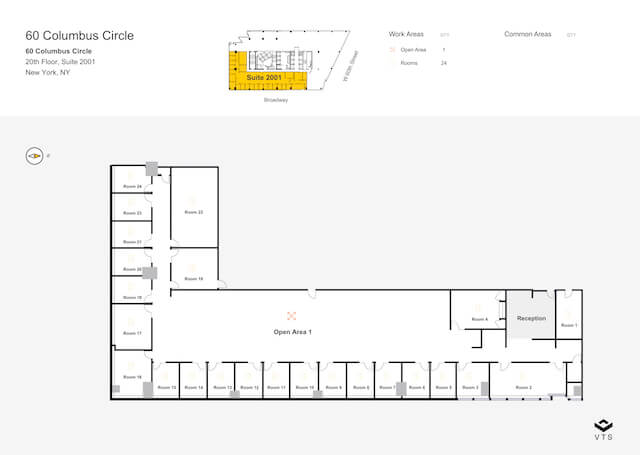 1776 Broadway
At 1776 Broadway, businesses will find an impressive 116,443-square-foot, Class A building, perfect for Columbus Circle office space. This 25-story tower, designed by Joseph Gilbert, was built in 1927 and renovated in 2019. Its central location offers Central Park, Broadway, and public transportation access.
Tenants can choose from spaces ranging from 900 sq ft, suitable for healthcare or legal professionals, to 5,600-square-foot full-floor spaces. Rent terms vary from short-term to long-term (3-7 years), with amenities such as on-site property management, large windows, exposed ceilings, natural light, Manhattan views, and state-of-the-art security. In addition, recent $20 million capital improvements have enhanced the lobby, facade, and common areas.
Current tenants include HearUSA, Yung Chin, Clarion Research, OptionMetrics, Shatzkin & Mayer, PJM & Sons, and Nordstrom. The landlord can negotiate build-outs and improvements, but they primarily deliver spaces in white box condition.
Sample Listing (Courtesy of Loopnet) 
Suite 1900 is a spacious 2,840-5,981 sq ft office available now for a 5-10 year lease, with rental rates upon request. The shell space features an open floor plan layout, elevator access, private restrooms, a corner location, and exposed ceilings. Natural light floods the area through its four-sided windows, providing stunning views of the Hudson River, Times Square into Broadway, Columbus Circle, and Lincoln Center. The landlord also includes cleaning in the rent.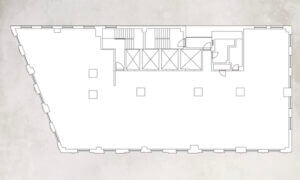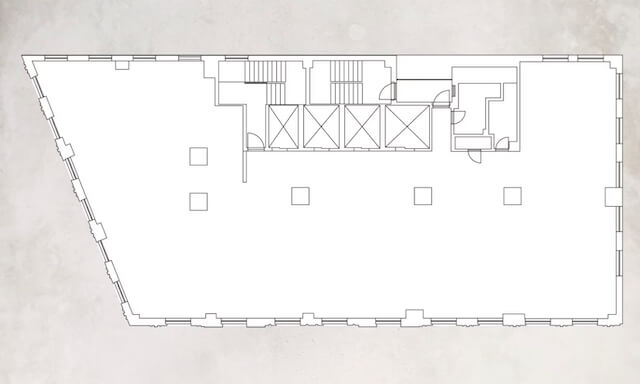 200 West 57th Street
200 West 57th Street, a Cass Gilbert creation, stands proudly as a sought-after destination for Columbus Circle office space. Originally a residential property in 1916, it transitioned to commercial office and medical spaces in 1964 and underwent renovations in 2007. The Feil Organization acquired the Class B, 135,000-square-foot building in 2015 and invested $2 million to refresh the lobby, hallways, common areas, and offices.
Tenants enjoy perks like an on-site conference center, concierge service, and direct access to public transportation. Office units boast private bathrooms and tenant-controlled air conditioning systems. Furthermore, the building is within walking distance of Rockefeller Center, Central Park, and Lincoln Center.
Fondly known as Rodin Studios, 200 West 57th Street is a hub for healthcare industry tenants like Integrative Medical NY, Manhattan Labs, Mount Sinai, Valley Health System, and St. Luke's Roosevelt Hospital. In addition, retailers such as Trattoria Dell'Arte, Fresh & Company, and FedEx also call this building home.
Sample Listing (Courtesy of Loopnet) 
Suite 403 is a versatile 2,545 SF office space, perfect for office and medical use. It is located on the 4th floor and has 5 private offices and a private restroom. The landlord is open to building-to-cap or providing a generous tenant improvement allowance. With a $64.00 USD/SF/YR rental rate and a negotiable lease term, this shell space is available for immediate occupancy. The listed rate may not cover certain utilities, building services, or property expenses.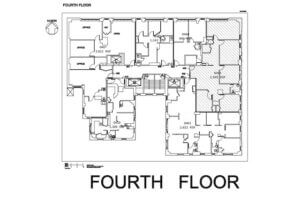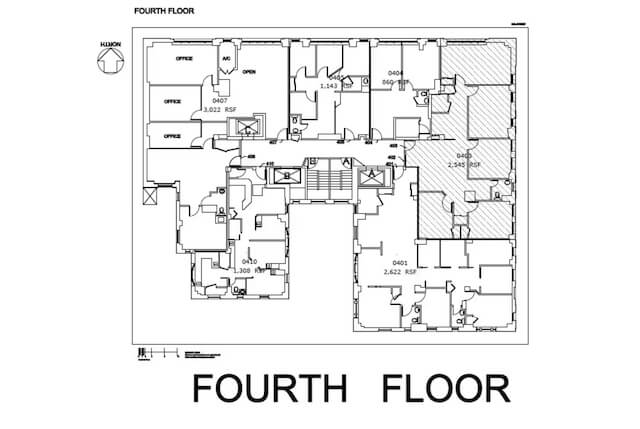 250 West 57th Street
A premier choice for Columbus Circle office space is 250 West 57th Street, the historic Fisk Tire Building. This structure offers 535,665 square feet of Class A office and ground-floor retail space. Designed by Carèrre & Hastings, Shreve, Lamb & Blake, the building was completed in 1921. Then, in 2017, Gensler extensively renovated the structure, designing a new lobby, restoring the facade, and adding new windows.
Conveniently situated near Carnegie Hall and Deutsche Bank Center, this location provides direct in-building access to the subway station. It accommodates various business sizes with versatile floor plates ranging from 9,000 to 27,000 square feet.
Esteemed tenants include Mount Sinai, Universal Music Group, Reis Cooper, and CookFox Architects. Additionally, on-site retailers such as Starbucks, Duane Reade, and AT&T contribute to an exceptional work environment.
Sample Listing (Courtesy of VTS)
Partial 25th Floor, Suite 2507
Suite 2507, a 4,726 sq ft office space on the partial 25th floor, is currently available for direct lease. With an estimated capacity of 31 people, this pre-existing space is ready for immediate occupancy.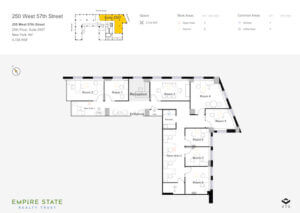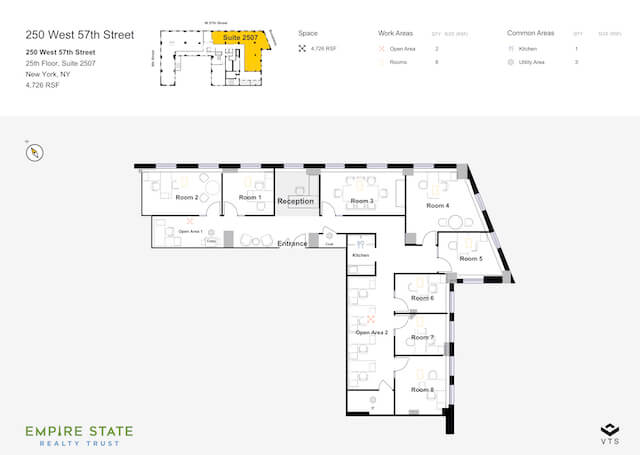 156 West 56th Street (CitySpire)
CitySpire, a striking Class A office tower at 156 West 56th Street, offers prime Columbus Circle office space. Designed by Helmut Jahn and completed in 1987, this 369,800-square-foot mixed-use skyscraper boasts office, residential, and showroom spaces. Tishman Speyer manages the property, which features 23 commercial floors, 52 residential floors, and ground-level retail.
With office floor plates ranging from 15,000 to 20,000 square feet, CitySpire provides a wealth of amenities. These include an on-site conference room, daycare, event space, 24/7 security, and a 100-car parking garage. In addition, a 2004 renovation added a 50,000-square-foot showroom.
Noteworthy tenants include Honda, National Public Media, and FTI Consulting. Moreover, the Carnegie Club and Dean & DeLuca occupy retail spaces, further enhancing the building's appeal for businesses seeking Columbus Circle office space.
Sample Listing (Courtesy of VTS)
Partial 7th Floor, Suite 7th floor
This 7th-floor suite is a turnkey office space spanning 4,494 sq ft. Now available for sublease, it's ready for immediate move-in and has a 30-person capacity.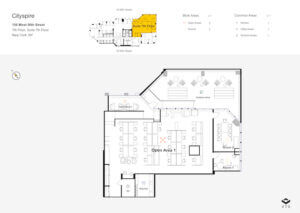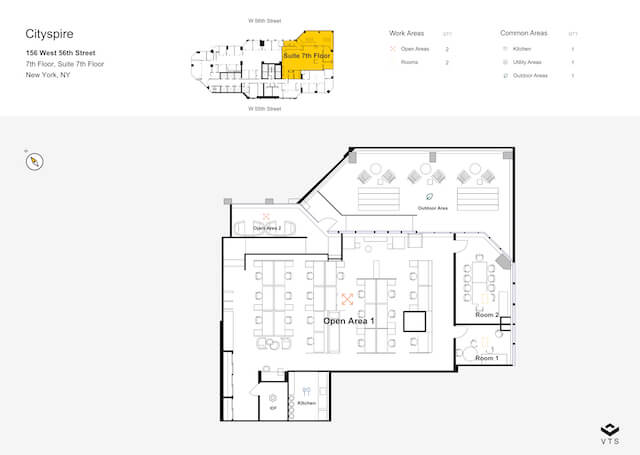 Other Buildings Offering Columbus Circle Office Space for Lease
If the above listings don't fit the bill, consider these other options grouped by specific criteria.
The 5 Largest Office Buildings in Columbus Circle
1633 Broadway | 2,499,105 square feet
1271 Avenue of the Americas | 2,100,000 square feet
1301-1315 Avenue of the Americas | 2,075,670 square feet
1345 Avenue of the Americas | 1,998,994 square feet
One Columbus Circle | 1,706,000 square feet
The 5 Most Affordable Class B Office Buildings in Columbus Circle
1740 Broadway
254 Broadway
5 Columbus Circle Office Buildings Offering Small Office Space for Lease
106 West 56th Street
1633 Paramount Plaza
152 West 57th Street | Carnegie Tower
156 West 56th Street | CitySpire
1697 Broadway | Ed Sullivan Theater Building
Boutique Office Buildings in Columbus Circle
1674 Broadway | 51,300 square feet
438 West 51st Street | 36,000 square feet
1881-1885 Broadway | 24,565 square feet
234 West 56th Street | 9,200 square feet
5 Columbus Circle Office Buildings with Coworking Space for Rent
1345 Avenue of the Americas | Virgo Business Centers
156 West 56th Street | Studio by Tishman Speyer
142 West 57th Street | WeWork
3 Columbus Circle | Emerge 212
5 Columbus Circle | Bevmax Office Centers
The Key Takeaway 
Choosing a neighborhood for your corporate headquarters is a key decision for your company, but Columbus Circle has a lot going for it.
Thus, as you weigh your choices, consider each building's unique offerings and advantages. Remarkable amenities, prime location, or striking architecture could be the deciding factors. After all, Columbus Circle has something special for every business.
So, once you stroll through this neighborhood, picture your team thriving. With plenty of options available, no matter what type of business you are, Columbus Circle office space offers something that can align with any vision.
If you need commercial office space in Columbus Circle, call  Metro Manhattan Office Space at (212) 444-2241 or use our contact form. We will assist you in finding suitable options that meet your company's commercial office space needs.