The New York City commercial real estate market has had a pretty good year. Though asking rents and commercial property prices continue to rise, companies seem undeterred, committed to finding quality space in one of the most thriving business districts in the world. Developers are working hard to keep up with the demand for NYC office space, from building ground-up developments in areas like Hudson Yards to taking on redevelopment or adaptive reuse projects in neighborhoods like Chelsea or Brooklyn's Williamsburg.
When it comes to commercial office sales, the market has kept quite busy during 2019, with investors shelling out millions and millions of dollars for trophy office assets in bustling business corridors. Sure, there are no more Chinese investors snagging up high-rises in the heart of Manhattan, but the market seems to be faring quite well without them. Investor appetite is high, and not only in Manhattan, but in Brooklyn, Queens and the Bronx, too. Development is getting intense in Long Island City, for example, thanks to Amazon, which placed Queens on every investor's map. Major players like Google and Facebook continue to expand their presence in the city, signaling to investors that the tech industry is thriving in NYC.
As the year comes to an end, we thought we'd round up the 50 biggest office transactions to close in 2019, to get a better picture of where investors are placing their bets. Our research is based on Rolling Sales data from the NYC Department of Finance, which has published all office sales to close in the city from January through October 2019. Check out the full list below, and keep reading for some highlights.
Manhattan Ends 2019 on a High Note — $9B High
Unsurprisingly, Manhattan is still king when it comes to major office sales in New York City. Companies of all sizes are eager to snag a coveted Manhattan business address, and investors give no second thought to betting on the market's appeal. As a result, 40 out of the 50 office deals on our list closed in Manhattan, for a combined dollar volume of $9.25 billion.
What's more, the first 23 sales on our list all closed in Manhattan, led by the $2.15 billion sale-leaseback of 30 Hudson Yards. WarnerMedia sold their space to Related Companies, while continuing to lease 1.5 million square feet of office space in the building. Related partnered with Allianz on the deal, and reportedly financed the acquisition with the help of a $1.4 billion CMBS loan from Deutsche Bank, Goldman Sachs and Wells Fargo.
Coming in at number 2 – and 3 – on our list is the Coca-Cola Building, otherwise known as 711 Fifth Avenue. The Central Midtown office building made the news twice this year, as it changed hands twice in the same quarter. First, The Coca-Cola Company sold the building to Nightingale Group and Wafra Capital Partners for $909 million in August. Then, in an unusual twist, the new owners sold it to a partnership between SHVO and Bilgili Group in September, for an even higher amount of $937 million. It's not too often that a trophy office building sells twice in two months, for such a large amount, even in Manhattan.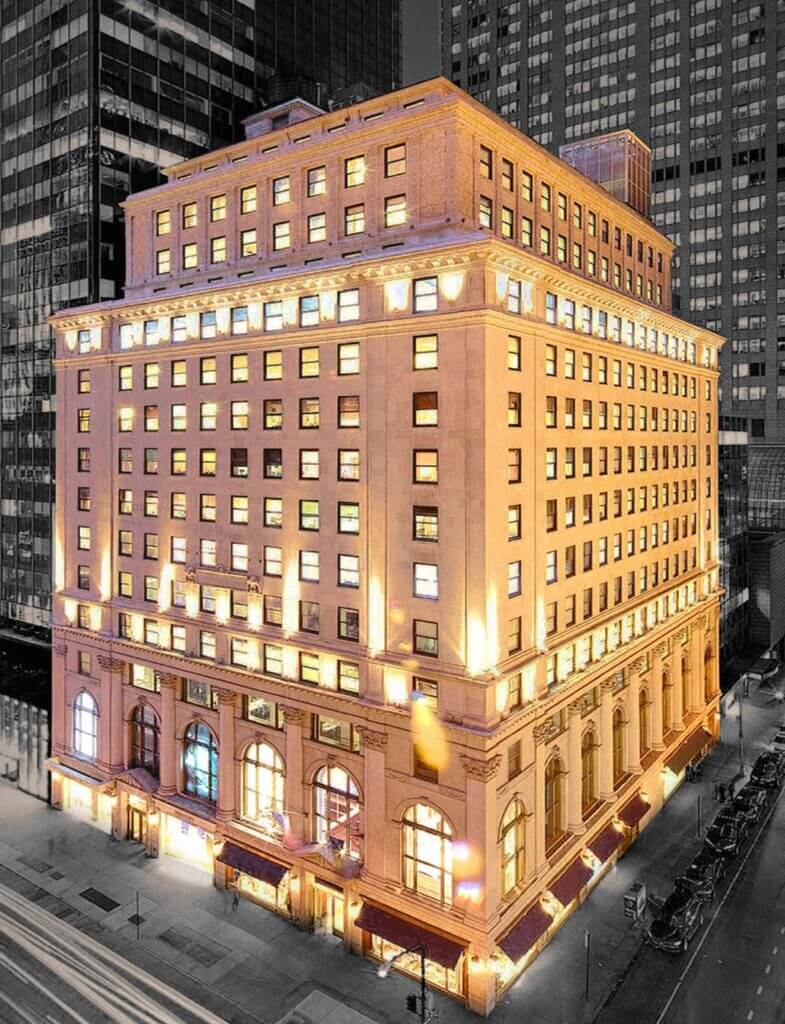 Another notable sale in 2019 was Google's $592 million purchase of 450 West 15th Street from Jamestown in May. The Chelsea office building, also known as the Milk Studios Building, will house Google employees in a location just one block away from the tech company's headquarters. The former industrial building, which housed Milk Studios since 1998, is also home to Giorgio Armani and Tod's, and is conveniently located at the border between Chelsea and the Meatpacking District, appealing to both tech companies and businesses in the fashion industry.
The Bronx, Home to the Biggest 2019 Office Sale Outside Manhattan
The first 23 entries on our list of 50 NYC office sales all closed in Manhattan. However, the 24th transaction on our list closed in the Bronx, at 890-938 Garrison Avenue in Hunts Point. iStar, via its Safehold REIT, paid $64.5 million to acquire the ground lease at the BankNote Building, from Madison Marquette.
The 400,000-square-foot office and retail complex was completed in 1909 and served as the headquarters of The American Bank Note Company. Following a $20 million redevelopment, the building has become a hub for creative office tenants, offering an industrial chic aesthetic and modern amenities.
Madison Marquette and iStar have reportedly also landed $93 million from Bank of America to refinance the five-story property, according to the Commercial Observer.
The Bronx made the cut with another notable sale on our list, at #43. Back in January, Selby Transportation Corp. paid $16.5 million to purchase the building at 3900 Webster Avenue in Williamsbridge from Greg M. Blinn. That name might sound familiar; Greg Blinn was listed as president of the John Galt Corp., which was responsible for the demolition of the Deutsche Bank building at 130 Liberty Street back in 2006. The John Galt Corp. was reportedly headquartered at 3900 Webster Avenue at the time.
Brooklyn Concludes 2019 With 4 Major Sales and $110M in Dollar Volume
Brooklyn managed to sneak in 4 notable office sales on our list of the 50 biggest commercial office deals of 2019. The sales amounted to a combined dollar volume of $110 million, making it the second most active borough in terms of office sales in 2019.
The largest office deal to close in the borough took place in June, when LIVWKR paid $56 million to purchase the asset at 1000 Dean Street in Crown Heights from BFC Partners, Jonathan Butler and Goldman Sachs. The property is a historic 150,000-square-foot commercial building that has been revamped to cater to creative office tenants in Brooklyn. Previously know as the Studebaker Service Station, the four-story building was renovated in 2013 and welcomed its first tenants in 2014, including the food and beer hall Berg'n occupying 9,000 square feet on the ground level. The building benefits from a convenient location, close to Prospect Heights, Fort Greene, Bed-Stuy and Park Slope, and is a perfect fit for Brooklyn's small business community, which is thriving.
Other notable deals to close in Brooklyn included the $18.5 million sale of 325 Avenue Y in Ocean Parkway-South to Yeshivat Darche Eres; the $18 million sale of 1623 Kings Highway in Midwood to the Interborough Developmental and Consultation Center; and the $17.5 million sale of 2357 60Th Street in Borough Park to Samuel Weiss.
Queens Makes the List With 4 Office Sales Totaling $67M
Queens also made the news rounds this year, but it wasn't all positive. At the beginning of 2019, retail giant Amazon announced it wouldn't be setting up HQ2 in Long Island City, because it had faced opposition from certain groups for requesting roughly $3 billion in tax breaks and subsidies from the city. At the time of the announcement, many believed that was the end of the line for LIC, which was betting on the 25,000 jobs that Amazon would bring to NYC. However, it turns out that the mere interest from Amazon put Queens on the map for real estate investors, and they started flocking to the borough, eager to fill up the space left empty by Jeff Bezos. Eventually, Amazon did strengthen its commitment to NYC, by signing a 335,000-square-foot office lease in Hudson Yards earlier this month.
The buzz surrounding Amazon's HQ2 brought developers to Queens, and luxury residential towers and glassy office buildings are taking shape as we speak. Office sales have also picked up the pace this year, and the borough landed four entries on our list of 2019's biggest office deals. The largest sale of the year lands at #33, and it closed in late May, when Century Development Group bought the asset at 11-40 45th Road in Long Island City, from the Radha Soami Society Beas-America for $26 million. The two-story building has an alternate address of 11-36 46th Avenue, and is a study center for the spiritual organization, according to The Real Deal. The property is zoned for residential, and can be turned into as much as 124,200 square feet under inclusionary housing.
The other deals to make our list include Hazelton Capital Group's $15.2 million purchase of 39-40 30th Street in LIC, Ui Kun Lee's $14.6 million acquisition of 61-56 Springfield Boulevard in Oakland Gardens, and Joseph Azzopardi's $11.5 million purchase of 4515 36th Street, also in Long Island City.
Data sources: New York City Department of Finance, Rolling Sales data, January through October 2019.
Are you thinking of setting up your business in a convenient location in Manhattan, and are looking to lease space in a modern building offering state-of-the-art amenities? Then reach out to us and we will show you worthwhile space situated right in the heart of New York City. To learn about available office space, call Metro Manhattan Office Space at (212) 444-2241 or email us at [email protected]