390 Park Ave, Lever House temporary office space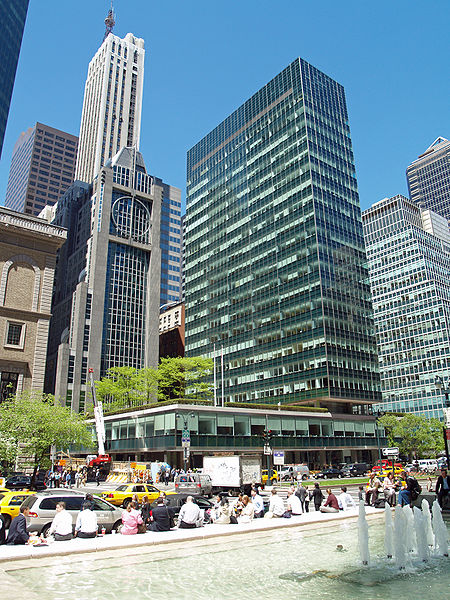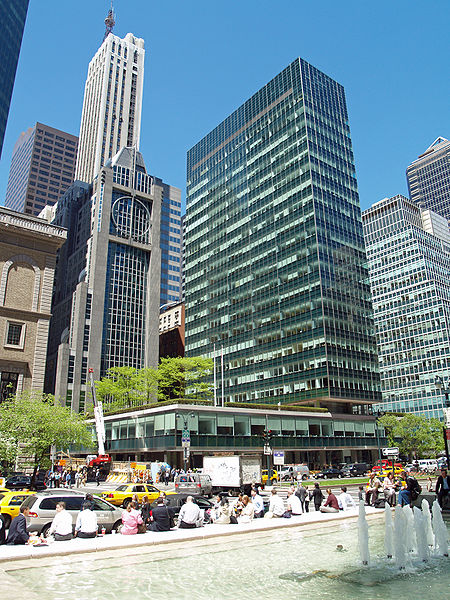 | | | | |
| --- | --- | --- | --- |
| Address | 390 Park Avenue | Class | A |
| Cross Streets | 53rd & 54th Streets | Size | 275,000 SF |
| Year built | 1952 | Architect | Gordon Bunschaft of Skidmore, Owings & Merrill |
Description
The Lever House in Midtown Manhattan was one of the first glass-walled, International Style office buildings in the country, upon completion in 1952. Designed by Gordon Bunschaft of Skidmore, Owings & Merrill for the Lever Brothers, the tower is a New York City landmark and was added to the National Register of Historic Places in 1983.
The development of Lever House was made possible by the city's 1916 zoning resolution, which allowed skyscrapers to not feature setbacks as long as they occupied 25% or less of their lot. The building's design features similarities to Ludwig Mies van der Rohe's Seagram Building, which is located across the street and is also owned by RFR Realty. RFR bought Lever House in 1998 and invested millions into upgrading the building to modern standards. Its glass curtain wall was replaced in 2001, an effort spearheaded by SOM.
267 KSF of Class A Park Avenue Office Space
390 Park Avenue features 267,000 square feet of Class A Plaza District office space across 24 floors. The building's blue-green glass curtain wall is heat-resistant and was designed to reduce maintenance costs; consequently, windows are not operable.
RFR Realty invested $25 million to modernize the property in 2001. The renovation effort included the restoration of the glass wall and the public spaces at the base of the tower. Lever House now includes 15,000 square of retail space and houses a restaurant and an art gallery on the ground floor.
Getting to and from Lever House
Lever House benefits from an excellent location on Park Avenue between East 53rd and 54th streets, offering easy access to all the popular destinations of Midtown. The building is located nearby the Fifth Avenue-53rd Street subway station, which serves the E and M lines.
Who is renting office space at Lever House?
Lever House is home to various companies in the financial services industry, and is currently fully leased. Notable office tenants include Arconic, Classic Realty, Hellman & Friendman, RFR, and Sanders Capital. The ground floor houses the popular Casa Lever restaurant, as well the Lever House Art Collection, which hosts world-class contemporary art exhibits in the lobby.
How much is the rent price for office space at Lever House?
Office asking rents at Lever House are roughly on par with the Midtown Manhattan average of $87 per square foot. However, the building's excellent location on the bustling Park Avenue and its iconic, landmarked status can often push asking rents well above the Plaza District average.
Available Spaces
Interested in office space at 390 Park Ave, Lever House temporary office space? Contact us today
Listing Location & Nearby Public Transportation
Nearby Transportation
Subway
53rd Street–Lexington Avenue - 4 minutes Walk53rd Street–5th Avenue - 6 minutes Walk51st Street (6) - 4 minutes Walk59th Street (456) - 6 minutes WalkLexington Avenue–59th Street - 8 minutes Walk
Bus
East 50th Street/3rd Avenue - 9 minutes WalkEast 50th Street/Lexington Avenue - 7 minutes WalkEast 50th Street/Madison Avenue - 7 minutes WalkEast 50th Street/5th Avenue - 8 minutes WalkEast 49th Street/Lexington Avenue - 8 minutes WalkEast 60th Street/Park Avenue - 7 minutes WalkMadison Avenue/East 60th Street - 8 minutes WalkMadison Avenue/East 59th Street - 7 minutes WalkEast 60th Street/Madison Avenue - 8 minutes WalkEast 60th Street/Lexington Avenue - 8 minutes WalkEast 57th Street & 3rd Avenue - 6 minutes WalkEast 57th Street & Lexington Avenue - 4 minutes WalkMadison Avenue & East 54th Street - 3 minutes Walk5th Avenue & West 56th Street - 6 minutes WalkEast 57th Street & Park Avenue - 3 minutes Walk3rd Avenue & East 55th Street - 5 minutes Walk
Important information
This listing is presented for illustrative purposes only, it may no longer be available, and is provided merely as an exemplary representation of the types of spaces in a given neighborhood for a given price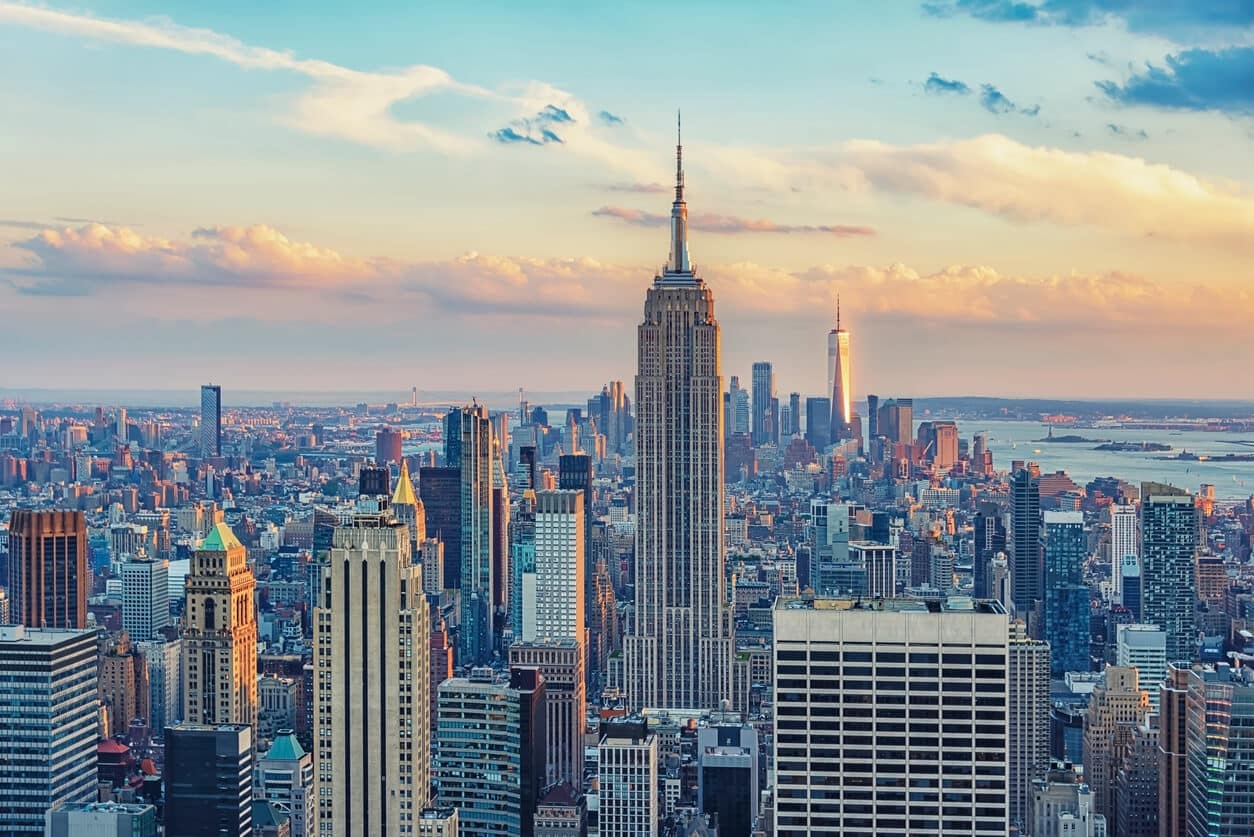 Midtown Manhattan
Midtown Manhattan Neighborhoods Midtown is Manhattan's central hub and its largest and most prominent office market. With roughly 242 million square feet of Midtown office space, there are various options to choose from. Moreover, you have several submarkets to consider in this expansive, diverse area. However, leasing or subletting office space in Midtown Manhattan is not a…
Learn more about Midtown Manhattan
Schedule a Tour
Please select a convenient date for your tour, and one of our colleagues will contact you soon!