115 Broad Street, 4 New York Plaza Office Space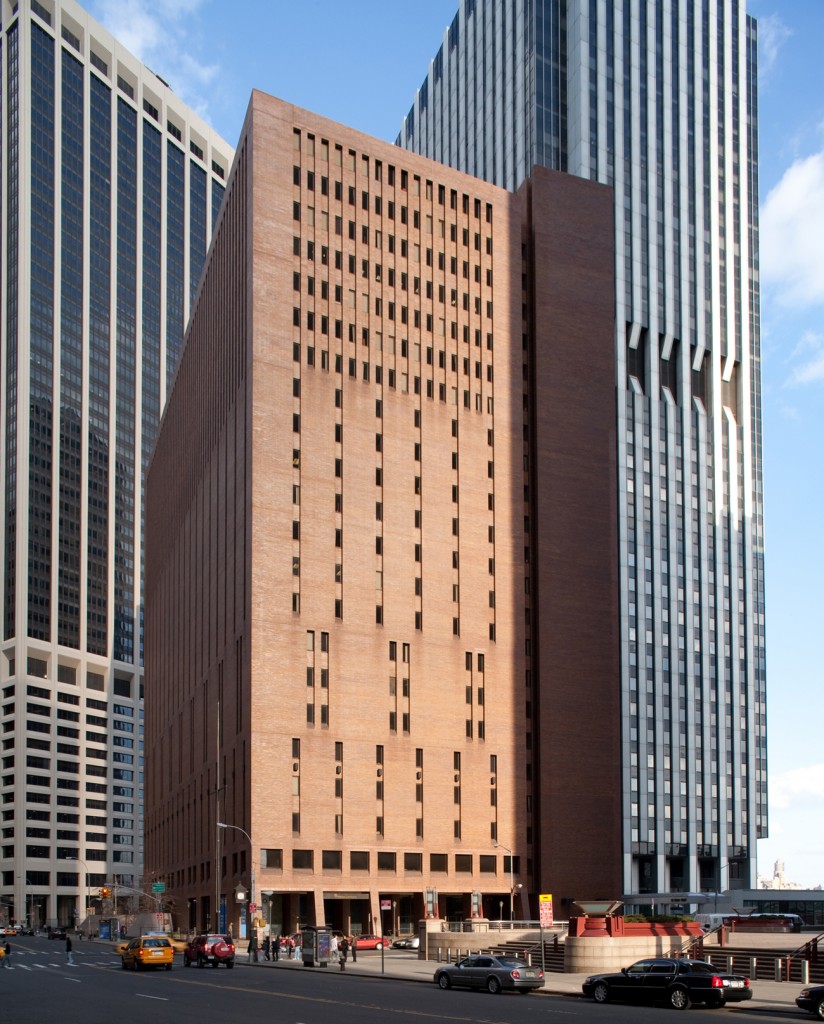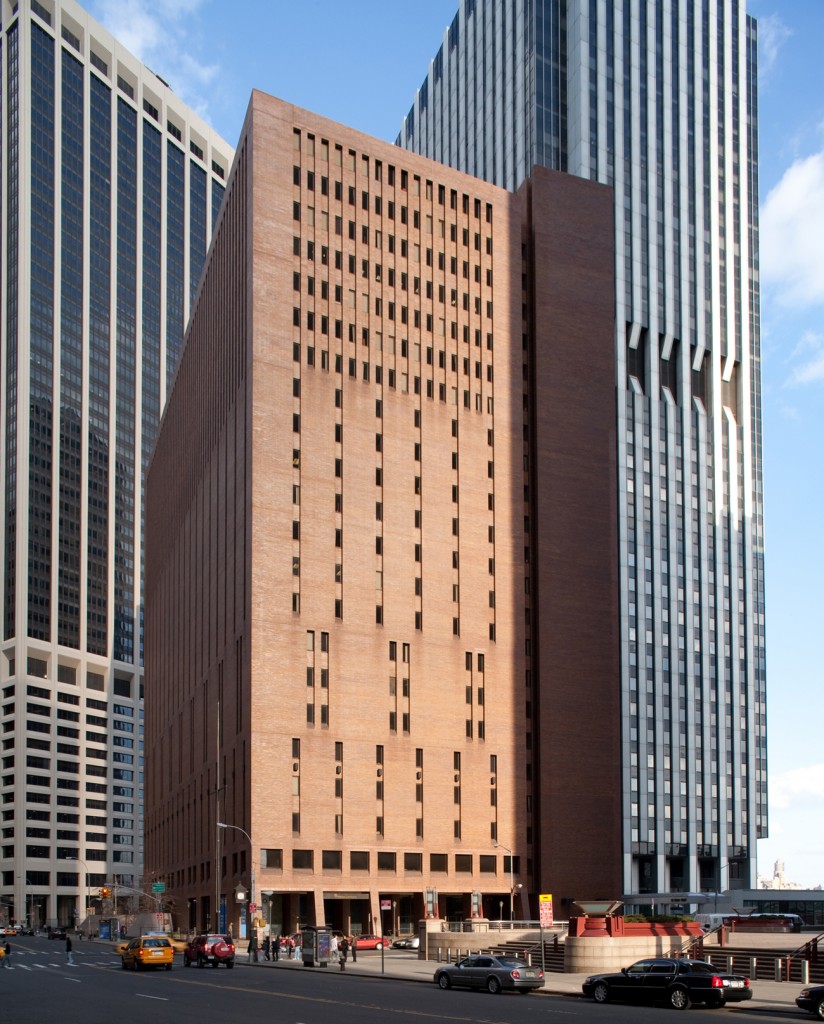 | | | | |
| --- | --- | --- | --- |
| Address | 4 New York Plaza | Class | A |
| Cross Streets | East River Drive & Water Street | Size | 1,077,265 SF |
| Year built | 1969 | Architect | Carson Lundin & Shaw |
Description
The visually striking office building at 115 Broad Street is better known by its mailing address, 4 New York Plaza. Situated at the tip of Lower Manhattan in the prestigious Financial District, the building was designed by Carson Lundin & Shaw Architects in a Brutalist style; the architects were reportedly inspired by the then-widely used punch card in their design.
The office building was constructed to house banking giant Manufacturers Hanover Trust, and nowadays it is home to high-profile tenants like the New York Daily News and JPMorgan Chase. It was badly damaged by Hurricane Sandy in 2012 and was redeveloped by Hines in 2013.
1.1 MSF of Class A FiDi Office Space
The office building dubbed 4 New York Plaza features 1.1 million square feet of Class A Financial District office space across 22 floors, as well as ground-floor retail space. It is currently owned by EDGE Fund Advisors, which acquired it in 2012, and managed by CBRE.
The building offers quality, flexible office space in an excellent Lower Manhattan location. The average floor size of 4 New York Plaza is 50,000 square feet, and the building is served by 18 passenger elevators and four freight elevators. Amenities include 24/7 tenant access and an on-site cafeteria.
Most of its systems and features have been upgraded in 2013, when Hines undertook a massive redevelopment of the tower after Hurricane Sandy left it badly damaged.
Getting to and from 4 New York Plaza
The Brutalist office structure at 115 Broad Street benefits from a convenient location on the eastern edge of Lower Manhattan, close to multiple shopping and dining destinations. Those working within the building have easy access to the N, R, 1, 4 and 5 lines, as well as access to the heliport and the Staten Island Ferry.
Who is renting office space at 4 New York Plaza?
4 New York Plaza is home to various big-ticket office tenants in industries like finance or media. Notable tenants that call the building home include JPMorgan Chase, the New York Daily News, American Media, Epiq, and the U.S. News & World Report.
How much is the rent price for office space at 4 New York Plaza?
Office asking rents at 4 New York Plaza are usually on par with the average found in the Financial District, which hovers around $70 per square foot. The excellent location and the modern amenities make the building appealing to office-using tenants of all sizes, in a submarket that offers significantly more affordable rents than those found in Midtown Manhattan.
Available Spaces
Interested in office space at 115 Broad Street, 4 New York Plaza Office Space? Contact us today
Listing Location & Nearby Public Transportation
Nearby Transportation
Subway
Bowling Green (456) - 7 minutes WalkWall Street (23456J) - 8 minutes WalkSouth Ferry (1) - 4 minutes WalkWhitehall Street–South Ferry - 3 minutes WalkBroad Street (JMZ) - 9 minutes Walk
Bus
South Ferry/Terminal - 4 minutes WalkWater Street & Wall Street - 8 minutes WalkSouth St & Whitehall St - 3 minutes WalkWater St & Broad St - 1 minute Walk
Important information
This listing is presented for illustrative purposes only, it may no longer be available, and is provided merely as an exemplary representation of the types of spaces in a given neighborhood for a given price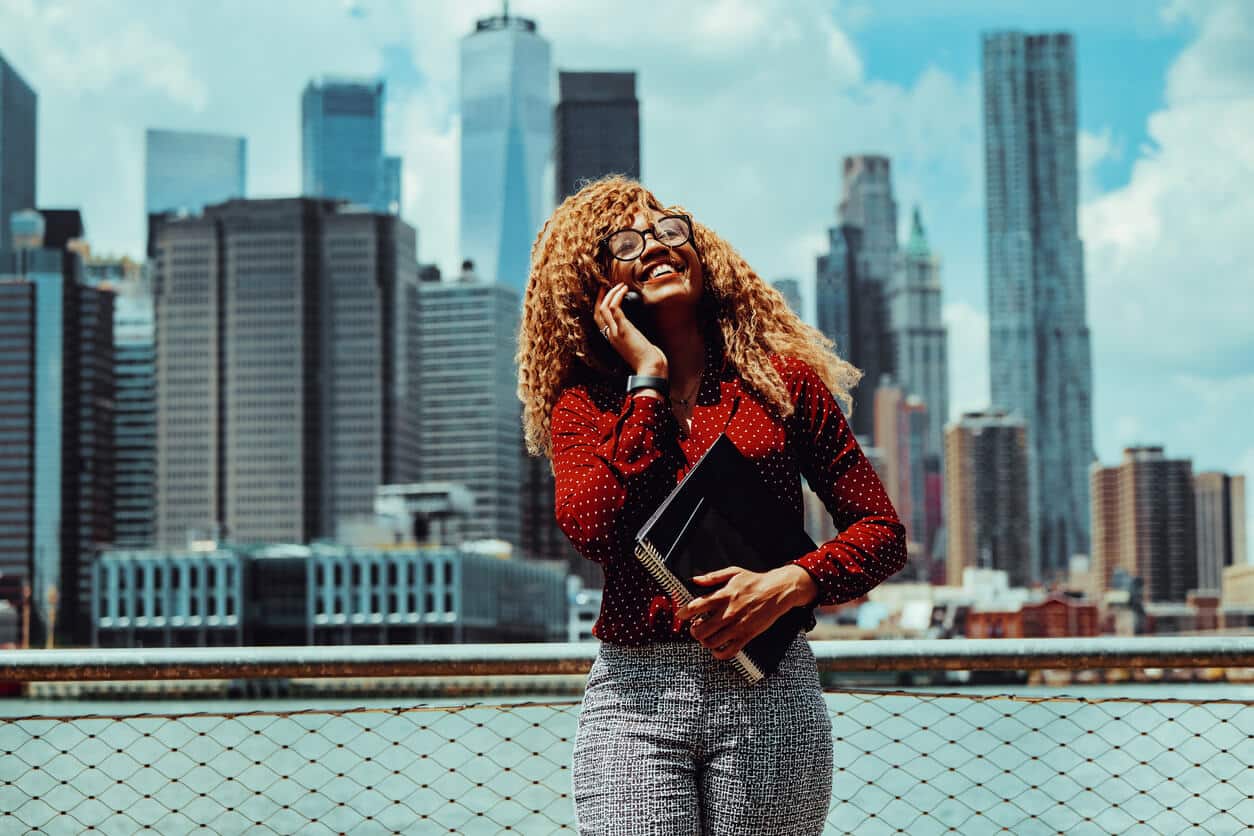 Downtown Manhattan
Downtown Manhattan Neighborhoods Downtown Manhattan has a vibrant and attractive office market. With roughly 90 million square feet of office space, you could find Downtown office space in a modern Class A skyscraper, budget B and C building, or a building with loft-like office space. There are also medical-friendly buildings such as 65 Broadway. Furthermore, many companies with staff living in…
Learn more about Downtown Manhattan
Schedule a Tour
Please select a convenient date for your tour, and one of our colleagues will contact you soon!